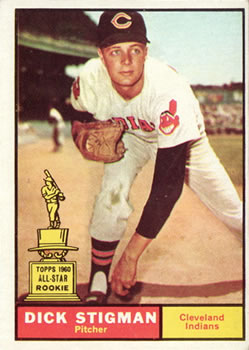 June 25, 1960: Rookie Dick Stigman fans 10 Yankees in Tribe win
---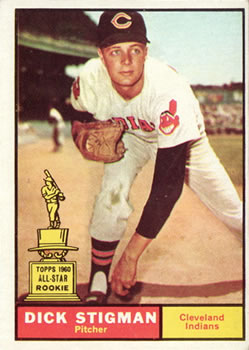 The 1959 Indians had finished in second place, five games behind the Chicago White Sox, despite significant weaknesses at second base and third base. Cleveland general manager Frank Lane sought to strengthen the team's infield before the 1960 season, even if it meant sacrificing some pitching.
On December 15, 1959, Lane traded 19-game winner Cal McLish, along with Billy Martin and Gordy Coleman, to Cincinnati for All-Star second baseman Johnny Temple. "We were reluctant to give up McLish, but we are hoping some of our young pitchers can pick up the slack," said Lane.1, In an earlier eight-player deal with the White Sox, the Indians acquired third baseman Bubba Phillips, along with Norm Cash and John Romano, for Dick Brown, Don Ferrarese, Minnie Minoso and Jake Striker. Adding Temple and Phillips gave the Indians an infield many considered the best in the American League.2
During spring training, veteran left-hander Jack Harshman, who went 5-1 with a 2.59 ERA after being acquired in midseason in 1959, developed back problems. Southpaw Herb Score had not looked good in attempting to come back from his various injuries.3 The day before the home opener, Score was traded to the White Sox for Barry Latman. Heading into the season the Indians' starting pitching staff consisted of Gary Bell, Jim Perry, Mudcat Grant, Latman, and rookies Dick Stigman and Wynn Hawkins, all under 25 years old.4 Of this group, only Stigman was a lefty.
Stigman made his major-league debut in Kansas City in the third game of the season. The Indians were losing 4-1 in the third inning when he relieved starter Hawkins. With two runners on and two out, Stigman retired the first batter he faced on a grounder to get out of the inning. He then set the Athletics down in order in each of the next two innings before being lifted for a pinch-hitter. Although the Indians lost the game, manager Joe Gordon was pleased with Stigman's performance. "I was taking a chance by bringing him in with men on base," he said, "but I knew if he got the ball over they wouldn't hit him. Dick's got real good stuff."5
On June 9, after a four-game sweep of the Red Sox, Cleveland led the Orioles by 1½ games and the Yankees by 3½ games. Then they lost eight of their next 10 games. After winning three games against the Senators to stop their slide in the standings, the Indians were third, two games behind New York, when the first-place Yankees arrived in town on June 24.
New York had been in fourth place on June 2, with a 19-19 record, after being swept in a three-game series at Baltimore. The Yankees then won 16 of 20 games to move into first, a half-game ahead of the Orioles, by the start of their weekend visit to Cleveland. New York was leading the American League in runs and home runs. Roger Maris, in his first year as a Yankee, was leading the league in both home runs and RBIs.6
New York won Friday night's game 10-6, scoring four runs in the seventh inning to break open a tie game. On Saturday the Yankees' Ralph Terry (3-2, 3.15 ERA) faced the Indians' Stigman (2-4, 3.86 ERA) in a matchup of 24-year-old pitchers. Stigman, used during the year as both a starter and reliever, had earned his sixth save two days earlier against Washington. Terry was pitching on nine days' rest after hurling 8⅓ innings in his last start, a no-decision in Kansas City.
Stigman blanked New York through six innings, striking out eight Yankees, and allowing only a walk in the first and a single in the third. In the bottom of the first, Vic Power, the Indians' second batter of the game, hit a solo homer. Terry then settled down and did not allow another run until the bottom of the sixth. With one out, Power walked. Harvey Kuenn followed with a home run to make the score 3-0, Indians.
The Yankees scored in the seventh. After Maris hit a popup to shortstop for the first out, Mickey Mantle walked. Singles by Elston Howard and Bob Cerv scored Mantle. With runners on first and second, Clete Boyer hit into a double play to end the inning.
The Indians picked up an unearned run in the eight. Ryne Duren, in relief of Terry, walked Stigman to lead off the inning. A two-out single by Kuenn put Stigman on second. Tito Francona grounded to first base. Cerv's throw to Duren, covering the base, was wild, allowing Stigman to score.
Stigman retired the middle of the Yankees lineup (Maris, Mantle, and Howard) in the ninth for the Tribe's 4-1 win. He had pitched his best game of the year. The four hits by the Yankees were all singles, and Stigman struck out 10 while allowing only two walks. "I felt relaxed this afternoon and for some reason had a lot of confidence," he said after the game. "Even with men on base I felt sure of myself."7
Four days later Stigman pitched another complete game win, striking out 5 and not walking a batter, to even his won-lost record at 4-4, as the Indians beat the Orioles, 5-3. Stigman learned on July 4 that he had been selected by American League manager Al López for the All-Star team, joining Indians teammates Bell, Kuenn, and Power.8 Stigman was surprised that he was picked. "My one concern," he said, "was to stay with the Indians, to make the majors this year."9 López explained why he picked the rookie: "In my opinion he'd be a good man to bring in against a left-handed hitter. He has that live fastball and he's around the plate."10
Cleveland did not play well after the All-Star break. The second-place Indians trailed New York by only 1½ games on July 16. Then they lost 12 of 15 to fall from second place to fourth at the end of July, seven games behind Chicago. The White Sox had moved into first by winning 13 of 16 games during the same period, as the American League pennant race became a three-team battle between New York, Baltimore, and Chicago.
Lane traded manager Gordon to Detroit for Tigers manager Jimmy Dykes on August 3. The change made little difference, as the Indians finished the season in fourth place, 21 games behind the pennant-winning Yankees. New York pulled away from second-place Baltimore and third-place Chicago by winning its last 15 games of the season.
The following spring Gordon, now the manager of Kansas City, reflected on Cleveland's disappointing slide to fourth place after the 1960 All-Star break. Gordon felt the Tribe's 1960 club was better than the one he managed to a second-place finish the year before. "It was a more capable team, but Gary Bell suddenly went into decline," he said, "and we didn't have enough pitching."11
Stigman's second-half performance mirrored the team's struggles, as he finished the season with a won-lost record of 5-11 and a 4.51 ERA. His victories against New York and Baltimore immediately before his All-Star selection by López, were his last complete-game wins of the season. At the end of the season Stigman was, however, recognized again as an All-Star. He was named the left-handed starting pitcher for the 1960 Topps' All-Star Rookie team.12
Author's note
Stigman's win against the Yankees was the first major-league game I attended. I was 7 at the time and remember my excitement at seeing the playing field as we took our seats on the first-base side of home plate, halfway up in the lower deck. I recall the home runs by Power and Kuenn, but not much else of the game's details. We did buy an Indians "Official 1960 Sketchbook." Over the next couple of years, I pored through its pages of player photos and stats until it literally fell apart.
Sources
The author accessed Baseball-Reference.com and Retrosheet.org. for box scores and play-by-play information, player, team, and season pages, pitching and batting game logs, and other data:
https://www.baseball-reference.com/boxes/CLE/CLE196006250.shtml
https://www.retrosheet.org/boxesetc/1960/B06250CLE1960.htm
Notes
1 "Indians Obtain Temple; Trade M'Lish, Martin," Cleveland Plain Dealer, December 16, 1959: 33.
2 Roy Terrell, Walter Bingham, and Roger Williams, "1960 Scouting Reports —Cleveland Indians," Sports Illustrated, April 11, 1960: 72.
3 Harry Jones, "Weak Pitching Could Drop Tribe to Sixth," Cleveland Plain Dealer, April 17, 1960: 2-C.
4 Hal Lebovitz, "Kiddie Korps Gives Old Pro Tinge to Tepee's Twirling," The Sporting News, May 11, 1960: 15.
5 Harry Jones, "Batting Around," Cleveland Plain Dealer, April 24, 1960: 3-C.
6 Chris Roewe, "A.L. Averages," The Sporting News, June 29, 1960: 22.
7 Chuck Heaton, "Two Indians Successful by Inches," Cleveland Plain Dealer, June 26, 1960:
1-C.
8 Chuck Heaton, "Bell, Stigman on All-Star Team," Cleveland Plain Dealer, July 5, 1960: 29.
9 Hal Lebovitz, "Tepee Toasts Temple for Old Pro Job," The Sporting News, July 13, 1960: 20.
10 Lebovitz, "Tepee Toasts Temple of Old Pro Job."
11 Frank Gibbons, "Frankie, Flash —Lovey-Dovy Duo," The Sporting News, April 5, 1961: 6.
12 "Three Orioles, Two Phillies on Topps' All-Rookie Team," The Sporting News, September 28, 1960: 27.
Additional Stats
Cleveland Indians 4
New York Yankees 1
---
Cleveland Stadium
Cleveland, OH
Box Score + PBP:
Corrections? Additions?
If you can help us improve this game story, contact us.
Tags
https://sabr.org/sites/default/files/StigmanDick-1960.jpg
600
800
admin
/wp-content/uploads/2020/02/sabr_logo.png
admin
2020-02-20 11:11:00
2020-04-17 10:22:18
June 25, 1960: Rookie Dick Stigman fans 10 Yankees in Tribe win