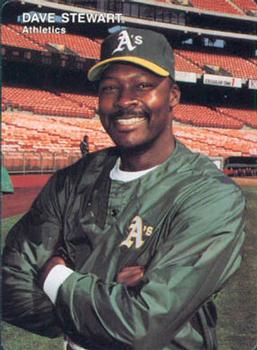 June 29, 1990: Oakland's Dave Stewart hurls no-hitter in Toronto
---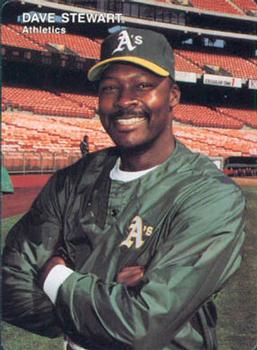 After right-hander Dave Stewart suffered a tough loss to the Chicago White Sox by giving up a tiebreaking 10th-inning home run on June 24 in Oakland, the durable Athletics' veteran defiantly said that the White Sox still weren't good enough to carry his jockstrap. White Sox first baseman Ron Kittle begged to differ. "It's in my locker," Kittle said, showing a jock wrapped around a steel ball stenciled with "Stewart, 34."1
June had been unkind to Stewart. After he opened the year by winning his first six starts, the opposition was having a laugh at his expense in recent weeks. Entering his final start of the month, Stewart was 1-4 in five June starts with a 4.58 ERA. He pitched three complete games, including a shutout, but yielded seven runs apiece in the two other starts. The Blue Jays hoped their offense, leading the major leagues in runs scored, combined with an inconsistent Stewart, would be the antidote to a dismal week in which they lost four straight games to Boston at Fenway Park to fall out of first place, 3½ games behind the Red Sox in the American League East Division.
Obviously, it would not be easy. Exactly one month before in Oakland, Stewart had pitched a complete game in a 2-1 loss to the Blue Jays, allowing just one earned run. Moreover, the last time Stewart had pitched at SkyDome, eight months ago, he defeated Toronto with eight innings of two-run ball, earning Oakland its second straight AL pennant.
Stewart was in the midst of a four-year stretch (1987-1990) in which he won 20-plus games each season, led the American League in games started three times, in complete games twice, and all major league pitchers in innings pitched twice. He was unquestionably the ace of the dominant Oakland teams that won three straight pennants and the 1989 World Series.
On this night, Stewart's mound opponent was left-hander John Cerutti, a pitcher who had been in and out of Toronto's rotation earlier in his career but now seemed to be in the starting five for good after a solid 1989 in which he finished ninth in AL ERA (3.07).
In the bottom of the first, Toronto leadoff man Junior Felix drew a walk, but was erased when he was caught stealing with Tony Fernandez batting. Stewart also walked Fernandez, but dispatched the Blue Jays by striking out Kelly Gruber and getting George Bell to fly out to deep left-center.
After Cerutti held Oakland scoreless in the second inning, Stewart headed to the mound mindful of the 20 pitches he threw in the first and knew he needed to be more efficient. Suddenly, it was as if he flipped a switch and reverted back to being the dominant hurler American League batters had feared for years. Against three left-handed batters, he struck out the side, catching powerful Fred McGriff looking, then John Olerud and Greg Myers swinging.
In the top of the third, Oakland opened the scoring thanks to the Hendersons. Rickey drew a two-out walk, then scored on Dave's line-drive home run to right-center field.
Stewart went back to work in the bottom half and used just 10 pitches to retire the Jays in order on a weak groundout and two more strikeouts. The fourth inning was more of the same as Stewart threw 10 pitches again to dismiss Toronto in order.
Oakland's batters gave Stewart some additional breathing room in the top of the fifth. Leadoff man Walt Weiss reached on a wild throw by shortstop Fernandez that was scored as an infield single. After a sacrifice by Mike Gallego, Rickey Henderson hit a two-run shot to double the visitors' lead to 4-0.
The focus turned back to Stewart in the bottom of the frame, when he was even more efficient, throwing seven pitches in a three-up, three-down inning. Stewart had not even gone to a two-ball count on any of the batters he faced in the third, fourth and fifth innings.
"I started thinking about a no-hitter after the fifth inning. It just started to come together then," Stewart said after the game.2
In the seventh the Athletics widened their lead thanks once again to the trio of Weiss, Gallego and Rickey Henderson. Weiss led off with a double and Gallego again sacrificed. With the right-handed Henderson due up, the Blue Jays relieved southpaw Cerutti with right-hander Willie Blair.
Henderson, on his way to winning the 1990 AL MVP Award, had been a thorn in the Jays' side during his 1989 ALCS MVP performance. He flied out to deep center field, easily cashing in Weiss to give Oakland a 5-0 lead.
"I felt comfortable all night, the strongest I've been all season," Stewart said after the game. "All my pitches were working. I just kept thinking 1-2-3. The fifth turned into the sixth. The sixth turned into the seventh and seven to eight. It just kept going."3
After the seventh-inning stretch, Stewart set down the Jays in order easily on a strikeout, groundout and fly out. He experienced his only scare in the eighth. Leading off, McGriff crushed an 0-and-1 offering deep to center field. "I knew McGriff hit it good, but when I turned and saw where it was – in the deepest part of the park – I knew it would stay in. I'm just glad we ran it down," Stewart reflected, on Dave Henderson's warning track catch, though he did have a fleeting moment of doubt.4 "My heart stopped for a moment … I thought he hit the ball very well and for a minute I thought it was their first hit."5
Olerud followed by fouling off five straight pitches on a 1-and-2 count before swinging and missing the ninth pitch of the at-bat, the longest plate appearance of the night against Stewart. When Myers struck out on three pitches to end the frame, it was Stewart's season-high 10th strikeout of the game, and his third multi-strikeout inning.
Stewart looked just as strong in the last of the ninth. He had thrown 143 and 134 pitches in his last two starts, but still was pouring it on late in this game. He whiffed Manny Lee and Mookie Wilson to make it four straight batters retired on strikes. Stewart had now set down 25 straight Blue Jays. He was perfect for the last 8⅓ innings.
Felix stepped to the plate, took three balls, then walked on a full count. He noted that Stewart's variety of pitches was reduced to one type in the ninth: "He threw me good pitches, forkballs [but] the last time he just used fastballs."6 Myers, one of four Toronto batters to strike out twice, agreed. "It was forkballs and fastballs. No pattern. That's what was good about him."7
On his 115th pitch, Stewart threw a 1-and-0 fastball to Fernandez who popped it into medium-depth left-center field. Dave Henderson skipped to his right, raised his right arm to call for the ball, then with a smile on his face, caught it for the final out. On the mound, the ever-focused Stewart, known for his intense trademark "Death Stare,"8 simply raised his right arm as his corner infielders, Mark McGwire and Carney Lansford, hugged him. As his teammates rushed out to happily congratulate him, he showed no emotion, appearing more relieved than excited over his first career no-hitter.9
The Athletics now had 10 no-hitters in franchise history: five when they were based in Philadelphia and five in Oakland.10 It was the second time the Blue Jays had been no-hit, and the first time a major league no-hitter had been thrown in Toronto.
"By far, this is the highlight of my career. I thought winning the World Series MVP last year was not going to be surpassed, but this I'll remember for the rest of my life," Stewart said, ranking his career accomplishments.11 He appreciated the prolonged applause and postgame standing ovation from the sportsmanlike Toronto crowd. "They've been such good fans, and at first I wasn't sure they were cheering for me. … They started standing up for the strikeout when it was 0-and-2 and then I knew they were cheering for me."12
Both managers lauded Stewart on his achievement. Oakland skipper Tony La Russa said, "As an individual, it has great meaning for me. Stew and I are very close. I'm always pulling for him, and tonight you saw one of the game's classy guys doing what he does best."13
Said Toronto's Cito Gaston, "No one likes to be no-hit. If you must choose, then you like to see a guy like him, someone with class."14
Sources
"Labatt's Blue Jays Baseball: Oakland Athletics at Toronto Blue Jays," CTV Television (Toronto: CFTO, June 29, 1990).
Notes
Additional Stats
Oakland A's 5
Toronto Blue Jays 0
---
SkyDome
Toronto, ON
Box Score + PBP:
Corrections? Additions?
If you can help us improve this game story, contact us.
Tags
http://sabr.org/sites/default/files/StewartDave.jpg
600
800
admin
/wp-content/uploads/2020/02/sabr_logo.png
admin
2016-07-12 21:51:51
2020-04-17 10:26:04
June 29, 1990: Oakland's Dave Stewart hurls no-hitter in Toronto