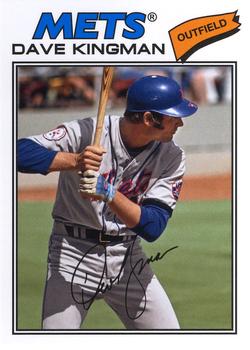 June 4, 1976: Dave Kingman hits three home runs to lead Mets over Dodgers
---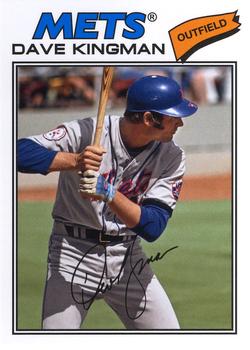 The New York Mets arrived in Los Angeles during one of the worst slumps in their history. They had lost 11 of their previous 13 games. Two of their stars, Tom Seaver and Dave Kingman, were struggling. The team was looking for something to shake it out its doldrums.
Meanwhile, the Dodgers had achieved an 18-10 record in May and were tied with the Cincinnati Reds at the top of the National League West Division. After winning the previous two games against their rivals, the San Francisco Giants, the Dodgers were hoping to take the division lead when the struggling Mets arrived in town.
Burt Hooton started for the Dodgers. He had won three of his first four starts in May, going the distance in two of those wins. But Hooton had struggled in his last two appearances, giving up 8 runs and 13 hits in those losses.
After Hooton walked leadoff hitter Mike Phillips in the first, he got the next three batters out with Kingman hitting a popup to the first baseman for the third out. It continued Sky King's frustration at the plate. In the previous two games in Chicago, Kingman had come to bat with 12 runners on base and failed to get any of them home.
After striking out to end the Chicago game the day before, Kingman had gone on "a minor rampage in his locker at the end of that series, strewing hangers and equipment about and dashing his hair‐dryer to the floor."1 His strikeout came with the tying run at third base and the go-ahead run on second. He said later that "I've never been as I was when I smashed up the clubhouse. No one could feel as bad as I did after leaving all those men on base."2
Seaver took the mound looking to turn things around. He was winless in his last five starts, his four losses in a row tying the longest losing streak of his career. His ERA was 4.99 during the five-game stretch. He also pitched two complete games but lost when the Mets were unable to score any runs. In his previous start, Seaver pitched well before coming apart with two outs in the ninth inning.
Seaver said that he always "gets up for pitching in Los Angeles."3 Seaver grew up in Fresno, in central California, north of Los Angeles and went to the University of Southern California (USC) in Los Angeles. This was his first start in Los Angeles since May 1, 1974.
Seaver was clearly ready for the Dodgers. They were able to hit the ball out of the infield only six times during the game. Los Angeles didn't get its first hit until Bill Russell singled to lead off the third. Russell was thrown out trying to steal second.
By the sixth inning, Seaver had struck out six. It wasn't until the sixth inning that he gave up a second single, this one to Danny Walton. He then shut down the Dodgers lineup until they got their final hit in the ninth, a one-out single by Ed Goodson.
Hooton kept the Mets in check for the first three innings. Five batters hit weak groundballs for easy outs. When John Milner hit a leadoff single in the fourth, Kingman stepped to the plate again. He drew a bead on the first pitch and launched it 370 feet into the left-field stands. The Mets grabbed the lead, 2-0.
"After I popped up in the first, Joe Torre came over and said that I hadn't been following through with my normal big swing, that I was stopping the swing halfway through. I had been doing it, I guess, for about a week and it was one of the worst weeks of my career," he said after the game.4
An inning later, Kingman was back in the batter's box to see if he had regained his swing. Roy Staiger singled to lead off the inning and reached second on Seaver's sacrifice. After Phillips's single brought Staiger home, Hooton walked Wayne Garrett to set up a double play. Milner flied out, and it was Kingman's turn again. He blasted the first pitch, a fastball from Hooton, into the bleachers just a few seats from where his previous homer had landed. His three-run blast expanded the Mets' lead to 6-0.
Ed Kranepool, the next batter, also homered. This one landed in the Mets bullpen in right field, and landed Kranepool a place in the Mets' record book. It was his 309th extra‐base hit for the team, one more than Cleon Jones's previous mark.
After Kranepool's home run, Hooton was pulled for Stan Wall. Wall kept the Mets in check until he was pulled for a pinch-hitter in the bottom of the sixth. Former Yankee Al Downing came out of the bullpen for the Dodgers in the seventh. After giving up two singles, Downing faced Kingman. Kingman wasted no time: He connected on Downing's first pitch, a fastball, for his third home run. Los Angeles Times writer Ross Newhan described his hit as "a whistling drive that curled around the foul pole in left and landed deep in the field level seats.5 Once it sailed over the wall, the Mets led 10-0.
The home run was Kingman's 20th of the season. He was the second Met to hit three round-trippers in a game; Jim Hickman had done it in 1965. Kingman's three-run blast raised his RBI total for the game to eight, breaking the team record of seven set by Donn Clendenon in 1970. The last time a batter had wreaked havoc like this against the Dodgers at home was in 1965, when Willie Stargell hit three home runs in a 13-3 Pirates victory.
As Seaver continued to shut down the Dodgers, the Mets struck against Downing one last time, in the ninth. After Downing gave up a leadoff single to Bruce Boisclair, Kingman strode to the plate for one final opportunity to bat. He took the count full. Then he swung at a pitch that was wide and in the dirt to strike out. It was his 55th whiff in his 51 games played so far. "With a chance to hit four there was no way I was going to take it," he said of his futile swing. "I thought that Al might give me half a chance and throw it over the plate."6
Although Kingman did not deliver, Kranepool singled. When Leon Brown ground into a force out that got the slow-footed Kranepool at second, the Mets had runners at the corners. Jerry Grote then doubled to center field, rubbing salt in the wound as the Mets added an additional run.
Seaver gave up a one-out single to Goodson in the Dodgers ninth but ended the game on a groundout and a fly out caught by Boisclair to seal the win.
Dodgers fans left disappointed. A packed house had showed up for Tee-Shirt night and their t-shirts were little compensation for the beating they witnessed. The Dodgers might as well have called it "Trojans Night" since USC alumni Kingman and Seaver put on a show for everyone, including their former college coach, Rod Dedeaux.
Sources
In addition to the sources cited in the Notes, the author used Baseball-Reference.com and Retrosheet.org for box-score, player, team, and season information as well as pitching and batting game logs, and other pertinent material.
baseball-reference.com/boxes/LAN/LAN197606040.shtml
retrosheet.org/boxesetc/1976/B06040LAN1976.htm
Notes
1 Paul Montgomery, "Kingman Hits 3 In 11-0 Victory," New York Times, June 5, 1976.
2 Ross Newhan, "Kingman's 3 Homers Wreck Dodgers, 11-0, Los Angeles Times, June 5, 1976: 43.
3 Newhan: 42.
4 Newhan: 43.
5 Ibid.
6 Ibid.
Additional Stats
New York Mets 11
Los Angeles Dodgers 0
---
Dodger Stadium
Los Angeles, CA
Box Score + PBP:
Corrections? Additions?
If you can help us improve this game story, contact us.
Tags
https://sabr.org/sites/default/files/KingmanDave.jpg
600
800
admin
/wp-content/uploads/2020/02/sabr_logo.png
admin
2019-04-30 15:40:21
2020-04-17 10:23:35
June 4, 1976: Dave Kingman hits three home runs to lead Mets over Dodgers