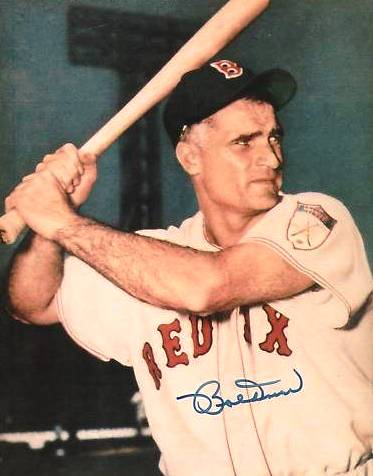 May 13, 1947: Bobby Doerr hits for second career cycle; Ted Williams homers twice over Green Monster
---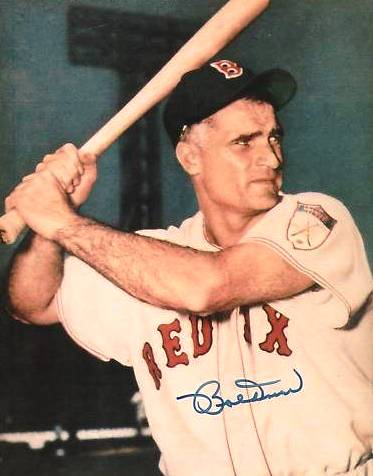 The Boston Red Sox (12-9) hosted the Chicago White Sox (11-9) in the first of a two-game series at Fenway Park. Chicago had just been swept in a home doubleheader by the Detroit Tigers, 10-0 and 6-1, and the team was looking to rebound against Boston. For Chicago, 34-year-old right-hander Johnny Rigney started the game. He was in eighth (and final) season of his career, and he entered the game with a record of 2-2 and an earned-run average of 1.06, having allowed only four earned runs all season (in 34 innings). The Red Sox had other ideas, though, and manager Joe Cronin gave the starting assignment to righty Dave "Boo" Ferriss. Ferriss had won 25 games in 1946 and was also 2-2 so far in the early 1947 campaign. A Tuesday afternoon crowd of 9,729 went through the turnstiles at Fenway.
Chicago wasted no time getting on the scoreboard. The White Sox "nicked Ferriss for six hits"1 in the first three innings. In the opening frame, back-to-back-to-back singles by Thurman Tucker, Luke Appling, and Jake Jones (RBI) gave the White Sox a 1-0 lead. They added a run in the third on a double by Appling and a single by Bob Kennedy. Each time, however, a rally was snuffed when Loyd Christopher hit into an inning-ending 5-4-3 double play. The Red Sox turned a third double play in the fourth inning after a leadoff single by Don Kolloway, keeping the score 2-0.
Meanwhile Rigney had to labor to keep Boston in check. The Red Sox loaded the bases in the third but could not push a run across. In the bottom of the fourth, however, after Rigney fanned York, Bobby Doerr launched "a tremendous wallop over the fence a little to the left of the flag pole"2 for Boston's first run. It was Doerr's fourth home run of the season, and it extended his hitting streak to eight games.
Ferriss retired his opponent Rigney to start the fifth, but then he ran into trouble. Tucker tripled to center and scored on a fly ball by Appling. Jones smacked his second homer of the year, increasing Chicago's lead to 4-1. Kennedy singled, and once again Christopher made the third out of the inning.
In their half, the Boston bats exploded. Hal Wagner drew a leadoff walk and scooted to second on a wild pitch. Ferriss, who had one hit all season entering this game, tripled off Rigney, driving home Wagner. Eddie Pellagrini flied out to right, deep enough to bring home Ferriss. Johnny Pesky followed with a double into the left-center gap. The ever-dangerous Ted Williams was intentionally walked (for the sixth time in the young season). That brought up Rudy York, who banged a single up the middle. Pesky scored and Williams stopped at second base. Doerr forced out York at second. Dom DiMaggio then singled, with Williams scoring and Doerr scooting to third base. Chicago manager Ted Lyons had seen enough and made the call to the bullpen. Rigney was replaced by Earl Harrist, making his third appearance of the season. The second-year righty walked Leon Culberson but struck out Wagner. Ten Boston hitters had paraded through the batter's box, and the Red Sox now enjoyed a 5-4 lead.
Bill Zuber came on in relief of Ferriss to start the sixth, and the White Sox touched him for three singles but could not score. Then, in the top of the seventh inning, Appling led off by launching a home run to tie the game. In the bottom half, "a five-run deluge smacked down Harrist."3 Williams started things by hitting his sixth homer of the season into the netting above the wall in left center. The blast was his first-ever opposite-field home run at Fenway Park. York walked and scored on Doerr's triple into the right-field corner. DiMaggio also walked, and Culberson singled to center, plating Doerr. When Wagner struck out, it was only the first out of the inning. Zuber laid down a successful sacrifice bunt, advancing the runners, who both scored on Pellagrini's single to center. Harrist retired Pesky, but not before the Red Sox had notched five runs and led, 10-5.
The Red Sox had batted around in the seventh inning, so Williams also led off the eighth, this time against new pitcher Eddie Smith.4 Same result, as Ted stroked another homer over the 37-foot-high left-field wall. Williams explained, "I swung late on a low fastball and I guess that's why the ball went over the left-field fence."5 Hy Hurwitz of the Boston Globe described the blast this way: "There was a tremendous amount of dynamite attached to it. For it blew the White Sox out of the park,"6 as 15 Boston batters came to the plate and pushed nine runners across. Smith faced nine men but retired only one (a Zuber sacrifice bunt), and in his one-third of an inning, Boston had scored eight runs (six earned). Joe Haynes took over after a Pesky double and then pitched to six more batters. The first man he faced, Williams, launched a third deep fly ball, this time to right field, but it stayed in the park for out number two. Doerr had singled against Smith and then he doubled against Haynes, giving him two hits in the inning, but more importantly, giving him his second career cycle. All-in-all, 12 Boston batters reached on a home run, a triple, two doubles, two singles, three walks, three errors, and a fielder's choice. During the seventh and eighth innings, the Red Sox sent 24 batters up against the White Sox pitching and pounded out 10 hits — two home runs, two triples, two doubles, and four singles.
Chicago managed one more run in the ninth, as Taffy Wright singled in Kennedy, who had reached on a one-out double. The 19-6 final score was certainly lopsided, but Boston had only one more hit (18) than Chicago (17). Other reasons for the blowout included the 11 walks issued by the Chicago hurlers and the three defensive miscues behind them in the infield.
Williams's two home runs "were the first round-trippers he hit at Fenway this semester and the first he ever hit into the netting in left field."7 According to the Boston Globe, "The Kid had gone through 375 games — approximately — without hitting a left-field home run."8 Williams remarked, "It's about time that I discovered I could hit 'em out of the park in left field."9 As an aside, the White Sox did not employ the shift against Williams. Skipper Lyons told reporters, "The only effective shift would be to install a fielder in the right-field stands."10
Eight of Boston's starting players (including the pitcher Ferriss) banged out at least one hit and knocked in at least one run. The lone exception was Wagner, but he reached twice on walks and scored twice. After the game, catcher Roy Partee told reporters, "That's the kind of a day we need. If we can frighten a few of those teams, it won't hurt us at all."11
After going 1-for-3 in his first three at-bats, Doerr collected a triple in the seventh and then a single and double in the eighth, enabling him to hit for the cycle for the second time in his career. (The first occurred on May 17, 1944, also at Fenway Park.) Interestingly, Doerr told reporters that "it was not his first such performance but he couldn't remember when he had previously performed this rare stunt."12 His feat marked the 11th time a Red Sox batter had hit for the cycle, coming a season after Ted Williams's accomplishment (July 21, 1946). Four months later, on September 13, Detroit's Vic Wertz became the only other major leaguer to hit for the cycle in 1947 (in a game at Griffith Stadium against the Washington Senators). Doerr seemed to be in a groove, hitting safely in 16 of his last 36 at-bats. After this 4-for-6 performance with three runs scored and two driven in, his batting average (.325) was one percentage point higher than Williams's (.324).
The victory was the Red Sox' seventh victory in eight games. It was the fourth straight defeat for the Chicagoans.
Postscript
Before the game against the White Sox, Williams "promised Glenwood Brann Jr., 11-year-old Malden youngster who had both legs amputated, that he'd try and hit one for him."13 After meeting with the boy, Williams "cautioned publicist Eddie Doherty not to mention it unless he managed to belt one."14 He wasn't trying to emulate Babe Ruth, instead telling Glenwood, "If I get one it's for you."15 As Boston Globe writer Bob Holbrook described the scene: "The youngster kidded [Ted] and smiled a couple of times, smiles that manifested the will to live when you're battling those odds."16 The Splendid Splinter was better than his word; he belted two home runs. For more on this amazing story and Glen Brann, see sabr.org/latest/nowlin-ted-williams-cheers-young-amputee.
Sources
baseball-reference.com/boxes/BOS/BOS194705130.shtml
retrosheet.org/boxesetc/1947/B05130BOS1947.htm
Notes
1 Irving Vaughan, "Williams' Two Homers Pace Boston Spree," Chicago Tribune, May 14, 1947: 29.
2 Hy Hurwitz, "Ted Hits Two for Glenny, Sox Triumph, 19-6, Boston Globe, May 14, 1947: 1, 24.
3 Vaughan.
4 Smith pitched for Chicago from 1939 until August 11, 1947, when he was claimed on waivers by the Red Sox. Boston released him on October 20, 1947, and he never pitched in the majors after the 1947 season.
5 Hurwitz.
6 Ibid.
7 Bob Holbrook, "Left Field Homers Silence Ted's Hecklers," Boston Globe, May 14, 1947: 22.
8 Hurwitz.
9 Ibid.
10 Holbrook.
11 Ibid.
12 Hurwitz.
13 Holbrook.
14 Ibid.
15 Ibid.
16 Ibid.
Additional Stats
Boston Red Sox 19
Chicago White Sox 6
---
Fenway Park
Boston, MA
Box Score + PBP:
Corrections? Additions?
If you can help us improve this game story, contact us.
Tags
http://bioproj.sabr.org/bp_ftp/images4/DoerrBobby.jpg
600
800
admin
/wp-content/uploads/2020/02/sabr_logo.png
admin
2018-09-13 14:33:53
2020-04-17 10:24:39
May 13, 1947: Bobby Doerr hits for second career cycle; Ted Williams homers twice over Green Monster