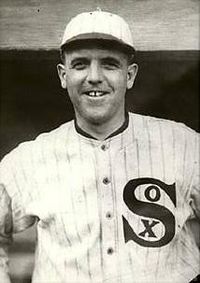 May 14, 1919: Chicago's Eddie Cicotte begins scoreless streak by shutting out Red Sox, 1-0
---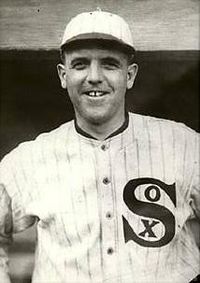 Entering a summer when the boxing world famously crowned a new heavyweight champion,1 baseball's powerhouse teams met on May 14, 1919, at Comiskey Park in Chicago for an early-season clash between the game's two most recent champions.
The Boston Red Sox, led by their young hitting and pitching star Babe Ruth, came to town with plenty of swagger, having won three of the past four World Series. The Chicago White Sox were the only team to break up their reign, when they captured the American League pennant in 1917 and won a fall classic overshadowed by America's entry into World War I. The war forced the 1918 season to end early as major-league players were forced to choose between military service or defense-industry jobs. Chicago's depleted roster fell to sixth place while Boston held onto its stars long enough to again win it all.
Now, with the war over and both teams back at full strength, the American League's most intense rivalry was ready to resume. In Chicago, there was no question how much this series meant: Boston is "the team that has to be beaten to win the pennant," White Sox beat writer I.E. Sanborn asserted.2 Red Sox players were less complimentary toward the other side: "[Manager Ed] Barrow's players, almost to a man, figure that the club they will have to beat this year will be Cleveland. Several of the boys [said] Chicago is not regarded as a serious contender."3
Under new manager Kid Gleason, the White Sox roared out to a 12-4 start and were in first place when Boston came to town. The Red Sox, 2½ games back, were playing their first game in six days; persistent rain and snow had postponed their entire weekend series at home against the Philadelphia A's. A crowd of about 8,000 showed up for this highly anticipated matchup on a cold, drizzly Wednesday afternoon at Comiskey Park.
Both teams sent their aces to the mound: Eddie Cicotte for Chicago and Carl Mays for Boston. Cicotte had spent 4½ seasons with the Red Sox (1908-12), but had struggled against his former team4 since being traded to the White Sox. Mays, a submarine-style pitcher with a sour disposition, was "perhaps the most disliked player"5 in baseball but also one of its most formidable, having won 61 games over the previous three years, plus two more in the 1918 World Series.
The White Sox hitters could not figure out Mays's peculiar delivery for the first five innings, scratching out only one hit — a single by Swede Risberg in the second — and a walk. Cicotte was just as dominant, allowing just a single to Wally Schang in the third. Schang was wiped out on a nifty double play that began when the shortstop Risberg charged in on a slow grounder by Mays and threw out the Boston pitcher. Schang never stopped running, but first baseman Chick Gandil threw a strike across the diamond to Buck Weaver to nab him for the third out.
In the fifth Babe Ruth came to the plate with a chance to break the scoreless tie. But the "celebrated home run hero was even more helpless than the rest of the team"6 against Cicotte's knuckleballs, striking out to the delight of the Chicago fans. The spectators in the left-field bleachers caused "pandemonium" and "made life merry" for Ruth when he returned to his position.7
The Red Sox had their best scoring opportunity against Cicotte in the sixth. Everett Scott led off with a single, then Schang followed with a bunt down the third-base line. Weaver tried to throw out the lead runner, but heaved wildly into center field. Happy Felsch's throw to third was strong enough to catch Scott, but pitcher Cicotte dropped the ball after tagging the runner for another error on the same play. Suddenly, Boston had two on with no outs and "you could have cut the gloom in the grandstand with a safety razor."8 But Cicotte induced the next three hitters — Mays, Harry Hooper, and Jack Barry — to pop out and the threat expired almost as quickly as it had formed.
In the bottom of the sixth, the White Sox finally pushed across the game's only run. After two quick outs, Eddie Collins sent a sharp grounder to Barry — his old double-play partner in the Philadelphia A's "$100,000 Infield" — and reached base when the shortstop misplayed it. With new life, Shoeless Joe Jackson waited for Mays to throw one over the plate and smashed a double to deep left-center. The speedy Collins ran around the bases to score without a throw.
The game remained tense to the finish; there "wasn't a man on either side who would not have broken a leg to win."9 Barry singled with one out in the ninth to give Boston a fighting chance in its final at-bat, but Cicotte bore down and got Amos Strunk and Babe Ruth to fly out to end the game. "You will live a long time before you see another battle of slabmen to equal that," Sanborn wrote in the Chicago Tribune.10
Eddie Cicotte allowed four hits, all singles, and didn't walk a batter in his only career shutout against the Red Sox. The thrilling win improved his record to 5-1 and he followed it with shutouts against the Philadelphia A's and the New York Yankees in his next two starts. His streak of 29⅔ consecutive scoreless innings11 finally ended on May 27 against the Washington Senators in the third inning, but he continued overpowering American League hitters on his way to a career-high 29 wins and a fateful trip to the World Series that culminated in the Black Sox Scandal.
Carl Mays, the loser in this dramatic pitching duel, also found himself embroiled in controversy in 1919. He became so frustrated by his poor run support that he walked off the mound after a game in July and never returned to the Red Sox. The New York Yankees agreed to acquire the embattled pitcher in a trade, but AL President Ban Johnson attempted to block the deal. Red Sox owner Harry Frazee, Yankees owner Jacob Ruppert, and White Sox owner Charles Comiskey rose up to challenge Johnson's power and the Mays trade eventually went through. But the resulting legal battle paved the way for baseball's owners to hire a new commissioner, Kenesaw Mountain Landis, to oversee the game in the wake of the World Series scandal.
Sources

Play-by-play information for this game was found in the following articles:
Sanborn, I.E. "Double by Joe Jackson Beats the Mighty Red Sox, 1 to 0," Chicago Tribune, May 15, 1919: 19.
Whitman, Burt. "Jackson's Double Pins Defeat on Champions," Boston Herald, May 15, 1919: 16.
"Red Sox Shut Out by Eddie Cicotte," Boston Globe, May 15, 1919: 10.
Box scores can be found at Baseball-Reference.com and Retrosheet.org.
baseball-reference.com/boxes/CHA/CHA191905140.shtml.
retrosheet.org/boxesetc/1919/B05140CHA1919.htm.
Notes
1 Jack Dempsey launched his Hall of Fame boxing career by ending Jess Willard's reign as heavyweight champion on July 4, 1919.
2 "White Sox Notes," Chicago Tribune, May 15, 1919: 19.
3 Melville E. Webb Jr., "Some of Season's Neatest Pitching," Boston Globe, May 15, 1919: 14.
4 Cicotte entered this game with a 7-14 record in 23 starts against Boston. He finished his career at 13-20; no other American League team had a winning record against Cicotte.
5 Allan Wood, "Carl Mays," SABR BioProject, sabr.org/bioproj/person/99ca7c89, accessed January 28, 2019.
6 I.E. Sanborn, "Double by Joe Jackson Beats the Mighty Red Sox, 1 to 0," Chicago Tribune, May 15, 1919: 19.
7 Ibid.; Burt Whitman, "Jackson's Double Pins Defeat on Champions," Boston Herald, May 15, 1919: 16.
8 Sanborn.
9 Ibid.
10 Ibid.
11 As of this writing, Retrosheet.org shows Cicotte with a streak of 29 consecutive scoreless innings instead of 29⅔. But play-by-play details for the May 27 game in the Chicago Tribune and the Washington Post both confirm that the Washington Senators' run in the third inning to end Cicotte's streak was scored with two outs.
Additional Stats
Chicago White Sox 1
Boston Red Sox 0
---
Comiskey Park
Chicago, IL
Box Score + PBP:
Corrections? Additions?
If you can help us improve this game story, contact us.
Tags
https://sabr.org/sites/default/files/images/CicotteEddie.jpg
600
800
admin
/wp-content/uploads/2020/02/sabr_logo.png
admin
2019-05-12 23:07:14
2020-04-17 10:23:35
May 14, 1919: Chicago's Eddie Cicotte begins scoreless streak by shutting out Red Sox, 1-0