May 14, 1920: As a reliever, Walter Johnson wins 300th game with arm and bat
---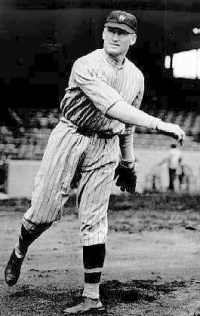 It was cold, windy, dreary, and damp in the nation's capital when the cellar-dwelling Detroit Tigers (5-16) and fifth-place Washington Senators (10-11) arrived at Griffith Stadium to see if they could salvage the final contest of an originally-scheduled four-game series. Rain had canceled the previous two games and probably should have wiped out this game, given what sportswriter Louis A. Dougher of the Washington Times described as a "small crowd shivering here and there in the capacious stands, biting breeze sweeping cross the field, slow running and rotten pitching" and declaring that "the afternoon was not exactly a howling success."1 The threat of yet another double-header later in the season, opined the Washington Post, encouraged Clark Griffith, the Senators owner-skipper, and Bengals pilot Hughie Jennings to play despite the ragged conditions on the field.2
The players' pent-up energy was released in the initial frame, which foreshadowed how the game would unfold. The Tigers missed a shot for the first run when Ty Cobb (on first via a fielder's choice), was thrown out at home on a "perfect relay" from right field on Bobby Veach's double.3
The Nationals, as the team was often called by sportswriters, wasted no time taking advantage of John Glaiser, whose big-league experience consisted of six innings and who was making what proved to be his first and only start in the majors. Joe Judge led off by drawing a walk but was caught in a rundown between third and home on Sam Rice's one-out grounder. After Braggo Roth walked, Bucky Harris doubled home both runners. Frank Ellerbe also caught the "pedestrian fever," noted the Washington Post, and then in Deadball-Era style, Harris stole third, and subsequently home in a daring double steal for the Senators' third run.4 Red Shannon drew yet another free pass from Glaiser, but was forced at second.
The Senators' pitching "staff suffered from inaction," opined Dougher, who described starter Tom Zachary as "look[ing] like a busher."5 The 24-year-old didn't resemble the southpaw who had blanked the New York Yankees on five hits six days earlier for his fifth big-league victory. Harry Heilmann led off the second with a single, took second on Sammy Hale's single, stole third, and then sped home on Oscar Stanage's fly to left field. According to Nationals beat writer J.V. Fitz Gerald, home-plate umpire George Hildebrand called Heilmann out but reversed his call when Patsy Gharrity dropped the ball.6 The Tigers tied the game, 3-3, in the fourth on Stanage's two-run double, plating Veach (who had led off with a two-bagger) and Ira Flagstead.
The Senators stormed back in the fifth, loading the bases on singles by Clyde Milan and Rice and a walk to Roth. Milan was tagged at home on Harris's squeeze bunt, but Ellerbe and Shannon followed with run-scoring singles and Gharrity with a sacrifice fly for a 6-3 lead.
Swedish-born Eric Erickson had taken over for Zachary and pitched a scoreless fifth. "He was Olaf when he strode to the mound," wrote the acerbic Dougher, and "was Oh Laugh within two innings."7 Flagstead beat out a roller to lead off the seventh and Stanage and Chick Shorten, pinch-hitting for Glaiser, drew one-out walks to load the bases. Castigated by Dougher for his "ludicrous lack of control," Erickson's third straight walk, to Ralph Young, forced in a run and sent the hurler to the showers.8
To the rescue with the bags bursting came Walter Johnson, sitting on 299 career victories. The 32-year-old right-hander had finished the decade of the teens by winning at least 20 games each season, 265 in all, including 74 shutouts. He led the AL victories five times during that stretch and posted a career-best 36 in 1913. Vying with Grover Cleveland Alexander as the decade's best hurler (at least until Old Pete was debilitated from serving in the Great War), Johnson relieved regularly, and 20 percent of his appearances in the 1910s were in relief.9
Johnson had been uncharacteristically hit hard in his last two outings, both complete-game losses, yielding 24 hits and 12 runs (8 earned), and seemed confused when the first batter he faced, Donie Bush, hit a tapper back to the mound. According to sportswriter Jack Nye of the Washington Herald, the Big Train threw late to home and Babe Pinelli, pinch-running for Stanage, scored.10 Johnson was on the verge of putting out the fire, but the Georgia Peach, coming off his 12th AL batting crown in 13 seasons, yet batting just .243 in 1920, belted a line drive that center fielder Sam Rice handled "as if it was a chunk of TNT," quipped Fitz Gerald.11 Cobb cleared the bases (credited with two RBIs on Rice's error) to give the Bengals an 8-6 lead.
Despite that rough inning, allowing three inherited runners to score (charged to Erickson's slate) and yielding an unearned run, Johnson "brought a semblance of order out of a wild and woolly game," wrote the Herald.12 He held the Bengals scoreless over the last three frames, and helped lead the Senators' comeback with his bat.
The Senators rallied in the seventh off reliever Ray Oldham, back in the big leagues after a four-year absence. Roth led off by walking, and Ellerbe beat out a one-out grounder. Shannon's grounder forced Ellerbe but second baseman's Ralph Young's relay throw to first was wide, enabling Roth to scamper home and Shannon to advance to second. After Gharrity walked, Johnson blasted a single to drive in Shannon and tie the score, 8-8. No slouch with the bludgeon, Johnson was a robust .235 career hitter and regularly pinch-hit. Manager Jennings, seemingly out of patience with his hurler, took a page out of Griffith's playbook and called on his ace, Hooks Dauss, to stop the bleeding. A longtime workhorse who was coming off 21 victories in 1919, Dauss retired Judge to end the frame and then hurled a scoreless eighth.
The Senators put on their "big shillalah act in the ninth," cooed the Post.13 Singles by Ellerbe, Shannon, and Johnson loaded the bases against Dauss. With the outfield drawn in for a play at the plate, Joe Judge came to bat. Mostly forgotten by modern baseball historians, Judge was a productive hitter throughout his 20-year career (1915-1934), collecting 2,352 hits and batting .298. He blasted a ball to center field, where "Tyrus made no effort to chase after it," reported the Post, and was credited with a single, giving the Senators a 9-8 victory in 2 hours and 35 minutes.14
Johnson earned his 300th career victory, becoming just the 10th pitcher to reach that milestone and the first since Eddie Plank in 1915, and also joined Plank and Christy Mathewson as the only members of that fraternity who started their careers in the twentieth century.15 Despite the importance contemporary sportswriters and fans place on statistics and cumulative accomplishments, Johnson's achievement was apparently lost on contemporaneous sportswriters. Neither the Herald, Post, nor Times mentioned his 300th victory in its game summary.
The biggest story about Johnson in May focused on his uncharacteristic struggles. Two days after his win in relief, the Big Train was shelled for 12 hits in a complete-game 4-2 loss to the St. Louis Browns. On May 20 he was hammered for nine hits and 10 runs, though only two were earned, in a disastrous six-inning relief appearance resulting in another loss and dropping his record to 3-5. Washington scribes wondered if Barney was washed up, and those sentiments grew louder when Johnson was tagged for four runs in four innings of relief in his next outing. For the first time in his career, Johnson was suffering from an injury, to his shoulder. Given extra time between starts, Johnson was inconsistent. On July 1 he tossed arguably the best game of his career, holding the Boston Red Sox hitless and fanning 10 while walking none at Fenway Park. Fifteen days later, his season was over (8-10, 3.13 ERA) as pain made pitching impossible.
Sources
In addition to the sources cited in the Notes, the author accessed Retrosheet.org, Baseball-Reference.com, Newspapers.com, and SABR.org.
Notes
1 Louis A. Dougher, "Looking 'Em Over," Washington Times, May 15, 1920: 17.
2 J. V. Fitz Gerald, "Judge's Hit Yields Victory Over Tigers," Washington Post, May 15, 1920: 12.
3 Harry Bullion, "Washington Beats Tigers in the Ninth Inning, 9 to 8," Detroit Free Press, May 15, 1920: 13.
4 Fitz Gerald.
5 Dougher.
6 J.V. Fitz Gerald, "In the Wake of the Game," Washington Post, May 15, 1920: 12.
7 Dougher.
8 Dougher.
9 In the decade of the teens, Johnson started 361 of 454 appearances (79.5 percent); in his career, he started 666 of 802 appearances (83.0 percent).
10 Jack Nye, "Joe Judge's Timely Drive Over Ty Cobb's Head in Ninth Wins Game for Nationals," Washington Herald, May 15, 1920: 12.
11 Fitz Gerald.
12 Nye.
13 Fitz Gerald.
14 Fitz Gerald.
15 The leaders in wins at the time were Cy Young (511), Christy Mathewson (373), Pud Galvin (365), Kid Nichols (361), Tim Keefe (342), John Clarkson (328), Eddie Plank (326), Old Hoss Radbourn (309), and Mickey Welch (307).
Additional Stats
Washington Senators 9
Detroit Tigers 8
---
Griffith Stadium
Washington, DC
Box Score + PBP:
Corrections? Additions?
If you can help us improve this game story, contact us.
Tags
https://h2j7w4j4.stackpathcdn.com/wp-content/uploads/2017/12/JohnsonWalter.jpg
316
200
Lorenzo Serrato
/wp-content/uploads/2020/02/sabr_logo.png
Lorenzo Serrato
2022-03-15 10:29:27
2022-03-16 12:50:56
May 14, 1920: As a reliever, Walter Johnson wins 300th game with arm and bat