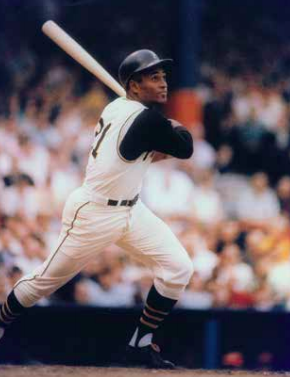 May 15, 1967: Clemente blasts three homers and knocks in all seven runs in Bucs' loss
---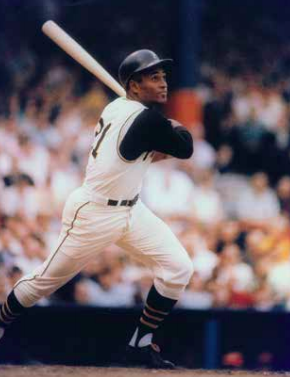 "It was almost like Roberto Clemente playing the Reds all by himself," gushed sportswriter Les Biederman in the Pittsburgh Press, "and coming so close to wrecking them singlehandedly."1 Affectionately nicknamed "Arriba" by Pirates radio broadcaster Bob Prince, Clemente belted three home runs and knocked in all seven Pirates runs, but his offensive heroics were not enough to overcome dreadful pitching and a relentless Reds hitting attack punctuated by Tony Perez's game-winning, walk-off double in the 10th. "[It was] one of those weird, sloppy but tingling battles that drive scorekeepers slap-happy and customers back to the park," wrote Lou Smith excitedly in the Cincinnati Enquirer.2
Skipper Dave Bristol's Reds were one of the early-season surprises in 1967. After a seventh-place finish the previous year, they had gotten off to a hot start and occupied first place (21-10), paced by one of the deepest pitching staffs in the league. Two games behind the Reds were manager Harry Walker's Pirates (16-9), the hottest team in baseball and winners of 13 of their last 17 contests. The Bucs' strength was hitting; they had led the majors in batting average in 1966 (.279) and duplicated the feat in 1967 (.277).
A cool, damp spring evening with temperatures hovering around 50 degrees suggested an advantage for the hurlers. Both clubs sent former All-Stars to the rubber in the first game of a three-game series: The Pirates' 31-year-old southpaw, Bob Veale, one of the hardest throwers in baseball, owned a 63-40 career record, including 5-0 with a stellar 2.49 ERA thus far in '67. The Reds' right-hander Milt Pappas, acquired from the Baltimore Orioles in the trade for the immensely popular Frank Robinson, was a dependable workhorse with a 125-87 career record. Instead of a pitching duel, the paltry crowd of 5,222 spectators at Crosley Field was treated to a memorable offensive explosion.
After Matty Alou, the reigning NL batting champion (.342), led off the game with a single, Clemente belted what Charley Feeney of the Pittsburgh Post-Gazette considered a routine fly to right field, but it "got caught in the wind and sailed into the seats" for a two-run homer, his fourth of the season.3 Clemente had gotten off to a slow start in 1967, but had been wielding what Feeney called a "booming bat" in the Pirates surge.4 In that 17-game stretch, the seven-time All-Star and three-time NL batting king, had gone 29-for-71 (.408) to raise his batting average to a major-league-leading .368. Coincidentally, Clemente's home run also gave him a cycle in his last four at-bats; he had hit a double, triple, and single in his final three at-bats against the Atlanta Braves the day before.
Veale held the Reds hitless through the first four innings, but got a scare in the fourth when Pete Rose reached on Bill Mazeroski's error and moved to third on a wild pitch with no outs. After Perez fanned and Lee May walked, shortstop Gene Alley scoped up Don Pavletich's grounder and did what the Pirates did best: initiate a 6-4-3 twin killing; they led the big leagues with 186 double plays in 1967.
In the fifth the Pirates took advantage of Perez's error on Alou's routine one-out grounder. After Maury Wills forced Alou, and then stole second, Clemente whacked a two-out liner over the nine-foot fence in right field for a 4-0 Pirates lead. Long regarded as one of baseball's best pure hitters, Clemente tailored his game to fit cavernous Forbes Field in the Steel City, stretching doubles into triples. Never considered a power hitter, the reigning NL MVP had belted a career-most 29 round-trippers the previous campaign, well above his average of 17 over the last seven seasons (1960-66).
Veale survived a shaky fifth (single, balk, and walk), and then came unraveled in the sixth. He "lost rhythm on his fastball suddenly," opined Biederman, and threw more pitches in the inning than he had in the previous five combined.5 Rose, Perez, and May led off with consecutive singles, the last of which resulted in the Reds' first tally. After Veale's wild pitch enabled the runners to each move up a base, Pavletich drove in Perez on a sacrifice fly, and Chico Ruiz's groundout plated May to pull the Reds to within one, 4-3. Leo Cardenas's single ended Veale's outing, before reliever Pete Mikkelsen ended the frame.
Dubbed a "one-man-show" by the Cincinnati Enquirer, Clemente greeted Darrell Osteen, the Reds' third hurler of the game, by spanking a double over Rose's head in left-center to drive in Mikkelsen and Wills (both of whom Osteen had walked) for a 6-3 Pirates lead in the seventh.6
Mikkelsen, a rubber-armed middle reliever who had appeared in 71 games the previous season, imploded just minutes later. Rose drew a two-out walk and scored on Perez's double to deep center field. May followed with a single to score Perez and the Reds were back within one run.
Both teams threatened in the eighth, but came up empty. In relief of Osteen, Gerry Arrigo uncorked a wild pitch to the first batter he faced, enabling Mazeroski (who had walked) to scamper to second with no outs. Making his first appearance since tossing a one-hit shutout against the New York Mets on April 29, Arrigo dusted off the cobwebs to escape the jam. In the Reds' half of the frame, pinch-hitter Art Shamsky, who had clouted three homers against the Pirates at Crosley Field on August 12 the previous season, led off with a double, but was stranded on third, setting the stage for two nailbiting innings.
In the ninth the Pirates tacked on an insurance run when Clemente blasted what Cincinnati sportswriter Lou Smith described as a "prodigious" home run that easily cleared the left-field fence.7
A two-run lead in the ninth inning on the road would normally have been an ideal situation for longtime Pirates reliever Elroy Face. However, the 39-year-old forkballer had pitched in each of the last three games, picking up two saves and a win versus the Braves, and remained seated. Walker counted on offseason acquisition Juan Pizarro to close the deal. Lee May, in his first campaign as a regular, greeted the former White Sox All-Star with a towering one-out, two-run round-tripper, driving in Perez (on first via a single) to tie the game, 7-7. Arrigo followed with what appeared to be another home run, over the right-field wall. "[T]he ball was over the fence for a home run," said Clemente, "when I jumped and kept it from falling in."8 Crashing into the fence, Clemente prevented a game-winning clout, but could not hold onto the ball, which fell for a double. As the Bucs' bullpen remained silent, Pizarro ended the frame with runners on second and third.
After Arrigo set down the Pirates 1-2-3 in the 10th, Pizarro yielded a leadoff single to speedy Tommy Harper and punched out Vada Pinson. Third baseman Maury Wills made a "brilliant" backhanded and potentially game-saving stab of Rose's grounder and then fired to Maz at second to force Harper.9 To the plate stepped Tony Perez, en route to his first of seven All-Star selections in his 23-year Hall of Fame career. With Steve Blass beginning to warm up in the Pirates 'pen, Perez walloped a double over center fielder Manny Mota's head and off the wall to drive in Rose for the winning run to end the game in 3 hours and 18 minutes. (Mota had replaced Alou to begin the ninth inning after the latter had been ejected by home-plate umpire Bill Jackowski for tossing his bat and helmet when he was called out on strikes.)10
"It was an unbelievable finish to an unforgettable game," opined Biederman with an air of disappointment.11 The trio of Rose, Perez, and May victimized Bucs hurlers for eight of the team's 13 hits, scored all eight Reds runs, and drove in six off what Feeney bluntly called "bad" Pirate pitchers.12 The "Reds had heroes all over the place," gushed Smith, and included Arrigo, who yielded only one hit — Clemente's homer — in three innings to earn the victory.13
"This could have been one of Clemente's great moments," wrote Feeney. "The defeat took away any joy he might have known."14 Clemente became the fifth Pirate to hit three homers in a game, joining Ralph Kiner (who did it four times between 1947 and 1951), Frank Thomas, and Roman Mejias (both in 1958), Dick Stuart (1960), and Willie Stargell (1965). "[Y]es, my biggest game, but not my best," replied Clemente when asked to comment on his fifth multi-homer game in his 13-year career. "I don't count this one, we lost."15
Clemente hit 240 home runs in his 18-year career, which ended prematurely when he lost his life in a humanitarian mission to Nicaragua on December 31, 1972, just about three months after he notched his 3,000th and final hit. On August 13, 1969, he tied his career best by belting three home runs in a 10-5 victory against the San Francisco Giants in Candlestick Park. On 11 other occasions he hit two round-trippers in a game.
Sources
In addition to the sources cited in the Notes, the author accessed Retrosheet.org, Baseball-Reference.com, the SABR Minor Leagues Database, accessed online at Baseball-Reference.com, SABR.org, and The Sporting News archive via Paper of Record.
https://www.baseball-reference.com/boxes/CIN/CIN196705150.shtml
https://www.retrosheet.org/boxesetc/1967/B05150CIN1967.htm
Notes
1 Les Biederman, "Clemente's 'Biggest' Game Wasted," Pittsburgh Press, May 16, 1967: 34.
2 Lou Smith, Perez's Double Scuttles Pirates in 10th, 8-7," Cincinnati Enquirer, May 16, 1967: 23.
3 Charley Feeney, "Cincinnati Overpowers Clemente by 8-7," Pittsburgh Post-Gazette, May 16, 1967: 26.
4 Feeney.
5 Biederman.
6 Smith.
7 Smith.
8 Biederman.
9 Smith.
10 Feeney.
11 Biederman.
12 Feeney.
13 Smith.
14 Feeney.
15 Biederman.
Additional Stats
Cincinnati Reds 8
Pittsburgh Pirates 7 
10 innings
---
Crosley Field
Cincinnati, OH
Box Score + PBP:
Corrections? Additions?
If you can help us improve this game story, contact us.
Tags
https://sabr.org/sites/default/files/Roberto%20Clemente.png
600
800
admin
/wp-content/uploads/2020/02/sabr_logo.png
admin
2019-01-30 10:38:57
2021-10-26 12:51:34
May 15, 1967: Clemente blasts three homers and knocks in all seven runs in Bucs' loss