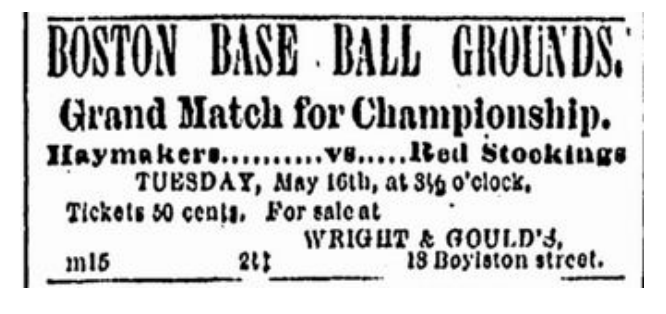 May 16, 1871: Troy Haymakers spoil Boston Red Stockings' first home opener
---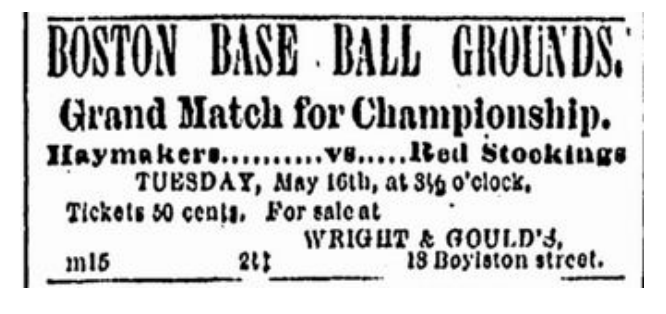 "The game between the Red Stockings and Haymakers this afternoon, on the Boston Grounds," wrote the Boston Advertiser, "will be perfectly interesting from the fact that it is the first game between professional nines in this city."1 Those few sentences, buried in a column of "local matters about town," are a far cry from what an opening day looks like at Boston's Fenway Park today. While Fenway Park opened in 1912 and was celebrated 100 years later, 41 years prior there had been Boston's first baseball opening day at the South End Grounds. The day was the first of its kind, and it started a tradition that has continued for over 140 years.
The night before, the visiting Troy Haymakers quartered at the United States Hotel and were "accompanied by quite a large delegation of their friends," wrote the Boston Journal.2
Both "nines made their appearance on the field, and were greeted with hearty cheers by the large crowd of spectators in attendance, numbering some 2,500," the Journal wrote.3 Mortimer M. Rogers, of the Star Club of Brooklyn, was chosen as the umpire, and the game began at 3:30 PM.4 Boston's Harry Wright lost the toss, so Boston batted first.
Al Spalding was pitching the first home opener for Boston. Spalding was off to a 2-0 start with a 4.00 ERA. Troy sent a 22-year-old John McMullin to the mound. McMullin was seeking redemption for the loss he received in his first start against Boston a week prior, although he only gave up 3 earned runs in a complete-game loss. Boston's George Wright was unable to play after injuring himself in a game at Troy the previous week. Left fielder Fred Cone didn't hear Wright calling for a fly ball because of a passing train, leading to a collision.5 Wright injured his leg and would play in only 16 games in 1871.
It was an explosive first inning for both teams. Boston's Ross Barnes led off, grounding to Steve Bellan, who threw wildly to first and Barnes was safe at second. Barnes scored on a single to center by Dave Birdsall. Cal McVey doubled to left, scoring Birdsall, then moved to third on a groundout. Charlie Gould grounded to Edward Beavens at second, scoring McVey. With two outs, Harry Schafer second on another error. Fred Cone grounded to Beavens, who threw wildly to first and Schafer scored. "Spalding made two bases on a corker to left field,"6 the Journal described, scoring Cone. Sam Jackson singled home Spalding, giving Boston fans the delight of seeing their club tally a 6-0 lead in their inaugural inning.
Boston was sloppy in the field, however. Mike McGeary of the Haymakers reached on a throwing error, then stole second. Gould's muff landed Tom York at first and McGeary went to third. McGeary scored when Barnes threw wild in an attempted double-play and the pitcher McMullin, batting cleanup, reached first. Steve King doubled, scoring McMullin. A Beavens' grounder would have been an easy out, "but H. Wright was pushed aside by King, just as he was fielding the ball," and King scored. Troy had cut Boston's lead in half, 6-3.
In the Boston second, Barnes scored on a passed ball to make the score Boston 7-3. The inning ended when a "splendid throw"7 by Clipper Flynn cut down Birdsall who tagged up.
In the Troy third inning, Beavens singled home King on a fair-foul, then Bellan scored on Lipman Pike's triple to cut Boston's lead to 7-5. The inning also saw Craver ground out to Schafer, whose throw resulted in Gould "taking the ball high in one hand."8
In the Haymaker fourth inning, McGeary walked and stole second. York reached on a dropped popup by Barnes. McMullin singled home McGeary, then King reached on a single, scoring York. Beavens singled, scoring McMullen and King. Beavens scored on a passed ball. Bill Craver singled to left, scoring Bellan. Six runs scored, and Troy now led 11-7.
Boston struck for two runs in the fifth inning. Harry Wright walked. A sharp liner by Gould was caught by Bellan, who tried to double-up Wright at first, but his throw went through Pike's hands "and injured him so as to cause a temporary suspension of the game."9 Schafer got a broken-bat single, and both scored on wild throws by Craver and Pike to cut the Troy lead to 11-9.
In the Troy sixth, Beavens reached on a wild Harry Wright throw, stole second, and reached third "on a muff between Harry and Barnes,"10 then scored on a sacrifice fly. Craver and Flynn reached on errors by Schafer and Barnes, then both scored on McGeary's single. McGeary scored on a Birdsall muff of a York fly ball, and after the comedy of errors, Troy had added four more runs for a 15-9 lead.
Boston countered with two runs in the seventh to cut the lead to 15-11. Gould sent a fly ball to Flynn who "took it very close to the ground." McVey ran to third base on the play. The Haymakers wanted an appeal on the catch by Flynn. Rogers ruled the batter out on the fly. Play was about to resume when Craver then asked for an appeal on McVey, "it being claimed that he failed to touch the second base before running on the play."11 Rogers ruled McVey out for failing to touch second base, ending the inning. This must have been a replay challenge, circa 1871.
In the seventh, the Haymakers scored 11 runs in the inning, "but two or three being earned," wrote the Journal.12 Beavens, Bellan and Pike all scored on a hit to short center field by Craver, who then scored on a hit by Flynn. An error by Schafer put McGeary on base, followed by a York double. McMullen, "got to his first, while Harry Wright, Barnes, and Jackson stood in a triangle watching, any which either might have taken" wrote the Herald.13 McMullen and York scored on a double by King, who then was out trying to steal third. Beavens and Bellan singled, and Cone muffed a Pike fly ball to load the bases. Craver "cleared the bases and took the second by a hot grounder to left field" wrote the Herald.14 Troy now had a 26-11 lead.
Boston scored two runs in the eighth, but Troy wasn't done yet. A walk and another error on Schafer led to York and McMullin scoring on King's double. Three runs came across to make the score Troy 29-13. Boston added a lonely run in the ninth, and the final score was 29-14.
"There is no mincing the matter at all," wrote the Journal, "our 'Red Stockings were beaten by the 'Haymakers' in the match game yesterday. It was not only a beat, but a bad beat." Fans witnessed "the rather slovenly exhibition made by the Bostons."15 The loss of George Wright was a big factor, "but this is hardly an excuse," the Journal whined, "for errors in others nearly as proficient in their own positions as he most certainly is in his."16 The first opening day was known for "muffs and errors being frequent in all parts of the field" slammed the Herald, as Boston committed 15 errors and Spalding's pitching "void of its usual effects."17 The highly-anticipated home opener did not live up to expectations, "for the credit of Boston," wrote the Boston Post, "we could have wished it were played elsewhere."18
The Journal seemed to give a hint of fans sensing heartbreak in losing on opening day (something that would often be repeated in Boston baseball history). "To think that our boys, on whom we depend so much, who, we began to believe, were invincible, should be so thoroughly defeated on their ground, is rather tough…[ George Wright's] "absence from the field seemed to demoralize to a certain extent the whole club."19 The 29 runs allowed by the Red Stockings were the most runs allowed in a game in the 1871-1875 period. Only on two other occasions did they allow 20 or more runs in a game (20 runs on June 22, 1871, and 22 runs on June 5, 1873).
"We congratulate the Haymakers," wrote the Journal, "and beg to advise them that when our nine are all right again they propose to retake the wreath which they lost yesterday, and hold it to the end of the season. Meanwhile, the Haymakers had as well wear it as any other club, and we wish them joy in having so finely demonstrated their worthiness to do so."20
The Haymakers stayed in town another day, playing on the same field against Harvard, and losing 15-8 to the "flyers of the magenta." That evening, the Haymakers left on the 9 o'clock train on the Boston and Albany Railroad.21
This article was originally published in "Boston's First Nine: The 1871-75 Boston Red Stockings" (SABR, 2016), edited by Bob LeMoine and Bill Nowlin. To read more articles from this book at the SABR Games Project, click here.
Photo Caption
Advertisement for the first Opening Day in Boston's professional baseball history, Boston Herald, May 16, 1871.
Sources
Thanks to Dixie Tourangeau for research assistance in writing this article.
Notes
1 "Local Matters. About Town," Boston Advertiser, May 16, 1871: 1.
2 "Base Ball. First Defeat of the Boston Club," Boston Journal, May 17, 1871: 1.
3 Ibid. Actual attendance accounts ranged from 2,500-8,000 spectators depending on the newspaper.
4 Maxson Mortimer "Mort" Rogers had an interesting baseball career prior to this game. A Brooklyn native, Rogers was the son of a fish dealer. In the 1860's, Rogers and his two brothers played for the Brooklyn Resolutes amateur club. He later moved to Massachusetts and played center field for the Lowell Club and was called an outfielder "ahead of his time," wrote James D'Wolf Lovett in his Old Boston Boys and the Games They Played (Boston: Riverside Press, 1907), 165. "There is no player who can run in to a swiftly batted liner and pick it up within six inches of the ground better than he could," D'Wolf said. Rogers and E.E. Rice became involved with the New England Base Ballist, a weekly sports newspaper which ran from August-December of 1868. The first edition announced "After a long and arduous experience in reporting and playing Base Ball, we have at last the pleasure of addressing the Fraternity, and friends, through the medium of the Editorial columns of a paper devoted to the interests of our National Game, other Field and outdoor Sports, Music and the Drama." The paper evolved into the National Chronicle, edited by Rogers, Rice, and C. Ruthven Bryan, and ran 1869-1870. In the 1870s, Rogers wrote for the Sunday Mercury newspaper and produced scorecards of Boston's games, the first to include photographs of the players. See Peter Morris "Clipper Base Ball Club of Lowell," in Baseball Founders: The Clubs, Players, and Cities of the Northeast that Established the Game (Jefferson, North Carolina: McFarland, 2013), and the New York Clipper, May 21, 1881: 138.
5 Harold Kaese. The Boston Braves 1871-1953 (Boston: Northeastern University Press, 1954), 9.
6 Ibid.
7 "Affairs About Home. Base Ball. The Professional Championship –– Haymakers vs. Red Stockings –– The Latter Badly Whipped –– Score 29 to 14," Boston Herald, May 17, 1871: 1.
8 "Affairs About Home. Base Ball,"
9 "Base Ball. The National Championship–– Red Stockings vs. Haymakers," Boston Advertiser, May 17, 1871: 1.
10 "Affairs About Home. Base Ball,"
11 "Base Ball. The National Championship,"
12 "Base Ball. First Defeat of the Boston Club,"
13 "Affairs About Home. Base Ball,"
14 "Affairs About Home. Base Ball,"
15 "R Beaten!" Boston Journal, May 17, 1871: 4. (Note: The author isn't exactly sure if the article headline is "R" or "B," based on the poor quality of the digitally scanned version of the Journal. However, he is convinced it is "R" based on other examples on the page, and "R" would stand for "Red Stockings," although no experts were consulted in its analyses.
16 "Base Ball. First Defeat of the Boston Club,"
17 "Affairs About Home. Base Ball,"
18 "Base Ball. Match Between the Boston Nine and the Haymakers, of Troy–– the Boston Club Badly Beaten," Boston Post, May 17, 1871: 3.
19 "R Beaten!"
20 Ibid.
21 "Base Ball. Credible Victory for the Harvards," Boston Journal, May 18, 1871: 1.
Additional Stats
Troy Haymakers 29
Boston Red Stockings 14
---
South End Grounds
Boston, MA
Corrections? Additions?
If you can help us improve this game story, contact us.
Tags
https://sabr.org/sites/default/files/Boston%20Red%20Stockings.png
600
800
admin
/wp-content/uploads/2020/02/sabr_logo.png
admin
2018-08-28 12:43:20
2020-04-17 10:24:43
May 16, 1871: Troy Haymakers spoil Boston Red Stockings' first home opener