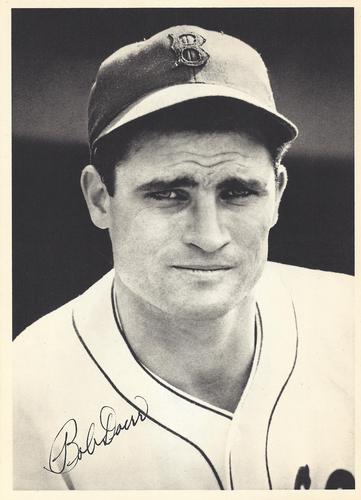 May 17, 1944: Boston's Bobby Doerr hits for the cycle in Browns' 'good, sloppy, indifferent' romp
---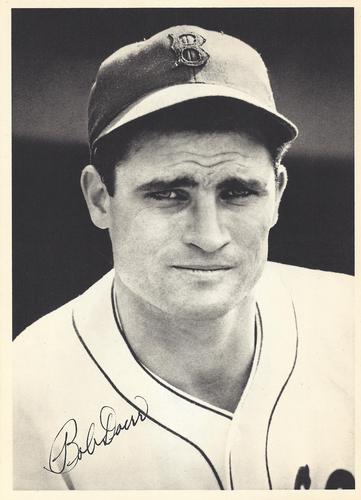 The second-place St. Louis Browns traveled to Beantown for a four-game midweek series against the seventh-place Red Sox. It was still relatively early in the 1944 season. (Boston had played 21 games but had lost nine of their last 12, while the Browns had played 24 and had lost eight of 12 recently.) The Browns prevailed, 7-3, in the first game of the series, on May 16, and then the two teams played a doubleheader on May 17. A mere 5,072 fans entered the ballpark as "Baseball at Fenway Park took a Dr. Jekyll and Mr. Hyde turn."1
The home team took the opener, 5-1, behind solid pitching from Tex Hughson, evening the series. Hughson held the visitors to four singles, while the Boston batters took advantage of three hits and two walks in the seventh inning to score four runs. In the second game of the doubleheader, though, the crowd witnessed "everything that goes to make baseball good, sloppy and indifferent."2 Melville Webb of the Boston Globe wrote that "the Cronins were on the short end of a 12 to 8 Marathon into which was crowded a barrage of 29 hits."3 Boston's second baseman, Bobby Doerr, hit for the cycle in the losing cause, as five Red Sox pitchers faced a total of 53 St. Louis batters.
World War II had different effects on the two teams. Sixteen of the 38 players on the 1944 St. Louis roster were at least 30 years old and 18 of them had been classified 4-F, unfit for military duty.4 The Red Sox were missing sluggers Ted Williams, Dom DiMaggio, and Johnny Pesky, and pitchers Joe Dobson and Charlie Wagner were also away.
Sig Jakucki started on the hill for St. Louis. He had had a cup of coffee in 1936 for the Browns and then was out of Organized Baseball for six years before returning to St. Louis in 1944. Splitting time between starting and relieving, he made his second start of the season (and the fourth of his career) against the Red Sox. He brought a record of 1-2 and a 5.95 ERA into the game. Boston countered with second-year right-hander Emmett O'Neill (2-1, 2.30 ERA).
Each pitcher allowed one hit through the first two frames, but then the game "began to go all wrong in the Brownies' third inning."5 After retiring Red Hayworth and Jakucki, O'Neill walked Don Gutteridge. Al Zarilla hit a grounder to Doerr, but his throw to first was off the mark and Zarilla was safe. Gutteridge advanced to third on the error. Zarilla stole second, and he and Gutteridge trotted home on Gene Moore's double to right field. Vern Stephens followed with a home run (his fourth of the season) over the left-field wall, and St. Louis had four runs.6
Boston responded in the bottom half. Skeeter Newsome led off with a double to right. O'Neill, who entered the game batting .294 (5-for-17), reached on an infield single into the hole at shortstop (Newsome remained at second). Leon Culberson forced O'Neill at second, and Newsome, who was now at third, scored on a fly ball by George Metkovich, making it 4-1.
After the Browns' third-inning outburst, the merry-go-round continued. The Browns scored in each of their next five innings, "getting a brace of counters in three of them."7 In the fourth, George McQuinn drew a one-out walk. Hayworth doubled, and and Jakucki stroked a two-run single, chasing O'Neill to the showers. Pinky Woods, a wartime replacement player, came on in relief. He walked Zarilla and Gutteridge, loading the bases, but retired Moore and Stephens on fly balls to end the inning. Boston got one back in its turn, as Doerr tripled with one out (he had flied out in his first at-bat) and scored on an out by Jim Tabor.
Woods continued to struggle with his control, walking Milt Byrnes and Mark Christman to start the fifth. McQuinn bunted them up a base, and when Hayworth singled, driving in Byrnes, Boston skipper Joe Cronin made the stroll to the mound for another pitching change. Lou Lucier came on in relief. Jakucki greeted him with an RBI single, and the Browns led, 8-2.
By the sixth inning St. Louis was still bashing the ball and putting runners on base. Lucier allowed singles to Byrnes and Christman and walks to Hayworth and Jakucki. Cronin had already used three pitchers (plus two from the first game and two others from the previous day's game), so his bullpen was pretty thin. With two outs, Cronin called for infielder Eddie Lake to take the mound. The 5-foot-7-inch utility player had appeared in five games at shortstop and once as a pinch-hitter. Cronin put him on the mound; Lake had not pitched since high school.8 The right-hander retired Gutteridge on a popout with the bases loaded, but Jakucki's walk translated into another St. Louis tally.
In the bottom of the sixth, Bob Johnson singled with one down. Doerr doubled to right, sending Johnson to third. Tabor followed with a single, plating both runners. An out later, Newsome doubled home Tabor and Boston had cut the St. Louis lead to 9-5.
The Browns notched another run in the seventh, an inning that featured some exciting plays. Moore singled with one out. Lake picked him off for the second out. Stephens walked. Lake picked him off, too, but threw the ball away and Stephens wound up at second base. Byrnes scorched a triple that drove in Stephens, and Lake was charged with an earned run. An inning later, McQuinn led off with a single. Jakucki bunted with one out. Lake fielded the ball and threw to Metkovich at first, who dropped the ball for an error. Gutteridge walked to load 'em up yet again. Zarilla exacted revenge on Lake with a single, good for two RBIs. Two more unearned runs for the Browns.
Trailing now by seven runs, Boston created a rally. Johnson singled and Doerr sent a Jakucki offering over the left-field wall for a home run. Doerr's second home run of the season landed on Lansdowne Street. That was all for Jakucki, and veteran right-hander George Caster came in to pitch. Tabor greeted him with his second home run of the year. Roy Partee doubled and Newsome singled to left. (With the Red Sox still down by four runs, Partee held up at third.) Then skipper Cronin himself pinch-hit for Lake and lined into a double play, basically killing the rally. Culberson did draw a walk to fill the sacks, but Metkovich was retired on an unassisted grounder to first to end the inning.
Boston put two more runners on base in the ninth (a walk by Johnson and a single by Doerr), but Caster set down Tabor and Partee to end the game. The Browns held on to win, 12-8. Doerr was the eighth Red Sox player to hit for the cycle.9 In accomplishing the rare feat, Doerr "came out of that batting slump with a rush."10 Coming into the doubleheader, Doerr had gotten only three hits in his last eight games (28 at-bats), and his batting average was .233. He collected one hit in the first game and then his 4-for-5 performance in the second game shot his average up to .269. Two other major leaguers hit for the cycle in 1944. They were Red Sox teammate Bob Johnson (July 6 against the Detroit Tigers) and Brooklyn's Dixie Walker (September 2 against the New York Giants).
As a pitcher, Jakucki "wasn't setting the baseball world afire,"11 but he held his own, allowing seven earned runs in seven innings in earning his second win of the year. He struck out three and did not walk a batter, and he always had the lead, so manager Luke Sewell kept him in the game until the Red Sox rallied in the eighth. He was arguably better at the plate than on the mound; he went 2-for-3 with a walk, a run scored, and four runs driven in. (He scored every time he reached base.)
On the home-team side, the Red Sox made four errors, and the five Boston hurlers allowed 14 hits and gave up14 walks. The Browns left 14 runners on base. Every starting player for St. Louis had at least one hit and scored at least one run. Only Moore did not get a base on balls, and six Browns hitters recorded runs batted in (led by Jakucki's four). O'Neill took the loss, his second.
The final game of the Browns-Red Sox series was played the next day, and Boston exacted some revenge, winning 12-1, before a tiny crowd of 1,913.
Sources
In addition to the sources mentioned in the Notes, the author consulted baseball-reference.com, mlb.com, and retrosheet.org.
baseball-reference.com/boxes/BOS/BOS194405172.shtml.
retrosheet.org/boxesetc/1944/B05172BOS1944.htm.
Notes
1 Melville Webb, "Sox Win, 5-1, Then Lose, 12-8," Boston Globe, May 18, 1944: 8.
2 Ibid.
3 Ibid.
4 Greg Erion, "The St. Louis Browns in World War II," and Duke Goldman, "The 1944 Red Sox: What Could Have Been," two chapters in Marc Z. Aaron and Bill Nowlin, eds., Who's on First: Replacement Players in World War II (Phoenix: Society for American Baseball Research, 2015).
5 Webb.
6 Only the run by Gutteridge was officially scored as unearned.
7 Webb.
8 Bill Nowlin, "Eddie Lake," SABR BioProject, sabr.org/bioproj/person/027152a9. Lake pitched in six games for the Red Sox in his career (all in 1944). He had a 4.19 earned-run average with no decisions.
9 Previous cyclists for the Red Sox were Buck Freeman (June 21, 1903), Patsy Dougherty (July 29, 1903), Tris Speaker (June 9, 1912), Roy Carlyle (July 21, 1925), Moose Solters (August 19, 1934), Joe Cronin (August 2, 1940), and Leon Culberson (July 3, 1943).
10 Webb.
11 "Browns, Lose, Win," St. Louis Star and Times, May 18, 1944: 21.
Additional Stats
St. Louis Browns 12
Boston Red Sox 8
Game 2, DH
---
Fenway Park
Boston, MA
Box Score + PBP:
Corrections? Additions?
If you can help us improve this game story, contact us.
Tags
https://sabr.org/sites/default/files/DoerrBobby.jpg
600
800
admin
/wp-content/uploads/2020/02/sabr_logo.png
admin
2019-01-10 12:02:25
2020-04-17 10:23:42
May 17, 1944: Boston's Bobby Doerr hits for the cycle in Browns' 'good, sloppy, indifferent' romp