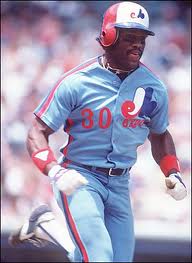 May 2, 1987: Tim Raines makes a grand return to Expos
---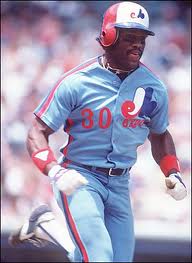 It is known in Expos history as "The Tim Raines Game" and if ever there was a game meant to be named after a player, it was this one.
The 1986-87 offseason was an odd one in Major League Baseball as it lacked business and busy-ness. Prominent free agents like Raines, Ron Guidry, and Jack Morris, who normally would have been hotly pursued by free-spending owners, couldn't find any takers. Something fishy was going on.
That, an arbitrator later ruled, turned out to be collusion among the owners, who in an effort to keep salaries down, instructed their management not to make any big-money offers despite the presence of those high-quality players.1
This froze those players because the rules at the time didn't permit them to negotiate with their original teams after January 8 through the end of April.
Raines was coming off a 1986 season in which he hit an NL-best .334, with a league-leading .413 on-base percentage and 70 stolen bases. Nowadays, that would merit a deal of five years or more (especially considering that Raines was only 27 years old).
"He was exactly the kind of player teams would want in the game today," said a former teammate, Tim Wallach.2
"He would have been a superstar anywhere else," said former teammate Bob McClure. "He was a good teammate and as talented a player as I've run across. Guys loved him and loved playing with him. He had fun and he played extremely hard."3
But instead of playing, Raines was stuck. And though Raines may have been ticked, he wanted back in the lineup … immediately. Raines kept in shape while waiting to sign by working out at Palmetto High School in Sarasota, Florida. He signed a three-year deal on May 1 for a much smaller raise than he deserved.
"I was disappointed," Raines said. "I was upset with the way the process went down, to be a player of my ability and not able to (really) become a free agent."4
Expos manager Buck Rodgers put Raines right into the thick of things, batting him third against the Mets on Saturday afternoon, May 2, at Shea Stadium. The Expos needed a jolt as they entered the day with an 8-13 record and stood in fifth place in the NL East. After a mediocre batting practice ("I think I hit one ball out of the cage," Raines said in an interview 20 years later), Raines flipped the switch once the game began.4 His first swing against Mets starter David Cone resulted in a triple off the right-field wall.
"I almost missed second base," Raines said.5
Cone escaped the jam caused by that hit, but allowed a run in the second inning on a Tom Foley double, then ran into more trouble after walking Raines in the third inning. The speedster stole second and scored the first of two Expos runs in the inning on a base hit by Andres Galarraga. Galarraga scored on a hit by backup catcher John Stefero.
The Expos had a 3-0 lead, but starting pitcher Neal Heaton couldn't hold it. Tim Teufel cut the lead to 3-1 with a third-inning RBI double. Darryl Strawberry's two-run home run in the fourth inning tied it and Dave Magadan's RBI single put the Mets ahead, 4-3.
The Expos tied the game in the sixth inning, as Foley doubled and scored on an error by Mets reliever Terry Leach. But the Mets got two runs back in their half to lead 6-4. Strawberry set that up with a single and two stolen bases. He scored on Magadan's sacrifice fly and the Mets added another run when Howard Johnson walked, stole second, and scored on a pinch hit by Lee Mazzilli. That lead held for two innings and Raines led off the ninth inning looking to start a rally.
He did by beating out a groundball to shortstop for an infield hit. A single by Tim Wallach pushed Raines to third. He scored on a groundout by Andres Galarraga. The Expos tied the game with two out on a single by Vance Law that scored Wallach and forced extra innings. Sparked by that rally, the Expos went to work in the 10th against Jesse Orosco. Singles by Reid Nichols, Casey Candaele, and Herm Winningham loaded the bases with nobody out. It's as if it was scripted for Raines to show his ultimate worth, despite being 3-for-20 with 10 strikeouts against Orosco entering that at-bat.
After Orosco missed with his first pitch, he tried to hit the outside corner with a fastball. Raines was right on it. The ball cleared the left-field wall by a good 20 feet and landed in the Expos' bullpen.
In a career marked by clutch hits, this might have been the most clutch.
"Would you believe a grand slam for Tim Raines?" said Vin Scully, broadcasting the game on NBC. "That has to be one of the most incredible stories of the year in any sport."6
"If you wrote it for television they'd say it's too corny, it would never work," said Scully's analyst, Joe Garagiola, as Raines returned to the dugout with teammates bowing to him.7
Said Raines: "At that point I was feeling pretty good about myself. I wasn't looking to hit a home run in that situation. I was just looking for a good pitch to hit. He threw me a fastball. I took a good swing and it went out of the ballpark. In that situation, in that game, in that moment, it was quite exciting for me. It was like, 'Welcome back, Tim Raines. I'm ready to go.'"8
The Expos scored once more in the inning, and when Randy St. Claire and Andy McGaffigan held the Mets to one run in the home half, the Expos had a season-changing 11-7 win.
Raines finished 4-for-5 with the only out coming on a nice play by Mets second baseman Tim Teufel. It marked the first time in Raines' career that he had four hits and four RBIs in the same game. It was also the second extra-inning grand slam in franchise history, the first since Dave Cash hit one to beat the Cardinals in 1979.
"I think I'm still a little rusty," Raines told reporters after the game.9
Raines was more trusty than rusty. The next day, in his first at-bat he homered again, this one off Mets lefty Bob Ojeda in the first inning. The Expos won that game, 2-0.
Raines hit .330 in 1987 and set career highs in home runs (18), on-base percentage (.429), and slugging percentage (.526). He stole 50 bases, with a 91 percent success rate, the most efficient he'd been to that point in his career. Raines also won All-Star Game MVP honors with an extra-inning go-ahead triple. He finished seventh in the NL MVP voting.
"He could hit rolling out of bed, from both sides of the plate," said his former teammate Mitch Webster, who spent most of the season hitting in front of Raines and had a career-high 101 runs scored. "He had a tremendous feel for the barrel and sweet spot and incredible strong legs."10
"I took a lot of pride in my hitting," Raines said. "People talk about me as a guy who could steal bases. But people don't realize I was almost a .300 hitter. I read The Art of Hitting by Charlie Lau and I put in a lot of work to become the hitter that I became. I studied the guys that he illustrated. George Brett was one of my favorites. I patterned myself after those type of hitters. I think I made a good choice."11
Beginning with Raines' debut, the Expos went 83-58. Over 162 games, that's a 95-win pace. The Cardinals won the NL East with those 95 wins. The Expos finished third, a game behind the Mets, with 91. Had the Expos had Raines the full season, might things have turned out differently? Perhaps, but we'll never know.
We do know this. The game's memories will last a lifetime.
"That's a day I will never forget," Raines said.12
This article appeared in "Au jeu/Play Ball: The 50 Greatest Games in the History of the Montreal Expos" (SABR, 2016), edited by Norm King. To read more articles from this book, click here.

Sources
In addition to the sources listed in the notes, the author consulted:
Keri, Jonah. "Raines: I played the game with excitement, focus," ESPN.com, December 30, 2007.
Wulf, Steve. "More Bang for More Bucks," Sports Illustrated, May 11, 1987.
Box scores for this game can be found on baseball-reference.com, and retrosheet.org at:
http://www.baseball-reference.com/boxes/NYN/NYN198705020.shtml
http://www.retrosheet.org/boxesetc/1987/B05020NYN1987.htm
Notes
Additional Stats
Montreal Expos 11
New York Mets 7
10 innings
---
Shea Stadium
New York, NY
Box Score + PBP:
Corrections? Additions?
If you can help us improve this game story, contact us.
Tags
http://sabr.org/sites/default/files/images/RainesTim.jpg
600
800
admin
/wp-content/uploads/2020/02/sabr_logo.png
admin
2017-01-18 21:23:56
2020-04-17 10:25:56
May 2, 1987: Tim Raines makes a grand return to Expos