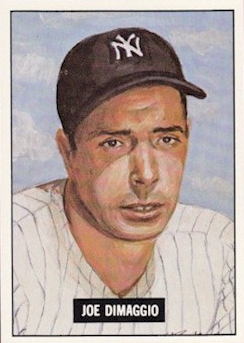 May 20, 1948: Déjà vu: Joe DiMaggio homers twice in hitting for the cycle (again!)
---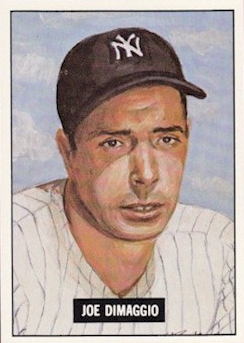 It was the 24th regular season game of the 1948 season, but the contest between the New York Yankees and Chicago White Sox felt like an exhibition game. The Chicago Tribune reported that the fans came out to watch "the world champion New York Yankees work out against the White Sox in Comiskey Park."1 Indeed, the home team did not provide much of a challenge. Since May 1, the White Sox had been in last place in the American League. From May 1 to 19, Chicago played 14 games and won only one of them (there was also one tie). They entered the May 20 game 11½ games out of first place with a record of 4-18. The 14-9 Yankees, meanwhile, had just ended a three-game losing streak by beating the St. Louis Browns, but their four losses in their last 10 games prevented them from climbing higher than third place in the standings. A "meager 5,001 cash customers"2 showed up for the afternoon affair, but they were rewarded by seeing Joe DiMaggio hit for the cycle.
Nine-season veteran Orval Grove started for the White Sox. Through his team's first 23 games, the righty Grove was the sole White Sox hurler to have pitched a complete game, a 4-1 victory over the St. Louis Browns on April 25. That was Chicago's first win of the season, but it had been in an away game. The White Sox had not yet won at Comiskey Park; they had lost all seven previous home matches. Grove was in search of his second victory of the season, having been on the losing end in his previous three starts.
Right-hander Vic Raschi started for the Yankees. This was his first full season in the big leagues.3 He had earned his way onto the staff and by midseason had made the 1948 American League All-Star team. He brought a 2-1 record and 3.60 earned-run average into this game against Chicago.
Bobby Brown led off the game with a walk. He advanced to third when Charlie Keller hit a grounder to first baseman Tony Lupien, who threw to second for a potential force but sailed the ball into left field. Johnny Lindell rolled a grounder to third, and Luke Appling fired home in time to get Brown out at the plate. DiMaggio followed with a home run, plating Keller and Lindell ahead of him.
With two outs in the top of the second inning, consecutive singles by Raschi, Brown, and Keller led to another New York run. After this, Grove seemed to settle down, keeping the Yankees scoreless in the third and fourth, although DiMaggio singled and George McQuinn doubled in the third, and Brown singled in the fourth. It was Brown's third time on base in four innings.
Raschi was on form. Through the first three innings, he faced two above the minimum, yielding a single in each of the second and third frames. In the bottom of the fourth, though, he ran into control trouble. He walked the bases loaded (Appling, Ralph Hodgin, and Aaron Robinson), while retiring Taffy Wright on a lineout to right. Dave Philley also drew a free pass, bringing in Appling with Chicago's first run of the game. Cass Michaels ended the walk-a-thon rally by grounding into a 5-4-3 double play.
Grove served up DiMaggio's second home run to begin the fifth inning. Chicago manager Ted Lyons kept him in the dugout when the sixth inning started, bringing on Fred Bradley in relief. (Don Kolloway pinch-hit for Grove when Chicago batted in the fifth.) Bradley didn't last long. Raschi greeted him with a long single to right-center. An out later, Keller walked. Lindell stroked an RBI single to left, bringing up DiMaggio. Joltin' Joe launched a 400-foot triple to right-center, clearing the bases and sending Bradley to the showers. Earl Harrist became the third Chicago pitcher of the afternoon. Yogi Berra doubled to left field. DiMaggio scored easily, but Berra was thrown out trying to stretch the hit into a triple. Billy Johnson singled and McQuinn walked, but Snuffy Stirnweiss struck out to end the inning.
Chicago started a mini-rally in its half of the sixth, when both Hodgin and Wright singled. However, Robinson hit into a double play and Philley grounded out to erase the threat. In the seventh inning, with runners at first and second and two outs, Appling lifted a pop fly to third baseman Johnson, who tripped and fell down but "stuck out his glove to make the catch while lying on the ground."4
New York loaded the bases in the eighth off new hurler Earl Caldwell but also left them full. In the home half, Wright hit a one-out home run (his second of the year). The score was now 9-2 in favor of New York.
The Tribune told its readers that "the roof collapsed on Caldwell in the ninth,"5 when he was pummeled for four runs on six hits. With one out, Brown singled. Cliff Mapes, who entered as a defensive replacement for Keller in the seventh, doubled, and for the second time in the game, Brown was thrown out at home plate. Lindell's fourth home run of the season came next. DiMaggio doubled and Berra walked. Johnson doubled, scoring DiMaggio as Berra stopped at third. McQuinn singled, bringing home Berra with New York's 13th run. Ike Pearson trotted in from the bullpen to retire Stirnweiss and end the inning.
The final score was 13-2, as the Yankees contributed 22 hits, good for 38 total bases, to "the cannonade that rang about the ears of the futile Sox hurlers."6 These were both season highs, eclipsing a game on April 19th against the Washington Senators, when the New York batters banged out 16 hits for 26 total bases. The Yankees left 13 runners on base. Every starting player except Stirnweiss collected a hit against Chicago pitching. Brown, Lindell, and Johnson had three hits each, and Raschi added two to support his cause. (So did Berra and McQuinn.)
Chicago's woes continued. This was the White Sox' "10th thrashing in as many games played with eastern teams."7 One offensive bright spot was Wright going 3-for-4 with a run batted in. Despite walking seven batters, Raschi held the Chicago bats in check and notched his third straight victory. As for the rest of the season, Chicago never climbed out of the AL basement. However, even with winning records in every month of the season, the Yankees' 98-56 record was good enough only for third place in the final standings.
According to the New York Times, this might have been "the greatest batting day Joe DiMaggio has enjoyed since pre-war times."8 He exploded against the Chicago White Sox, going 5-for-6 and hitting for the cycle, adding a second home run. Coming into this contest, he had hit safely in all but four of the 23 games he'd played in, yet his average was only .256.
This was DiMaggio's first 5-hit game in 11 years (eight seasons). From 1947 back through 1938, he had gotten four hits in a game once in 1947, once in 1946, twice in 1942, seven times in his 1941 MVP season, and twice each in 1940, 1939, and 1938).9 The Yankee Clipper had one 5-hit game in 1937 (on July 9, when he hit for the cycle for the first time in his career, also adding a second home run). In his rookie season of 1936, DiMaggio had four 4-hit games and one 5-hit game.
In collecting a single, double, triple, and two home runs in the game, DiMaggio raised his batting average to .292. His slugging percentage shot up from .500 to .615. DiMaggio's homers were his fifth and sixth of the season, with "half of them off fellows under contract to pitch for the White Sox."10
DiMaggio's accomplishment marked the 11th time a Yankees player had hit for the cycle.11 It had been eight seasons since the last time (Joe Gordon on September 8, 1940), and it would be nine more seasons until the next occurrence (Mickey Mantle on July 23, 1957). DiMaggio joined Lou Gehrig and Bob Meusel as the third player to hit for the cycle twice in his Yankees career. (Meusel actually managed the rare feat three times, all in a Yankees uniform.)
DiMaggio was the first player (and only American Leaguer) to hit for the cycle in 1948. Two National Leaguers did so after him: Wally Westlake (on July 30, which was his first of two career cycles) and Jackie Robinson (on August 29).
Sources
In addition to the sources mentioned in the Notes, the author consulted baseball-reference.com, retrosheet.org and sabr.org.
baseball-reference.com/boxes/CHA/CHA194805200.shtml
retrosheet.org/boxesetc/1948/B05200CHA1948.htm
Notes
1 Edward Burns, "Yanks Rout Sox, 13 to 2, on 22 Hits," Chicago Tribune, May 21, 1948: 31.
2 James P. Dawson, "Bombers Conquer White Sox By 13-2," New York Times, May 21, 1948: 27. Chicago was averaging about 5,000 fans per game, worst in the majors.
3 Raschi had pitched in two games in September 1946 and in 15 games in 1947 (July through September), then began the 1948 season with the Yankees.
4 Dawson.
5 Burns.
6 Dawson.
7 Burns.
8 Dawson.
9 DiMaggio did not play from 1943 through 1945, when he served in the Army Air Corps during World War II.
10 Burns.
11 Before DiMaggio's second cycle, the previous Yankees players to hit for the cycle were Bert Daniels (July 25, 1912), Bob Meusel (May 7, 1921, July 3, 1922, and July 26, 1928), Tony Lazzeri (June 3, 1932), Lou Gehrig (June 25, 1934, and August 1, 1937), DiMaggio himself (July 9, 1937), Buddy Rosar (July 19, 1940), and Joe Gordon (September 8, 1940).
Additional Stats
New York Yankees 13
Chicago White Sox 2
---
Comiskey Park
Chicago, IL
Box Score + PBP:
Corrections? Additions?
If you can help us improve this game story, contact us.
Tags
https://sabr.org/sites/default/files/images/DiMaggioJoe-Bowman.jpg
600
800
admin
/wp-content/uploads/2020/02/sabr_logo.png
admin
2019-10-07 13:50:20
2020-04-17 10:22:30
May 20, 1948: Déjà vu: Joe DiMaggio homers twice in hitting for the cycle (again!)