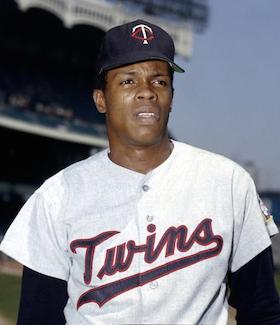 May 20, 1970: Red-hot Rod Carew hits for the cycle, raises average to .432
---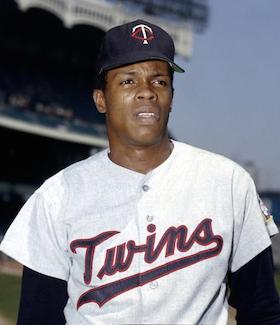 In 1969 the Minnesota Twins ran away with the first American League West Division pennant by winning 97 games. In 1970 they showed no signs of slowing down. A month and a half into the season, the red-hot Twins sported a record of 24-10 and sought a sweep of a three-game series against the Kansas City Royals.
Kansas City, playing in only its second season as an expansion Royals franchise, was struggling, coming into the game with a record of 13-23. The fifth-place Royals were already 12 games behind the Twins.
A small crowd of 7,710 came to Municipal Stadium on a Wednesday evening to watch the contest. Rookie righty Bob Johnson had the mound duties for Kansas City. Johnson had made two appearances for the New York Mets at the end of the 1969 regular season, but he was dealt over the winter with Amos Otis to the Royals in exchange for Joe Foy. Johnson was making his fourth start of the season, after beginning the year in the bullpen. He had a respectable 1.93 ERA to accompany his 1-1 record. The Twins countered with Dave Boswell. A 20-game winner in 1969, right-hander Boswell was struggling mightily in 1970, having lost his first five starts. He brought a 1-5 record into the game, along with a 6.37 earned-run average.
The fans were treated to an offensive show. The baseballs were flying out of the park, and Rod Carew, the 1967 American League Rookie of the Year, hit for the cycle, as the Twins defeated the Royals, 10-5.
There was some excitement in the top of the first. With one out, Carew singled to center. The next batter, Tony Oliva, drove a ball into right field and Carew took off. He raced around the bases, and although Oliva stopped at first, Carew tried to score. He was caught in a rundown that was scored 9-6-3-4-3-2, before being tagged out at home. Harmon Killebrew followed with a walk, but Rich Reese struck out to end the inning. KC took a quick 1-0 lead in the bottom half when Otis cracked his fifth homer of the season over the fence in left.
Minnesota evened the score in the top of the third when Carew led off with a home run, his third of the year. Two innings later, he led off again, this time with a double to left. With Oliva in the batter's box, Carew stole third base and was 90 feet from home with no outs. However, Johnson buckled down and struck out both Oliva and Killebrew before Reese hit a comebacker to the mound for the third out, stranding Carew at third base.
In the home half of the fifth inning, Kansas City's Ellie Rodriguez doubled with one down. After Johnson struck out, Boswell walked Pat Kelly. Mike Fiore then lined a double to deep center, and both runners scored. The lead was short-lived. Jim Holt led off the top of the sixth with a single to left. With one out, Paul Ratliff launched his second homer of the season, and the score was tied, 3-3.
In the bottom of the sixth, Kansas City broke the tie when Joe Keough homered into the right-field seats with one out. Fans had little time to cheer, as Johnson could not hold the lead. He retired the first two batters in the seventh before Reese worked a free pass and Holt singled. Then Leo Cardenas "pumped a 2-out round tripper into the right field seats."1 This proved to be the fatal blow, as Kansas City could not recover. Minnesota had taken a 6-4 lead.
In the top of the eighth, with Al Fitzmorris on in relief of Johnson, Cesar Tovar drew a one-out walk. Carew, who had grounded out in the sixth, smacked a ball to the wall and raced to third for a triple. Tovar scored, making it 7-4. With his first three-bagger of the year, Carew had hit for the cycle; he also sent Fitzmorris to the showers. Tom Burgmeier came out of the bullpen. He struck out Oliva, but Killebrew greeted him with an RBI single to left. Frank Quilici ran for Killebrew. The next batter was Reese, and he belted a home run, upping the score to 10-4 in favor of the visitors.
Rodriguez hit a triple to lead off the bottom of the ninth, and scored when Lou Piniella (pinch-hitting for Burgmeier) lifted a sacrifice fly to right, but that was all the scoring Kansas City could muster. Minnesota's "late-inning barrage carted the Twins to their seventh straight victory."2 The 10-5 loss put the Royals in the American League West Division basement.
Eight Minnesota batters contributed to the 13-hit attack. Carew put up four hits, while Holt added a double and two singles. Boswell, despite allowing four runs, picked up his second victory. He walked one and struck out four.
For the Royals, Johnson took the loss, his second. Five Kansas City batters had two hits apiece (Kelly, Fiore, Otis, Keough, and Rodriguez). In particular, Keough was 2-for-3, giving him seven hits in his last 11 at-bats and boosting his batting average to .379. The fans saw six home runs in the game.
Carew's achievement of getting a single, double, triple, and home run in one game was the first time in the Twins' 10-year franchise history in Minnesota that a player had hit for the cycle. He went 4-for-5 with two runs scored and two runs batted in. The next cycle in Twins history came two seasons later when Tovar accomplished the rare feat on September 19, 1972, against the Texas Rangers.
Carew's cycle was the second of the 1970 season, coming 13 days after the Los Angeles Dodgers' Wes Parker did it on May 7 against the New York Mets. Three more batters (after Carew) hit for the cycle in 1970, and those three events all occurred in less than a week: the Cleveland Indians' Tony Horton on July 2 against the Baltimore Orioles, the New York Mets' Tommie Agee on July 6 against the St. Louis Cardinals; and the San Francisco Giants' Jim Ray Hart on July 8 against the Atlanta Braves.
A year after this cycle game, Kansas City returned the favor when Freddie Patek hit for the cycle against the Twins (July 9, 1971).
Carew had a lighthearted response to reporters asking why he was so successful, saying, "I need all the money I can get. I am going to be married soon."3 When pressed about whether or not he could keep up the .400 average, Carew replied, "I'm not even thinking .400. I'm just thinking World Series."4 He added, "I'm just swinging the bat. Truthfully, I don't think I'm doing anything differently up there. I'm just hot."5
Carew was more than "just hot." He led all American League hitters with a sizzling .432 batting average. In attaining an eight-game hitting streak, Carew garnered 22 hits in his last 35 at-bats,6 an unbelievable .629 pace. He had raised his batting average 104 points over those eight games. His manager, Bill Rigney, commented, "He is just plain blistering it."7 Kansas City skipper Charlie Metro was inclined to agree, stating that Carew was "the best hitter in the league."8
Marv Grissom, Minnesota's pitching coach, told reporters, "I will honestly tell you that if I had to pitch to him today, I wouldn't know how to get him out. Almost every hitter has a spot where he can't hit the ball. I have tried to find it on Rod, but I can't."9 Further, opposing pitchers could not pitch around Carew, as Oliva and Killebrew followed him in the lineup.
Carew, who won the American League batting title in 1969 with a .332 mark, stayed hot for the next month of the season. However, on June 22, in a game against the Milwaukee Brewers, Carew's "left leg snapped like kindling"10 in a collision at second base with Mike Hegan. Carew had surgery and returned to the Twins in late September as a pinch-hitter. He finished the season with a .366 batting average, which would have been tops in both leagues, had he had the minimum number of required at-bats.
Minnesota coach Frankie Crosetti was equally impressed with Carew. Crosetti had played and coached for the New York Yankees from 1932 through 1968. He recalled the 1941 season, when Joe DiMaggio hit safely in 56 consecutive games, batting .408 during the streak, and Boston's Ted Williams batted .406 for the season, the last player to break the .400 batting barrier. Crosetti said, "Guys have had streaks before. But I don't know if any were like this."11
Sources
In addition to the sources mentioned in the Notes, the author consulted baseball-reference.com, mlb.com, retrosheet.org and sabr.org.
baseball-reference.com/boxes/KCA/KCA197005200.shtml
retrosheet.org/boxesetc/1970/B05200KCA1970.htm
Notes
1 Sid Bordman, "Twins Belt Royals, 10-5," Kansas City Times, May 21, 1970: 1D.
2 Ibid.
3 Mike Lamey, "Carew Hottest Rig, Coaches Have Seen," Minneapolis Star, May 21, 1970: 54. Carew and Marlynn Levy were to be married on October 24, 1970.
4 "Twins Cop 7th in Row," Winona (Minnesota) Daily News, May 21, 1970: 19.
5 Ibid.
6 On May 12 against the Baltimore Orioles, Carew was 2-for-5 but had two hits in his final three at-bats.
7 "Twins Cop 7th in Row."
8 "Royals' Metro in Awe as Carew Keeps Hitting," St. Cloud (Minnesota) Times, May 21, 1970: 29.
9 Lamey.
10 Joseph Wancho, "Rod Carew," sabr.org/bioproj/person/0746c6ee. Accessed August 2019.
11 Ibid.
Additional Stats
Minnesota Twins 10
Kansas City Royals 5
---
Municipal Stadium
Kansas City, MO
Box Score + PBP:
Corrections? Additions?
If you can help us improve this game story, contact us.
Tags
https://sabr.org/sites/default/files/images/CarewRod.jpg
600
800
admin
/wp-content/uploads/2020/02/sabr_logo.png
admin
2019-08-26 18:37:30
2020-04-17 10:22:34
May 20, 1970: Red-hot Rod Carew hits for the cycle, raises average to .432