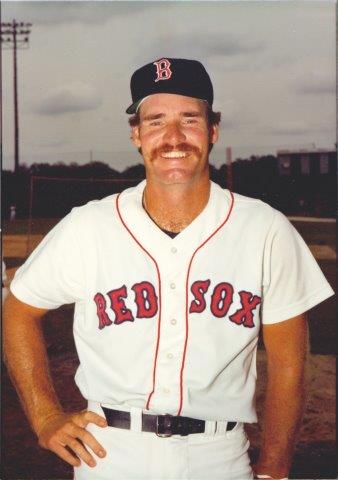 May 20, 1986: Wade Boggs collects five hits for the Red Sox
---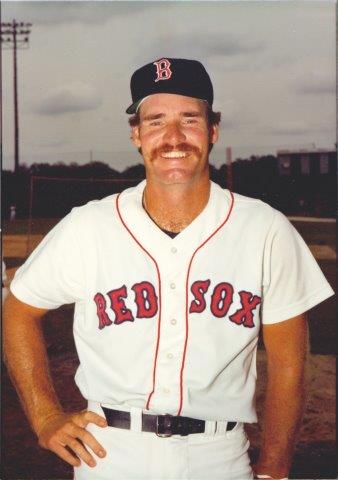 Wade Boggs registered the first of three five-hit performances during his Hall of Fame career on Tuesday, May 20, 1986, at Fenway Park, as he led the Boston Red Sox to a 17-7 victory over the Minnesota Twins.
Boston's 27-year-old third baseman slapped four singles and a double in six trips to the plate. The defending American League batting champion, Boggs reached on a bunt single in Boston's six-run first, singled in the second, doubled in the third, singled in the fifth, and reached on an error in the seventh.
Boggs' near-perfect performance helped Boston starter Roger Clemens boost his season record to 7-0 despite an imperfect performance. The Rocket, making his eighth start of the year, surrendered nine hits over seven innings and matched his 1986 season highs by giving up two home runs and five runs. He struck out just four, though he did not walk a hitter in coasting to the win.
"It was a tough battle for me tonight," said Clemens. "With the guys hitting like they did tonight, you can't complain."1
Clemens retired the Twins in the top of the first despite Kent Hrbek's two-out double, and then watched the Red Sox build a cushion.
Marty Barrett led off the Boston first with a ringing double and moved to third on Boggs' first hit of the game, a bunt single down the first-base line. Dave Stapleton drew a walk from Twins starter Frank Viola, and all three moved up on a Jim Rice single, with Barrett scoring the first run of the game. Don Baylor doubled to chase in Boggs and Stapleton and Tony Armas followed with a double to score Baylor, driving Viola from the game without having recorded an out. "After Marty hit that first ball off the wall, it just seemed like everyone wanted to jump on the train," said Clemens.2 After relief pitcher Roy Lee Jackson retired Rey Quinones and Steve Lyons on fly balls to right, catcher Marc Sullivan singled to right to score Armas with Boston's sixth run of the inning, all charged to Viola. "I felt good when I was warming up," said Viola, "but I just couldn't keep it going into the game."3
The Rocket retired the Twins in order in the second and Boggs led off the bottom half with his second hit of the game, a single to left field. Stapleton doubled and one batter later, Boggs scored on Baylor fielder's choice to make it 7-0 at the end of two innings.
After a pair of singles and a wild pitch, Clemens surrendered a two-run single to Twins center fielder Kirby Puckett, but retired the next two hitters to escape the third inning.
The Red Sox matched the two-run outburst with a pair of their own in the bottom of the inning. Boggs collected his third hit, a double to right, to score Sullivan, and scored the ninth Red Sox run himself when Stapleton reached on a third-strike passed ball. Keith Atherton replaced Jackson and retired Rice on a force play, but Clemens returned to the mound for the fourth with a 9-2 cushion. He surrendered a run on Gary Gaetti's double and a single by Mark Salas, but got Puckett to hit into an inning-ending force out.
The Red Sox mustered only a single by Armas in the fourth, and Clemens coasted through the top of the fifth. In the bottom half of the inning, Boggs came to the plate for the fourth time, this time with two outs, and smacked his fourth hit, a single to center field, though he was stranded at first.
Gaetti homered in the top of the sixth to cut Boston's lead to 9-4, but Boston blew the game open in the bottom half of the inning. Baylor and Quinones drew walks, and with two outs Juan Agosto replaced Atherton. Lyons singled to score Baylor, and Sullivan singled to score Quinones. Barrett walked, and Boggs followed with his fifth hit in five tries, driving a single to center that scored Lyons and Sullivan and boosted the Boston lead to 13-4.
Clemens survived a home run by Greg Gagne in the top of the seventh, then watched as the Red Sox expanded the lead to 17-5. Rice, Baylor, and Armas all singled to start the bottom half of the frame, with Rice scoring on an error. Quinones plated Baylor with an RBI grounder, and one out later Agosto hit Sullivan with a pitch. Ron Davis replaced Agosto, and Barrett greeted the fifth Twins pitcher with a run-scoring single. Boggs came to the plate for the sixth time, and reached on an error by first baseman Mickey Hatcher that allowed Sullivan to score.
Boggs departed to an ovation from the Fenway crowd officially announced as 20,880, when Red Sox manager John McNamara inserted Ed Romero to pinch-run. After the inning, McNamara called on reliever Bob Stanley to replace Clemens, who departed with a 17-5 lead. Stanley surrendered a solo home run to Gaetti, his third hit and second homer of the game, a triple by Steve Lombardozzi, and a run-scoring sacrifice fly to Salas to trim the lead to 17-7, but closed the Twins out with a perfect ninth. "It didn't matter what we were going to do tonight," Gaetti said. "It was a horrible game. When you hit like (the Red Sox) were, you can't score enough runs to catch up."4
The win was the seventh straight for Clemens over eight outings. "I'm not surprised by my start," Clemens said. "I have high expectations for myself, and I just hope it keeps going."5 Clemens went on to win his next seven starts and run his record to 14-0 before finally absorbing a loss against Toronto on July 2. He finished the season 24-4 with a 2.48 earned-run average, and didn't surrender more than five earned runs in a game.
The Twins, who dropped to 14-25, losing for the ninth time in 10 games, finished with seven runs on 11 hits, but made five costly errors. Boggs collected five of Boston's 20 hits to raise his average to .383 and scored three of the 17 Red Sox runs. Armas (4), Sullivan (3), and Barrett, Rice, and Baylor (2 apiece) also collected multiple hits as the Red Sox raised their record to an AL-best 25-13.
"'I hope it keeps snowballing into something, and the team keeps rolling, too," Clemens said. "It's a nice feeling," Boggs said, "But it's like climbing Mount Everest: We have a long way to go."6
After serving up five hits to Boggs on May 20, Minnesota manager Ray Miller employed a "moving shift" the next night, and the Twins held Boggs hitless, though the Red Sox prevailed by a 3-2 score.
When the teams met later in the month, Minnesota shifted again when Boggs batted. "The shift was illegal," Boggs said. "The umpire told me that and said he was going to get them to stop it. Maybe he didn't correct it completely but he got the Twins to do it within the boundaries of the rules." Miller countered by saying, "I'm not saying it will work forever, but it's worth continuing until he solves it."7
Boggs solved the shift the next time the two teams met, collecting three hits in five at-bats on May 30 at the Metrodome, and the next night, after Miller scrapped the shift, Boggs slapped out five hits for the second time in 11 days. Again he collected four singles and a double, and raised his average to .402 for the season. He would finish the season at .357, winning his third of five AL batting titles.
He managed the feat just one more time, smacking five hits for the Red Sox at Fenway Park against Oakland on July 31, 1991.
This article originally appeared in "The 1986 Boston Red Sox: There Was More Than Game Six" (SABR, 2016), edited by Leslie Heaphy and Bill Nowlin. Read more game stories from the book at the SABR Games Project by clicking here.
Sources
In addition to the sources in the notes, the author also consulted:
https://www.baseball-reference.com/boxes/BOS/BOS198605200.shtml
http://www.retrosheet.org/boxesetc/1986/B05200BOS1986.htm
Boston Globe, May 21, 1986.
Goodwin, Doris Kearns. "Batting Champ Wade Boggs Hits With a Cool Eye, a Hot Hand and a Resolve to Help His Sister Overcome Illness," People, June 16, 1986.
Madden, Michael. "Protected by His Cocoon, a Regimented Routine Helps Bosox Star Tune Out All Distractions," The Sporting News, July 14, 1986.
Minneapolis Star Tribune, May 21, 1986.
New York Times, May 21, 1986.
Notes
1 Ed Burns, "American League Roundup," United Press International, May 21, 1986.
2 Ibid.
3 Ibid.
4 Ibid.
5 Ibid.
6 Ibid.
7 Pat Reusse, "It Was Shifty Business," The Sporting News, June 16, 1986: 16.
Additional Stats
Boston Red Sox 17
Minnesota Twins 7
---
Fenway Park
Boston, MA
Box Score + PBP:
Corrections? Additions?
If you can help us improve this game story, contact us.
Tags
http://sabr.org/sites/default/files/BoggsWade-NBHOF.jpg
600
800
admin
/wp-content/uploads/2020/02/sabr_logo.png
admin
2018-02-17 14:44:15
2020-04-17 10:24:55
May 20, 1986: Wade Boggs collects five hits for the Red Sox