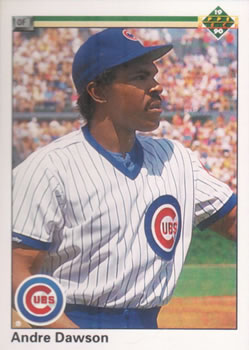 May 22, 1990: Andre Dawson sets record with five intentional walks in Cubs' 16-inning win
---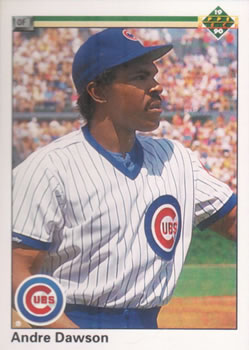 On May 21, 1990, the Cincinnati Reds visited Wrigley Field to start a two-game set against the Chicago Cubs. Jose Rijo outdueled Greg Maddux that night, the Reds winning 4-3. Andre Dawson laced a double in the home half of the second inning but was later thrown out at home to start a double play. He went hitless in his final three at-bats, including grounding into a double play in the eighth.
Despite this uneventful performance, Reds skipper Lou Piniella had a plan to handle Dawson in Tuesday's matinee. After all, the Hawk had just been named National League Player of the Week following a torrid span in which he hit .429 (12-for-28), with three doubles, five home runs, and 15 RBIs.1 His hot start in 1990 was made all the more surprising in that Dawson had undergone a fourth surgery on his left knee after the 1989 season. In fact, Cubs manager Don Zimmer had expected Dawson to start the 1990 season on the disabled list.2
The May 22 game was scheduled for a 1:20 p.m. start. The wind howled in from Lake Michigan, determined to play havoc with well-struck baseballs. The 29,860 fans on hand were about to witness a long, historic affair.
In the top of the first, Cubs starter Mike Bielecki hit the second batter of the game, Billy Hatcher, but regained his composure and escaped without allowing a run. Tom Browning started for the Reds and gave up a single to the Cubs' leadoff hitter, Jerome Walton. After a pair of outs on the bases, Mark Grace stood on second base with Dawson at the plate. Lou Piniella called for an early intentional pass. Lloyd McClendon flied out to deep center to end the threat.
Dawson led off the fourth and grounded out to his former Cubs teammate Luis Quinones at shortstop. With a runner on first and two outs in the bottom of the sixth, Dawson lined out to left field. The game remained a scoreless tie.
In the bottom of the seventh, Cincinnati walked Cubs catcher Rick Wrona intentionally to bring Bielecki to the plate with two outs. Bielecki swung at strike three to end the inning.
Ryne Sandberg doubled with one out in the eighth and took third on Grace's groundout. With first base open, Dawson was walked intentionally for the second time. McClendon grounded out, stranding both runners. Both teams went down in order in the ninth; the scoreless tie had been played to the end of regulation in just two hours.3
Browning's day came to an end when Barry Larkin pinch-hit for him in the top of the 10th. Browning had turned in a masterful performance — nine shutout innings with four strikeouts and three walks, two of which were intentional. Bielecki pitched the 10th for Chicago and was able to wriggle out of a jam, stranding pinch-runner Herm Winningham at third by fanning Larkin and inducing a Chris Sabo groundout. Bielecki was lifted for Mitch Williams after 10 shutout innings.
The Cubs threatened in the bottom of the 11th when Grace reached on an error and Dawson singled. Grace and Dawson then pulled off a double steal, giving the Cubs runners at second and third with no outs. Norm Charlton got McClendon to chase strike three and issued an intentional walk to Luis Salazar to load the bases. Rob Dibble entered and struck out Shawon Dunston and pinch-hitter Dwight Smith on eight pitches to keep the Reds' hopes alive.
The Reds did not score in their 12th inning against Williams, but the Cubs threatened a walk-off again in the bottom half. After drawing a one-out walk, Walton stole second, Sandberg struck out, and Grace followed with a walk of his own. With two outs and runners on first and second, Piniella called for another intentional pass to Dawson, his third of the game. With the winning run now just 90 feet away for the second consecutive inning, McClendon grounded to shortstop for the third out, having stranded nine runners in his six at-bats.
Chris Sabo faced new Cubs hurler Jeff Pico in the top of the 13th. Sabo drove Pico's second offering into the left-field stands, a solo shot that scored the first run of the game. Hatcher struck out, Paul O'Neill was caught stealing after reaching on a single, and Eric Davis grounded out. But the Reds led 1-0.
Closer Randy Myers, who had earned a save for Cincinnati the night before, was called upon to preserve the win. But Salazar tied the ballgame with a solo leadoff home run. The Cubs threatened no further in the half-inning and the game remained tied, 1-1.
In the 14th Ken Griffey Sr., the Reds' last available position player, grounded out with runners on first and third to end the inning. In a rare treat, Harry Caray entertained the fans with an encore performance of "Take Me Out to the Ball Game" in honor of the second seventh-inning stretch of the game.4
In the bottom of the 14th, new Reds twirler Scott Scudder issued a one-out walk to Sandberg, Grace flied out, and Sandberg advanced to second on a wild pitch with Dawson batting. With a runner now in scoring position, two outs, and first base open, Piniella called for yet another intentional walk — Dawson's fourth of the game. It worked. Dave Clark hit for McClendon and struck out.
Neither team scored in the 15th inning, as the Cubs used their final position player, Domingo Ramos, to pinch-hit with two outs and Salazar on second base.5 Ramos drove a ball to deep right-center field that on a calmer day might have dropped in for a game-ending double. Instead, it was caught for the third out.
The Cubs came to bat in the bottom of the 16th with the score still knotted, 1-1. Walton struck out to begin the frame. Sandberg singled. Grace then reached on an error when Quinones booted a potential inning-ending double-play grounder, allowing Sandberg to advance to third. With one out and first base occupied, Piniella ordered a fifth intentional walk to Dawson. As Dawson jogged down to first base he glanced at Piniella in the Reds' dugout. Piniella smiled and responded, "It's not my fault the guys in front of you keep getting on."6
With the bases loaded and one out, Clark smacked a single, allowing Sandberg to trot home for the walk-off win. It was an unlikely victory on an afternoon in which the Cubs stranded 20 runners and had gone 0-for-13 with runners in scoring position before Clark's single.7
In his eight plate appearances, Dawson was 1-for-3, with five intentional walks. The reigning NL Player of the Week pondered, "What did I do to deserve that?"8 He added in jest, "[Piniella] managed like it was the last game of the World Series."9
"Hey," Piniella stated after the game, "I don't need to tell you that [Dawson's] been hot … and it's not like this is the first time the guy's been on fire. So I figured, if somebody is going to beat us, fine, but not him." Other National League managers reacted similarly — Dawson and Eddie Murray of the Dodgers tied for the 1990 major-league lead with 21 intentional walks each.
Dawson's five intentional passes in a game set a record. The previous record of four was shared by Garry Templeton, Roger Maris, Ted Kluszewski, Bill Baker, and Jeff Heath. The Cubs' seven total intentional walks tied a record for the most issued to a team in a single game, the seventh such occasion. As of 2020 it remained the most recent occurrence.
But Cincinnati got the last laugh in 1990. The Reds won the National League pennant and swept the Oakland A's in the World Series. Lou Piniella called for just one intentional walk in the Series — to Harold Baines in the first inning of Game Four.
Author's note
I skipped class to attend this game as my senior year of high school was winding down. I watched Andre Dawson's historic performance from Aisle 240, Row 17, Seat 4 — a ticket that cost just $7. It was only recently, however, that I discovered the historic significance of the game. Previously, my memory was limited to the excitement of the extra-innings walk-off win and getting to see and hear Harry Caray sing "Take Me Out to the Ball Game" twice.
Sources
In addition to the sources cited in the Notes, the author used the Baseball-Reference.com website for player and team pages and other data and reviewed the following box scores:
baseball-reference.com/boxes/CHN/CHN199005220.shtml
retrosheet.org/boxesetc/1990/B05220CHN1990.htm
Notes
1 Michael Paolercio, "Reds Die Slow Death, 2-1," Cincinnati Enquirer, May 23, 1990: 13. Dawson's award-winning production covered seven games from May 14 through May 20.
2 Jim Litke, "Reds Game Becomes a Walk in the Park for Andre Dawson," Los Angeles Times, May 23, 1990: 170.
3 Andrew Bagnato, "Cubs Trip Reds in the Long Run," Chicago Tribune, May 23, 1990: 47.
4 Paolercio.
5 Bagnato.
6 Litke.
7 Bagnato. The Reds stranded 12 runners and were 0-for-13 with runners in scoring position.
8 Bagnato, "Reds Take Pass on Pitching to Dawson," Chicago Tribune, May 23, 1990: 49.
9 Bagnato, "Reds Take Pass."
Additional Stats
Chicago Cubs 2
Cincinnati Reds 1
16 innings
---
Wrigley Field
Chicago, IL
Box Score + PBP:
Corrections? Additions?
If you can help us improve this game story, contact us.
Tags
https://sabr.org/sites/default/files/DawsonAndre-1990.jpg
600
800
sabr
/wp-content/uploads/2020/02/sabr_logo.png
sabr
2020-04-19 16:08:34
2020-06-22 17:01:36
May 22, 1990: Andre Dawson sets record with five intentional walks in Cubs' 16-inning win