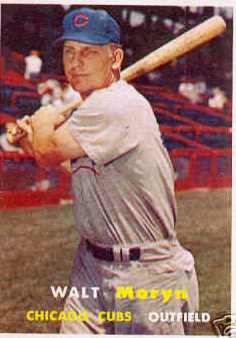 May 30, 1958: Walt Moryn's third home run caps Cubs' comeback in style
---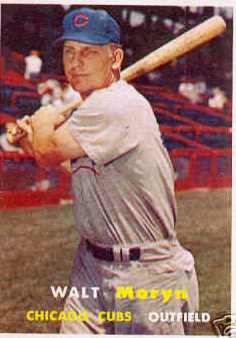 The 1958 Chicago Cubs started spring training with relatively low expectations following their 62-92 record for the 1957 campaign, which tied them with the Pittsburgh Pirates for a last-place National League finish. The Cubs' spring-training roster consisted of 33 players, seven below the major-league roster limit of 40 players. An unidentified source commented that "the Cubs just didn't have enough players worthy to be placed on the parent roster."1 Their power sources — Ernie Banks, Walt Moryn, and Dale Long — combined for 83 home runs and 252 RBIs in 1957, but their team ERA was second-worst among NL teams, and their pitchers issued more walks than any other NL staff. Manager Bob Scheffing, returning for his second year at the helm, started the season with two rookies playing infield positions, second baseman Tony Taylor and third baseman Johnny Goryl.2 Even with two rookies as everyday players, and five regular position players who were on different teams the previous year, the Cubs' skipper was confident his squad was better than that of 1957.3
The Cubs quickly silenced critics when they won their first four games of the season and finished April in second place with an 8-5 record. Chicago remained among the top teams until mid-May, when a seven-game losing streak dropped the team to fourth place. The Cubs struggled throughout the month, falling to eight games behind the league-leading San Francisco Giants before their four-game series against Los Angeles started on May 30.
The 1958 Los Angeles Dodgers were adapting to their new environs, having left Brooklyn after the 1957 season.4 They were without Roy Campanella, their Hall of Fame catcher, who was paralyzed in a vehicle accident during the offseason.5 The team struggled during its final season in Brooklyn, but still maintained a strong pitching staff led by Don Drysdale and Johnny Podres. The heart of Los Angeles' batting order, Gil Hodges and Duke Snider, was complemented by younger stars like Charlie Neal and Jim Gilliam. Los Angeles was inconsistent during the first two months as the team started developing its new identity.6 The Dodgers compiled a 5-9 record in April and entered the series in last place, 11 games out of first place. Neither the Cubs nor the Dodgers were expected to win the NL pennant; the 1957 World Series Champion Milwaukee Braves were expected to repeat their performance.7
The Cubs won the opening game of the doubleheader, 3-2, on a game-ending single by Sammy Taylor, who plated Moryn to finish a three-run ninth-inning rally. Los Angeles scored an unearned run in the first inning, and Hodges added a solo blast in the fourth. After Chicago was blanked for eight innings, Lee Walls homered to end Podres' shutout bid with one out in the ninth. Moryn doubled home Banks with the tying run, then Taylor delivered his walk-off single.
Left-hander Taylor Phillips started the second game for Chicago. The Cubs had acquired Phillips and Sammy Taylor by trading Eddie Haas, Don Kaiser, and Bob Rush to the Milwaukee Braves during the offseason. Rush pitched solidly in Chicago for 10 years,8 topping 200 innings eight times and compiling a 110-140 record and 3.71 ERA in 292 starts. Phillips had served mainly in relief roles during his two seasons with Milwaukee, but Scheffing inserted him into the rotation. Scheffing commented in early March, "We'll have only three starters for sure," referring to Dick Drott, Jim Brosnan, and Phillips.9 During spring training, Chicago pitching coach Freddie Fitzsimmons helped Phillips alter his delivery to improve his effectiveness.10 The change helped; Phillips was 3-0 with a 2.32 ERA over 54⅓ innings approaching June. Phillips entered the game having won his past two complete-game starts; in his previous appearance, five days earlier, he blanked the Braves on six hits.
Phillips faced veteran right-hander Don Newcombe, who was in his eighth year with the Dodgers. After three 20-win seasons and four All-Star nods, Newcombe was looking to rebound after his first losing season the year before.11 Newcombe, recognized as one of the top fastball pitchers in the NL, also commanded a curveball and changeup.12 However, Newcombe struggled from the outset that season, losing his first start while pitching only 3⅓ innings, and was winless (0-4) heading into the game.
The Dodgers grabbed a 4-0 lead in the first inning. After leadoff hitter Gilliam flied out to center field, Gino Cimoli walked, Carl Furillo singled to center, and Hodges delivered a three-run homer to left-center on an 0-and-2 pitch. Later that inning, Joe Pignatano singled home Dick Gray. Newcombe started the game by setting down the Cubs in order. In the second inning, Furillo tripled to right field and scored on Tony Taylor's throwing error to increase Los Angeles' lead to 5-0. The Dodgers padded their lead to six runs in the third inning when Don Zimmer homered. Sammy Taylor led off Chicago's third inning with the Cubs' first hit and scored when Walls doubled to center field.
Dave Hillman relieved Phillips in the fourth and couldn't prevent the Dodgers from scoring. Leadoff hitter Gilliam walked, advanced to second base on Cimoli's single, and scored on Gray's hit. Now the Dodgers led 7-1. In the bottom of the fourth inning, the first two Cubs batters, Banks and Moryn, delivered consecutive home runs. With one out Sammy Taylor and Tony Taylor singled. Drysdale struck out pinch-hitter Jim Bolger and got Bobby Adams on a popup to shortstop, ending the threat.
In the top of the fifth inning, Dolan Nichols relieved Hillman and prevented the Dodgers from scoring during an inning for the first time in the game. Drysdale continued to stifle Chicago bats with a three up-three down fifth. Nichols faced some trouble in the sixth inning, but Gray's fly ball to center field stranded two runners. In the bottom of the inning four straight Cubs reached with two outs: Sammy Taylor singled, Tony Taylor walked, Bobby Thomson doubled to bring home both runners, and Adams's single narrowed the Dodgers' lead to a single run, 7-6. Don Bessent relieved and got the side out.
Los Angeles got a run back in the seventh when Rube Walker's sacrifice fly plated Neal, who had tripled. Against Ed Roebuck in the bottom of the inning, Moryn and Chuck Tanner smacked back-to-back homers to knot the score. Sammy Taylor tripled to center field but was stranded when Tony Taylor grounded out. Both teams threatened during the eighth inning, getting runners to second, but neither scored.
Neal led off the Dodgers' ninth inning with a single to left field, and moved to second on Zimmer's sacrifice. But two successive pinch-hitters, Pee Wee Reese and Randy Jackson, made outs. In the bottom of the ninth, Sandy Koufax, who had pitched a six-hitter at Pittsburgh two nights earlier, came in for the Dodgers. Banks greeted Koufax with a line-drive single to shortstop. Moryn, who had already hit two solo shots and scored the winning run in the opener, delivered a two-run game-winning blast to give Chicago the doubleheader sweep. The teams had combined for 29 hits, with Ed Mayer of the Cubs obtaining his second win and Koufax taking his first loss of the season.13
The Cubs improved upon their previous year, but faded down the stretch, completing the season in fifth place with a 72-82 record, 20 games behind the pennant-winning Braves. Banks led the NL with 47 home runs, 129 RBIs, and a .614 slugging percentage, and won his second straight MVP award with 16 of 24 first-place votes.14 Moryn earned his lone All-Star nod, finishing second in voting among NL left fielders — voting conducted by players, managers, and coaches that season — behind the Pirates' Bob Skinner.15 Moryn provided another dramatic finish later that month when his 11th-inning double helped Chicago defeat Philadelphia.16 The Dodgers finished just behind Chicago with a 71-83 record. Newcombe appeared only twice more for Los Angeles before he was traded to the Cincinnati Redlegs.17
This article appears in "Wrigley Field: The Friendly Confines at Clark and Addison" (SABR, 2019), edited by Gregory H. Wolf. To read more stories from this book online, click here.
Sources
Besides the sources cited in the Notes, the author consulted Baseball-Almanac.com, Baseball-Reference.com, Retrosheet.org, and the following:
Golenbeck, Peter. Wrigleyville: A Magical History Tour of the Chicago Cubs (New York: St. Martin's Griffin, 1999).
James, Bill. The New Bill James Historical Abstract (New York: The Free Press, 2001).
Ward, Geoffrey C., and Ken Burns, Baseball: An Illustrated History (New York: Alfred A. Knopf, 1994).
https://www.baseball-reference.com/boxes/CHN/CHN195805302.shtml
https://www.retrosheet.org/boxesetc/1958/B05302CHN1958.htm
Notes
1 Ed Prell, "Cubs Have Few Clippings — Just Five Make Headlines," The Sporting News, April 2, 1958: 16.
2 Edward Prell "Cubs to Open With Rookies at 2d and 3d," Chicago Tribune, April 5, 1958: 31.
3 Edward Prell, " '1958 Cubs Better than 1957" — Scheffing," Chicago Tribune, April 14, 1958: 51.
4 Dick Young, "It's All Over, Fellows, the Dodgers Go West," New York Daily News, October 9, 1957: 3.
5 Roscoe McGowen, "Campy's Career Ended by Auto Accident," The Sporting News, February 5, 1958: 11.
6 Joe King, "Dodgers Dead? Jackie Stirs Up Lively Debate," The Sporting News, May 21, 1958: 5.
7 Bob Wolf, "Braves Should Win — Maybe Coast," The Sporting News, March 26, 1958: 3.
8 Edward Prell, "Cubs Trade Rush to Braves! Get Pitcher Taylor Phillips," Chicago Tribune, December 6, 1957: 60.
9 Edward Prell, "Moe in Army, Cubs in Stew," Chicago Tribune, March 5, 1958: 41.
10 Edward Prell, "Taylor Made Pitch Suits Cubs," Chicago Tribune, March 7, 1958: 40.
11 Frank Finch, "Dodgers Launch Training Thursday," Los Angeles Times, February 16, 1958: 75.
12 Bill James and Rob Neyer, The Neyer/James Guide to Pitchers: An Historical Compendium of Pitching, Pitchers, and Pitches (New York: Fireside Books, 2004), 323.
13 Edward Prell, "Sox Win 2, Cubs Take 2 in 9th Inning Before 37,799," Chicago Tribune, May 31, 1958: 19.
14 Hy Hurwitz, "Banks Landslide Winner in N.L. Most Valuable Player Vote," The Sporting News, December 3, 1958: 21.
15 Oscar Kahan, "Players Pick All-Stars on '58 Marks, Not Reps," The Sporting News, July 2, 1958: 6.
16 Richard Dozer, "Sox Lose, 5-0; Cubs Beat Phils in 11th," Chicago Tribune, July 15, 1958: 33.
17 Frank Finch, "Dodgers Get Bilko; Newcombe Traded," Los Angeles Times, June 16, 1958: 63.
Additional Stats
Chicago Cubs 10
Los Angeles Dodgers 8
Game 2, DH
---
Wrigley Field
Chicago, IL
Box Score + PBP:
Corrections? Additions?
If you can help us improve this game story, contact us.
Tags
http://bioproj.sabr.org/bp_ftp/images4/MorynWalt.jpg
600
800
admin
/wp-content/uploads/2020/02/sabr_logo.png
admin
2019-12-10 14:35:28
2020-04-17 10:22:22
May 30, 1958: Walt Moryn's third home run caps Cubs' comeback in style