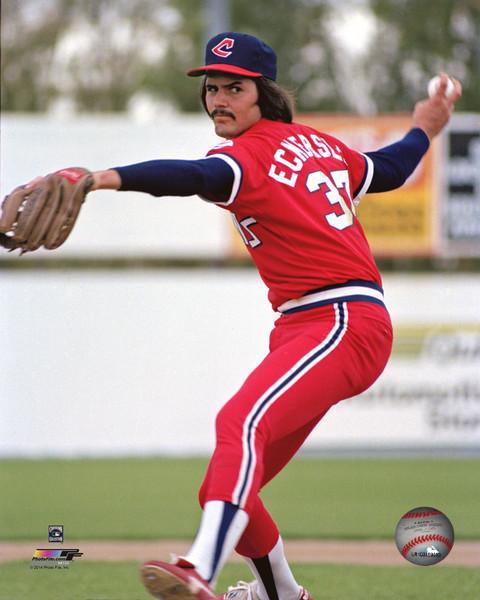 May 30, 1977: Dennis Eckersley no-hits Angels in Cleveland
---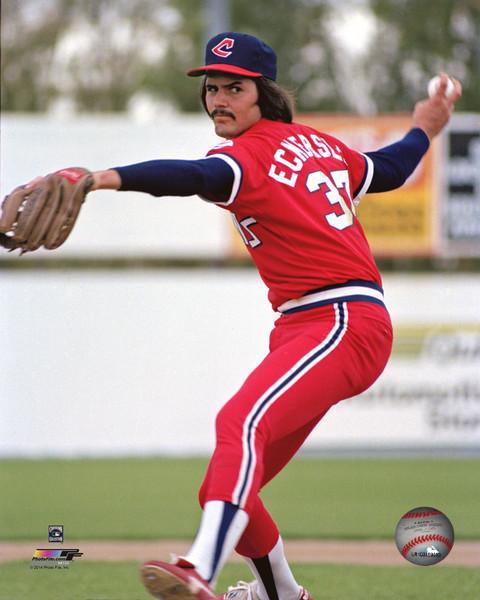 It was evident to at least one person that Dennis Eckersley was destined to be a top pitcher in the big leagues. But the man who held this opinion, Frank Robinson, had to do some prodding to convince others. Cleveland's rookie manager in 1975, a veteran of 19 seasons in the majors and as accomplished a ballplayer as there was in his era, saw his share of great pitchers. But he had a hard time convincing the front office to let him bring the 20-year-old rookie hurler to Cleveland from spring training.
"Every time I used him in spring training, he got people out. I mean, every time," recalled Robby. "He didn't have one bad game. (The front office) worried about his confidence if he got hit a couple of times in the majors, but Dennis had tremendous confidence. Finally, I said, 'Look, let me keep him. I'll work him out of the bullpen, break him in gradually and keep the pressure off.' That is the only reason Dennis opened that season as a reliever. I wanted to start him, but the front office wouldn't let me. I figured that having Dennis in the bullpen was better than not having Dennis at all."1
Maybe the front office was hesitant because the promotion meant that Eckersley would bypass the Triple-A level of the minor leagues. In 1974 at Double-A San Antonio (Texas League), Eckersley went 14-3 with a 3.40 ERA. He struck out 163 batters in 167 innings pitched, walking 60.
Robinson won the debate and, true to his word, Eckersley started out in the bullpen in 1975. He made his first major-league start on May 25, 1975, at Cleveland Stadium against the three-time world champion Oakland Athletics. If Eckersley was nervous, he didn't show it. Cleveland beat the A's 6-0 as Eckersley threw a three-hitter, striking out six.
Eckersley, an Oakland native, made his second start on May 31 at Oakland-Alameda County Stadium in front of his family and friends. No pressure for this kid. The right-handed rookie made Robinson look like a swami. Eck won again, tossing a complete-game 4-1 victory.
Eckersley was pitching pretty well in 1977. On May 25, he went the distance in a 12-inning game against Seattle and held the Mariners hitless for the last 7⅔ innings. He was rewarded with the win when the Tribe pushed a run across in the bottom of the 12th inning to clinch a 2-1 victory.
His next assignment was a tough one, a Memorial Day matchup against the California Angels and their ace, Frank Tanana. As in the previous game against the Mariners, the Cleveland lineup had a difficult time putting together an offensive attack. Duane Kuiper's one-out triple to center field in the first inning led to the Indians' lone tally. He scored on a suicide squeeze by Jim Norris.
But the 22-year-old Eckersley was spectacular on the warm spring evening of May 30, 1977. After surrendering a walk to Angels first baseman Tony Solaita in the top of the first inning, Eck mowed down the Angels hitters. Pressure mounted as the game progressed. Inning by inning, it was three up and three down for the Angels. In the eighth inning, outfielder Bobby Bonds advanced to first base on a swinging third-strike wild pitch. But he was erased at second base on a questionable call when the next batter, Don Baylor, bounced into a 6-4-3 double play. It appeared that Bonds beat shortstop Frank Duffy's throw to Kuiper at second base. But umpire Dale Ford called Bonds out. Angels manager Norm Sherry argued, but to no avail.
In the bottom of the eighth, Ray Fosse flied out to left field for the third out. As Angels outfielder Joe Rudi jogged back to the dugout, he planted a light kiss on the baseball and tossed it to Eckersley as he approached the mound. "Joe kissed the ball, smiled and tossed it out to me," explained Eckersley. "I think he was wishing me good luck or something. It was nice of him. It showed he's got real class."2
The sparse holiday crowd of 13,400 stood for the top of the ninth inning. After Eckersley retired the first two batters on a strikeout and a fly ball, only Gil Flores remained between him and the no-hit game. Flores was not too anxious to step into the box. "He was trying to psych me out," said Eckersley. "So I yelled in to him to get up to the plate. I don't know if he heard me or not, but he didn't say anything back. I wasn't trying to be smart or anything. I just wanted to remind him that there was one more out and he was going to be it."3
Flores was the 12th strikeout of the game for Eckersley. Tanana pitched well, too, scattering five hits and surrendering just the one run. Sherry praised Eckersley's near-perfect performance. "A super ballgame right down the drain," lamented Sherry. "But Eckersley was simply outstanding. He threw hard and he threw strikes. We didn't make a well-hit out all night."4 Rudi agreed with Sherry. "Eckersley had a great fastball, great curveball, great everything," he said.5
"Dennis threw more breaking balls, tonight," said Robby. "His good breaking ball was the difference. His fastball was just as outstanding. He was overpowering. He threw the ball where he wanted. He was in complete control."6
Reporters informed Eckersley that the record for consecutive hitless innings was 23, held by Cy Young in 19047. The mark gave the 22-year-old right-hander a record to shoot for in his next start, on June 3 against the Seattle Mariners at the Kingdome. He went the first 5⅔ innings before giving up a home run to Ruppert Jones, the only hit the Mariners managed in a 7-1 defeat. His total was 22⅓ innings of hitless ball, two outs shy of Cy Young's record.
"Jones didn't really crush the ball, but he got enough of it," said Eckersley. "At first, I didn't think it would go out (370 feet), but it carried well. Heck, I've got a lot of years left, and I'm on another string already. I've got a hitless streak of one-third inning going now."8
Sources
In addition to the sources cited in the Notes, Retrosheet.org and Baseball-Reference.com were also accessed.
https://www.baseball-reference.com/boxes/CLE/CLE197705300.shtml
http://www.retrosheet.org/boxesetc/1977/B05300CLE1977.htm
Notes
Additional Stats
Cleveland Indians 1
California Angels 0
---
Cleveland Stadium
Cleveland, OH
Box Score + PBP:
Corrections? Additions?
If you can help us improve this game story, contact us.
Tags
https://sabr.org/sites/default/files/Eckersley-Dennis-Indians.jpg
600
800
admin
/wp-content/uploads/2020/02/sabr_logo.png
admin
2017-07-18 15:03:03
2020-04-17 10:25:47
May 30, 1977: Dennis Eckersley no-hits Angels in Cleveland