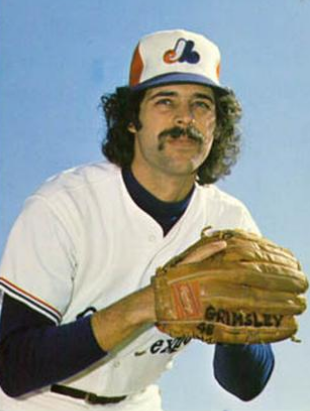 October 1, 1978: Twenty wins for Ross 'The Boss' Grimsley
---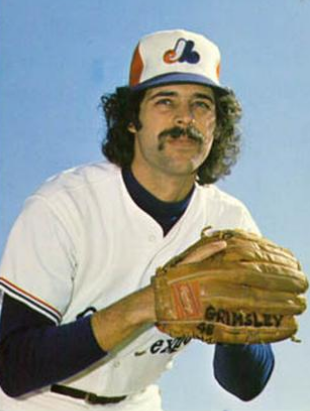 Southpaw Ross Grimsley waited until the last inning of the last game of the 1978 season to become the Montreal Expos' first and only 20-game winner. With one out and two men on in the final frame of a tie game against the St. Louis Cardinals on October 1, Grimsley strolled to the plate. "He was going to go all the way," said Expos manager Dick Williams. "I debated whether to have him bunt, but after he faked one he had the defense guessing and everything worked out perfectly."1Grimsley singled to load the bases, and the Expos went on to score four runs and win 5-1 in the Gateway City.
Grimsley was one of baseball's most colorful characters during the 1970s. He was superstitious, carried around charms on game days, and even consulted a witch to help him end a slump during his rookie season with the Cincinnati Reds in 1971. After three productive years with the Reds, who were known for their conservative and staid approach to the game, the short-haired, cleancutGrimsley was traded to the Baltimore Orioles. A "consummate free spirit," Grimsley began sporting his trademark long, shaggy, curly hair, which bulged from underneath his cap, along with a bushy mustache.2 Nicknamed "Scuzzy" for his unkempt look, Grimsley could also pitch, winning 18 games and tossing a career-best 295⅔ innings for the AL East champs in 1974. He had large, penetrating green eyes, which he often accentuated with colored contact lenses, which gave rise to another moniker, "Crazy Eyes."
The Expos signed Grimsley as a free agent after finishing fifth (75-87) in the NL East in 1977, Williams's first season as the club's pilot.3 A proven winner and workhorse, Grimsley sported a career record of 87-68 and had averaged more than 200 innings pitched per season over his seven-year career. With Grimsley and Steve Rogers (17-16, 301⅔ innings in 1977) at the front of the rotation, the best young catcher in the league (Gary Carter), and one of the best outfield trios in baseball (Warren Cromartie, Andre Dawson, and Ellis Valentine) the Expos were expected to challenge for the division crown in 1978.
The script did not go as planned despite a remarkably healthy team. After flirting with first place through June 9, Montreal slumped, winning just 30 of its next 79 games, and finishing in fourth place. The players taking the field on that Sunday afternoon had little to play for other than pride and personal records.
A sparse St. Louis crowd of just 6,182 showed up to watch the season finale. The three-game series drew fewer than 15,000 people, as many Redbird fans apparently wished to forget the tradition-laden club's worst season since 1924. The Cardinals went through three managers that season and finished fifth (69-93) in the NL East, ahead of only the moribund Chicago Cubs.4
The Expos came out swinging; they loaded the bases on two singles and a walk against Cardinals starter Pete Vuckovich, but did not score. One of the Redbirds' few bright spots that season, the 25-year-old right-hander, whose Fu Manchu rivaled Grimsley's walrus 'stache, had been acquired from the Toronto Blue Jays in the offseason. He worked his way into the starting rotation in '78 after primarily relieving in his first three years in the big leagues, and finished with a 12-12 record and an impressive 2.54 ERA.
The Expos scored the game's first run in the fourth inning. First baseman Tony Perez led off with a singleand moved to second on Gary Carter's one-out walk. Chris Speier then singled to drive in Perez. Vuckovich got out of the jam by inducing third baseman Stan Papi to hit into an inning-ending double play, one of the Cardinals' three twin killings that day.
Earlier in his career, Grimsley had relied on his fastball to overpower hitters, but after his trade to the Orioles he developed into one of the best slowball hurlers in baseball. "Changing speeds," responded Grimsley when asked about his success. "That's the secret. The way you can throw it right down the pipe and the hitter is off balance. They have no power. They can only hit with their hands."5 Blessed with good control, Grimsley had an arsenal including a slider, curveball, sinker, and changeup, all of which he threw at varying speeds. "When you have both the location and you are changing speeds, you have the hitter really confused," he said. "That's real fun."6
Grimsley baffled Cardinals hitters all afternoon with "his tantalizing assortment of throwing speeds," wrote Expos beat reporter Ian MacDonald.7 The Cardinals tied the game in the fifth inning when catcher Steve Swisher led off with a triple and scored on second baseman Mike Tyson's sacrifice fly.
The Expos' bats woke up in the ninth inning against rookie right-hander, Dan O'Brien, the Cardinals' second reliever of the game. With one out, Speier walked, Papi reached on an error, and Grimsley singled. Second baseman Dave Cash belted a two-run double to give the Expos a 3-1 lead. Three batters later, Perez singled with two outs to drive in two more. It was the "Big Dog's" fifth hit of the game, matching a career high. Cromartie popped up to end the inning. He needed two hits in the game to finish the season with a .300 batting average, but went 0-for-4.
Grimsley, no doubt energized by the chance to reach a milestone all pitchers dream about, pitched a 1-2-3 ninth. First baseman Roger Freed "took a mighty swing and missed one of Grimsely's slower-than-slow deliveries to end the game," wrote Ian MacDonald.8Grimsley's teammates "charged the mound in ecstasy," celebrating as if they had just clinched a division crown instead of a 5-1 victory.9 Stockily built backstop Gary Carter "crushed Grimsley as he clamped on a bear hug and waved the pitcher up and down like a rag doll," reported the Montreal Gazette.10
"This is the best I've pitched through an entire season, said Grimsley after completing the game in just 1 hour and 59 minutes.11 In his career year, "Crazy Eyes" finished with a 20-11 record, etched out a 3.05 ERA in 263 innings, and completed 19 of 36 starts; he was also named to his first and only All-Star team in July. One day after the season ended, he was unanimously chosen as the team's player of the year.
Grimsley's personal accomplishment was tempered by the Expos' poor season, which prompted him to voice his frustration with the selfishness of some of his teammates. "Some players will have to change attitudes," he said sternly after the game.12 Despite his quirkiness, Grimsley was a team player and knew the kind of commitment needed to win. He had pitched for division winners with the Reds (1972 and 1973) and the Orioles (1974).
"They must sacrifice personal interests and put the team first," he said. "I have played for winners. I know what I am talking about."13 Hard-nosed skipper Williams, who had guided the Boston Red Sox to the "Impossible Dream" American League pennant in 1967 and the Oakland A's to two World Series titles (1972 and 1973) echoed Grimsley's sentiments. "[It was a] sour season but for a few individuals."14
This article appeared in "Au jeu/Play Ball: The 50 Greatest Games in the History of the Montreal Expos" (SABR, 2016), edited by Norm King. To read more articles from this book, click here.
Sources
In addition to the sources listed in the notes, the author consulted:
Baseball-Reference.com
Retrosheet.org
SABR.org
http://www.baseball-reference.com/boxes/SLN/SLN197810010.shtml
http://www.retrosheet.org/boxesetc/1978/B10010SLN1978.htm
Notes
Additional Stats
Montreal Expos 5
St. Louis Cardinals 1
---
Busch Stadium
St. Louis, MO
Box Score + PBP:
Corrections? Additions?
If you can help us improve this game story, contact us.
Tags
https://sabr.org/sites/default/files/GrimsleyRoss.png
600
800
admin
/wp-content/uploads/2020/02/sabr_logo.png
admin
2017-09-12 15:34:52
2020-04-17 10:25:44
October 1, 1978: Twenty wins for Ross 'The Boss' Grimsley