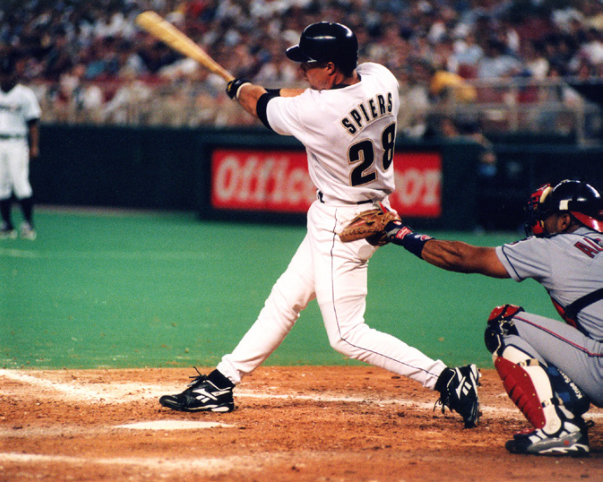 October 1, 1998: Bill Spiers' walk-off single ties the NLDS in Game Two
---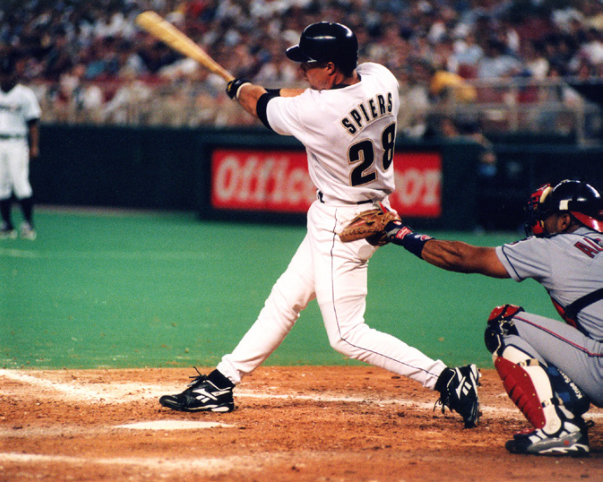 The 1998 Houston Astros strode into the postseason with the confidence that came with being the franchise's best team ever. They won 102 games in the regular season, the only time the Astros have produced more than 100 wins in a season. Most prognosticators and pundits favored them to make the World Series and play the New York Yankees (who won 114 games to set a new American League record).
Powered by the Killer Bees of Craig Biggio, Jeff Bagwell, and Derek Bell, the strong Astros offense led the National League in runs per game (5.40) and on-base-percentage (.356), and carried the lowest payroll ($41 million) of any team in the playoffs.
They also acquired pitching ace Randy Johnson from the Seattle Mariners at the trade deadline, July 31, when they led the NL Central Division by 3½ games. As an Astro, Johnson won 10 games and lost only one, with a 1.28 earned-run average. Houston won nearly 70 percent (37 of 53) of its games in August and September, finishing 13 games ahead of second-place Chicago. Home attendance increased by nearly 10,000 fans per game after the trade.1
The Astros began the playoffs against the San Diego Padres in a best-of-five series, opening September 29 at the Astrodome. Johnson pitched well, allowing two runs in eight innings and striking out nine. He received no support, however, as Astros batters struck out 16 times in eight innings against Padres ace Kevin Brown. They managed an unearned run off closer Trevor Hoffman in the ninth but left the tying run on base as they lost, 2-1.
A quirky television schedule inserted an odd day off before the next game. So on Thursday, October 1, 45,550 fans gathered in the Astrodome, hoping their team could even the series before heading to San Diego. The Astros started 19-game winner Shane Reynolds against Andy Ashby (17-9) of the Padres. "I was nervous; everybody was nervous," said Reynolds. "A dome full of people yelling, it's a no-lose situation."2
The Astros offense regained its regular-season form early against Ashby, producing three runs in the first three innings. Jeff Bagwell had all three RBIs with a run-scoring groundout and a two-run single. Reynolds held the Padres scoreless until the sixth inning, when three consecutive hits produced two runs. He completed seven full frames, allowing only those two runs on four hits and one walk on just 74 pitches, including 55 strikes. He had no quarrel with the decision to go to the bullpen in the eighth despite the low pitch count: "There's no sense in me having to go out there and pitch every inning with as good a bullpen as we've got."3
Jay Powell took over for Reynolds and turned in a perfect top of the eighth. Derek Bell increased the Astros' lead to 4-2 in the bottom of the inning with a home run off former Astros pitcher Donne Wall, setting up one of the most famous ninth innings in Astros history.
Leading by two runs, Houston skipper Larry Dierker called on hard-throwing closer Billy Wagner, while Brad Ausmus replaced Tony Eusebio at catcher. Although Wagner had missed about three weeks in the middle of the season after being hit by a line drive, he had managed 30 saves in 35 chances.
Tony Gwynn grounded to first baseman Bagwell for the first out. Next, Ken Caminiti beat out an infield single. Greg Vaughn flied out to center for the second out.
With one out left, Padres manager Bruce Bochy chose to pinch-hit for left-handed hitting Wally Joyner and sent righty Jim Leyritz to the plate. Leyritz had already made a name for himself with his late-inning heroics in the postseason. In 1995, his 15th-inning home run had given the Yankees a 7-5 win and a two-games-to-none lead over Seattle in the division series. The next year, his three-run homer off Atlanta closer Mark Wohlers had tied Game Four of the World Series, enabling the Yankees to eventually win that game, even the Series, and then to go on to win it.
Facing Wagner for the first time, Leyritz got advice from his teammates: He throws hard and rarely uses his slider. "If he's going to get beat, he's going to get beat with a fastball."4
Bagwell did not hold Caminiti on first, with two outs and a two-run lead in the ninth. Caminiti slipped easily to second base uncontested on a 1-and-2 pitch, which Leyritz took for a ball. Wagner and Leyritz battled to a full count, leaving the Padres down to what was potentially their last strike of the game. Dierker hoped for a changeup or a slider, anything to change the pace, but the fastballs kept coming. "I called all fastballs," catcher Ausmus admitted. "If he's going to get beat, it's going to be on his best pitch."5
Still facing fastballs, Leyritz drilled a 98-mph fastball from Wagner just over the wall, inches inside the right-field foul pole, to tie the game, 4-4. Wagner stood on the mound and smiled. "I just laughed because I pretty much know I supplied all the power for that home run."6 "It shocked me," he added. "I can't believe that ball stayed fair. … I made the pitch where I wanted it. He just hit it out."7
Wagner then gave up a single to Carlos Hernandez, followed by another to Chris Gomez. George Arias came on to pinch-hit for pitcher Donne Wall, and Andy Sheets ran for Hernandez at second base. Arias struck out swinging to end the 28-pitch inning, but the Padres had tied the game, and Wagner had blown the save.
"They didn't hang their head or show any signs of sinking," Dierker said, describing his team's spirit when they came into the dugout after the top of the ninth. "They were all moving around, bouncing, alive. No sense of fear. You could read it on their faces that they knew they were going to get a run."8
With Dan Miceli pitching for San Diego in the bottom of the ninth, leadoff batter Ricky Gutierrez reached safely on a slow roller to shortstop. Attempting to bunt Gutierrez to second, Ausmus fell backward yet still managed to accomplish the sacrifice. With the winning run in scoring position, Bochy called for Hoffman, his ace reliever, who had tied a National League record with 53 saves that season.
With Hoffman straight out of the bullpen, Gutierrez took off for third base on the first pitch to the next batter, Craig Biggio. Hoffman never looked at Gutierrez on second. "I didn't really think he'd go in that situation," Hoffman admitted. "But with that high leg kick, maybe I should have gone to the slide step."9
"Stealing that base was the first thing that went through my head," said Gutierrez, who never had a steal sign from the Astros' dugout. "They really didn't pay any attention to me. …When I saw his leg kick, I took off."10
"It really changed the inning," reflected Padres outfielder Tony Gwynn. "Now, we've got to bring the outfielders in, and you've got to decide whether you're going to pitch to Biggio or not."11
The Padres walked Biggio intentionally, hoping for a double play from the next batter, Bill Spiers. "I sort of thought they might walk me, too," Spiers said, but Bochy went against the percentages and chose to have the right-handed Hoffman pitch to left-handed Spiers rather than walk him and pitch to right-handed Derek Bell, who had just homered in the bottom of the eighth.12 With a runner on third and only one out, and a tie score in the bottom of the ninth, Spiers faced Hoffman.
Unlike Wagner and his fastballs, Hoffman relied heavily on his changeup, which looked "like a (badminton) shuttlecock," according to Dierker.13 Hoffman fed Spiers a steady dose of the pitch, and worked him into a one-ball, two-strike hole. Still, Spiers managed to loop Hoffman's next pitch just over second baseman Quilvio Veras, and in front of right fielder Gwynn. Gutierrez "sprinted down the line and took a flying leap onto home plate to end it."14
"That wasn't just the biggest hit of my career – that was the biggest hit of my life," said Spiers.15 "It was backyard stuff, what you dream about as a kid."16
"This was just typical of the games we've played against them all year," mused Biggio after the game. "This was a lot of fun. This is what you play for."17
Houston had evened the series at one game apiece. Next, they traveled to San Diego, where they lost 2-1 and 6-1, dropping the series to the Padres, three games to one. The Killer B's and the potent Astros' offense managed only one run in each of the three defeats. Despite a 1.93 earned-run average for the series, Randy Johnson was tagged with two of the three losses.
No 100-win team had ever dropped a division series. Many debated, even in 1998, the wisdom of determining winners in the postseason with a best-of five series. In late September Jay Greenberg argued in The Sporting News that all three rounds of the playoffs should involve best-of-seven series. He predicted, "Certainly one of these years, somebody good is going to get it in the back."18
This article appears in "Dome Sweet Dome: History and Highlights from 35 Years of the Houston Astrodome" (SABR, 2017), edited by Gregory H. Wolf. To read more articles from this book at the SABR Games Project, click here.
Notes
1 Carlton Thompson, "Johnson's Efforts Make New Teammates Better," The Sporting News, September 28, 1998: 76.
2 "Astros Padres Summary," Houston Chronicle, October 2, 1998.
3 Ibid.
4 Joseph Duarte, "Fantastic Finish – Wagner Sees Visions of Wohlers after Leyritz's Tying Homer," Houston Chronicle, October 2, 1998.
5 Carlton Thompson, "Hitting Back – Spiers' Single in Ninth Pushes Astros Past Padres 5-4, Evens Series," Houston Chronicle, October 2, 1998.
6 Michael Murphy, "Inspired Victory – Quiet Steal, Spiers' Hit Lift Astros," Houston Chronicle, October 2, 1998.
7 Thompson.
8 Fran Blinebury, "What Good Is an Easy Victory?" Houston Chronicle, October 2, 1998.
9 W.H. Stickney Jr., "Hoffman Falls Asleep at the Switch, Fails to Stall Winning Rally," Houston Chronicle, October 2, 1998.
10 Thompson.
11 Ibid.
12 Dale Robertson, "The Other Billy Deserves a Save," Houston Chronicle, October 2, 1998.
13 Ibid.
14 Blinebury.
15 Thompson.
16 Robertson.
17 Thompson.
18 Jay Greenberg, "Postseason Preview," The Sporting News, September 26, 1998: 59.
Additional Stats
Houston Astros 5
San Diego Padres 4
Game 2, NLDS
---
Astrodome
Houston, TX
Box Score + PBP:
Corrections? Additions?
If you can help us improve this game story, contact us.
Tags
https://sabr.org/sites/default/files/SpiersBill.PNG
600
800
admin
/wp-content/uploads/2020/02/sabr_logo.png
admin
2018-10-02 12:47:30
2020-04-17 13:34:01
October 1, 1998: Bill Spiers' walk-off single ties the NLDS in Game Two