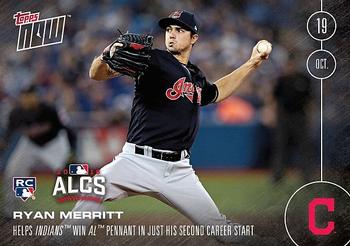 October 19, 2016: Ryan Merritt's unlikely gem helps Cleveland clinch AL pennant
---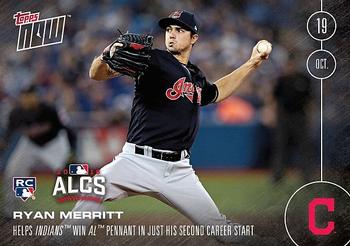 Cleveland manager Terry Francona had run out of choices. His once mighty starting rotation had been decimated by injuries. Danny Salazar (11-6, 3.87 ERA) was suffering from a sore right forearm and he had not started a game since September 9. On September 17, Carlos Carrasco (11-8, 3.32 ERA) suffered a broken right hand when a ball lined off the bat of Detroit's Ian Kinsler caused a non-displaced fracture and a premature end to Carrasco's season.
In spite of the injuries, Cleveland swept Boston in the American League Division Series. Their opponent in the American League Championship Series was the Toronto Blue Jays. The wild-card Jays swept Texas to earn the right to square off against the Tribe.
As if the injuries to Carrasco and Salazar were not enough, Trevor Bauer cut his right pinky finger on a drone that he was repairing before the start of the ALCS. The unexpected injury caused Francona to flip-flop his rotation. The fifth starter, Josh Tomlin, moved up to pitch game two while Bauer was moved back to game three at the Rogers Centre.
The Indians, behind Corey Kluber and Tomlin, took a 2-0 series lead with 2-0 and 2-1 victories at Progressive Field. Bauer took the hill as planned for Game Three. But he was forced to leave when blood came trickling out of his right hand in the first inning. The Indians went to a bullpen-by-committee strategy, using seven pitchers to beat the Blue Jays 4-2.
Cleveland was looking for the sweep in Game Four, but the Blue Jays had other ideas. Kluber started the game on short rest. But Toronto reached Cleveland's ace for two runs in five innings, and tallied three more scores against Cleveland's vaunted bullpen to stave off elimination with a 5-1 win.
Out of options, Francona turned to rookie hurler Ryan Merritt to take the mound for Game Five. The left-handed rookie from McKinney, Texas pitched in three relief appearances during the season. Merritt spent the majority of the season at Columbus of the AAA International League (11-8, 3.70, 24 starts). He did not start his first big league game until September 30 at Kansas City. He was credited with the win in a 7-2 Tribe victory. He pitched five innings, struck out three and gave up one run. He retired the last 13 batters that he faced.
With injuries mounting, the Indians sent Merritt to their spring training headquarters in Goodyear, Arizona to stay in shape and pitch against the team's Arizona Fall Instructional club. When Bauer had his mishap with his toy airplane, pitcher Joe Colón was removed from the playoff roster in favor of Merritt. "I never thought it was a waste of time," said Merritt. "Tito was straightforward with me when he told me I was going to Arizona. He told me, 'We might need you.'"1
Toronto indeed had a powerful lineup. Designated hitter Edwin Encarnación tied for third in the AL with 42 home runs and led the circuit in RBIs with 142. Josh Donaldson smacked 37 round-trippers and drove in 99 runs. Russell Martin, Troy Tulowitzki, Michael Saunders, and José Bautista combined for 90 home runs and 279 RBIs.
This explosive offensive attack by the Blue Jays prompted Bautista to say that Merritt, "will be shaking in his boots"2 facing the Toronto offense in the Rogers Centre. Mickey Callaway, the Indians' pitching coach, was well aware of Merritt's capabilities. "We know what he's going to give us," said Calloway. "He's going to fill up the strike zone."
Toronto manager John Gibbons turned to right-hander Marco Estrada in an effort to extend the series. Estrada (9-9, 3.48 ERA in the regular season) was marvelous in a game one win (10-1) over Texas in the ALDS. He struck out six, walked none and gave up one earned run in 8 1/3 innings of work. He went the distance in game one of the ALCS in Cleveland, again striking out six and walking one. Francisco Lindor's two-run homer was the only blemish, but it was enough to carry the day for the Tribe.
The Indians jumped on Estrada in the top of the first inning when Lindor singled to left field. Mike Napoli followed with a double off the left field fence, and Lindor raced all the way around the bases to score. However, Napoli was not credited with an RBI as Toronto's left fielder Ezequiel Carrera misplayed the ball off the fence, allowing Lindor to chug home.
Cleveland extended their advantage to 2-0 in the top of the third inning, when Carlos Santana homered on a 1-0 count for his second dinger of the series. One inning later, Coco Crisp made the score 3-0 with a two-out, solo home run. Crisp, who was acquired from Oakland on August 31, came up big for the Indians.
Although not known as a long-ball hitter, Crisp homered on September 26 at Detroit in a 7-2 Indians win. The victory enabled the Indians to clinch the AL Central Division. Crisp also went yard on October 10 at Boston in Game Three of the ALDS. The 4-3 Indians' win clinched the series for Cleveland. If one believed in trends, or even superstitions, the outcome of Game Five in Toronto was looking quite promising.
But aside from that, Merritt was shutting down the Blue Jays offense. He rarely pitched above 87 MPH, and kept the Jays off balance. But with one out in the fifth, Martin got aboard with a single, and Francona went to his bullpen. Merritt gave the team the boost they needed, striking out three, walking none in 4 1/3 innings pitched. Only two of the 14 batters he faced reached base, and they were both on singles.
For Merritt, he just went out and pitched like it was any other game. "You've got to do that to perform well," said Merritt. "You have to relax. You've got to trust in yourself that you're good enough to be out here."3
Bryan Shaw and Andrew Miller followed Merritt, and they combined to pitch 3 2/3 innings of shutout baseball.
Cody Allen, who had 32 saves in the regular season, surrendered a lead-off double to Bautista in the bottom of the ninth. But the righty came back to whiff Donaldson and Encarnación. Tulowitzki popped to Santana for the final out. It was Allen's third save of the ALCS, and his fifth in the postseason. "When I saw the ball go up I just hoped Carlos would catch it," said Allen. "I was about 30 yards away and wanted no part of it."4
With the win, Cleveland won their first pennant since 1997. Unfortunately for the Indians, they fell to the Chicago Cubs in seven games in the World Series.
The Cleveland fans were so joyous of their trip to the World Series that they wanted to show their appreciation to Merritt,and did so in a most unusual way. Word spread that Merritt and his fiancée, Sarah Brushaber, were soon to be wed. Fans looked up the couple's wedding registry online and bought a significant amount of items that were left to be purchased. "It's been crazy," said Merritt. "Everybody got to it quick. One person found it and sent it out there, and once it hits the media, everyone found out. I'm thinking it's a joke at first. But the next thing you know, (the items) are dropping like crazy."5
Sources

The author accessed Baseball-Reference.com for box scores/play-by-play information (https://www.baseball-reference.com/boxes/TOR/TOR201610190.shtml) and other data, as well as http://www.retrosheet.org/boxesetc/2016/B10190TOR2016.htm.
Notes
1 Paul Hoynes, "Tribe pitching-Merritt was there just in case and rose to occasion", Cleveland Plain Dealer, October 21, 2016: B3.
2 Terry Pluto, "Commentary: When problems get thrown their way, Indians find ways to hit them out of the park," Cleveland Plain Dealer, October 20, 2016: S3.
3 Paul Hoynes, "Answering the Call: Fill-in rookie starter sets the Indians on a path to the World Series with a solid outing", Cleveland Plain Dealer, October 20, 2016: S2.
4Ibid.
5 Jerry Crasnick, "Indians fans buy up wedding gifts for Ryan Merritt off registry," ESPN.com. October 25, 2016, Accessed May 11, 2018.
Additional Stats
Cleveland Indians 3
Toronto Blue Jays 0
Game 5, ALCS
---
Rogers Centre
Toronto, ON
Box Score + PBP:
Corrections? Additions?
If you can help us improve this game story, contact us.
Tags
https://sabr.org/sites/default/files/MerrittRyan.jpg
600
800
admin
/wp-content/uploads/2020/02/sabr_logo.png
admin
2018-06-28 16:56:00
2020-04-17 13:34:02
October 19, 2016: Ryan Merritt's unlikely gem helps Cleveland clinch AL pennant