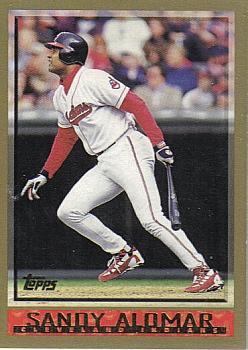 October 12, 1997: Sandy Alomar Jr. delivers dramatic finish to give Cleveland a 3-1 ALCS lead
---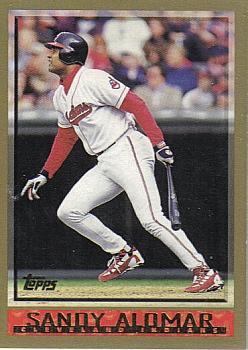 The Cleveland Indians carried a 2-1 series advantage heading into the 1997 American League Championship Series Game Four against the Baltimore Orioles on a warm breezy Sunday night in downtown Cleveland. The Indians were flying high after the previous night's contest when a missed suicide-squeeze attempt and passed ball led to Marquis Grissom scoring the winning run in the 12th inning of Game Three.1 Grissom commented on the surprise squeeze attempt, "Everybody thought Omar [Vizquel would be swinging. The count was 2-and-1, and we had guys on first and third."2 The teams had split the first two games; Baltimore won Game One, 3-0, behind Scott Erickson's eight shutout innings and stellar team defense, then Cleveland won Game Two, 5-4, on Grissom's eighth-inning, three-run blast.
Cleveland manager Mike Hargrove selected rookie Jaret Wright to start Game Four. Wright, who made his major-league debut on June 24, went 8-3 with a 4.38 ERA over 90⅓ innings during the regular season. In the postseason he started twice against the New York Yankees, pitched into the sixth inning each game, and won both starts. He hadn't faced Baltimore during the regular season. Jaret received his love of baseball from his father, former big-league pitcher Clyde Wright, who went 100-111 with a 3.50 ERA in 10 big-league seasons, and his enjoyment of running fast and surfing from his mother.3 Wright's main pitch thrown with confidence was a mid-90s fastball, while his hard slider, slow curve, and changeup required further development for him to become a frontline starting pitcher.4
Baltimore manager Davey Johnson summoned veteran Scott Erickson to face Cleveland on three days' rest. The right-hander dominated Cleveland during the series opener, requiring only 90 pitches and allowing four hits with no walks to earn the win. Lenny Webster, Erickson's primary catcher, complimented Erickson's effectiveness and intensity: "We got the first pitch in and that's what we do — work fast and get ahead. He got in a rhythm, and when he does that, he's hard to beat."5 Though Erickson started 33 games and pitched 221⅔ innings during the season, he never faced Cleveland. The power sinkerballer also threw a changeup and slow curve at different arm angles to confuse hitters.6
The sellout crowd of 45,081 eagerly anticipated another thrilling playoff game. Wright started quickly by retiring All-Stars Brady Anderson and Roberto Alomar, then midseason acquisition Geronimo Berroa, in order. Erickson continued quieting Cleveland bats with his overpowering sinkerball as both leadoff hitter Bip Roberts and cleanup hitter Jim Thome grounded out and Vizquel struck out. The Orioles scored in the second inning when Cal Ripken Jr. singled to right field and B.J. Surhoff doubled him home. The Indians reached Erickson in their half of the inning. Sandy Alomar Jr., who entered the game 0-for-11, blasted a home run with David Justice on base to give Cleveland a 2-1 lead. Brian Giles followed with a double to left, but was stranded when Grissom grounded out and Roberts flied out.
Mike Bordick struck out looking to start the Orioles' third. Anderson, who led Baltimore's offense with 3.7 Wins Above Replacement during the season, launched a hanging curveball 405 feet into the right-field seats to tie the score. Roberto Alomar walked and was forced at second by Berroa. Harold Baines homered on a 3-and-0 pitch, and Rafael Palmeiro went deep on another hanging curveball — both homers traveled over 380 feet7 — as the Orioles tied an LCS record with three homers in an inning.8 Even with an extra day's rest and home crowd support, Wright struggled with subpar velocity and an ineffective curveball. Ripken walked and Surhoff doubled, giving Baltimore two runners in scoring position and threatening to break the game open. Webster grounded out to third base, ending the threat, but Wright's night was finished. Asked if he had ever allowed three homers in game, Wright responded, "Not in an inning. In a game, yes."9 The Orioles led 5-2 with Wright's departure. Erickson ran into some trouble in the bottom of the inning when Manny Ramirez doubled with one out and Thome walked. Erickson escaped trouble when his trademark sinkerball induced a 5-4-3 double play.
Southpaw Brian Anderson, who tossed two scoreless innings against the Orioles in Game One, relieved Wright in the fourth with the top of Baltimore's order looming. Bordick lined out, Anderson walked, then both Roberto Alomar and Berroa hit drives to right field, but each was caught. In the Indians' half, Erickson got two outs, then Giles doubled in the right-field gap. Grissom, continuing to deliver timely hits, plated Giles on a single to center field. Another Erickson groundout concluded the inning.
Anderson continued pitching effectively in the fifth. Baines lined out to left field, and Palmeiro and Ripken struck out. Vizquel lined out to start the Cleveland half, and Ramirez delivered his second homer of the series to reduce Baltimore's lead to one run. Thome and Justice singled to right field, and after Matt Williams struck out, Sandy Alomar singled past Bordick to drive in Thome with the tying run as Justice moved to third. Seeking to quell Cleveland's momentum, Davey Johnson summoned Arthur Rhodes to relieve Erickson, who commented after the game, "I thought I was hitting my spots and throwing pretty well, they just hit some good pitches."10 Rhodes struggled with his control, walking Giles to load the bases. With the score tied 5-5 and Grissom hitting, Rhodes unleashed a 55-foot breaking ball that escaped Webster for a wild pitch; Webster recovered and tossed the ball to Rhodes, who was covering home plate. The ball bounced off a sliding Justice, and Cleveland grabbed the lead. Alomar also scored when Rhodes' flip to Ripken, who charged in from third base to cover home during the scramble, was late. A disappointed Johnson noted, "I've seen some strange things happen, but I've never seen two runners score on a play like that. The ball didn't get that far away."11 Grissom grounded out but the Indians now led, 7-5.
Baltimore bats remained quiet in the sixth inning, as Anderson set down the Orioles on a groundout, strikeout, and fly out. Against Rhodes, Tony Fernandez singled and was sacrificed to second by Vizquel. Ramirez was intentionally walked. Fernandez went ot third on Thome's lineout to right, but the two baserunners were stranded when Justice grounded to first.
Entering his fourth inning on the mound, Brian Anderson allowed a leadoff single to Brady Anderson in the Orioles' seventh. After Roberto Alomar struck out, Hargrove went to the bullpen for Jeff Juden. Brady Anderson stole second and scored on Berroa's left-field single to cut Cleveland's lead to one run. Lefty Paul Assenmacher, who pitched in six of Cleveland's seven postseason games, entered the game to face sluggers Eric Davis and Palmeiro. Davis flied out, but Palmeiro singled to advance Berroa to within 90 feet of tying the game. Setup man Michael Jackson relieved Assenmacher and ended Baltimore's threat on a fielder's choice. In the bottom half, Alan Mills relieved Rhodes to try to keep Cleveland from extending its lead, and Mills quickly retired the Indians in order. In the eighth Jackson returned to the mound and allowed a single to Webster, and was relieved by Cleveland closer Jose Mesa with two outs. Mesa got Anderson on a grounder to second, leaving the Orioles with only one more chance to tie the game. As Mills retired Cleveland in order in the bottom of the eighth, the crowd's volume increased significantly.
Mesa immediately experienced trouble starting the ninth inning. Roberto Alomar walked and Berroa singled, advancing Alomar to third base. Speedster Jeffrey Hammonds ran for Berroa. Mesa struck out Davis for the first out. Then Palmeiro bounced a ball to Mesa, who couldn't handle the comebacker as Alomar scored the tying run. A groundout and popout ended Baltimore's inning.
Ramirez started the Indians' ninth inning by walking, and the winning run was aboard. Veteran reliever Jesse Orosco supplanted Mills, and pinch-hitter Kevin Seitzer sacrificed Ramirez to second base. Justice flied out to center. Johnson brought in Armando Benitez, who walked Matt Williams. With Ramirez on second and Williams on first, Sandy Alomar drove a single into left field, bringing in Williams with the winning run for another dramatic finish.
Alomar finished the game with three hits and four RBIs after three hitless games. He said, "We come to the park expecting to play Game Seven every day. We don't take anything for granted. We play every game like it's the last one."12
Down three games to one, Baltimore rebounded in Game Five and won, 4-2, preventing another ninth-inning Indians rally.13 Game Six provided a dramatic finish for the exciting series when Tony Fernandez's 11th-inning home run scored the game's only run as Cleveland won the ALCS, four games to two.14 Grissom was named the series' MVP for his timely hitting.15
Sources
Besides the sources cited in the Notes, the author consulted Baseball-Reference.com, Retrosheet.org, and the following:
1998 Baltimore Orioles Media Guide
1998 Cleveland Indians Media Guide
https://www.baseball-reference.com/boxes/CLE/CLE199710120.shtml
https://www.retrosheet.org/boxesetc/1997/B10120CLE1997.htm
Notes
1 Joseph Wancho, "October 11, 1997: Grissom Speeds Home to Give Indians an Extra-Innings Win in Game 3 of ALCS," sabr.org/gamesproj/game/october-11-1997-grissom-speeds-home-give-indians-extra-innings-win-game-3-alcs. Accessed August 12, 2019.
2 Sheldon Ocker, "Fantastic Failure," Akron (Ohio) Beacon Journal, October 12, 1997: 31.
3 Ed Meyer, "Wright Always in Motion," Akron Beacon Journal, October 12, 1997: 2.
4 "Jaret Wright," in Josh Dewan and Don Zminda (eds.), The Scouting Notebook 1998 (Skokie, Illinois: Stats, Inc. Publishing, 1997), 124.
5 Joe Strauss, "Erickson Fills in the Blanks," Baltimore Sun, October 9, 1997: 61.
6 "Scott Erickson," in The Scouting Notebook 1998, 52.
7 Mike Eisenbath, "Cleveland Puts Orioles' Season on the Brink," St. Louis Post-Dispatch, October 13, 1997: 26.
8 Peter Schmuck, "Suddenly, Orioles on brink," Baltimore Sun, October 13, 1997: 1.
9 Michael Weinreb, "Not Wright, No Problem," Akron Beacon Journal, October 13, 1997: 56.
10 David Lee Morgan Jr., "Orioles Not Hanging Heads," Akron Beacon Journal, October 13, 1997: 56.
11 Sheldon Ocker, "Alomarvelous," Akron Beacon Journal, October 13, 1997: 53.
12 Ocker, 53.
13 Peter Schmuck, "O's Keep It Going," Baltimore Sun, October 14, 1997: 1.
14 Joseph Wancho, "October 13, 1997: Tony Fernandez Extra-Inning Home Run Wins Pennant for the Tribe," sabr.org/gamesproj/game/october-15-1997-tony-fernandez-extra-inning-home-run-wins-pennant-tribe. Accessed August 13, 2019.
15 Sheldon Ocker, "Grissom Wins MVP," Akron Beacon Journal, October 16, 1997: 40.
Additional Stats
Cleveland Indians 8
Baltimore Orioles 7
Game 4, ALCS
---
Jacobs Field
Cleveland, OH
Box Score + PBP:
Corrections? Additions?
If you can help us improve this game story, contact us.
Tags
https://sabr.org/sites/default/files/AlomarSandyJr.jpg
600
800
admin
/wp-content/uploads/2020/02/sabr_logo.png
admin
2019-08-26 18:27:54
2020-04-17 13:33:57
October 12, 1997: Sandy Alomar Jr. delivers dramatic finish to give Cleveland a 3-1 ALCS lead