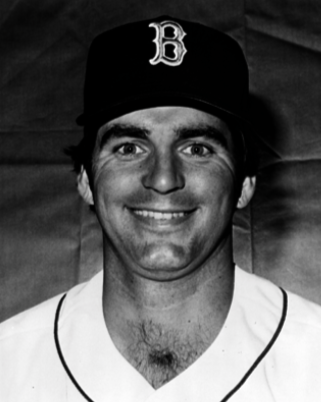 October 8, 1986: Sun shines on Red Sox in ALCS Game Two
---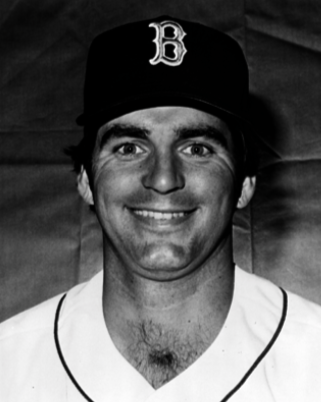 The Angels were no match for Boston left-hander Bruce Hurst and an unforgiving afternoon sun as the Red Sox tied the series at one game apiece.
Boston right fielder Dwight Evans — a veteran of Fenway Park's sun and wind patterns since 1972 — knew the day would be trouble before the game began at 3:00 P.M. "It's going to be rough. … The sun is going to be in your eyes and the wind is going to make fly balls dance." Evans added: "It's going to be to our advantage."1
Angels manager Gene Mauch went with a different lineup against Hurst, with Rick Burleson leading off as the DH, George Hendrick in right field, and Bobby Grich at second base. The Red Sox used the same lineup as in Game One.
Boston began its revenge against the Angels for their Game One rout right away, scoring single runs in each of the first two innings off California starter Kirk McCaskill. Wade Boggs opened the first with a triple high off the wall in left-center. Gary Pettis misplayed the carom and Hendrick overthrew the cutoff man as Boggs slid safely into third.
Pettis said the ball took a "kangaroo bounce," adding, "What could I do? I thought I was in the right place. Strange."2 Boggs: "The warning track is like concrete. I knew that ball was going to bounce if it hit the track."3
Marty Barrett worked a full count, then doubled down the right-field line. Boggs scored easily. After Bill Buckner lined to center, Jim Rice grounded to shortstop. Barrett was caught off the bag and tagged by Angels shortstop Dick Schofield. Don Baylor lined a single off the scoreboard and Rice sprinted to third. Both runners were stranded when Dwight Evans flied to center for the third out.
Rich Gedman opened the second inning with a single to left-center. After Tony Armas struck out, Spike Owen reached first when his high chopper to shortstop took a bad hop over Schofield's head (it may have hit the spot where the infield grass meets the dirt). Boggs then chopped an 0-and-2 pitch to McCaskill, who misplayed the ball. It hit off his chest and dropped to the ground, and the Red Sox had the bases loaded.
"I've never lost a groundball in the sun before," McCaskill said. "It was unbelievable. I knew exactly where it was going to be. I went to make the play and then I lost it in the sun. I had to try and make a blind stab at it and I missed."4
Barrett lined a single to left, scoring Gedman. Buckner, who ended four different innings in Game One, ended this rally by grounding into a 3-6-1 double play.
The Angels tied the game against Hurst with single runs in the fourth and fifth. Leadoff singles from Brian Downing and Doug DeCinces and a one-out fielding error by Boggs loaded the bases for California in the fourth. Schofield grounded a pitch to the right of shortstop Spike Owen, who tried getting a force at third, but had trouble getting the ball out of his glove. His toss to Boggs was late, and Downing scored. Hurst rebounded, however, retiring Bob Boone on an infield popup and Gary Pettis on a liner to short center.
Wally Joyner homered to right-center with one down in the fifth, tying the game at 2-2. It was the first time a rookie had hit a home run in an ALCS.
Boston broke the tie in its half of the fifth. Buckner singled with one out and Baylor walked with two out. Dwight Evans was credited with a double on a popup that fell beyond Grich's reach in short right field. Buckner scored, giving Boston a 3-2 lead.
"I look up and the first thing I see is sun," Grich said. "So I'm blinded momentarily, I fire my glasses up, I look down momentarily and when I look up again, the ball is drifting back. So I went back on it, but by then the ball was in the wind, drifting back, and I could not get to it in time."5
Evans: "It was one of those balls that you don't know really where it was going to wind up. They played it right and waited until it came out of the sun. But the wind caught it. When I saw them look at each other, I knew it was trouble."6
In the sixth inning, the Angels stroked three straight singles off Hurst, but did not score. With Grich on second and Schofield on first and one out, Boone grounded a hard single into left. Jim Rice charged the ball. Grich rounded third and glanced at third-base coach Moose Stubing, who did not give a sign one way or the other. Grich instinctively put on the brakes and tried to scamper back to the base. Boggs leapt to cut off Rice's throw to the plate and tossed the ball quickly to Owen, who tagged out Grich. Grich was furious. He slammed his helmet to the ground and threw his arms up in the air. Grich continued yelling in the dugout as Hurst fanned Pettis for the third out. The misplay erased any momentum the Angels might have had. They would not threaten at all in the final three innings.
Grich: "I'm running as hard as I can and everything in my mind is to score a run. Now I've got to rely on my third-base coach. I didn't see his hands in the air, I took my three or four strides beyond third and then I realize he's telling me to hold up. So I tried to stop, lost my footing and I could not get back."7
Stubing took full responsibility for the play, admitting he "waited too long to commit."8 Stubing said he did not see Boggs in position to cut off Rice's throw. "I thought the throw was going all the way to home."9 Stubing said he was yelling at Grich, but was late in putting up his arms to stop the runner.
Grich: "That's not the first time I've thrown my helmet. It was not a class act, it was just an emotional act, and I wasn't thinking. … I just snapped. … I didn't mean to show [Stubing] up, that's not professionalism. The first thing I said to him was, 'Moose, I'm sorry I showed you up, my man, but Moose, I've got to see some hands on that play.' "10
The Red Sox put the game away with three runs in both the seventh and eighth innings. Hurst went the distance, pitching what he described as a "nifty 11-hitter."11 Hurst had missed nearly two months of the season with a groin pull, but returned in August in top form. He went 5-0 in September with two shutouts and a 1.07 ERA. On this afternoon, the Globe called Hurst "an island of sanity in a roiling whirlpool of silliness."12
Evans: "It was one of the toughest days I've ever seen here. … The sun was very bright and low. My sunglasses were so little help I took them off … after I lost Rick Burleson's pop fly in the seventh." 13
Bob Boone said it was the toughest game he'd ever played in the sun.14 "It seems like any time a team comes in here and isn't used to this place, miscommunications happen."15
This article appeared in "The 1986 Boston Red Sox: There Was More Than Game Six" (SABR, 2016), edited by Leslie Heaphy and Bill Nowlin. Read more game stories from the book at the SABR Games Project by clicking here.
Sources
https://www.baseball-reference.com/boxes/BOS/BOS198610080.shtml
http://www.retrosheet.org/boxesetc/1986/B10080BOS1986.htm
Notes
1 Leigh Montville, "Last Laugh in Comedy Of Errors," Boston Globe, October 9, 1986: 1.
2 Ibid.
3 Ibid.
4 George Kimball, "The Sunny Side of the Park," Boston Herald, October 9, 1986: 96.
5 Michael Madden, "For Grich and Angels, This Was a Lost Cause," Boston Globe, October 9, 1986: 49.
6 Larry Whiteside, "Hurst, Sun Shine for Sox; Lefty Stifles Angels; Misplays Do Rest, 9-2," Boston Globe, October 9, 1986: 49.
7 Michael Madden.
8 Charles Pierce, "Moose Stubs Toe At Third," Boston Herald, October 9, 1986: 98.
9 Michael Madden.
10 Ibid.
11 John Powers, "An Island in the Storm; Hurst's Composure Keeps Red Sox on an Even Keel," Boston Globe, October 9, 1986: 50.
12 Ibid.
13 Tim Horgan. "Wind and Sun Add Up to Wackiness," Boston Herald, October 9, 1986: 97.
14 Leigh Montville.
15 Lesley Visser. "Evans Shines on a Bright Day," Boston Globe, October 9, 1986: 55.
Additional Stats
Boston Red Sox 9
California Angels 2
Game 2, ALCS
---
Fenway Park
Boston, MA
Box Score + PBP:
Corrections? Additions?
If you can help us improve this game story, contact us.
Tags
http://sabr.org/sites/default/files/HurstBruce.png
600
800
admin
/wp-content/uploads/2020/02/sabr_logo.png
admin
2018-02-22 11:49:52
2020-04-17 13:34:03
October 8, 1986: Sun shines on Red Sox in ALCS Game Two