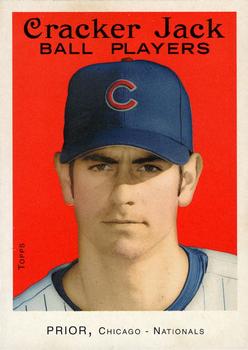 October 8, 2003: Sosa, Prior lead Cubs to blowout win in Game 2 of NLCS
---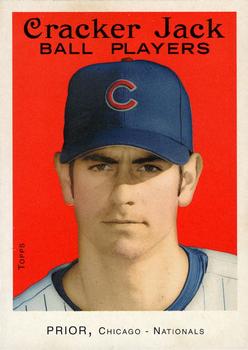 The expectation that the 2003 NLCS would end with a quick coronation for the Chicago Cubs was diminished when the Florida Marlins stormed back from a 4-0 deficit to win Game One on third baseman Mike Lowell's 11th-inning home run. The gaudy headlines about the Cubs' vaunted pitching staff1 failed to underscore the fact that the Marlins were an opponent not to be taken likely. Yet, as the Cubs jumped to an early lead in Game One, it seemed that Cubs nation and the rest of the viewing public were looking at a laugher that would extend throughout much of the NLCS. They would be proven terribly wrong.
When Mark Prior re-entered the MLB draft in 2001, he was considered to be a "can't-miss" pitching prospect. The Chicago Cubs selected Prior with the second overall pick in that year's draft, and signed him to a five-year, $10.5 million contract. The 6-foot-5 right-hander from San Diego, California, proved his worth in his second full season with the Cubs by producing a Cy Young-worthy campaign.2 Prior finished with an 18-6 record and a 2.43 ERA. He posted 245 strikeouts, second only to his teammate, Kerry Wood, but produced a higher WAR (7.9) than Wood (6.3). In Prior's first ever postseason contest, five days earlier in the third game of the Division Series against the Atlanta Braves, he tossed a complete game. He held the Braves to one run on two hits, outdueling Greg Maddux.
The second game of the 2003 National League Championship Series was played on Wednesday, October 8, before a jam-packed Wrigley Field crowd of 35,962 on a 75-degree day. Many in the Wrigleyville neighborhood spilled into the sidewalks hoping to retrieve any souvenirs that might fly out of the ballpark. Coming off their incredible comeback win, the Marlins sent right-hander Brad Penny to the mound. In a replay of Game One, the Cubs jumped out to an early lead. With the bases loaded in the home first, Randall Simon drove in two runs on a single to left that scored Mark Grudzielanek and Sammy Sosa. In the second inning, Penny gave up a leadoff single to Cubs catcher Paul Bako. Prior sacrificed Bako to second, and Bako scored on a single by Cubs leadoff man Kenny Lofton. Sammy Sosa, who had hit his first-ever postseason home run the previous night, then drilled a two-run homer deep into center that cleared the camera stall some 495 feet from home plate. The Cubs left the second inning firmly in control with a 5-0 lead.
In the bottom of the third, the Cubs continued to flex their muscles in front of the Wrigley Field faithful, with a lead-off home run by Aramis Ramirez. Randall Simon's single to right knocked Penny out of the game in favor of Nate Bump, but the barrage continued. As Bako doubled to left to score shortstop Alex Gonzalez and Lofton's single to left scored Bako as the Cubs finished the third with an 8-0 lead. "He didn't have good location," Marlins manager Jack McKeon said. "When you get down 8-0 in the third inning, you're in trouble."3
The Cubs continued to pour it on in the bottom of the fifth as Alex Gonzalez slugged a two-run home run and Mark Grudzielanek lined a double to left to score Bako as the Cubs finished the fifth with a 11-0 advantage. Pitcher Prior wasn't as automatic as many fans believed him to be, but he was solid enough for five strikeouts and two walks in seven innings of work. Prior's only hiccup was giving up back-to-back home runs in the top of the sixth to Derrek Lee and Miguel Cabrera. The offensive salvo from his teammates provided more than enough cover for the second-year right hander. "He wasn't as sharp as he has been," Cubs manager Dusty Baker said, "but I think the runs really helped him."4
In the bottom of the sixth, Cubs shortstop Alex Gonzalez clubbed his second home run of the game to give Chicago a 12-2 lead. Gonzalez became the second Cub in LCS play to homer twice in a game since Gary Matthews did it in 1984. With four home runs in three postseason appearances, Gonzalez was seemingly hitting his stride at the right time. "I love the excitement, I love crucial situations," Gonzalez said. "I tend to lift my concentration and it happens automatically. In my past couple years, especially in Chicago, I've been able to come through at crucial times in certain games. It made me feel comfortable. Carrying that over into the postseason really helps."5 In the top of eighth, the Marlins scored their final run of the game on Juan Encarnacion's double play ball that scored Mike Redmond, and in the top of ninth they were retired 1-2-3 by Dave Veres (one batter) and Mark Guthrie (the final two). The resounding 12-3 victory pulled the Cubs even in the series.
With a blowout victory in Game Two, it seemed that the advantage would move quickly back to the favored Cubs. But with the series now moving to Miami, where the Marlins tallied 53 wins in 2003, there was good reason to remain cautiously optimistic. "We have to put these two games behind us and start over," Prior said. "And now it's a five-game series."6
The Cubs displayed a total team effort in dismantling the Marlins in Game Two. Not only did Gonzalez hit two home runs, but leadoff man Lofton rapped four hits. Catcher Bako had two hits and scored three runs, and first baseman Simon contributed three hits with two RBIs. Sammy Sosa's mammoth blast was still the talk after the game.
"The two of mine probably equaled one of his," said Gonzalez.7
"For myself, I've been there many times," Sosa said. "I don't really have a chance to look where the ball is going to land. It doesn't matter to me."8
Although the Marlins escaped Chicago with a 1-1 tie in the series, they faced the daunting prospect of trying to defeat Kerry Wood in Game Three in Miami and possibly Mark Prior later in the series.
"They know they've got two big bullets coming at us," Marlins pitcher Chad Fox said. "They have some pretty impressive numbers, but on any given day they can be beat. Anyone can be beat."9
Sources
In addition to the sources cited in the Notes, I also consulted baseball-reference.com, and retrosheet.org.
baseball-reference.com/boxes/CHN/CHN200310080.shtml
retrosheet.org/boxesetc/2003/B10080CHN2003.htm
Notes
1 For examples, see Daniel G. Habib, "Chicago Heat," Sports Illustrated, July 7, 2003; "Cubs Look Like Younger Version of Braves," Mason City (Iowa) Globe-Gazette, September 30, 2003: B6; "Playoff Victory Finally in Hand, Cubs Well-Armed for NL Series," Baltimore Sun, October 7, 2003.
2 Prior finished behind Jason Schmidt and Eric Gagné, who won the award.
3 John Mullin, "Brad Penny," Chicago Tribune, October 9, 2003: 7.
4 Mike Downey, "Taking a Break From the News to Savor Romp," Chicago Tribune, October 9, 2003: 3.
5 Adam Rittenberg, "Bottom of Order Comes Through," Daily Herald (Arlington Heights, Illinois), October 9, 2003: 5.
6 Paul Sullivan, "Thunder Sticks," Chicago Tribune, October 9, 2003: 3.
7 Lindsey Willhite, "Is This One of Those Sosa Hot Streaks?" Daily Herald, October 9, 2003: 5.
8 Ibid.
9 Mike Berardino, "Wins Leave a Warm Glow," Chicago Tribune, October 9, 2003, 4.
Additional Stats
Chicago Cubs 12
Florida Marlins 3
Game 2, NLCS
---
Wrigley Field
Chicago, IL
Box Score + PBP:
Corrections? Additions?
If you can help us improve this game story, contact us.
Tags
https://sabr.org/sites/default/files/PriorMark-2004.jpg
600
800
admin
/wp-content/uploads/2020/02/sabr_logo.png
admin
2019-08-05 02:51:19
2020-04-17 13:33:58
October 8, 2003: Sosa, Prior lead Cubs to blowout win in Game 2 of NLCS