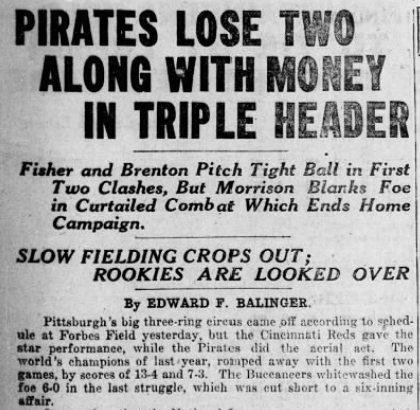 October 2, 1920: Reds, Pirates split three games in the last major-league tripleheader
---
 "It's a great day for a ball game; let's play two!" — Ernie Banks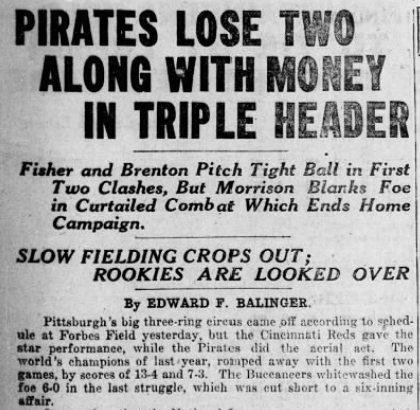 It's been a century since there was a tripleheader played in major-league baseball. Research has turned up only three instances of tripleheaders. The most recent one was played at Pittsburgh's Forbes Field on October 2, 1920, and it definitively determined which team would finish in third place in the National League that year.
After the close of play on September 30, the Brooklyn Robins were in first place and the New York Giants in second place. Bad weather prevented games between the reigning world champion but now third-place Cincinnati Reds (80-69) and the fourth-place Pittsburgh Pirates (77-73) on either September 30 or October 1. The two teams each had four games left on their schedule, three against each other and one against other teams on October 3 (the Pirates in Chicago against the Cubs, with the Reds hosting the Cardinals.) Mathematics shows that should the Pirates and Reds get in their three games and the Pirates sweep, both teams would have 80 wins. Third place would be resolved on October 3; at the time, finishing third earned the team a share of the World Series proceeds. Fourth place earned nothing.1
Pirates owner Barney Dreyfuss suggested three games in one day, beginning at noon. Sunset on October 2 was at 6:01 P.M. National League President John Heydler agreed to Dreyfuss's suggestion.2 Everyone in Pittsburgh knew that "one defeat this afternoon will kill the Buccos' chances."3
"Talk about your bargain days," wrote Pittsburgh Post-Gazette sportswriter Charles J. Doyle. "Come early and bring your lunch. The big show begins at 12 o'clock and will continue for five or six hours. All for one price of admission, folks, and the sideshow thrown in."4 Doyle said the gates would open "some time after breakfast" and "last, but not by any means least, the baseball writers will be served a lunch. It will not be in liquid form. Tough luck."5
Pirates manager George Gibson, wrapping up his first season as skipper, assigned the starting role for the first game to Pittsburgh's ace, left-hander Wilbur Cooper, who entered the game with a record of 24-14 and an ERA of 2.25. He got shelled. He gave up one run in the first thanks to an Edd Roush double, and another run in the second after shortstop Larry Kopf tripled to the scoreboard and Greasy Neale singled over second base. Cooper saw his team take a 3-2 lead in the bottom of the second on two walks and two Reds errors (both by Kopf), and Charlie Grimm's single.
But then he collapsed, surrendering six runs to the Reds in the top of the third. Jake Daubert led off with a triple over Max Carey's head in center field. Heinie Groh doubled to right field. After one out, Pat Duncan reached on rookie Pie Traynor's error, then stole second, and Kopf drove in both Groh and Duncan.6 Neale was hit by a pitch. Catcher Bill Rariden singled and drove in Kopf, and then Reds pitcher Ray Fisher helped his own cause with a two-run single over first base.
Cooper was pulled with only one out in the third. He hadn't walked a batter, but he had allowed 10 hits. Whitey Glazner and Jack Wisner relieved.
Manager Pat Moran's choice of pitcher for Cincinnati was righty Ray Fisher. He was 9-11 (2.79). Of the four runs he gave up in his complete-game win, only one was earned. He scattered eight hits and walked three.
The big bats of the first game were Groh and Kopf (who tripled twice), each with three RBIs. Every Reds player had at least one base hit. The Reds ran free on the bases, stealing seven bases (left fielder Duncan stealing three); the Pirates stole none at all.
The Reds scored four more runs in the top of the ninth, an inning featuring two double steals, the second of them seeing Groh take second base while Daubert scored from third. By game's end the Reds had won, 13-4, and any hope the Pirates had had to finish third in the standings was gone. The game had taken 2:03 to play.
Game 2: Cincinnati Reds 7, Pittsburgh Pirates 3
The two games that followed were anticlimactic in terms of the standings, but played nonetheless. However, the Pittsburgh Press said they "were farces as far as the use of the regular lineups were concerned. Manager Moran used pitchers and catchers in infield and outfield positions and in the third spasm, Manager Gibson followed his lead and used a pitcher and catcher in the outfield."7 In the second game, pitcher Dutch Ruether played first base for the Reds and Fritz Coumbe played center field. Hod Eller, yet another Reds pitcher, played second base and then first base. Rube Bressler, a pitcher who was transitioning to become an outfielder, played right field.
Both starting pitchers went the distance. Righty Lynn Brenton pitched for the Reds. He'd pitched in one game for Cleveland in 1913 and 11 in 1915. In 1920, he made the majors again, working in four September games for Cincinnati with a 1-1 record prior to this October 2 start. Opposing Brenton was Jimmy Zinn. Also a right-hander, Zinn had been 1-3 for the Phillies in 1919, and entered this game with a 1-0 record, winning a 12-inning complete game, 2-1, against the Cardinals on September 25.
The Pirates scored first, in the bottom of the first, but only once, on rookie Cotton Tierney's sacrifice fly. They added another run in the bottom of the fourth when third baseman Clyde Barnhart hit a ball to the cinder path in left field, scoring right fielder Fred Nicholson, and things were looking better. Zinn was giving up a lot of hits, but the baserunners weren't scoring. Only two of the 14 hits off him went for extra bases, both doubles. He walked two, but struck out seven and had managed to keep the Reds scoreless until the seventh inning. Six of the 14 Cincinnati hits, however, all came in the top of the seventh.
The Reds scored seven times. A hit on a bad hop, an infield hit, and a walk loaded the bases, an error and a wild throw saw the first two runs come in, the second on one of second baseman George Cutshaw's two errors. Morrie Rath singled in another run on another poor fielding play. Shortstop Ed Sicking, purchased from the Giants in early July, drove in two with a single to center. Third baseman Sam Crane singled to center and drove in another. Sicking got caught in a rundown between third base and home, but made it back safely to third while Crane alertly moved up to second. Sicking got thrown out at the plate when the next batter was up, but then Eller, the pitcher who played infield (and had a 3-for-4 day), drove in two more Reds runs, the final two runs of the seven-run seventh, with a double to left field.
Cincinnati won the game, 7-3, the Pirates scoring one final run in the bottom of the ninth on a single by Nicholson and a triple over first base and down the right-field line by Possum Whitted.
Brenton allowed only six hits — three singles, two doubles, and a triple. He walked two and struck out five. All three of the runs off him were earned. The Reds committed only one error, but the Pirates made three. The game took 1:56 to play.
Game 3: Pittsburgh Pirates 6, Cincinnati Reds 0 (six innings)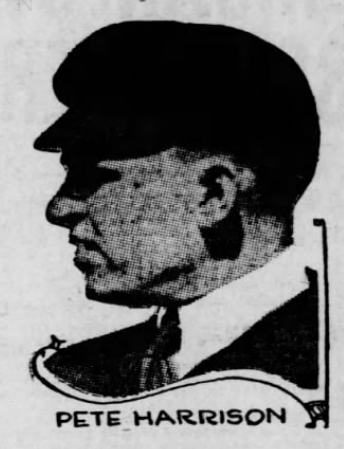 Umpires Pete Harrison (a native of England) and Hank O'Day worked all three games, Harrison working home plate for the full tripleheader.
The opposing pitchers were two right-handers, Johnny Morrison for the Pirates and Buddy Napier for the Reds. It was only Morrison's second big-league game. He'd pitched one scoreless inning on September 28. Napier had some scattered major-league experience, in seven games for the 1912 St. Louis Browns and one game for the 1918 Cubs. He was 4-1 with a 1.05 ERA for the Reds in 1920, though.
The Pirates struck first, in the first, scoring three runs off Napier. Leading off was Cotton Tierney. He singled to right field. Traynor was hit by a pitch. Nicholson doubled to left field. Cliff Lee's sacrifice fly enabled Traynor to score from third base. Grimm singled to score Nicholson. That was all it took.
Morrison kept the Reds scoreless through six, scattering four hits and walking only one. One of the hits was by Eller, who played first base once more.
Pittsburgh's Zinn, who had pitched game two, played right field in game three. He was 1-for-3 at the plate.
Napier allowed three more runs by the Pirates in the sixth inning. With one out, Grimm singled to center field. Bressler dropped Zinn's fly ball; Grimm took third and Zinn took second. Catcher Bill Haeffner singled over second and Grimm crossed the plate. Morrison reached on a force out that retired Haeffner. Tierney doubled to left field, scoring both Zinn and Morrison.
Darkness encroached and the game was called at 6 o'clock on account of said darkness. It had taken one hour and one minute to play. The Pirates won, 6-0. Only two of the runs were earned.
The Pirates were eliminated from third-place contention after the first game; the Reds ultimately shared $10.744.14 for finishing third.8
Each team had players who appeared in all three games. For the Pirates, they were Cotton Tierney, Fred Nicholson, and Clyde Barnhart, and for the Reds, they were Morrie Rath and Pat Duncan.
Five Baseball Hall of Famers took part in one or more of these three games — Max Carey, Pie Traynor, and Billy Southworth of the Pirates, and Edd Roush of the Reds. Officiating was Hall of Fame umpire Hank O'Day. In 1920, Roush batted .339, with a career-high 90 RBIs. Carey batted .289 in 1920, with a league-leading total of 52 stolen bases. Traynor, as noted, was just beginning his long career. Southworth played right field in the first game. He appeared in 146 games in 1920, batting .284. Though he finished with a career .297 mark, it was his 13 years as a manager, leading the Cardinals to three World Series and the Boston Braves to one that punched his ticket to the Hall. A fifth Hall of Famer played this day, too. Earle "Greasy" Neale played for the 1919 World Series champion Cincinnati Reds and was enshrined in the Pro Football Hall of Fame in 1969 primarily for his work as head coach of the Philadelphia Eagles from 1941 to 1950.
Total playing time for the three games came to precisely five hours — 2:03, 1:56, and 1:01. There was a scheduled 10-minute break between each of the games.9 The length of an average game in 2016 was 3 hours and 26 seconds.10
The first of the two prior "tripleheaders" was on Labor Day, 1890 — September 1. The two teams were the Brooklyn Bridegrooms, who finished first in the National League that year, and the Pittsburgh Alleghenys, who finished last with a record of 23-113 (with two ties). Brooklyn swept all three games — 10-9, 3-2, and 8-4. The first game was quite a thriller. Brooklyn had led 10-0 heading into the ninth inning, but Pittsburgh scored nine runs and had the tying run thrown out at home plate for the final out on what would have been an inside-the-park home run. In 1891, the Pittsburgh team became the Pirates.
The first game had started at 10:30 A.M. There was a separate admission for that game from the two games played in the afternoon — hence, it was not a true tripleheader.
The same was true for the Labor Day "tripleheader" on September 7, 1896, between Baltimore and Louisville. That year Baltimore finished first and Louisville finished last. Again, one game was played in the morning and the other two as a doubleheader in the afternoon. Baltimore swept, winning the games by scores of 4-3, 9-8, and 12-1 (the third game lasting eight innings.)
Thus the games at Pittsburgh's Forbes Field on October 2, 1920, constitute the only true tripleheader played in major-league baseball.11 How many fans took in the games? The Pittsburgh Post-Gazette said "about 8,000 fans sparked themselves in the cool stands during the afternoon, but less than half of this number were present when the flitting shadows played."12
The 24 innings played were three fewer than the 27 innings the Pirates and Cubs played against each other on June 28, 1916 — when the Pirates won a nine-inning game, 3-2, and then an 18-inning game by the same score.
After the game, Charles J. Doyle declared, "All in all, it was a very exciting afternoon — but the day proved that too much is too much."13
This article appears in "Moments of Joy and Heartbreak: 66 Significant Episodes in the History of the Pittsburgh Pirates" (SABR, 2018), edited by Jorge Iber and Bill Nowlin. To read more stories from this book at the SABR Games Project, click here. 
Sources
Thanks to Steve Krevisky who suggested the topic and did some initial research. Thanks to Mike Huber for assistance. The author relied upon Retrosheet.org for many details. Other articles consulted include:
Jackson, Frank. "The Longest Day," Hardball Times, January 20, 2014.
Willard, Jim. "Baseball's Last Triple-Header Was Certainly One for the Record Books," Loveland (Colorado) Reporter-Herald, November 20, 2011.
Photo credit: Pittsburgh Daily Post, Newspapers.com.
Notes
1 Dan Hughes, "The Last Tripleheader," Baseball, October 6, 2015. Hughes led his article with the very apt Ernie Banks quotation. https://baseballmagazine.wordpress.com/2015/10/08/the-last-tripleheader/.
2 "Play Three Games Today," Philadelphia Inquirer, October 2, 1920: 16. See also A.D. Suehsdorf, "The Last Tripleheader," SABR Baseball Research Journal, Vol. 9, 1980. Suehsdorf wrote, "Barney Dreyfuss, the Pirates' energetic owner, proposed this to Pat Moran, the Reds' manager, who sensibly if not sportingly, refused. Undaunted, Dreyfuss got in touch with John A. Heydler, the National League's president, in New York. As has happened once or twice before in baseball, the owner got his way. Heydler telegraphed Moran to play the three games."
3 L.H. Wollen, "Triple-header Carded Today," Pittsburgh Press, October 2, 1920: 1. The first game to be played was the game originally scheduled for Saturday, October 2. The second game was to be the game which had originally been scheduled for Thursday, September 30, and the third game would make up the October 1 game.
4 Charles J. Doyle, "Pirates and Reds Play Tripleheader Today," Pittsburgh Post-Gazette, October 2, 1920: 9. Ticket prices had been increased from 1919, with the cheapest bleacher seats jumping from 25 cents to 50 cents. Ralph S. Davis, "All Ticket Prices To Be Higher," Pittsburgh Press, February 22, 1920: 20. Thanks to Dennis VanLangen for tracking down this article on Forbes Field ticker pricing.
5 Ibid.
6 For Traynor, it was the 16th game of his career. He played shortstop. Traynor played in only seven games in 1921, but settled in as Pittsburgh's regular third baseman from 1922 to 1934, ultimately voted into the National Baseball Hall of Fame.
7 L.H. Wollen, "Reds Cinch Third Place," Pittsburgh Press, October 3, 1920: Sporting Section 1.
8 A.D. Suehsdorf.
9 "Play Three Games Today."
10 https://foxsports.com/mlb/story/mlb-game-average-length-increase-how-to-fix-051716.
11 Due to rainout the preceding day, there was a minor-league tripleheader scheduled for May 4, 2016, between the Potomac Nationals and the Lynchburg Hillcats, affiliates of the Washington Nationals and the Cleveland Indians, for May 5, but one of the games was not played and it became a doubleheader instead. Tim Hagerty of The Sporting News wrote about the time in 1899 the New England League's Manchester Manchesters and the Portland Phenoms played six games all in one day, starting at 9:00 A.M. He says, "the Manchesters won all six games to clinch the division title, but baseball officials were furious about the sneaky scheduling change and later decided only two of the six wins counted, returning the second-half championship to Newport." Tim Hagerty, "Sextupleheader: Two Minor League Teams Played Six Games in One Day," The Sporting News, August 17, 2014. https://sportingnews.com/mlb/news/sextupleheader-six-games-in-one-day-portland-manchester/16y3fiygv4o5r1bwf9rjrnahxm.
12 Charles J. Doyle, "Bucs Suffer Two Defeats by Reds in Tripleheader," Pittsburgh Post-Gazette, October 3, 1920: 20.
13 Ibid.
Additional Stats
Cincinnati Reds 13
Pittsburgh Pirates 4
Cincinnati Reds 7
Pittsburgh Pirates 3
Pittsburgh Pirates 6
Cincinnati Reds 0
6 innings
---
Forbes Field
Pittsburgh, PA
Box Score + PBP:
Game 1:
Game 2:
Game 3:
Corrections? Additions?
If you can help us improve this game story, contact us.
Tags
https://sabr.org/sites/default/files/1920-10-03%20Pirates-Reds%20tripleheader%20headline%20-%20Pittsburgh%20Post.png
600
800
admin
/wp-content/uploads/2020/02/sabr_logo.png
admin
2019-02-12 16:10:36
2020-10-02 01:34:41
October 2, 1920: Reds, Pirates split three games in the last major-league tripleheader