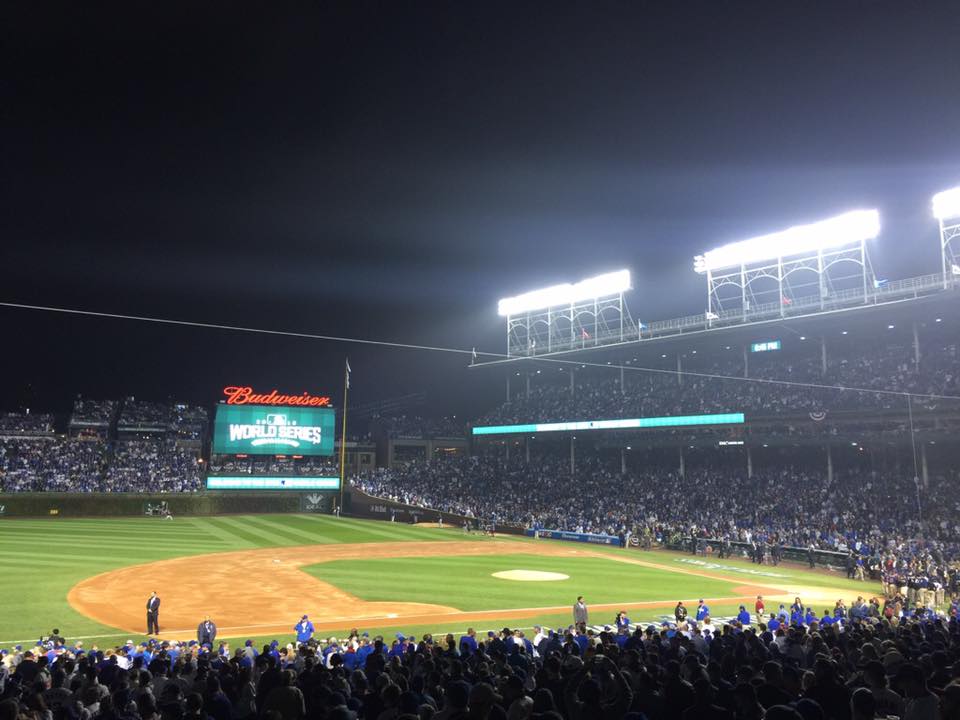 October 29, 2016: No joy in Wrigleyville: Indians push Cubs to brink
---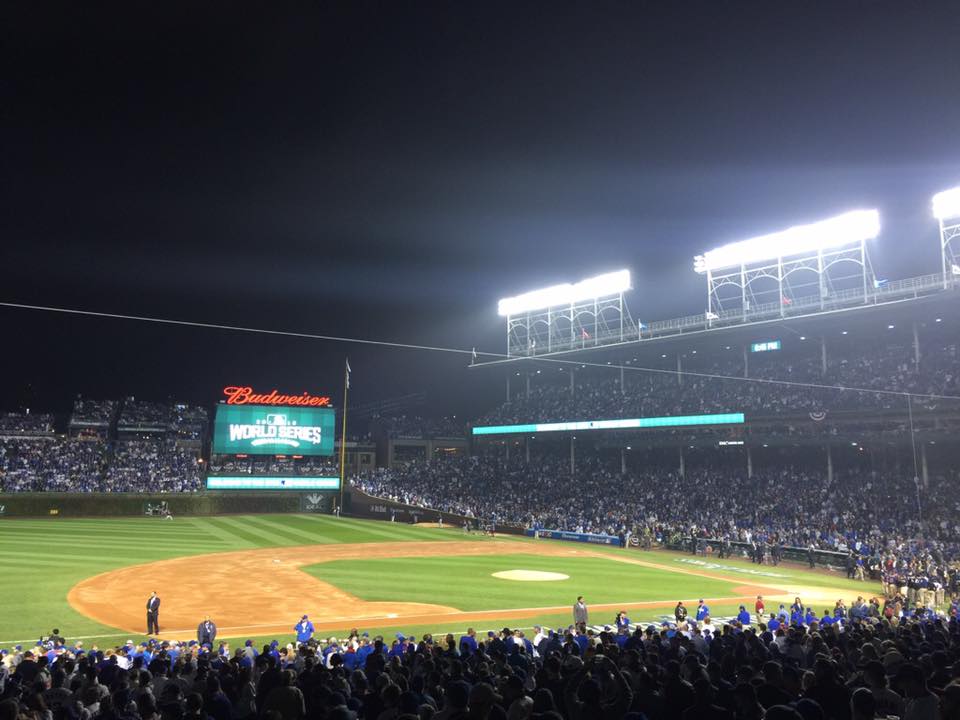 As the Cubs occupied themselves with preparations for Game Four of the World Series against the Cleveland Indians, their fans were busy trying to convince themselves that the home team could overcome the previous night's 1-0 loss — the second Cleveland shutout of the Series — that had put Chicago into a 2-1 Series deficit. A whitewashing was not what the Cubs' faithful had envisioned for the first World Series game at Wrigley Field since 1945, but there was consolation in the fact that they had overcome an identical 2-1 deficit to defeat the Los Angeles Dodgers in the NLCS. Optimism was still so high among Wrigley's denizens that "'It Is Happening' had become the fans' motto, replacing the less definite 'It's Gonna Happen.'"1 After Game Four, however, Cubs fans' collective mood would best be summarized with, "Oh, no! Look what just happened!"
Chicago was up against Cleveland ace Corey Kluber, who had pitched six dominant innings in Game One and had combined with relievers Andrew Miller and Cody Allen on a 6-0 victory. The Cubs countered with John Lackey, who had been tough as nails in winning World Series Game Seven for the Anaheim Angels as a rookie in 2002. The hope that Lackey could turn back the clock and replicate his earlier performance was buoyed when the right-hander set the Indians down in order in the top of the first by getting Rajai Davis to ground out to third and then striking out Jason Kipnis and Francisco Lindor.
In the bottom of the first, the Cubs' offense also gave hope to the Cubs fans among the 41,706 in attendance that this game would be different from the previous night's contest when the team scored its first run quickly. Dexter Fowler led off with a double to left field and, after a Kris Bryant pop fly, scored on Anthony Rizzo's line-drive single to center. Kluber bore down and held the Cubs to that lone run, which the Indians would soon recoup.
Carlos Santana saw to the fact that Chicago's lead was short-lived by knocking a 3-and-2 offering from Lackey over the wall to tie the game. Later, Lackey engaged in a bit of finger-pointing by blaming home-plate umpire Marvin Hudson's strike zone for Santana's homer, saying, "I'd like that first pitch to be a strike. That changed the at-bat quite a bit."2 Lackey could not have known at the time that his frustrations were just beginning.
After Jose Ramirez grounded out to Rizzo at first base, Lonnie Chisenhall hit a grounder to third and reached base safely on an errant throw from Bryant. Lackey retired Roberto Perez on a comebacker that advanced Chisenhall to second and then issued an intentional walk to Tyler Naquin so that he could face Kluber. The tactic backfired when Kluber hit a swinging-bunt single to Bryant that the third sacker again airmailed to first base. Bryant's second throwing error of the inning allowed Chisenhall to score the go-ahead run while Naquin advanced to third base. Lackey had plenty of words on that play later as well, complaining, "I don't know how that's a hit. That's not a hit on any planet in the world. If the ball is caught [at first base], he's out. How do you call that a hit?"3 Bryant graciously conceded that Lackey's frustration was with the situation, rather than with him, and admitted about his throw on Kluber's single that "I probably should have held it."4 Lackey then retired Davis for the third out to keep it a 2-1 game.
That score did not hold for long, though. After Kluber set the Cubs down 1-2-3, Kipnis smashed a leadoff double in the top of the third and scored on Lindor's single to center for a 3-1 Cleveland lead. Kipnis had grown up as a Cubs fan in Northbrook, a Chicago suburb, but was now sticking a dagger in the hearts of the very fan base to which he once belonged, and he would drive the blade in further before the night was over.
Lackey settled down and retired the Tribe in order in the fourth and fifth innings, but Kluber gave no quarter either, and the score remained 3-1 in favor of Cleveland.
Mike Montgomery took the mound for Chicago in the top of the sixth and created an immediate jam for himself by walking Lindor and surrendering a single to Santana. Montgomery fielded Ramirez's grounder and forced Santana out at second, but Lindor scored on Chisenhall's fly to center field to increase the Indians' lead to 4-1. After Montgomery walked Perez to put runners on first and second, Cubs manager Joe Maddon replaced him with Justin Grimm, who struck out Brandon Guyer to quash any further scoring threat.
Though Grimm had done his job well in the sixth, he flirted with disaster in the seventh. Coco Crisp, pinch-hitting for Kluber, doubled to lead off and advanced to third when Grimm uncorked a wild pitch with Davis at the plate. Grimm's control continued to desert him; he hit Davis with a pitch. Maddon now sent Travis Wood to the hill to face Kipnis with runners at the corners and no outs. Wood fell behind in the count 3-and-1, and then served up a three-run homer that gave the Indians an imposing 7-1 lead. Kipnis would have been the hometown hero had he been playing for the Cubs; instead, he was the home team's foil on this night, a role he did not mind playing. Kipnis commented afterward, "This stage is what we all dream about. To be able to do it in my hometown with my family and friends here, I was smiling ear to ear on the inside."5
Kipnis's dream, however, was Chicago's nightmare. When postseason standout Miller took over for Kluber in the bottom of the seventh, Cubs fans no doubt experienced déjà vu from Game One. Miller did surrender a solo homer to Fowler to lead off the bottom of the eighth, but that was the final run scored by either side in the Indians' 7-2 victory. Cleveland's Dan Otero closed out Chicago in the ninth, and a one-out single by Addison Russell was all the Cubs could muster as an attempt at a rally. Just like that, Chicago's World Series party had been crashed by the Indians, who were attempting to break their own lengthy championship drought that dated back to 1948.
The Cubs were now in a 3-to-1 Series hole, and the Chicago media and fans were in the process of bracing themselves for the ultimate bitter defeat. One Chicago Tribune columnist put the situation in the bluntest of terms, writing, "Maybe the Cubs' talented group of twenty-somethings suddenly realized how big the stage was and froze or maybe they have tried too hard not to suck."6 Though some fans may have harbored the same thoughts, they mostly shared the resignation expressed by one fan who said, "It's kinda a little depressing. Quite a downer. Now we're looking for a sweep in Cleveland. And if that doesn't happen, well, it's gonna be a long winter."7
The Cubs themselves seemed at a loss for answers about what was happening to them. Maddon simply pointed out that the Indians were a good team and conceded, "We're obviously having a tough time, like the other teams did."8 Bryant, who at this point was 1-for-14 with three walks, seemed mystified, saying, "They attack you, but I don't even know if it's that."9 At least catcher Miguel Montero appeared to have identified one problem, asserting, "We're all trying to hit a grand slam with nobody on. … We need to be a little more patient at the plate, play a little small ball."10
Whatever the remedy for the Cubs' ills might be, they needed to find it soon. They now had to win three in a row from the Indians, including the last two in Cleveland, which was a feat that no team had accomplished since the Pittsburgh Pirates managed it against the Baltimore Orioles in 1979. Still, there remained a voice of reason and hope in the form of catcher David Ross, a 15-year veteran who had announced that he was retiring after the World Series. In regard to the Chicago fans' rumblings, Ross said, "If they are frustrated, well, we want to win just as bad as they do, if not more. … But we knew it wasn't going to be easy. There's no way you thought winning the World Series would be easy."11
No, given a 108-year run of futility, it was obvious that winning a World Series was not easy for the Cubs. However, in 2016, there at least was still the possibility that it could happen.
This article appears in "Wrigley Field: The Friendly Confines at Clark and Addison" (SABR, 2019), edited by Gregory H. Wolf. To read more stories from this book online, click here.
Sources
In addition to the sources listed below, the author also consulted Baseball-Reference.com for play-by-play details of the game.
https://www.baseball-reference.com/boxes/CHN/CHN201610290.shtml
https://www.retrosheet.org/boxesetc/2016/B10290CHN2016.htm
Photo credit: Jacob Pomrenke
Notes
1 David Waldstein, "Indians Defeat Sloppy Cubs to Take a 3-1 World Series Lead," nytimes.com/2016/10/30/sports/baseball/world-series-cleveland-indians-chicago-cubs.html, accessed April 11, 2017.
2 Paul Sullivan, "Something Lacking," Chicago Tribune, October 30, 2016: 3-6.
3 Ibid.
4 Ibid.
5 Colleen Kane, "Making Himself at Home," Chicago Tribune, October 30, 2016: 3-7.
6 David Haugh, "Silence Not Golden for Cubs," Chicago Tribune, October 30, 2016: 3-3.
7 Patrick M. O'Connell et al, "Dejected Cubs Fans Put Hope on Game 5," Chicago Tribune, October 30, 2016: 1-16.
8 Tyler Kepner, "A Narrow Path of Hope Remains for the Cubs," nytimes.com/2016/10/31/sports/baseball/chicago-cubs-comeback-world-series.html, accessed April 11, 2017.
9 Ibid.
10 Ibid.
11 Waldstein.
Additional Stats
Cleveland Indians 7
Chicago Cubs 2
Game 4, WS
---
Wrigley Field
Chicago, IL
Box Score + PBP:
Corrections? Additions?
If you can help us improve this game story, contact us.
Tags
https://sabr.org/sites/default/files/2016-World-Series-Wrigley-Field-Pomrenke.jpg
600
800
admin
/wp-content/uploads/2020/02/sabr_logo.png
admin
2020-01-09 14:24:12
2020-04-17 13:33:54
October 29, 2016: No joy in Wrigleyville: Indians push Cubs to brink