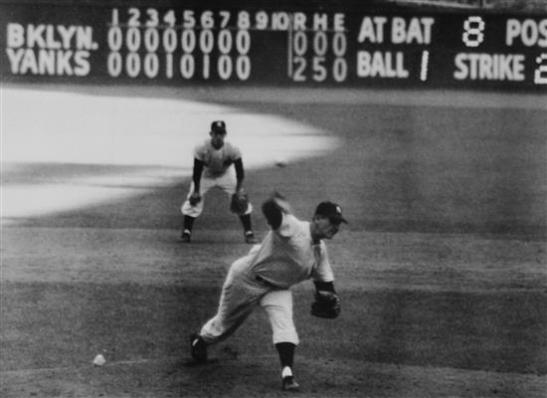 October 8, 1956: Don Larsen throws a perfect game in the World Series
---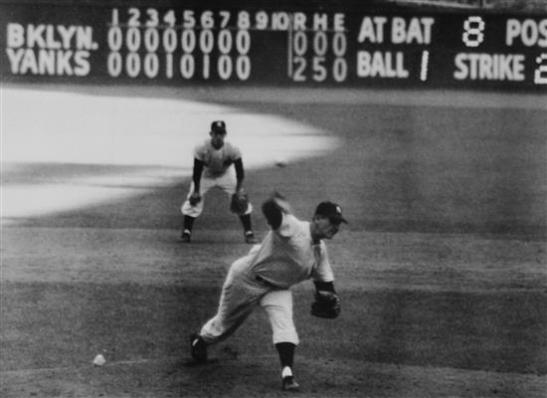 It was a perfect day for a perfect game. Under a clear blue sky 64,519 fans trooped into historic Yankee Stadium to witness a World Series contest between the two dominant teams of the era. The world champion Dodgers were facing the club that had won more World Series titles than any other two clubs combined. The Dodgers had won the first two games of the 1956 Series, but the Yankees had taken the next two.
Facing each other on the mound that day were two pitchers with vastly different career records. Brooklyn started Sal Maglie, who had 108 major-league victories and only 49 losses, for a sparkling .688 winning percentage. New York countered with Don Larsen, who had a record of 30-40, .429. In the 1955 World Series Larsen had started Game Four against the Dodgers and became the losing pitcher when he was removed from the mound in the fifth inning with the Yankees trailing 4-3. In 1956 Larsen had started Game Two for the Yankees and was knocked out of the box in the second inning. It is only natural that some of his teammates were "flabbergasted" that manager Casey Stengel elected to go with Larsen in Game Five.1 One factor in Larsen's favor was his strong finish in the 1956 regular season, abetted by a no-windup delivery that he developed near the end of the campaign.
The night before Game Five, Larsen had told sportswriter Arthur Richman, "I'm gonna beat those guys tomorrow. And I'm just liable to pitch a no-hitter."2 It was typical Larsen braggadocio. Actually he didn't expect to pitch again in the Series. The next morning he learned he was to be the starting pitcher in Game Five when he arrived at the clubhouse and found the warm-up ball in one of his shoes, placed there by coach Frankie Crosetti in conformity with a Yankee ritual. He took a whirlpool bath and a cold shower, and had a rubdown.3 Then he lay down in the clubhouse for a short nap.4
Many years later Larsen remembered: "I felt confident as I prepared to face the Dodgers because we were in Yankee Stadium and we had won eight of our last nine games there."5 (Larsen's memory wasn't quite accurate. The Yankees had actually won six of their last nine home games.)
Larsen started the game by striking out the first two batters, Junior Gilliam and Pee Wee Reese. Then he retired Duke Snider on a soft fly to right field. In the second inning Jackie Robinson led off for the Dodgers with a hot smash toward third base that bounced off Andy Carey's glove and ricocheted straight to shortstop Gil McDougald, who threw to first base. At age 37 Robinson had lost some of the speed for which he had been noted. The throw beat him to the bag by a step. Larsen got through the rest of the second and the third inning unscathed.
Maglie matched Larsen pitch for pitch. Neither pitcher allowed a hit through the first three innings. In the bottom of the fourth Mickey Mantle made the first hit of the game, a home run that gave the Yankees a 1-0 lead. The Dodgers threatened to tie it up in the top of the fifth. Gil Hodges drove a pitch to the deepest part of left-center field. It appeared that the ball might leave the field for a home run or at least hit the wall for extra bases. However, Mantle raced back and made a spectacular catch for the out. "It was," Mantle said, "the best catch I ever made."6
Larsen wasn't out of the woods yet. Sandy Amoros drove the ball into the right-field stands. Umpire Ed Runge signaled that it was foul. Bauer said, "When I saw the ball heading for the right-field seats I was ready to concede the homer. But when it hooked foul … I was the happiest guy in the park."7 Amoros then grounded out to end the threat.
Larsen said, "I knew I was pitching a no-hitter, since every pitcher knows when he is throwing one. I tried to engage in conversation with some of our players on the bench during the game, but they all avoided me like the plague."8 (Baseball superstition requires that nobody mention a no-hitter while a possible one is in progress.)
Throwing mostly fastballs, with some sliders and a few curves, Larsen held the Yankees hitless, inning after inning. Furthermore, he walked nobody. He said, "I never had such good control in all my life as I had in that game. That was the secret to my success. … I was throwing the ball right on the black of the plate."9
Nearly everyone in the stadium knew what was going on. Most, even some Dodgers players, were rooting for Larsen to achieve perfection. Brooklyn pitcher Clem Labine admitted that in the late innings he began to subconsciously root for Larsen. "As the game went on," he said, "I thought to myself that this could be the one I'd tell my grandchildren about. I truly believe it's the first time I ever rooted for the opposition. And certainly for a Yankee. In fact, I wanted to be out there in Larsen's shoes."10
Most Dodger players, however, were rooting hard against Larsen. If anything, they bore down harder trying to prevent the no-hitter. Baseball teams hate to have a no-hitter pitched against them. As Larsen said, "It's bad enough to lose, but no team wants to think that a pitcher is that much better than they are on a given day."11
Sportswriter Arthur Daley wrote, "Tension kept mounting until it was as brittle as an electric light bulb. The slightest jounce and the dang thing might explode."12
Mantle said that by the ninth inning the crowd was on its feet and his knees were shaking. "I played in more than 2,400 games in the major leagues. But I was never as nervous as I was in the ninth inning of that game."13
Carl Furillo led off the top of the ninth for Brooklyn by flying out to deep right field. Bauer chased the ball down in an outstanding defensive play. The next batter, Roy Campanella, grounded out second to first. Two outs, one to go. Larsen said the fans were delirious and "I was a nervous wreck."14
Pitcher Sal Maglie was due up next, but there was no way he was going to bat at this crucial juncture of the game. For pinch-hitting duties Brooklyn manager Chuck Dressen selected the veteran Dale Mitchell. Larsen said, "He really scared me up there. Looking back on it, though, I know how much pressure he was under. He must have been paralyzed. That made two of us."15
When Mitchell stepped to the plate, Larsen looked at Yogi Berra. He had confidence in his catcher and had seldom shaken him off during the game. He said, "I also took a deep breath, trying to somehow calm the nerves that threatened to blow my stomach apart."16
As Mitchell readied for the pitch, broadcaster Vin Scully told the television audience, "I think it would be safe to say no man in the history of baseball has ever come up to home plate in a more dramatic moment."17 The first pitch was high and outside, ball one. Next came a slow curve over the plate for a called strike. Mitchell swung at another curve and missed for strike two. He fouled off the next pitch, a fastball. The count remained 1-and-2. Another fastball from Larsen, and Mitchell started to swing, but held up. Mitchell thought the ball was high, but umpire Babe Pinelli called him out.
Catcher Yogi Berra rushed out to the mound and leaped into his pitcher's arms. Don Larsen had pitched the first no-hitter in World Series history. Not only was it a no-hitter, but it was a perfect game – no hits, no runs, no walks, nobody reaching base.
"Damn," said sports reporter Dick Young, "The imperfect man just pitched a perfect game."18
Shirley Povich of the Washington Post wrote: "The million-to-one shot came in. Hell froze over. A month of Sundays hit the calendar. Don Larsen today pitched a no-hit, no-run, no-man-reach-first game in a World Series."19
In the locker room after the game, Larsen paid tribute to his manager: "When it was over, I was so happy I felt like crying. I wanted to win this one for Casey. After what I did in Brooklyn, he could have forgotten about me and who would blame him? But he gave me another chance and I'm grateful."20
Vin Scully expressed the opinion of millions when he said, "Ladies and gentlemen, it's the greatest game ever pitched in baseball history."21
This article was published in SABR's "No-Hitters" (2017), edited by Bill Nowlin. To read more Games Project stories from this book, click here.
Photo credit
National Baseball Hall of Fame Library.
Notes
1 Lew Paper, Perfect: Don Larsen's Miraculous World Series Game and The Men Who Made It Happen (New York: New American Library, 2009), 5.
2 Ibid.
3 Roger Kahn, The Era, 1947-1957, When the Yankees, the Giants, and the Dodgers Ruled the World (New York: Ticknor & Fields, 1993), 32.
4 Paper, 6.
5 Don Larsen, "The Game I'll Never Forget," Baseball Digest, October 2003: 54.
6 Paper, 163.
7 Miscbaseball.wordpress.com, June 4, 2010. Accessed August 14, 2014.
8 Don Larsen and Mark Shaw, The Perfect Yankee: The Incredible Story of the Greatest Miracle in Baseball History (Champaign, Illinois: Sagamore Publishing, 1996), 55-56.
9 Larsen and Shaw, 54-55.
10 Larsen and Shaw, 151.
11 Larsen and Shaw, 183.
12 Larsen and Shaw, 180.
13 Ibid.
14 Larsen and Shaw, 183.
15 Larsen and Shaw, 187.
16 Ibid.
17 Larsen and Shaw, 187-88.
18 Kahn, 332.
19 Ibid.
20 Baseball-almanac.com/quotes. Accessed August 9, 2015.
21 Larsen and Shaw, 190.
Additional Stats
New York Yankees 2
Brooklyn Dodgers 0
Game 5, WS
---
Yankee Stadium
New York, NY
Box Score + PBP:
Corrections? Additions?
If you can help us improve this game story, contact us.
Tags
https://sabr.org/sites/default/files/LarsenDon-1956.jpg
600
800
admin
/wp-content/uploads/2020/02/sabr_logo.png
admin
2018-10-17 12:10:08
2020-04-17 13:34:01
October 8, 1956: Don Larsen throws a perfect game in the World Series