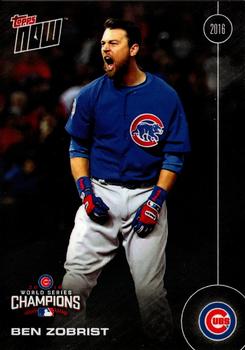 November 2, 2016: Cubs end World Series curse with thrilling Game 7 victory
---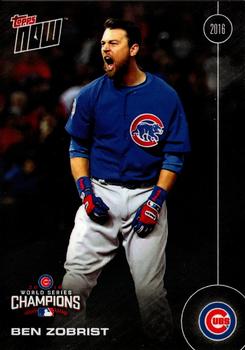 Entering Game Seven of the 2016 World Series at Cleveland's Progressive Field, both the Chicago Cubs and Cleveland Indians were trying to end long droughts without a championship. The Cubs had not won a World Series in 108 years and "The Curse" continued to surround them. Many Cubs fans blamed Steve Bartman for the team's collapse in the National League Championship Series in 2003. Others blamed a black cat for running in front of the Cubs dugout during the 1969 season. Most of all, fans blamed their team's losing on the Billy Goat incident. Before Game Four of the 1945 World Series, a fan was stopped as he attempted to bring a goat into the game. The fan then cursed the Cubs and claimed that they would never win a World Series again.
For the Indians it had been 68 years without a title. The curse of Rocky Colavito loomed over the Cleveland Indians. Rocky Colavito was traded from the Indians to the Detroit Tigers just before the 1960 season opened. This sent Indians fans into a fit of rage. From that point forward, they used the trading of Colavito as a scapegoat for their failures. Heading into Game Seven in 2016, the Indians had won only one of their three home games, and had squandered a three-games-to-one Series lead over Chicago.
Indians ace Corey Kluber, the winner of two Series games thus far, was given the nod by manager Terry Francona to go for victory number three and the World Series championship. The last pitcher to win three games in the World Series was Mickey Lolich in 1968 for the Detroit Tigers. For the Cubs, Kyle Hendricks, was manager Joe Maddon's pick. Hendricks had thrown 15 consecutive shutout innings in the Playoffs.
The game began with a bang as the Cubs' Dexter Fowler hit a leadoff home run, becoming the first player to hit leadoff home run in a Game Seven. The Indians tied the score in the third when Carlos Santana singled in Coco Crisp, who had reached on a double. But the Cubs came right back in the top of the fourth, collecting two runs on a sacrifice fly by Addison Russell and a double by Willson Contreras, for a 3-1 lead.
The Cubs boosted their lead to 4-1 in the fifth when Javier Baez led off with a home run to right-center. At this point Francona removed Kluber from the game and called upon Andrew Miller. Miller had been a big part of the Indians' postseason run, having allowed only one run in 17 innings pitched so far in the postseason. But Miller struggled in this game, walking Kris Bryant and surrendering a single to Anthony Rizzo that scored Bryant making the score 5-1.
Kyle Hendricks dominated the Indians' bats throughout four innings but was replaced by Jon Lester after a giving up two-out walk to Carlos Santana in the fifth. Hendricks had allowed just one run and had thrown only 63 pitches. One of the San Francisco Giants broadcast analysts, Mike Krukow, commented later, "The Cubs won this thing despite overmanaging from Joe Maddon. It was awful. It was the arrogance that he was trying to put his signature on what was going to happen."1 Lester entered the game with only two days' rest; he had started and won Game Five after six quality innings of work. Along with Lester came David Ross, his regular catcher. Jason Kipnis reached first on a grounder in front of home plate, then went to second and Santana to third when Ross overthrew the first baseman, Anthony Rizzo. With Francisco Lindor batting, Lester threw a wild pitch that ricocheted off Ross's mask and stunned the catcher. Both Santana and Kipnis scored, and the score was 5-3, Cubs.
The Cubs struck again in the sixth inning. David Ross hit a solo home run, becoming at 39 years and 228 days old the oldest player to hit a home run in a World Series Game Seven. The Cubs now led 6-3, and Lester was holding the Indians in check. That changed in the eighth inning. Lester gave up a two-out single to Jose Ramirez. Cubs manager Maddon made a move to his bullpen by bringing in Aroldis Chapman, who later complained that he was overused in the Series.2 Brandon Guyer, the first batter to face Chapman, lined a run-scoring double to put the Indians within two runs.
Rajai Davis now came up to bat in a crucial situation. After a six-pitch at-bat, Davis sent Chapman's seventh pitch to him over the high left-field wall at Progressive Field for a two-run, game-tying home run. As the ball went over the fence the Cleveland fans erupted. Hope was restored in the Indians and their fans that ending their 68-year World Series drought now seemed possible again. As Davis rounded third, he stuck out his tongue in excitement.
The game remained tied, 6-6, through nine innings and went into extra innings. As the Cubs prepared to bat in the top of the 10th inning, heavy rain began falling and the game was stopped. But the rain passed quickly and the delay lasted only 17 minutes. The Cubs took advantage of the brief delay to hold a players-only meeting in their locker room.
Cubs outfielder Jason Heyward organized the meeting in an attempt to help inspire and motivate his peers. He mainly wanted to regain their focus after the team blew a three-run lead. Heyward said after the game, "It was starting to rain and I was like, they're going to pull the tarp and we need to get together and have a meeting. Just needed to let these guys know they're awesome. Don't get down. … It's about the whole team. It's about everybody trying to get something done. I let them know that I loved them. … We needed 114 wins, and I told them that everybody in this room, right now, was going to 114."3 Heyward's exhortation was what the team needed to prevail. Teammate Addison Russell said, "He just wanted to get everyone together and remind us that we've been picking each other up since day one. The whole team played lights-out. It was definitely a team win. We wouldn't be here without the team. It was just a great bonding experience."4 Soon after the meeting ended, the rain delay ended.
Once play resumed, Bryan Shaw, who had closed out the Indians in the ninth, pitched to Kyle Schwarber, who lined a single to right field. Schwarber was not even supposed to be playing in this game and was not supposed to play at all in the 2016 season after tearing ligaments in his leg in April. Schwarber returned to the Cubs lineup for Game One of the World Series after missing almost seven months. When he found out that he would be returning to help the Cubs end their curse, he said, "I'll probably cry at some point today."5
Albert Almora Jr. ran for Schwarber. The speedy Almora took second as Kris Bryant flied out to deep center. Rizzo was given an intentional walk and the batter was switch-hitter Ben Zobrist, who had been hitless so far in the game. With a 1-and-2 count, Zobrist slapped a cut fastball from Shaw down the left-field line for a double as Almora scored standing up. (This moment in the game earned Zobrist the World Series MVP award.) After Zobrist's hit, Addison Russell was intentionally walked. With the bases loaded, Miguel Montero, the Cubs third catcher of the game, ripped a single into left field. Rizzo scored, and the Cubs led 8-6. Francona removed Shaw from the game and called on one of his starters, Trevor Bauer, who struck out Jason Heyward and got Javier Baez on a fly ball.
With the Cubs three outs away from ending their 108-year World Series championship drought, Maddon sent in pitcher Carl Edwards Jr. to face the Indians. After getting the first two outs, Edwards walked Brandon Guyer, who took second base on defensive indifference. Rajai Davis singled to center field and Guyer scored to cut the Cubs' lead to one run. With a runner on first and two outs, Maddon pulled Edwards and brought in Mike Montgomery. The batter was Michael Martinez, who was making his first plate appearance after replacing Coco Crisp defensively in the eighth inning. On any pitch, either team could have won the World Series with one swing of the bat. On a one-strike count, Martinez hit a dribbler toward third base. Kris Bryant scooped it up and threw out Martinez to end the game, and end the Cubs' 108 years of futility. They were the 2016 World Series champions.
Sources
Sources consulted besides those listed in the Notes:
https://www.baseball-reference.com/boxes/CLE/CLE201611020.shtml
http://www.retrosheet.org/boxesetc/2016/B11020CLE2016.htm
chicago.cubs.mlb.com/chc/history/timeline.jsp.
youtube.com/watch?v=9CaDeppJDnU&t=6426s.
si.com/mlb/2016/04/08/kyle-schwarber-chicago-cubs-injury.
usatoday.com/story/sports/mlb/2016/10/25/chicago-cubs-billy-goat-curse-explained/92715898/.
wkyc.com/sports/mlb/indians/a-tale-of-two-curses-cleveland-indians-vs-chicago-cubs/341359559.
Notes
Additional Stats
Chicago Cubs 8
Cleveland Indians 7
10 innings
Game 7, WS
---
Progressive Field
Cleveland, OH
Box Score + PBP:
Corrections? Additions?
If you can help us improve this game story, contact us.
Tags
https://sabr.org/sites/default/files/ZobristBen-2016-Topps.jpg
600
800
admin
/wp-content/uploads/2020/02/sabr_logo.png
admin
2014-09-27 16:26:22
2020-11-02 03:04:44
November 2, 2016: Cubs end World Series curse with thrilling Game 7 victory