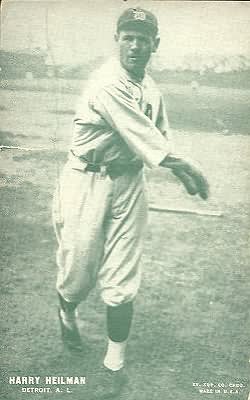 October 4, 1925: Heilmann grabs AL batting title; Cobb 'saves' the day
---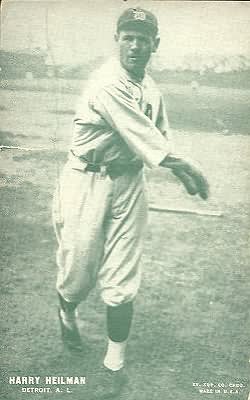 Neither George Sisler's homestanding St. Louis Browns nor Ty Cobb's visiting Detroit Tigers had much of anything at stake as they wrapped up the 1925 season at Sportsman's Park on Sunday, October 4. The Washington Senators had their second consecutive American League pennant in the bag; although well back, the Browns and Tigers had clinched third- and fourth-place money, respectively. Detroit's Harry Heilmann, though, was in tight contention for the league's batting title as the teams met for a doubleheader.
The Cleveland Indians' Tris Speaker, like Sisler and Cobb, yet another American League playing manager, had made 511 plate appearances through August 20. He was hitting .391 at that point to Heilmann's .376. But from August 20 through the rest of the season Speaker gave himself only seven more plate appearances. He was at .389 on October 4 and still self-benched as Cleveland finished up with a single game at Chicago.1
Although closely bunched with Speaker, Al Simmons of the A's (.376), and teammate Cobb (.374), Heilmann had stood fourth in the batting race at .365 on September 12.2 Simmons was 23 and in only his second major-league season; at 30, Heilmann was more experienced than Simmons but notably younger than either Speaker, 37, or Cobb, 38.
The righty-swinging Heilmann had hit a torrid .541 from September 13 into the final day and as he continued to plug away with a 3-for-6 slate in the first game, he had bumped his season average up to .389 to tie Speaker.3 In the spirit of things, Cobb, going into the final day at .373, put himself in center field for both games, batting fourth with Heilmann, his right fielder, fifth. Cobb collected four of the Tigers' 21 hits in the opener, chipping in his 12th home run, as Detroit romped, 10-4, in a leisurely 2 hours and 10 minutes in front of an assemblage apparently too small to warrant noting — it wasn't reported in the unattributed but otherwise comprehensive doubleheader coverage by the Detroit Free Press.4
Ed Stauffer, a lightly-used right-hander, got Sisler's nod and his first and only major-league start in the second game. But "before he departed in the third Stauffer had allowed six runs, which even a good-natured crowd thought was enough."5 Cobb, Al Wingo, Heilmann, Larry Woodall, and some porous defense by the Browns got the Tigers going; St. Louis managed to peck back for a 3-2 lead before Stauffer's travails. By the end of three, though, it was 6-4, Detroit. Cobb's starter, righty Lil Stoner, was getting just enough support to stay in the game, while 20-year-old Chet Falk, a lefty, replaced Stauffer with two outs in the Detroit third.
The Tigers went ahead 9-4 in the fourth when Heilmann hit an opposite-field home run with Wingo and Cobb on base. St. Louis nipped Stoner for a fifth run in its half, but the Tigers roared back with two more runs of their own in the fifth courtesy of Jackie Tavener, Woodall, and Bob Fothergill, batting for Stoner. More Browns miscues factored in.
Staked to an 11-5 lead in the waning light of the last day of the season, Ownie Carroll took over for Stoner and blanked the Browns through the fifth and sixth innings, but they nicked him for a run in the seventh when Herschel Bennett's single scored Bobby LaMotte.
The Free Press game story styled the day's events "clownish,"6 and the description seemed apt as Sisler took over on the mound for Falk in the seventh and blanked the visitors through two frames, having "a lot of fun out of it[;] the crowd went wild with joy."7 Not to be outdone, Cobb banished Carroll to center field and put himself on the mound for the St. Louis eighth to pitch to "ancient" Jimmy Austin,8 who had taken over at third base for St. Louis. Austin got the bat on the ball, but popped out to first baseman Lu Blue. Cobb then retired Jack Tobin and Harry Rice on fly balls. And even though only eight innings had been played, neither Sisler nor Cobb had opportunity for further wear and tear on their arms, for "by this time it was dark in the park and the umpires decided to call a halt to activities."9 It ended 11-6, Tigers.
Heilmann's 3-for-3 effort in the second game with a home run, walk, and five runs batted in moved his average up another four points to .393, enough to break the tie with the dormant Speaker and earn Heilmann the 1925 American League batting title. As Ted Williams would do 16 years later, Heilmann proved his mettle by playing — and producing effectively — in both ends of a final-day doubleheader with something to prove on the line.11
The game also featured another, more offbeat, accomplishment — one that came into existence 44 years later. Cobb's fanciful last-day-of-the-season frolic on the mound garnered him, albeit retroactively, the only pitching save of his 24-year major-league career.12 Baseball didn't recognize saves until 1969. That year "also marked publication of the first Macmillan encyclopedia, the first such tome to include comprehensive statistical data. One thing that the Macmillan editors did was to go back and retroactively assign saves for all pre-1969 seasons," according to baseball historian Gabriel Schechter.13
Under the 1969 retroactive saves criteria, "all a reliever had to do [to be credited with a save] was enter with a lead and record the last out of the game without relinquishing the lead."14 The saves criteria have since been changed, but when Retrosheet came into existence in 1989 and began collecting and digitizing box scores, it adopted the Macmillan data on retroactive saves, and the newer Baseball-Reference research website has imported much of Retrosheet's data. The result is that Cobb's retroactively credited save in this game, perfectly correct under the 1969 criteria since he entered with a lead, didn't relinquish it, and got the last out — officially lives on, leaving the Georgia Peach 651 saves behind Mariano Rivera, the all-time saves career leader through 2017.
Cobb though, who cherished all his myriad baseball achievements, never got to savor his single save. He died in 1961, eight years before the Macmillan editors determined he was entitled to this one from the final day of the 1925 season.
Sources
In addition to the sources cited in the Notes, I used the Baseball-Reference.com and Retrosheet.org websites for their box scores of this game, player and team pages, and player and game logs. Play-by-play details were derived from the Detroit Free Press game account and box score, accessed through newspapers.com. I make special acknowledgment to my SABR colleague Gabriel Schechter for his instructive blog discussion of the evolution of the saves rule and the concept of retroactively calculated saves.
baseball-reference.com/boxes/SLA/SLA192510042.shtml.
retrosheet.org/boxesetc/1925/B10042SLA1925.htm.
Notes
1 From August 20 through the end of the season, Speaker pinch-hit seven times and didn't play at all after September 25.
2 AP, "Simmons Holds Own at Heels of Speaker and Cobb in American League," Moline (Illinois) Dispatch, September 12, 1925: 19.
3 Simmons had finished his season the day before, October 3, at .387.
4 "Heilmann Jumps Into Batting Lead as Tigers Beat Browns, Detroit Free Press, October 5, 1925: 16-17.
5 Ibid.
6 Ibid.
7 Ibid.
8 The Welsh-born Austin was a coach for the Browns but he played in a single game in each of the 1923, 1925, 1926, and 1929 seasons. John McMurray, "Jimmy Austin," SABR Baseball Biography Project, sabr.org, accessed February 9, 2018. The "ancient" characterization comes from the Free Press game account. Austin debuted as a 29-year-old with the New York Highlanders (later, Yankees) in 1909 and was 45 years old in 1925.
9 "Heilmann Jumps …"; The fact that the game was shortened to eight innings creates some discrepancy between both the Baseball-Reference (B-R) and Retrosheet box scores and the box score of the game published contemporaneously with the Detroit Free Press game account. The B-R and Retrosheet box scores show the game ending after eight innings, but show St. Louis scoring a run in the bottom of the eighth, the inning Cobb pitched. Neither of those box scores has a play-by-play. The Free Press box score almost certainly correctly shows the final St. Louis run scoring in the seventh inning. This squares with the game account's report of Cobb's perfect inning and also squares with Cobb's pitching logs in the B-R and Retrosheet box scores, both of which show Cobb with one inning pitched (which had to be the St. Louis eighth), no runs allowed, and three batters faced.
10 Heilmann had also won the AL batting title in 1921 and 1923. After this 1925 title, he repeated in 1927, when he hit .398. Babe Ruth's .356 in 1927, his historic 60-home-run season, was good for only a tie for sixth place in the AL batting standings that year. Heilmann was inducted into the Baseball Hall of Fame in 1952.
11 Jack Zerby, "September 28, 1941: Teddy Ballgame finishes at .406," SABR Baseball Games Project, sabr.org.
12 Cobb pitched a total of five innings in the majors, four in two games in 1918 for Detroit, when Hughie Jennings was manager, and this single inning in 1925.
13 Gabriel Shechter, "A Save Was a Save Was a — But No, It Wasn't," Never Too Much Baseball blog, April 28, 2013, charlesapril.com, accessed February 6, 2018.
14 Ibid.
Additional Stats
Detroit Tigers 11
St. Louis Browns 6
8 innings
Game 2, DH
---
Sportsman's Park
St. Louis, MO
Box Score + PBP:
Corrections? Additions?
If you can help us improve this game story, contact us.
Tags
http://bioproj.sabr.org/bp_ftp/images3/HeilmanHarry.jpg
600
800
admin
/wp-content/uploads/2020/02/sabr_logo.png
admin
2018-03-14 21:25:14
2020-04-17 10:24:53
October 4, 1925: Heilmann grabs AL batting title; Cobb 'saves' the day