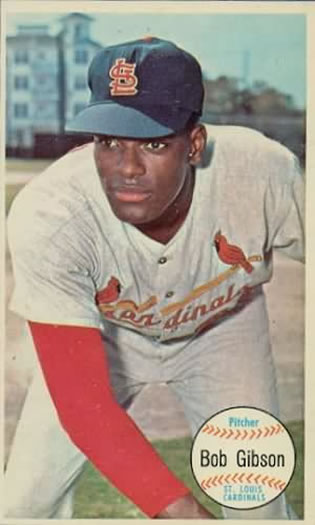 October 4, 1964: Cards finally get best of Mets to clinch NL pennant
---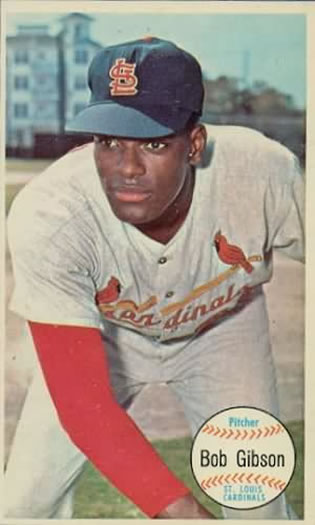 The St. Louis Cardinals must have been pinching themselves. On September 22 they were in third place in the National League, five games behind the first-place Philadelphia Phillies. Nine days later, after the Phillies' epic collapse and their own eight-game winning streak, the Cardinals were in first place, one-half game up on the Cincinnati Reds, while the Phillies had fallen to third. Even better, the Cardinals were home to the New York Mets, the lowly, awful, 51-108 Mets, the team that needed a telescope just to see ninth place. Not only that, but the Reds and Phillies could beat each other up in a two-game series at Crosley Field.
You would think the Cards were salivating when Casey Stengel and his New York Mets came a'callin' for a three-game series to end the 1964 season, especially when they had future Hall of Famer Bob Gibson on the mound. So what happens? He loses a 1-0 decision to Al Jackson.
In 2008, Jackson recalled for Newsday the Cardinals' reception for him as he walked through their clubhouse on that last Friday night to appear on Harry Caray's postgame show. "Oh, did they call me a bunch of names. They said, 'You guys are 59 games out of first place and you've got to pitch a game like this?' Man, did they rip me."1
The next day the teams played in an alternate universe; the Cardinals committed two first-inning errors and 20-game winner Ray Sadecki gave up five runs, four of them earned, in one-plus innings as Casey's Amazins battered St. Louis, 15-5.
"Somebody's been putting Yankees into the Mets' uniforms," said Lou Brock. "Tomorrow they'll play like the Mets again."2
Well, so much for the easy time with the Mets. St. Louis was still in first place as dawn arose on October 4, but they were tied with Cincinnati (both with 92-69 records) and Philadelphia was one game back (91-70). St. Louis had to defeat the Mets and have Philadelphia beat the Reds to win the pennant.
St. Louis starter Curt Simmons was having the best season of his career at age 35. He had a career-best 18 wins with a respectable 3.38 ERA going into the game. His Mets counterpart, Galen Cisco, was 6-18 at game time, but also with a respectable ERA, at 3.45.3
After a scoreless first, the Cardinals got on the board in the second when Tim McCarver doubled and trotted home on Mike Shannon's single. The score stayed 1-0 until the two teams began a back-and-forth tussle in the middle innings. The Mets tied it up in the top of the fourth on a Charley Smith home run, but the Cardinals regained the lead thanks to a 150-pound stringbean of a second baseman named Dal Maxvill — playing in place of the injured Julian Javier — who very nearly wasn't around to perform the feat.
When the Cardinals wanted to send down him on loan to the Chicago White Sox' Triple-A affiliate in Indianapolis in May, Maxvill thought very seriously about quitting baseball to work as an electrical engineer with the Bussmann Fuse Company. Maxvill's wife encouraged him to accept the demotion, and after returning to the big club, he found himself playing in the team's most important game of the year. Maxvill came up with two out and singled home Dick Groat, who was on second after hitting a double, to give St. Louis a 2-1 lead.
But the Mets were more like Gnats in the top of the fifth because they were so pesty. With one out, George Altman singled to center, and moved to second on Cisco's sacrifice. Bobby Klaus hit a popup just behind first base, but when Maxvill went to make the catch, the wind caught the ball, played some tricks with it, and allowed it to land beyond his reach. Altman was only able to reach third on the play. However, both Altman and Klaus scored when Roy McMillan doubled, which gave New York a 3-2 lead and Cardinals manager Johnny Keane a major headache. Keane decided he had had enough of this nonsense and brought Gibson in to relieve Simmons, even though Gibson had pitched eight innings two nights before. In his fourth relief appearance of the season, Gibson induced Joe Christopher to fly to right and got Jim Hickman to ground out.
The Cardinals decided in the bottom of the fifth that enough was enough. Cisco made the big mistake of walking Brock, the leadoff hitter. Bill White followed with a single that moved Brock to second. Ken Boyer doubled to score Brock and tie the game, with White going to third, after which Stengel brought Bill Wakefield in to relieve Cisco. Wakefield got Groat to ground out to second, but that scored White with the second run of the inning. With Boyer still on second, Wakefield walked McCarver intentionally, hoping to set up the double play. He struck out Shannon, but then faced Maxvill, that very lean run-producing machine. Maxvill singled Boyer home from second, making it 5-3 Cardinals. That was it for Wakefield as Jack Fisher came on and struck out Gibson to end the inning.
While the Cardinals fans were watching this, they were also tuning in to the Reds-Phillies matchup. Even when their game was quiet, the fans had a lot to cheer about as the Phillies were pounding the Reds 10-0. A Reds loss guaranteed the Cards at least a tie for the NL crown.
"Nothing was happening on the field [in the third inning], yet the cheers rolled in waves through Busch Stadium, where every other customer had a transistor radio," wrote Red Smith. "They were following a doubleheader — the game they saw and the game they heard — and over the air had come word that the Phillies had flattened [Reds pitcher] John Tsitouris with a two-run attack in Cincinnati."4
The Mets moved close again in the top of the sixth as Gibson's control got away from him. After Hawk Taylor hit a one-out single, Gibson walked Ed Kranepool and retired Altman on a groundout to first. He then walked pinch-hitter Jesse Gonder intentionally to load the bases. A most unintentional walk to Klaus followed, forcing Taylor home and bringing the Mets to within one run at 5-4.
The Ol' Perfesser may have overmanaged this one by pinch-hitting for Fisher.5 Willard Hunter came in to pitch the bottom of the sixth, and the Cardinals went to town on him. Brock doubled with one out, and then trotted home on White's two-run blast. The next batter, Boyer, walked, and after Groat struck out, McCarver stroked another double to score Boyer. It was now 8-4 Cardinals and the champagne was on its way to their dressing room. And just to put an exclamation point on the affair, St. Louis scored three more runs in the eighth on a Curt Flood home run and a two-run single by McCarver. The Mets scored a meaningless run in the ninth. It was only fitting that McCarver, who went 3-for-4 with two doubles and three RBIs, caught a foul popup for the final out to clinch the pennant and a World Series date with the New York Yankees.
While the Cardinals celebrated their first flag since 1946 in the clubhouse, Groat explained that his team had such a tough time against the Mets because they had just gone through a rough series in sweeping the Phillies. "When we got through that big roadblock — now we had to play the Mets," he said. "There had to be a letdown."6
As for the St. Louis-born Keane, the win meant that he would see a World Series game live for the first time since he was 14 and woke up at 5:00 A.M. to buy bleacher tickets for the 1926 fall classic, also between the Cardinals and Yankees. But this time he was guaranteed a better seat.
This article appears in "Sportsman's Park in St. Louis: Home of the Browns and Cardinals at Grand and Dodier" (SABR, 2017), edited by Gregory H. Wolf. Click here to read more articles from this book online.
Sources
In addition to the sources listed below, the author also used:
New York Times.
SABR biography of Dal Maxvill by Loretta Donovan.
Notes
1 Greg W. Prince, " Al Jackson," sabr.org/bioproj/person/9bc53b1d.
2 William Leggett, "Miracle in St. Louis," Sports Illustrated, October 12, 1964: 26.
3 Cisco proved the old adage: "If you can't do, teach." After accumulating a 25-56 lifetime record, he went on to serve as a pitching coach for 30 years with the Kansas City Royals, Montreal Expos, San Diego Padres, Philadelphia Phillies, and Toronto Blue Jays. He won World Series rings with the Jays in 1992 and 1993.
4 Red Smith, "Airwaves Bubbling at Busch," St. Louis Post-Dispatch, October 5, 1964: 6B.
5 The Ol' Perfesser was Stengel's nickname.
6 Ed Wilks, "Dick Groat Says Cards Are Like 1960 Bucs," St. Louis Post-Dispatch, October 5, 1964: 6B.
Additional Stats
St. Louis Cardinals 11
New York Mets 5
---
Busch Stadium
St. Louis, MO
Box Score + PBP:
Corrections? Additions?
If you can help us improve this game story, contact us.
Tags
https://sabr.org/sites/default/files/GibsonBob-1964.jpg
600
800
admin
/wp-content/uploads/2020/02/sabr_logo.png
admin
2018-11-28 14:44:28
2020-04-17 10:23:44
October 4, 1964: Cards finally get best of Mets to clinch NL pennant