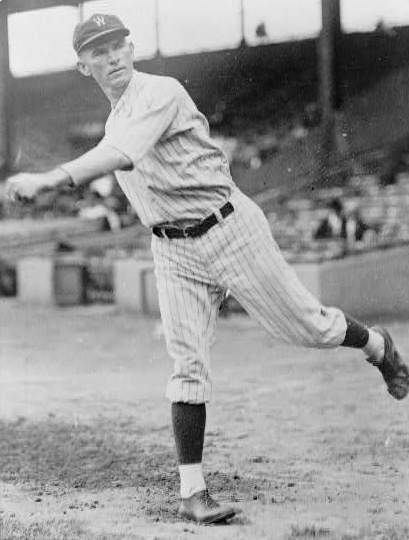 October 5, 1924: Senators blow 9th-inning lead but recover to even World Series at one game apiece
---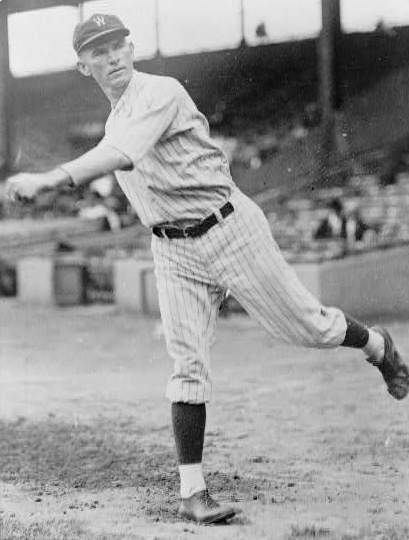 After a hard-fought Game One of the 1924 World Series in which Washington fell to the New York Giants, 4-3 in 12 innings, it was thought the Senators had shaken their jitters off and were more confident going into Game Two.
Senators skipper Bucky Harris called on 28-year-old left-hander Tom Zachary, a 15-game winner who had pitched to a then-career-best 2.75 ERA in 33 games. Giants manager John McGraw countered with his second straight southpaw starter, journeyman hurler Jack Bentley, who went 16-5 with a 3.78 ERA in 28 games.1
For the second straight day, Griffith Stadium hosted an overflow crowd and tickets were hard to come by. A ballpark that held 32,000 fans had seen crowds of 35,760 and 35,922, respectively, but those without tickets were determined to follow along on radio, and sales of radio "apparatus" jumped 50 percent in the Washington area.2
The Giants came out fast in the top of the first and loaded the bases on consecutive singles by Freddie Lindstrom and Frankie Frisch, and a one-out error by Harris on a grounder by High Pockets Kelly. But Zachary was able to get out of the jam with some help from catcher Muddy Ruel and a trio of infielders. Zachary had strike three on Irish Meusel, but Ruel couldn't hold on to the foul tip and Meusel had new life only to ground to third baseman Ossie Bluege, who started an around-the-horn double play to end the inning.
The Senators roared back in their half of the frame when Sam Rice singled over second with two outs, stole second with Goose Goslin at the plate, and came home on Goslin's blast into the right-field bleachers for a 2-0 lead. Joe Judge tapped a slow roller down the first-base line for another hit, but was forced at second on Bluege's grounder to end the threat.
"Yesterday the novelty of being league champions and participants in a world series was worn down a bit," wrote Eddie Trantor in the Buffalo Enquirer, "and the Senators displayed greater pep and agility on the field."3
Zachary settled in nicely in the second and retired the Giants in order on groundouts by Hack Wilson, Travis Jackson, and Hank Gowdy that went to Harris, Roger Peckinpaugh, and Bluege, respectively. Bentley was almost as effective and set down three of the four men he faced, the only blemish being a walk to Zachary.
Zachary continued his fine pitching and went to the sixth inning having allowed no hits since Ross Youngs' fourth-inning single. Bentley walked a tightrope in the third but came out unscathed. He walked Harris to lead off the inning and the Senators skipper went to second on Rice's sacrifice, then advanced to third when Gowdy dropped a third strike to Goslin and had to fire to first for the out. Bentley issued a free pass to Judge, but the latter was too eager to steal second and was thrown out at second base by the Giants hurler.
Bentley was more effective in the fourth and retired Bluege, Peckinpaugh, and Ruel in order, then set down Zachary and Earl McNeely to start the fifth before Harris extended Washington's lead to 3-0 with a home run into the left-field seats. Rice followed with a single to short right-center field, but Goslin fanned again to end the inning.
Zachary's run of success finally ended when he walked Lindstrom with one out in the top of the sixth. Harris ordered veteran right-hander Allen Russell to warm up, but Zachary quickly recovered and retired Frisch and Youngs to send the game to the bottom of the sixth with Washington clinging to a 3-0 lead.
Bentley wrapped groundouts by Judge and Peckinpaugh around a Bluege whiff, and Zachary took the hill again to start the seventh. New York finally broke through with a run when Kelly walked, went to third on Meusel's base hit past Peckinpaugh, and scored when Wilson grounded into a "lightning" double play that went from Bluege to Harris to Judge.4
That was all New York could muster and things looked bleak for the Giants when Zachary followed Bentley's perfect seventh with a perfect eighth. "The Washington pitcher was working like a well-oiled machine," reported the New York Times. But he needed some help from Peckinpaugh, who made a "brilliant play on Lindstrom's grounder and got the youngster at first by a step" to end the inning.5
Bentley was also in a groove and coaxed three straight groundouts off the bats of Harris, Rice, and Goslin in the bottom of the eighth, dispatching his 10th straight Senator without a hit since Rice's safety in the fifth. The top of the ninth saw Zachary go back out to finish what he started, but Harris was taking no chances and had pitchers warming up, including Firpo Marberry, who had set a new major-league single-season record for saves with 15.6 
Zachary walked Frisch on four pitches, then threw a fifth straight ball to Youngs, prompting Ruel to confer with his pitcher in front of the plate. Youngs popped out to Peckinpaugh, then Kelly shot a liner to right-center field that Rice fielded brilliantly before firing a strike to Harris, who threw home but a hair too late to get Frisch, and Washington's lead was cut to 3-2. Zachary retired Meusel on a grounder that was headed to right before Harris snared it and threw to first for the second out. Kelly went to second and he and Wilson teamed up to tie the game when the latter punched a hit to right and the former went head-first over a crouching Ruel to knot the game at 3-3.
Marberry was called upon to end the threat and did so in quick fashion, firing three strikes past Travis Jackson, including a curve that Jackson "missed by at least a foot."7 Judge led off the bottom of the ninth and drove one to left, but it went just foul. He followed with a shot down the first-base line that also went foul, then coaxed a walk out of Bentley. "The crowd gave vent to a big cheer," wrote the New York Times.8 The Giants infield surrounded the hurler to give words of encouragement. Then Bleuge's sacrifice bunt sent Judge to second. "They yelled some more and now Peckinpaugh was at bat."9
As Peckinpaugh approached the plate swinging two bats, the crowd spurred him on. Frisch wanted an intentional walk to set up a possible double play, but McGraw overruled his captain and ordered Bentley to pitch to the Senators shortstop. Bentley's first pitch was a ball, then Peck fouled the next two off to go down 1-and-2 in the count before smashing a hit to left. "Peck hit the ball a mile a minute between Lindstrom and Jackson," wrote the Times. "Meusel fielded the ball well and threw swiftly, but there was no chance of catching Judge. He was over the plate in a great leap before Gowdy had the ball."10
Washington's 4-3 win tied the Series at one game apiece going into Game Three at the Polo Grounds in New York.   
Sources
In addition to the sources cited in the Notes, the author also accessed Retrosheet.org, Baseball-Reference.com, and SABR.org.
Notes 
1 Bentley made his major-league debut with the Senators in 1913 and was with them until 1916, although he spent most of his time in the minors. Before landing with the Giants in 1923, Bentley starred for Baltimore of the International League and went 41-6 with a 2.07 ERA in 395 innings from 1920 through 1922.
2 "Thousands of Fans, Ticketless, Hear of Series Over Radio," Washington Post, October 5, 1924: 10.
3 Eddie Trantor, "Eddie Says," Buffalo Enquirer, October 6, 1924: 6.
4 "Senators Tie Series, Beat Giants, 4-3; To Play Here Today," New York Times, October 6, 1924: 1.
5 "Senators Tie Series."
6 The save scoring rule wasn't adopted until 1969 and saves were retroactively calculated by researchers for every season that came before. It's because of them that we know that Marberry passed Mordecai "Three Finger" Brown (13 saves in 1911) and Chief Bender (13 in 1913) on the single-season saves list when he recorded his 14th "save" on September 19, 1924, then pushed his total to 15 four days later. 
7 "Senators Tie Series."
8 "Senators Tie Series."
9 "Senators Tie Series."
10 "Senators Tie Series."
Additional Stats
Washington Senators 4
New York Giants 3
Game 2, WS
---
Griffith Stadium
Washington, DC
Box Score + PBP:
Corrections? Additions?
If you can help us improve this game story, contact us.
Tags
/sites/default/files/ZacharyTom.jpg
600
800
Patrick Milum
/wp-content/uploads/2020/02/sabr_logo.png
Patrick Milum
2022-03-15 13:34:39
2022-03-16 13:10:39
October 5, 1924: Senators blow 9th-inning lead but recover to even World Series at one game apiece