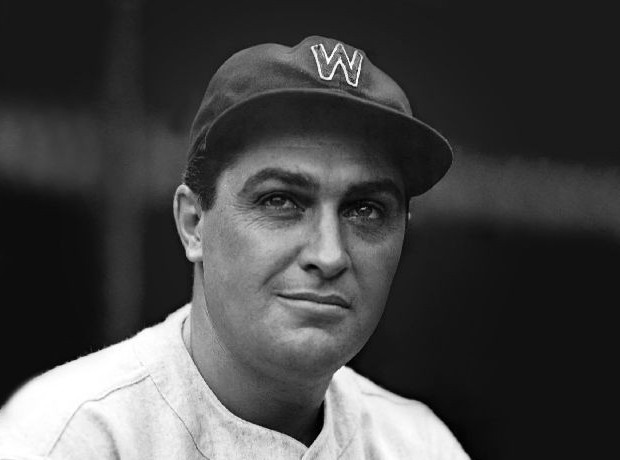 October 5, 1933: Earl Whitehill whitewashes Giants, Buddy Myer is mighty in World Series win
---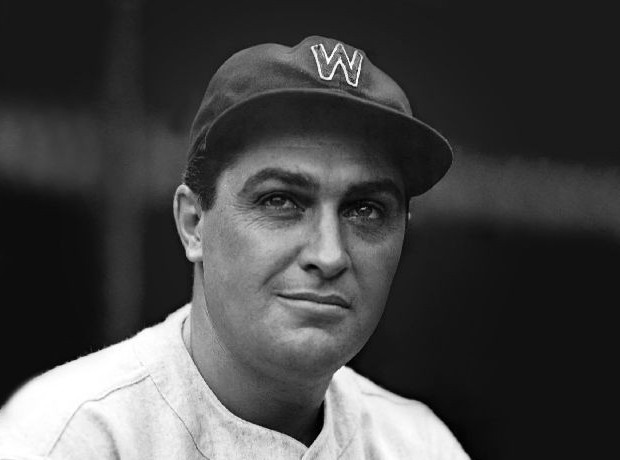 With 15 minutes until game time, the tarp was still on the field under dark skies at Griffith Stadium, and the first pitch of Game Three of the World Series was uncertain.
Detaining the 25,727 eager fans braving the elements to witness the return of the World Series to the nation's capital after nine years would be unfortunate, but one of them in particular was on an especially tight schedule: the President of the United States, Franklin D. Roosevelt.
"Word arrived at Griffith Stadium at 1:25 that the president was on his way," wrote Gary Sarnoff. "The start of Game Three would be delayed until the president was comfortably seated in his box, followed by his throwing the ceremonial [first] pitch."1
At 1:36 P.M., a door on the right-field wall swung open for the president's motorcade, a band marched onto the field, and the two teams came out of their dugouts and lined up facing the president's box.
"When Roosevelt entered his box, a miracle occurred. The rain stopped, and the sun made its first appearance of the day," Sarnoff wrote. "There is no doubt about the immense influence President Roosevelt wields over affairs in this country," wrote the New York Times of the chief executive's apparent meteorological intervention.2 
The Senators needed all the help they could get, although in their matchup with the Giants Roosevelt was officially neutral, and, as a lifelong New Yorker living in Washington, personally conflicted. Less than 24 hours earlier, the Senators had fallen into a two-games-to-none hole with their second loss at the Polo Grounds. The favored Senators, whom young scribe Shirley Povich nicknamed "the Old Washington Wrecking Crew" for their fearsome threesome of Goose Goslin, Heinie Manush, and Joe Cronin,3 had no offday to recover. Cronin, in his first season as player-manager after taking over managerial duties from the immortal Walter Johnson, gathered his tired team at the soggy stadium for a pep talk.
"I hope all of you are as ashamed as I am of what happened in the first two series games," Cronin told them. "We're a better ball club than the Giants, and now is the time to show it to a city that has supported us all season."4
No one was more motivated than Earl Whitehill, the lefty curveball specialist making his first-ever World Series start after 10 seasons with the Detroit Tigers. Cronin's last-minute decision to start Lefty Stewart over Whitehill in Game One, putting Washington in an early hole, was a head-scratcher, but Bill James writes, "It is generally thought that Whitehill reported to the park that day in no condition to pitch."5
Whitehill would not be at full strength for Game Three either. As he warmed up in the rain, he felt a pop in his left elbow. But after a heated conversation with Cronin, Whitehill won the right to start the game, and retired the Giants in order in the first inning. "His injured elbow was swelling by the minute, but he was so focused, he hardly noticed," Sarnoff wrote.6
In the bottom of the first, Buddy Myer reached on a single and Goslin doubled. The weather made an impact when Cronin hit a roller toward shortstop and Myer charged for home. Giants starter Freddie Fitzsimmons fielded the ball and prepared to throw Myer out, but his foot slipped on the wet turf and he had to hold onto the ball for an extra split-second. He recovered in time to get Cronin at first but allowed the run to score. The next batter, Fred Schulte, singled to score Goslin, and the Senators suddenly had their largest lead of the series so far, 2-0.
Whitehill had some trouble in the second, with a single and wild pitch followed by a walk, but escaped the inning with a double play on a grounder to Cronin. Ossie Bluege led off the bottom of the second with a double down the left-field line. That brought up Myer.
Myer was coming off a stellar season but a disastrous stint in New York, where he made three errors in Game One. Myer was rattled by a traffic accident that killed a pedestrian, which he observed from a taxi en route to the Polo Grounds. "[I]nstead of focusing on the game, his thoughts were on the tragedy," Sarnoff wrote.7
Today Myer was single-minded. In the second inning, he doubled down the right-field line to score Bluege and put Washington in front 3-0. Two innings in, the Senators had equaled their entire offensive output in two games in New York.
The next inning, Myer starred on defense, running down a pop fly by Blondy Ryan with his back to home plate. "[T]he Nat second sacker tore into short center and made a truly sensational play when he snared the ball in his very finger-tips by an over-the-shoulder grab," reported the Washington Post.8
"After that, Whitehill was in complete command," Sarnoff wrote.9 He mowed down nine straight Giants over the fifth, sixth, and seventh innings with a total of 15 pitches.
In the bottom of the seventh, the Senators provided an insurance run Whitehill wouldn't even need, once again off the bat of Myer, following a single and stolen base by catcher Luke Sewell. "Myer did not come back to Washington to fail," wrote the Post. "His third hit of the day he rocketed into right center field to bring Sewell home with [a] fourth run."
Whitehill endured two baserunners on a single and an error in the eighth, nullifying them on two short outs – a grounder back to the mound by Hughie Critz and a short pop fly by player-manager Bill Terry caught by catcher Sewell.
After the Senators went down in order in the bottom of the eighth, Whitehill walked leadoff batter Mel Ott in the top of the ninth. He then enjoyed two sharp plays by Bleuge on consecutive screaming grounders by Kiddo Davis and Travis Jackson, followed by a fly ball by Gus Mancuso to Manush in left to end the game. The Senators had fended off disaster with a shutout win at home.
"For the first time in the Series we looked like a good ball club," Cronin said afterward. "Our victory was about due. We couldn't go on losing. The tide had to turn."10
"This left the National League standard-bearers still leading in the struggle to determine the baseball championship of the universe by a margin of two games to one," the New York Times wrote, but added, "The notion that Memphis Bill Terry's team of destiny would gain its objective on a direct line of flight was slightly jarred."11
The Post praised Whitehill, who held the Giants to five hits (four singles and Travis Jackson's double in the fourth) in the complete-game shutout.
"His wide-sweeping curve slide beyond their bats with eccentric dips all afternoon," the Post wrote. "His fast ball left them gasping."12
Myer, meanwhile, also earned plaudits.  
"Buddy Myer, who had three misplays in the first game, performed so valiantly today that Washington rooters decided those errors in New York must have been made by some stranger who broke into buddy's locker and stole his uniform," joked the Times.13
Still, Terry presciently realized that even in decisive defeat, the Series was playing out in a way that favored his Giants.
"[T]he Series is still what I have said it is from the start – dominated by pitching," he told the Times. "They got it today and we didn't. … I think we'll have better pitching than they will for the rest of the Series. … I'll send Hubbell back at them tomorrow."14
Sure enough, Washington's wrecking crew would end up doing little damage throughout the Series, humbled by Hubbell and his mound mates. 
"What became of Washington's great pitching? New York base hits, that's what it became," the Post's Povich wrote. "And what became of Washington's great hitting? Strikeouts, pop-ups and double plays, that's what."15
Sources
In addition to the sources cited in the Notes, the author accessed Retrosheet.org, Baseball-Reference.com, Newspapers.com, and SABR.org.
Notes
1 Gary A. Sarnoff, The Wrecking Crew of '33: The Washington Senators' Last Pennant (Jefferson, North Carolina: McFarland & Company, 2009), 181.
2 John Kieran, "Whitewashed by Whitehill," New York Times, October 6, 1933: 22.
3 Sarnoff, 125.
4 Sarnoff, 180.
5 Bill James, The Bill James Guide to Baseball Managers (New York: Diversion Books, 2014).
6 Sarnoff, 181.
7 Sarnoff, 173.
8 "Nats Regain Prestige, Win Over Foe Behind Whitehill," Washington Post, October 6, 1933: 1.
9 Sarnoff, 183.
10 "Cronin, Confident, Lauds New Spirit," New York Times, October 6, 1933: 22.
11 John Drebinger, "Roosevelt Sees Senators Defeat the Giants by 4-0," New York Times, October 6, 1933: 1.
12 "Nats Regain Prestige."
13 Kieran, "Whitewashed by Whitehill."
14 "Cronin, Confident, Lauds New Spirit."
15 "In 1933, Washington Couldn't Overcome Giants, Carl Hubbell," Washington Post, October 4, 2012.
Additional Stats
Washington Senators 4
New York Giants 0 
Game 3, WS
---
Griffith Stadium
Washington, DC
Box Score + PBP:
Corrections? Additions?
If you can help us improve this game story, contact us.
Tags
https://sabr.org/sites/default/files/Whitehill_Earl_014-e1348443049521.jpg
600
800
admin
/wp-content/uploads/2020/02/sabr_logo.png
admin
2022-04-12 11:32:36
2022-04-14 16:56:43
October 5, 1933: Earl Whitehill whitewashes Giants, Buddy Myer is mighty in World Series win