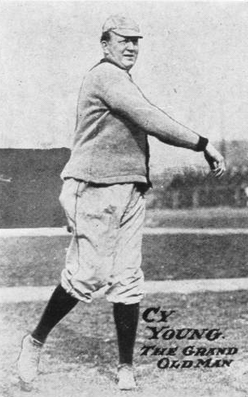 October 6, 1911: Cy Young pitches his final game
---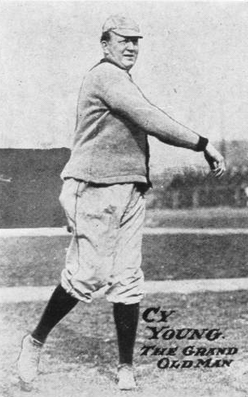 Boston's 1911 National League team was not a good ballclub. The Rustlers (the team didn't become the Braves until the next season) finished last in the eight-team league, 20½ games behind seventh-place Brooklyn and 54 games behind the first-place New York Giants. Defense was a problem: They made a league-worst 350 errors, which led to 245 unearned runs.1 Pitching was a problem: They surrendered 276 more runs than any other team in the league that season, and an incredible 479 more runs than the first-place Giants.2 Their 1021 runs allowed that year was by far the highest total in either the National League or American League during the Deadball Era of 1901-1919, and was not surpassed by any team until 1929.3
In May Boston lost 14 consecutive games.4 From July 17 through August 1, they plowed even deeper, losing 16 in a row, leaving their record at 20-74.5 They pitched and played somewhat better after that, however, and finished the season with a 44-107 record.
One reason their pitching improved late in the season was the acquisition of Cy Young on August 19 after his release by the Cleveland Naps three days earlier.6 Yes, the pitcher after whom the Cy Young Award for outstanding pitching is named, and who registered more wins (511) than any other major leaguer, was available to this last-place team. Of course, Young was 44 years old in 1911, and photos from the period reveal a rotund, middle-aged man who, in mufti, would be presumed a team executive rather than a player. Nevertheless, though far past his prime, he took a regular turn in the pitching rotation, and was effective in eight of his 11 starts with Boston. He notched two shutouts and allowed just one run in two other games.
In the first game of October 6, visiting Boston had edged Brooklyn 1-0, and, for the first time all season, could boast of a three-game winning streak.7 Boston had not played a home game since September 14, and this game in Brooklyn's Washington Park had been their 20th of 24 consecutive road games to end the season.8
In the second game of the doubleheader, Boston failed to score in the first inning against Eddy Dent, who was 21 years Young's junior. Dent entered the game with an 0-1 record and would win only 4 times in his brief career.9 Young went to the mound in the bottom of the inning sporting a 4-4 record. He had defeated the Superbas 2-1 on this same field on September 2, giving up just six hits, all singles.10 Things began well for the legendary hurler on this day too, as Brooklyn did not score in the first inning.
Boston scored twice in the second inning, with Young driving in the second run. Their lead was short-lived, however, as Brooklyn scored three in its half of the inning. The rally began when John Hummel walked. He advanced when Bert Tooley's fly to center field was dropped for an error.11 Monroe "Dolly" Stark singled to score Hummel, and Otto Miller's sacrifice fly scored Tooley.12 Dent put his team ahead by singling Stark home.13
Boston tied the game 3-3 in the fourth inning when Bill Sweeney's double scored Bill Rariden, who had walked and advanced on Young's sacrifice.14 Neither team scored in the fifth or sixth inning.
In the seventh the Superbas broke the tie and secured the win by pushing eight runs across on eight consecutive hits.15 Young got Stark to pop out before "the Superbas started a batting fusillade."16 Miller tripled, then Zach Wheat, batting for Dent, singled home the tiebreaking run.17 Three singles followed in succession, then a double, another single, a stolen base, and a double by Bob Coulson.18 Coulson stole third base and scored on Rariden's bad throw, making it 11-3.19 Young tossed his glove in frustration before exiting the game.20 Brooklyn's fans "showed their appreciation of the grand old man of baseball by applauding and cheering him as he walked to the bench."21
As the New York Times noted, "The eighth hit was the signal for Young's retirement, and Orlie] Weaver finished the game."22 Weaver coaxed two groundouts to end the seventh, but yielded two more runs in the eighth inning to make the final score 13-3.23 Dent was the winning pitcher, even though in his seven innings of work "he was touched up quite freely by Boston."24
The Times reporter proved to be prescient, since that eighth consecutive hit signaled not only Young's retirement from this game, but his retirement from baseball. Coulson had knocked the great Cy Young out of the box forever. The Rustlers played three more games in 1911, but Young did not see any action.25 He planned to continue pitching for Boston in 1912, and remained with the team through spring training, its April schedule, and part of May, but chronic arm pain prevented him from appearing in another game.26 His remarkable career was over.
On October 6, 1911, no one, not even Young, knew he had competed for the last time. He had pitched fairly well until the disastrous seventh inning, and none of the accounts of this game suggested that Young was done as a pitcher.
When Young left the field that day, it was as though a bridge to the past had washed away. He had pitched in the National League from 1890 to 1892 at the old distance of 55 feet 6 inches.27 Perhaps some of the Brooklyn fans who saluted him realized they were witnessing a historic moment, but with the World Series between the Athletics and Giants a week away, to most fans and the press it was just another game to scratch off the schedule of a waning season. They focused on champions, not tailenders.
Sources
Box scores for this game can be found at Baseball-Reference.com and Retrosheet.org.
https://www.baseball-reference.com/boxes/BRO/BRO191110062.shtml
http://www.retrosheet.org/boxesetc/1911/B10062BRO1911.htm
Notes
1 Tom Ruane, "The Deadball Era's Worst Pitching Staff," Baseball Research Journal, Volume 38, Number 2 (Cleveland: SABR, Fall 2009): 135. This thoroughly researched and well-written article chronicles the team's pitching woes in detail.
2 https://retrosheet.org/boxesetc/1911/Y_1911.htm.
3 Ruane: 131.
4 https://retrosheet.org/boxesetc/1911/VBSN01911.htm.
5 Ibid.
6 https://retrosheet.org/boxesetc/1911/TM_CLE1911.htm.
7 https://retrosheet.org/boxesetc/1911/VBSN01911.htm.
8 Ibid.
9 https://retrosheet.org/boxesetc/D/Pdente101.htm.
10 https://retrosheet.org/boxesetc/1911/B09022BRO1911.htm.
11 "Donelly Does, but Cy Doesn't," Boston Globe, October 7, 1911: 6.
12 Ibid.
13 Ibid.
14 Ibid.
15 "Tailenders Split Even," New York Times, October 7, 1911: 14.
16 Ibid.
17 Boston Globe, October 7, 1911: 6.
18 Ibid.
19 Ibid.
20 Thomas S. Rice, "Brooklyns Took the Second when Cy Young 'Blew Up,'" Brooklyn Daily Eagle, October 7, 1911: 21.
21 "'Fans' Show Human Side When 'Cy' Young Is Batted Out of the Box," Standard Union (Brooklyn), October 7, 1911: 8.
22 New York Times, October 7, 1911: 14.
23 Rice.
24 New York Times, October 7, 1911: 14.
25 https://retrosheet.org/boxesetc/1911/VBSN01911.htm.
26 Bill Nowlin and David Southwick, "Cy Young," SABR BioProject, https://sabr.org/bioproj/person/dae2fb8a.
27 The pitching distance was increased to 60 feet 6 inches beginning with the 1893 season. Clark Griffith was the last pitcher from that era, having pitched in the American Association in 1891 and throwing one American League inning in 1914.
Additional Stats
Brooklyn Superbas 13
Boston Rustlers 3
Game 2, DH
---
Washington Park
Brooklyn, NY
Box Score + PBP:
Corrections? Additions?
If you can help us improve this game story, contact us.
Tags
https://sabr.org/sites/default/files/YoungCy-1911.png
600
800
admin
/wp-content/uploads/2020/02/sabr_logo.png
admin
2019-08-13 12:58:53
2020-04-17 10:22:34
October 6, 1911: Cy Young pitches his final game