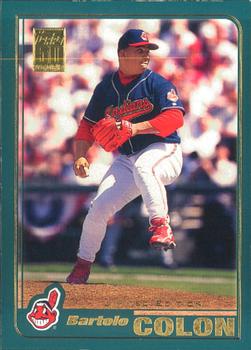 October 9, 2001: Cleveland's Bartolo Colón fires eight shutout innings in ALDS opener
---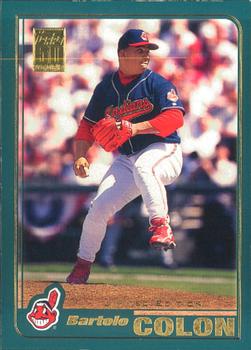 Since Cleveland and Seattle were the top American League run-scorers in 2001, the Division Series between the Indians and Mariners was expected to generate significant offense. Seattle paced the league with team totals of 927 runs, 1,637 hits, 174 stolen bases, and a .360 on-base percentage (OBP). Cleveland's offense was second in runs (897) and OBP (.350), and third in hits (1,559) and home runs (212). Seattle's pitching staff topped the league with a 3.54 ERA and 7.9 hits allowed per nine innings. Cleveland's staff compiled a below-league-average 4.64 ERA but issued 573 walks, third highest in the league. USA Today Baseball Weekly gave the Mariners an edge in starting pitching, relief pitching, outfield defense, bench, and coaching, with the Indians providing better infield defense.1 Seattle had won five of their seven matchups during the regular season, though four contents were decided by one run, including a stunning 15-14 Cleveland victory on August 5 when the Indians rallied from a 14-2 seventh-inning deficit.2 Although Cleveland had enjoyed recent postseason successes, many prognosticators looked past this current series, anticipating a Mariners-Yankees ALCS.3
Cleveland won the AL Central with a 91-71 record, six games ahead of the Minnesota Twins. The Indians anticipated regaining the helm; after winning division titles from 1995 to 1999, Cleveland slipped to second place in 2000. The Sporting News's preseason Power Poll ranked them fifth overall.4 Their offense expected to be strong, though questions surrounded their starting rotation. The Indians bounced between first and second place from mid-April to August, and remained in first for good after soundly defeating the Texas Rangers, 13-2, on August 12.5 Cleveland's offense was led by two future Hall of Famers, second baseman Roberto Alomar and first baseman Jim Thome, with outfielder Juan Gonzalez and designated hitter Ellis Burks significantly contributing to the potent offense. The pitching staff was solid as Bartolo Colón established himself as Cleveland's ace, CC Sabathia finished second in AL Rookie of the Year voting with a 17-5 record, and Bob Wickman anchored the bullpen with 32 saves.
Seattle won the AL West with a 116-46 record, establishing a league record for victories in a season. The Mariners lost the 2000 ALCS to New York, and expected to battle with the Oakland Athletics for the AL West. The Sporting News predicted a second-place finish for the Mariners, primarily attributable to Seattle's pitching.6 Instead, Seattle led the division wire-to-wire and finished 14 games ahead of the 102-60 Athletics. AL MVP and Rookie of the Year Ichiro Suzuki led the majors with 738 plate appearances, 242 hits, and 56 stolen bases, and the AL with a .350 batting average. All-Star second baseman Bret Boone (.331, 37 HR, 141 RBIs) enjoyed a career year, and other noteworthy offensive contributors were future Hall of Fame DH Edgar Martinez, first baseman John Olerud and center fielder Mike Cameron, with the pitching staff anchored by AL ERA leader Freddy Garcia and 20-game winner Jamie Moyer.
Colón (14-12, 4.09 ERA) received the starting nod from manager Charlie Manuel. Colón was often inconsistent and allowed 5 earned runs during his final regular season outing, against the struggling Kansas City Royals.7
Garcia (18-6, 3.05 ERA) was selected by manager Lou Piniella as Seattle's starter. Garcia had enjoyed playoff success the year before, earning both Seattle wins during the ALCS vs. the Yankees.
The game began on a shadowy 55-degree afternoon as a pitchers' duel unfolded. Garcia started quickly, retiring Cleveland in order on a groundout, fly out, and pop fly. Suzuki led off the bottom half with a single to right field, but Colón struck out Mark McLemore and Boone, and then Martinez grounded out to end the inning. In the second inning, Burks delivered Cleveland's first hit, a double to left field with two outs, but was stranded when Travis Fryman struck out. Colón responded by striking out Olerud swinging and Cameron looking. In Seattle's second, Stan Javier doubled to left with two outs, but he was stranded on a groundout. Garcia remained tough on Cleveland's hitters, striking out Marty Cordova to begin the third inning, then inducing a groundout. After Lofton walked, Vizquel popped out for the third out. Colón matched Garcia's effectiveness by striking out David Bell. Suzuki followed with his second hit, but was thrown out attempting to steal second.8 McLemore grounded out, and the teams remained scoreless through three innings.
Garcia experienced trouble in the fourth inning. Alomar led off with a double and scored when Gonzalez's broken-bat blooper fell over Boone. Thome walked, then Burks singled to load the bases. Successive singles by Fryman and Cordova plated Gonzalez and Thome, and the Indians led 3-0 with bases loaded and no outs. Garcia fought back, striking out Einar Diaz and Lofton swinging. Vizquel flied out to end the threat. Seattle unsuccessfully responded to Cleveland's tallies: Colón's sixth strikeout and a double play kept the Mariners off the scoreboard. The double play, which Vizquel later cited as shifting the game's momentum, started when Thome made a solid backhand grab of an Olerud one-hop smash.9
After allowing five hits the previous inning, Garcia rebounded with a vengeance, striking out Alomar, Gonzalez, and Thome on 11 pitches in the fifth inning. Seattle's offense started to awaken slightly, as Dan Wilson singled and Bell walked to give the Mariners two runners with two out on base for the first time. But Suzuki's hard-hit fly was caught by a running Lofton and Colón escaped the jam.10
In the sixth inning Burks popped out, but consecutive singles by Fryman, Cordova, and Diaz and Garcia's throwing error resulted in Cleveland's fourth run and Garcia's exit. Left-hander Norm Charlton relieved Garcia, retired Lofton and Vizquel, and prevented Cleveland from extending its 4-0 lead. In the bottom half, Martinez hit a two-out seeing-eye single through the infield, stole second, then advanced to third on Diaz's throwing error. Martinez was Seattle's lone baserunner to reach third base in the game. He was left there as John Olerud struck out.
Charlton returned for the seventh and retired Cleveland on two swinging strikeouts and a groundout. Colón matched Charlton's results in the bottom half as the Safeco Field faithful grew quieter. Reliever Jose Paniagua replaced Charlton for the eighth inning, and Burks greeted him with a solo blast, increasing Cleveland's lead to 5-0. Fryman launched a deep fly out to left, then Cordova struck out and Diaz flied out. Colón continued his mastery in the bottom half, allowing Suzuki's double as Seattle's lone baserunner and reaching double digits in punchouts when McLemore struck out on three pitches. Colón was still throwing 99 mph in his final inning.11
John Halama, who was traded with Garcia and Carlos Guillen to Seattle three years earlier, entered the game in the ninth inning; Vizquel singled around two strikeouts and a fielder's choice. Wickman replaced Colón and delivered a 1-2-3 inning on 15 pitches to finish the game; after Martinez flied out, Olerud and Cameron both struck out for the third time.
The shutout was Cleveland's eighth in postseason play and the third against Seattle. Concerns about Colón's postseason effectiveness dissipated as Fryman noted, "We want Bartolo to be the ace and today he showed he wanted to be the ace, too."12
Although disappointed at losing the opener, the Mariners weren't overly concerned. Suzuki commented, "Worried? If our team could be affected by just one loss, we never would have won 116 games."13 Seattle ultimately won the series in five games behind strong performances by Garcia and Moyer, complemented by Suzuki's torrid hitting.14
Sources
Besides the sources cited in the Notes, the author consulted Baseball-Almanac.com, Baseball-Reference.com, Retrosheet.org, and the following:
https://www.baseball-reference.com/boxes/SEA/SEA200110090.shtml
https://www.retrosheet.org/boxesetc/2001/B10090SEA2001.htm
Cleveland Indians Baseball Company, Inc., 2019 Cleveland Indians Media Guide (Cleveland: Cleveland Indians Baseball Company, Inc., 2019).
Snyder, John. Indians Journal: Year by Year & Day by Day with the Cleveland Indians Since 1901 (Cincinnati: Clerisy Press, 2008).
Notes
1 "2001 Ticket to the Playoffs: AL," USA Today Baseball Weekly, Volume XI, No.29: 11.
2 Tom Withers, "Mariners Starting Over Tonight," Coshocton (Ohio) Tribune, October 9, 2001: 7.
3 Michael Knisley, "You Can't Take It with You," The Sporting News, October 15, 2001: 8.
4 Stan McNeal, "TSN Power Poll and Projected Finish," The Sporting News, March 26, 2001: 62.
5 Associated Press, "Cleveland Blasts Back Into First Place," Salem (Oregon) Statesman Journal, August 13, 2001: 8.
6 Larry LaRue, "TSN Power Poll and Projected Finish," The Sporting News, March 26, 2001: 80.
7 Doug Tucker, "Colon Flat In Tune-Up For Playoffs," Fremont (Ohio) News-Messenger, October 5, 2001: 12.
8 Mike DiGiovanna, "Thome Play a Rally Killer," Los Angeles Times, October 10, 2001: 55.
9 Ibid.
10 Associated Press, "Colon Keeps Seattle Guessing," Marion (Ohio) Star, October 10, 2001: 14.
11 Mike DiGiovanna, "Indians Do It Mariner Way," Los Angeles Times, October 10, 2001: 55.
12 Tom Withers, "Colon Shuts Down M's," Port Clinton (Ohio) News Herald, October 10, 2001: 7.
13 Mike DiGiovanna, "Indians Do It Mariner Way."
14 2018 Seattle Mariners Media Guide (Seattle: Baseball Club of Seattle, 2018), 210.
Additional Stats
Cleveland Indians 5
Seattle Mariners 0
Game 1, ALDS
---
Safeco Field
Seattle, WA
Box Score + PBP:
Corrections? Additions?
If you can help us improve this game story, contact us.
Tags
https://sabr.org/sites/default/files/Colon-Bartolo-2001.jpg
600
800
admin
/wp-content/uploads/2020/02/sabr_logo.png
admin
2019-06-04 12:36:59
2020-04-17 13:33:58
October 9, 2001: Cleveland's Bartolo Colón fires eight shutout innings in ALDS opener