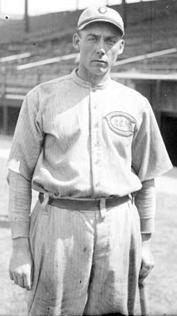 October 9, 1919: Cincinnati Reds beat the Black Sox to win first World Series championship
---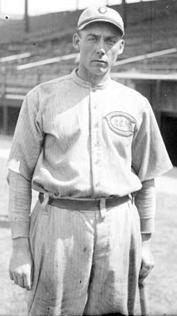 After wins in Games Six and Seven in Cincinnati by scores of 5-4 and 4-1, respectively, it was clear the Chicago White Sox were no longer playing to lose. Dickey Kerr wasn't as brilliant in Game Six as he was in Game Three, but he went the distance in a 10-inning affair that saw the White Sox erase a four-run deficit before plating the go-ahead and eventual winning run in the top of the 10th on a double by Buck Weaver, Shoeless Joe Jackson's bunt single, and a hit by Chick Gandil.
Eddie Cicotte took the ball in Game Seven and enjoyed a second straight dominant start, allowing only one run on seven hits to earn his first World Series win and bring the White Sox to within a game of tying the Series at four games apiece. All they needed was for Lefty Williams to resemble the pitcher who had won 23 games during the regular season and not the one who'd lost twice to the Reds while allowing eight runs in 16 innings.
But Williams's performance in Game Eight would be his worst one yet and it's still surrounded by mystery, rumors, and conjecture. Legend has it that the southpaw's life was threatened before the game and he had no choice but to pitch poorly.1 Some claim it was Williams's wife, Lyria, who was threatened, but she later said that the pitcher was afraid of retaliation if he pitched to win.2 Williams insisted in his grand-jury testimony in 1920 that he had pitched to win all three of his starts.3 He looked more like a man pitching for his life.
Cincinnati skipper Pat Moran gave Hod Eller the ball for Game Eight, hoping the spitballer could replicate his Game Five performance, a three-hit shutout in which he fanned nine White Sox, including six straight to set a World Series record. Some, however, believed Chicago would continue their comeback and win the next two games. "You tell 'em the dopesters are up against it now," wrote Fred R. Coburn in the Minneapolis Star Tribune, "there is no question that the Sox … are hitting on all eight cylinders with prospects excellent for their eventual triumph."4
Morning clouds that brought the threat of rain were chased away from Comiskey Park by a blustery wind blowing away from home plate that had flags above the ballpark "straightened out flat against the breeze."5 As usual, the place was packed with 32,930 fans, some of whom were still lined up outside the park when the game began.
---
---
Wary of Happy Felsch's miscues in center field, White Sox skipper Kid Gleason moved him to right field, where he hadn't played since 1915 and would amass only eight career games there. Nemo Leibold was in center and had experience there, but had played center field only once all season and that as a late-inning replacement for Felsch in an August 2 game against the Boston Red Sox. It wouldn't matter.
Reds leadoff man Morrie Rath was greeted by a pitch that split the heart of the plate for strike one.6 He fouled off the next offering, then popped to Swede Risberg at shortstop. Jake Daubert dropped a hit that touched down in the outfield grass before Leibold could grab it. Heinie Groh made Williams work before poling the southpaw's sixth offering just over Gandil's head and into right field.
With runners at first and second, Edd Roush ripped a double past first to score Daubert and send Groh to third. Sensing a repeat of Williams's first two starts of the Series, Gleason wasted no time and ordered Big Bill James to get warm. Reds left fielder Pat Duncan sealed Williams's fate with a line drive over third baseman Buck Weaver's head that went into the left-field corner for another double that plated Groh and Roush and gave Cincinnati a 3-0 lead.
"At this juncture Kid Gleason came up to the pitcher's box," wrote the New York Tribune's W.O. McGeehan, "and after a brief and torrid conference Claude Williams was told to go anywhere he wanted for the remainder of the afternoon."7 Williams was sent to the bench only five batters into his outing. In the press box, legendary hurler Christy Mathewson asserted that Williams had thrown nothing but fastballs.8 True or not, the southpaw tossed only 16 pitches.
James entered the contest, making his first appearance of the series, and immediately walked Larry Kopf, then fanned Greasy Neale for the second out of the inning before surrendering a run-scoring Texas League single over first base by Bill Rariden to give the Reds a 4-0 cushion. With Eller at the plate, Rariden stole second base to put runners at second and third, but James got the Reds hurler to fly out to end the inning.
The White Sox gave the home crowd hope in the bottom of the first when Leibold led off with a single and went to third on a Eddie Collins's two-bagger to left to put runners in scoring position with no outs. Moran stole a page out of Gleason's playbook and sent Jimmy Ring to the bullpen to warm up, but Eller struck out Weaver, got Jackson to pop to third, and fanned Felsch.
Cincinnati struck again in the top of the second on a two-out single by Groh followed by Roush's second double of the game, but the latter was erased in a rundown after overrunning the base, and the Reds had to settle for one run. Chicago cut the lead to 5-1 in the bottom of the third when Jackson blasted the Series' only home run, a deep drive to right field, but James couldn't hold the Reds back and they kept on scoring, sending Kopf across in the fifth, then three more against him and Roy Wilkinson in the sixth to go up 9-1.
The Reds plated their final run in the top of the eighth inning when Roush was plunked by a Wilkinson pitch to lead off the frame, went to second on a Duncan bunt, and came around to score on Rariden's single to left. Down 10-1, the White Sox finally showed life and rallied in the bottom of the inning.
Leibold led off with a drive to deep right field that was tracked down by Neale, but Eddie Collins shot one through the box for a base hit and Weaver sent him to third with a double to right. Jackson smoked a hard line drive to right for a two-bagger that scored Collins and Weaver. Felsch popped out to first, but Chicago got lucky when Gandil's drive to right got lost in the sun and landed 30 feet from Neale. By the time the dust settled, Gandil was on third with a triple and the White Sox had cut the lead to 10-4.
Roush also had trouble with the sun on Risberg's fly, but seemed to have recovered before dropping the ball, and Gandil scampered home with Chicago's fourth run of the inning. Eller got Schalk to ground out to second and the game went into the ninth. Wilkinson survived a leadoff single by Rath and kept the game at 10-5 with one more chance to at least pull even. Eddie Murphy pinch-hit for Wilkinson and took first when Eller's third offering hit him. Leibold poled what looked to be a hit to center but Roush made a spectacular catch, "barely getting to it, and turning a somersault, holding the ball."9 Murphy had to hold first, but made second on Collins's third hit of the game, then went to third on a long fly to right by Weaver.
That brought up Shoeless Joe Jackson with a chance to get the Sox closer, and when Collins stole second all it would take was a base hit to pull them to within 10-7, but Jackson grounded out to Rath and the Cincinnati Reds were world champions for the first time in franchise history.
This article will be published in an upcoming SABR Digital Library book on the greatest games at Comiskey Park.
Sources
In addition to the sources cited in the Notes, the author also accessed Retrosheet.org, Baseball-Reference.com, and SABR.org.
Notes
1 Jacob Pomrenke, "Lefty Williams," SABR BioProject, sabr.org/bioproj/person/0998b35f. Eliot Asinof, Eight Men Out, (New York: Simon & Schuster, 1963), 128. Asinof wrote that Boston gambler Sport Sullivan wanted to ensure that Williams was "in the bag" so he hired a man named Harry F. to threaten Williams, which he did, telling him that Cincinnati needed to be assured of a victory by the end of the first inning. Asinof later admitted that Harry F. was a fictional character.
2 Pomrenke, Williams biography.
3 William F. Lamb, Black Sox in the Courtroom: The Grand Jury, Criminal Trial and Civil Litigation (Jefferson, North Carolina: McFarland & Company, Inc., 2013), 59.
4 Fred R. Coburn, "Short Squibs on the Game," Minneapolis Star Tribune, October 9, 1919.
5 Damon Runyon, "Chicago Now Graciously Permits Cincinnatians to Hold That Jollification," Salt Lake Tribune, October 10, 1919.
6 W.O. McGeehan, "Play by Play Story of Game," New York Tribune, October 10, 1919.
7 W.O. McGeehan, "Cincinnati Reds New Baseball Champions – White Sox Beaten in Eighth Game 10 to 5," New York Tribune, October 10, 1919.
8 Asinof, Eight Men Out, 133.
9 McGeehan, "Cincinnati Reds New Baseball Champions."
Additional Stats
Cincinnati Reds 10
Chicago White Sox 5
Game 8, WS
---
Comiskey Park
Chicago, IL
Box Score + PBP:
Corrections? Additions?
If you can help us improve this game story, contact us.
Tags
https://sabr.org/sites/default/files/images/RoushEdd.jpg
600
800
admin
/wp-content/uploads/2020/02/sabr_logo.png
admin
2019-09-17 14:00:02
2020-10-19 00:35:24
October 9, 1919: Cincinnati Reds beat the Black Sox to win first World Series championship