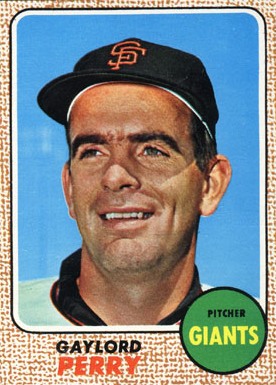 September 1, 1967: Marathon man Gaylord Perry goes unrewarded in Giants' 21-inning win
---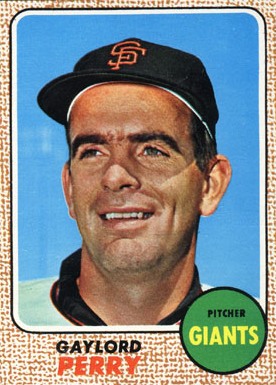 "A ludicrous way to end it all," wrote Bob Stevens of the San Francisco Chronicle after Dick Groat had walked to force in the winning run in the 21st inning.1
"At least the team won," said right-hander Gaylord Perry after pitching 16 scoreless innings and not figuring in the decision. "That's the breaks of the game."2
Over the years, Perry had pitched at least 10 innings in a game on more occasions (31) than anyone except Pete Alexander (47) and Walter Johnson (42). His longest effort came on Friday evening, September 1, 1967. He was coming off a start for the San Francisco Giants in which he shut out the Los Angeles Dodgers, but had taken a line drive off his ankle in the process. He was taped and ready to go. Perry pitched the first 16 innings of the scoreless duel that would ultimately consume 21 innings and 5 hours and 40 minutes.
The Giants were in Cincinnati to play the Reds at Crosley Field. The announced attendance was 13,745, few of whom were around for the end of the game, which was the longest night game in National League history to that point. The game lasted so long that Lou Smith of the hometown Cincinnati Enquirer left his readers hanging. For deadline reasons, his story went through only the 13th inning.
Perry's performance showed why he was elected to the Baseball Hall of Fame in 1991. He was matched against Mel Queen, and Queen matched Perry zero-for-zero until he was relieved by Ted Abernathy in the 10th inning. In his time on the mound, Queen threw 137 pitches, scattered eight hits, and struck out 10 batters. Abernathy pitched through the 13th inning, striking out two and allowing only one hit. Don Nottebart followed Abernathy and pitched in and out of trouble for five innings before surrendering the ball to Bob Lee. There were several unfulfilled scoring opportunities. The Giants, with a single by Willie Mays and a walk to Willie McCovey, had something going with two outs in the first inning, but Queen retired Jim Ray Hart on a comebacker. Over the first four innings Queen struck out seven Giants. Two of the strikeouts came in the second inning. Hal Lanier was standing on third base with one out but Tito Fuentes and Perry went down on strikes.
Perry was just as stingy on the mound in the early innings. Young Johnny Bench doubled with one out in the fifth inning but was left stranded. The Giants' Mays doubled in the sixth inning and advanced to third on a fly ball only to be stranded there as Ollie Brown grounded out to third baseman Tony Perez.
In extra innings, there were some cast changes but the futility continued. In the top of the 10th, Queen allowed an infield hit to pinch-hitter Jim Davenport and Perry advanced pinch-runner Ty Cline to second base with a bunt. At that point, Queen departed and was replaced by Abernathy. The next batter, Jesus Alou, was hit by a pitch but with one out and runners on first and second, Abernathy retired Tom Haller and Mays. The closest the Reds came to scoring was in their half of the 10th inning. Perry gave up singles to Tony Perez and Johnny Bench with one out and then walked the bases full before retiring Deron Johnson and Tommy Harper to extend the game further.
(Haller and Mays were both around when Perry pitched 10 or more innings in a game for the first time. On May 31, 1964, in the second game of a doubleheader, he pitched 10 innings in relief (innings 13 through 22) and was credited with the win as the Giants beat the Mets in 23 innings. Haller caught the entire game and Mays not only played the whole game but put in a three-inning stint at shortstop.)
The Giants mounted a threat against Nottebart in the 14th inning. Jim Ray Hart opened the inning with a single and with one out was forced at second by Hal Lanier. Groat came to the plate and doubled past third baseman Perez. Lanier was waved around as left fielder Pete Rose hustled after the ball in left field. Rose threw toward cutoff man Leo Cardenas, whose perfect throw to Johnny Bench nailed Lanier.
Perry, who had come into the game with nine consecutive scoreless innings, was lifted for a pinch-hitter in the 17th inning and Frank Linzy pitched the final five scoreless innings to earn the victory. Perry had thrown 186 pitches, 132 of which were strikes, before leaving, allowing 10 hits, striking out 12 batters, and walking only two. After summoning the strength to strike out Chico Ruiz for the final out of the Reds' 16th, he had run out of gas. "Herman (Franks, the Giants manager) asked me how I felt in the 14th and I told him I wanted to stay on," he said after the game. "But I just had it after the 16th."3 Cincinnati manager Dave Bristol spoke for his team, saying, "We couldn't hit him, let alone bunt him. I never saw anyone hold his stuff that long. He kept on throwing hard and we couldn't hit him."4 The hard-luck Perry, who during the season lost seven games by one run and was shut out on three occasions, saw his ERA drop to 2.96, although his record stood at 11-15.
When Perry left the field after the 16th inning, he acknowledged the crowd's cheers by waving his cap with his left hand. By then he couldn't summon the energy to lift his right arm. In the clubhouse, Perry offered this thought: "There is just no way, no way at all, for us to go 16 innings and not score one little ol' run. Or is there?" 5
In the bottom of the 17th inning it looked for a second as if the Giants might break through with a run. Lanier walked and was sacrificed to second by Groat. Jack Hiatt batted for Perry and singled, advancing Lanier to third base. However, the rally was snuffed out as pitcher Nottebart struck out Alou and retired Haller on a fly ball.
Perry's effort brought his scoreless streak to 25 consecutive innings. In his next start, he shut out the Houston Astros and then he pitched another six scoreless innings against the Chicago Cubs to bring the streak to 40 innings, a San Francisco Giants record. The run scored by the Cubs was unearned and was aided by a throwing error charged to Perry. He had used one of his "hard sliders" to force a runner at second base, and the ball went into center field. Three years later Perry would put together a 39-inning consecutive scoreless streak that included four shutouts.
Perry's record in the latter part of 1967 was phenomenal. In his 12 appearances, he went 7-4 with eight complete games, two shutouts, and an ERA of 1.05. And yes – in those four losses the Giants were held to one run or less on each occasion and the opposition never scored more than two runs.
In the Reds game the Giants finally scored in the 21st inning. Jim Ray Hart singled to center field, Ollie "Downtown" Brown doubled, and Hal Lanier was intentionally walked to set up a force at any base. Groat stepped to the plate for the Giants. Cincinnati pitcher Bob Lee was unable to find the plate with his 3-and-2 pitch and walked the veteran shortstop to force home Hart, who strolled the 90 feet from third base at a slow pace.
Linzy was credited with the win after striking out Pete Rose and Johnny Edwards for the game's final outs. The win was his sixth of the season against as many losses. Lee absorbed his third loss of the season. He had won two games.
With the win, the Giants climbed into fourth place, and got to within two games of the second-place Reds. By that point the Cardinals had distanced themselves from the pack, and the battle for second place was being fought by five teams. The Reds were 11 games out of first and the sixth-place Braves trailed the league leaders by 15½ games.
As always in a long game, numerous records were set. The game was the longest night game, in terms of both innings and time, in National League history, and the game at the time was the longest 1-0 game in major-league history. The record had a short shelf-life: The Mets and Astros played 24 innings at the Astrodome the following season before a one-out, bases-loaded groundball rolled between the legs of the shortstop, allowing the winning run to score.
This article was published in "Cincinnati's Crosley Field: A Gem in the Queen City" (SABR, 2018), edited by Gregory H. Wolf. To read more articles from this book at the SABR Games Project, click here.
Sources
In addition to the sources shown below and in the Notes, the author used Baseball-Reference.com.
Moeller, Bill. "Records Tumble in Reds' Marathon," Journal News (White Plains, New York), September 2, 1967.
Perry, Gaylord (with Bob Sudyk). Me and the Spitter, (New York, E.P. Dutton and Company, 1974).
Rapoport, Ron (Associated Press). "Gaylord Perry in Stellar Stint; Walk Settles Issue," Evening Sun (Hanover, Pennsylvania) September 2, 1967: 12.
Smith, Lou. "Reds, Giants in Scoreless Deadlock," Cincinnati Enquirer, September 2, 1967: 9.
https://www.baseball-reference.com/boxes/CIN/CIN196709010.shtml
http://www.retrosheet.org/boxesetc/1967/B09010CIN1967.htm
Notes
1 Bob Stevens, "Giants Win in 21 – But Not for Perry, San Francisco Chronicle, September 2, 1967: 31.
2 Sam Goldaper (United Press International). "Giants Nip Reds in 21-Inning Marathon," Jersey Journal (Jersey City, New Jersey), September 2, 1967: 7.
3 Associated Press, "Reds Finally Succumb to Giants 1-0, in 21 Innings," Hamilton (Ohio) Journal-News, September 2, 1967: 20.
4 Ibid.
5 Stevens, "Hats Off – Gaylord Perry," The Sporting News, September 30, 1967: 19.
Additional Stats
San Francisco Giants 1
Cincinnati Reds 0
21 innings
---
Crosley Field
Cincinnati, OH
Box Score + PBP:
Corrections? Additions?
If you can help us improve this game story, contact us.
Tags
http://bioproj.sabr.org/bp_ftp/images/PerryGaylord1968.JPG
600
800
admin
/wp-content/uploads/2020/02/sabr_logo.png
admin
2019-10-08 13:41:47
2020-04-17 10:22:28
September 1, 1967: Marathon man Gaylord Perry goes unrewarded in Giants' 21-inning win