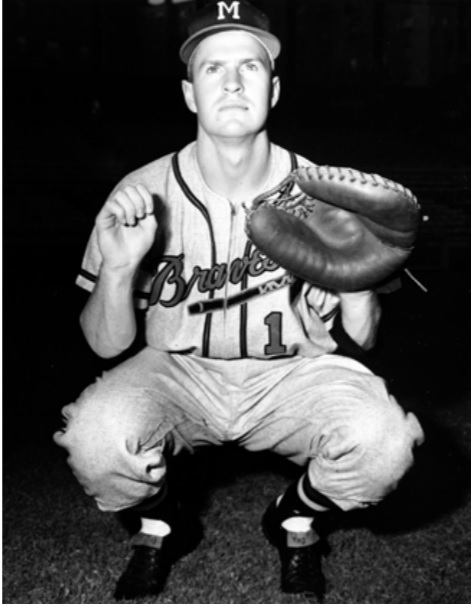 September 11, 1955: Crandall's two-out walk-off grand slam wins it for Braves
---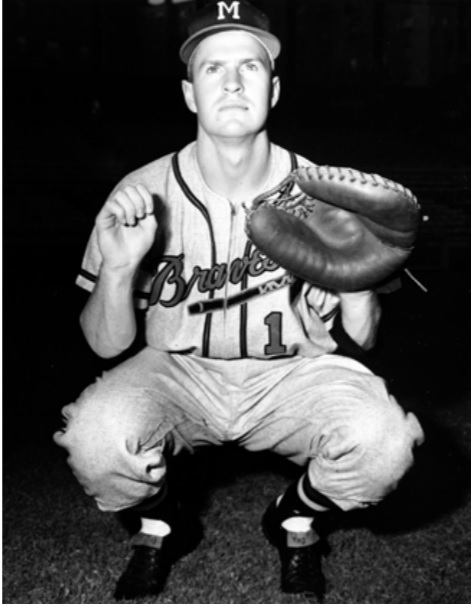 "One swing of Del Crandall's bat," wrote Bob Wolf of the Milwaukee Journal, "transformed a gloomy occasion into a triumphant one."1 Affectionately called Ned by his teammates for his all-American image, the 25-year-old Crandall stepped to the plate with the Milwaukee Braves trailing 4-1 against the Philadelphia Phillies in the first game of a doubleheader at County Stadium. With two outs and the count 3-and-2, Crandall fouled off two pitches before sending a waist-high fastball over the left-field fence to give the Braves a dramatic, come-from-behind victory. "I knew it was gone from the moment I made contact," said Crandall after the game.2
The Braves began the game in second place (78-64) in the NL, but a distant 16 games behind the Brooklyn Dodgers, who had run roughshod over competition all season long. With little chance to overtake the "Bums" in the last two weeks of the season, the Braves were playing for pride and to secure the second-place finisher's share of the World Series gate receipts. Skipper "Jolly Cholly" Grimm's squad had been floundering of late, having lost eight of 12 games, before taking a pair from the lowly Pittsburgh Pirates. Philadelphia's first-year manager, Mayo Smith, saw his club lose seven of its last nine games, but they still remained a game above .500 (72-71), 22½ games behind Brooklyn. In fourth place, the Phillies were jockeying for position in their attempt to string together four consecutive first-division finishes for the first time since 1905-1908.3
The pitching matchup featured two 28-year-old right-handers. In his fourth full season in the big leagues and just second in the starting rotation, the Braves' Lew Burdette was a fidgety, nervous hurler who seemed on the verge of becoming one of the best pitchers in the NL after notching 15 victories and finishing second in ERA (2.76) in '54. But he was not as consistent in '55, with an 11-8 record and a 4.22 ERA entering the game. Toeing the rubber for the Phillies was Herm Wehmeier, whose struggles with control (he led the NL in walks in 1949, 1950, and 1952) had exasperated managers and contributed to his poor career record to that point (69-87), although he came into this game with a 10-10 slate in '55.
A crowd of 26,426 was at County Stadium to take in a traditional Sunday doubleheader, the fifth and sixth games on Milwaukee's 11-game homestand. Even before some fans could take a sip of beer (which at the time they could bring into the ballpark), Philadelphia jumped on Burdette. Leadoff hitter Richie Ashburn singled, moved to third on Glen Gorbous's single, and scored when Braves shortstop Johnny Logan fumbled Granny Hamner's grounder. After cleanup hitter Del Ennis advanced both runners on a sacrifice bunt, Stan Lopata lofted a fly ball to left field to drive in Gorbous. Eddie Waitkus then slapped a "soft" single to left field to drive in Hamner, who beat Chuck Tanner's throw at the plate.4 But Crandall immediately fired a strike to second baseman Danny O'Connell to nail Waitkus trying to take an extra base. The latter two runs were unearned.
The Phillies stretched it to a 4-0 lead in the fifth inning on a strange and controversial play that also marked the end of Burdette's afternoon on the mound. With Wehmeier on first and one out, Ashburn hit a sharp liner down the first-base line. According to R.G. Lynch, sports editor of the Milwaukee Journal, umpire Hal Dixon "scurried" off the line to avoid being hit by what appeared to be a foul ball.5 Ashburn, in good position to determine if the ball landed in fair or foul territory, must have thought it was a foul because he turned back to the plate. However, Dixon ruled it belatedly fair. Red Thisted of the Milwaukee Sentinel reported that Ashburn broke out of the box only after he saw Wehmeier rounding third.6 By the time Hank Aaron retrieved the ball and tossed it to the infield, Wehmeier was safe at home and Ashburn was standing on first base (he was not credited with an RBI). Dixon's apparently botched call elicited a chorus of boos from the crowd, as well as strong criticism in Milwaukee sports pages the following day.
Staked to an early lead, the hard-throwing Wehmeier issued a leadoff walk to Billy Bruton and then retired the next 17 batters until Bruton singled to right field in the sixth. By the end of the eighth inning, the Cincinnati native had recorded seven strikeouts and yielded just three hits, and appeared headed for his first shutout since blanking the Braves on six hits on June 15.
Thisted thought the Braves "appeared to be a hopelessly beaten club" to start the ninth.7 That Milwaukee trailed by only four runs was a testimony to a yeoman's effort by a trio of Milwaukee relievers who kept the Braves within striking distance. Phil Paine, Dave Jolly, and Ernie Johnson limited the Phillies to just two hits over 4⅔ scoreless innings. The scrappy Logan led off the climactic last frame with what Wolf called a "bargain triple" when his bloop to right field landed in front of Gorbous and took odd hop away from the charging outfielder.8 Hot-hitting Eddie Mathews (18-for-51 with five homers in his last 14 games) smashed a deep sacrifice fly to foul territory in right field to drive in Logan and put the Braves on the board. Suddenly, the comatose crowd, which had been lulled to sleep by Wehmeier's dominance, woke up. Three of the next four Braves singled: Aaron beat out a grounder over the mound, Tanner lined one into left, and pinch-hitter Ben Taylor legged out a "slow hopper" to third base.9
With the partisan crowd now on its feet, the number 8 hitter, Del Crandall, stepped to the plate. Selected to his third consecutive All-Star squad in '55, Crandall had been in a miserable slump with only four hits in his last 38 at-bats. He had two homers and two RBIs in his last 12 games; however, one of those blasts was the game-winner two days earlier against the Pirates. An often overlooked hitter on teams with Aaron and Mathews, Crandall had walloped 21 round-trippers in 1954 and had 24 thus far in '55. "He has great ability and a fine spirit, and he is a leader," wrote Lynch, "but he has been a half season hitter."10 After a horrendous start, Crandall had clouted 20 of his homers in his previous 232 at-bats (in 71 games), a rate that neither Aaron nor Mathews matched.
After fouling off two pitches on a 3-and-2 count with two outs and the bases full, Crandall got set again. "The previous pitch which I fouled off was a little higher," said the catcher excitedly after the game. "Then he throws me this one — a fastball and about letter high but over the plate — and I tagged it just right."11 As the ball sailed over the left-field fence, County Stadium burst into a loud roar as one-by-one, Aaron, Tanner, Taylor, and finally Crandall crossed the plate to give the home team an exciting 5-4 walk-off victory. "Crandall could not have picked a more dramatic setting for his heroics," mused Wolf.12
Crandall had never hit a grand slam prior to 1955, yet this was his third in a span of less than a month. On August 17 he smashed his first in the Braves' 11-4 shellacking of the St. Louis Cardinals at Busch Stadium, and he walloped his second nine days later in a 7-1 victory over the New York Giants at the Polo Grounds. Crandall belted 179 round-trippers in his 16-year career, but connected for only one more grand slam.
The Braves offense continued clicking on all cylinders in the second game of the doubleheader. They pounded out 12 hits for a 9-1 victory to give Panamanian-born rookie Humberto Robinson a victory in his first start and the first complete game of his five-year career.
This article appears in "From the Braves to the Brewers: Great Games and Exciting History at Milwaukee's County Stadium" (SABR, 2016), edited by Gregory H. Wolf. To read more stories from this book at the SABR Games Project, click here.
Notes
1 Bob Wolf, "Crandall's Grand Slam Homer, Robinson's Hurling Sweep Pair," Milwaukee Journal, September 12, 1955: 13, Part 2.
2 Lou Chapman, "Del Thought He Was 'Gone,' The Ball Went," Milwaukee Sentinel, September 12, 1955: II, 4.
3 Teams finishing in the top four spots of the eight-team AL and NL received a share of the World Series gate receipts.
4 Red Thisted, "Crandall's Slam Features Twin Win," Milwaukee Sentinel, September 12, 1955: II, 3.
5 R.G. Lynch, "Maybe I'm Wrong," Milwaukee Journal, September 12, 1955: 13.
6 Thisted.
7 Ibid.
8 Wolf.
9 Ibid.
10 Lynch.
11 Chapman.
12 Wolf.
Additional Stats
Milwaukee Braves 5
Philadelphia Phillies 4
---
County Stadium
Milwaukee, WI
Box Score + PBP:
Corrections? Additions?
If you can help us improve this game story, contact us.
Tags
https://sabr.org/sites/default/files/Del%20Crandall.jpg
600
800
admin
/wp-content/uploads/2020/02/sabr_logo.png
admin
2018-03-05 22:03:19
2020-04-17 10:24:53
September 11, 1955: Crandall's two-out walk-off grand slam wins it for Braves