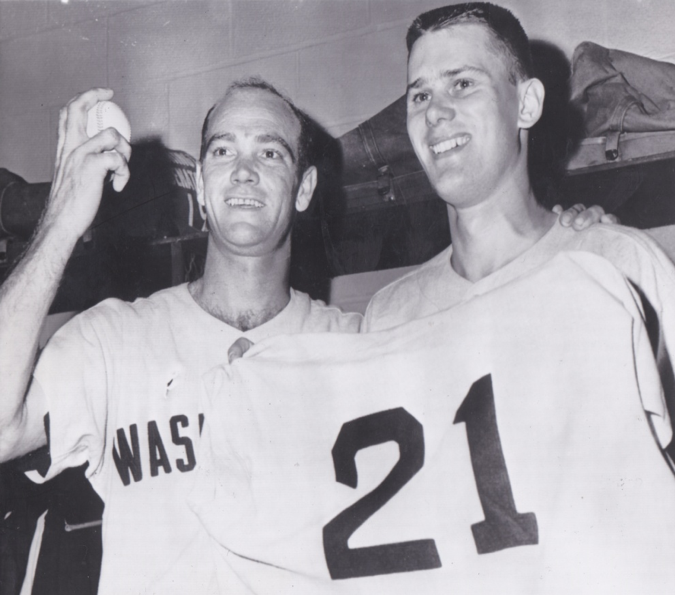 September 12, 1962: Tom Cheney strikes out a record 21 batters
---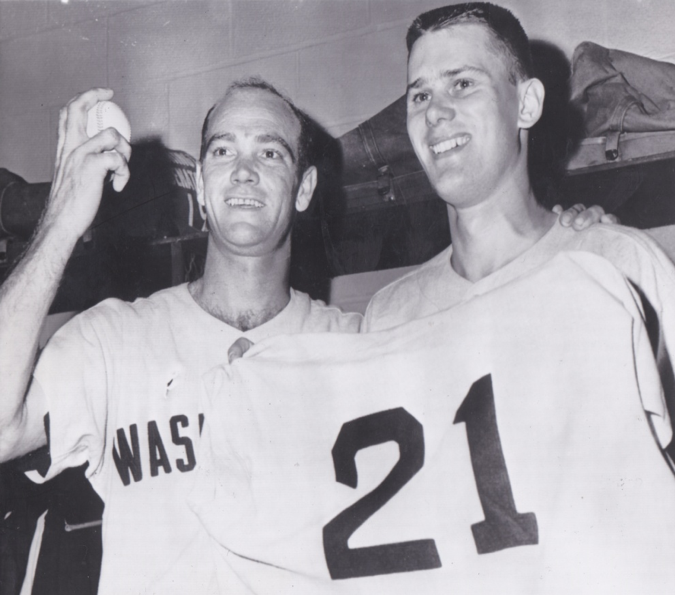 In 2019 a record 42,823 batters struck out1 — more than 17 per game. Dozens of pitchers today average a strikeout or more every inning.
Yet the single-game record of 21 strikeouts by a pitcher, set in 1962, still stands. Changes in the game — strict pitch counts and the rarity of starters going even nine innings — make it increasingly unlikely that the achievement by Tom Cheney of the Washington Senators on September 12, 1962, will ever be matched.
The man who did it was a journeyman who won just 19 games in a career derailed by a damaged arm. After several short stints in the majors with the Cardinals and Pirates, starting in 1957, Cheney began to harness his talents with the lowly Washington Senators in the 1962 season.
On this cool September night at Baltimore's Memorial Stadium, Cheney put it all together. Throwing 228 pitches2 — an amazing total even then — over 16 innings, the 27-year-old right-hander struck out 21 Orioles. At the time, his 21 strikeouts broke the existing mark of 18 for a twentieth-century game of any length. (Bob Feller and Sandy Koufax were the only ones to have fanned 18 in nine innings.)3
Just 4,098 fans showed up for the Wednesday night matchup between the sixth-place Orioles and the last place Nats. All-Star Milt Pappas started for Baltimore, facing Cheney, who came into the game with a 5-8 record and an ERA of 3.27.
Washington scored in the top of the first when Chuck Hinton followed Ron Stillwell's one-out single with a double. With the infield back, Bud Zipfel's grounder to first scored Stillwell. Cheney didn't strike out anybody in the first, but he yielded singles to Jerry Adair and Brooks Robinson to put runners on the corners with one out. Cheney got Jim Gentile to foul out and Boog Powell to ground out to end the threat.
The next five innings were scoreless, but Cheney began to show the great stuff he had warming up in the bullpen with coach George Susce. The Nats pitcher featured a good curve and fastball, a slider, and an occasional knuckler, all of which he was getting over in the pen. "If you don't pitch a no-hitter tonight, it'll be your own fault," Susce told him.4 Cheney struck out his first batter in the second and fanned another in the fourth. He struck out the side in the third and fifth. A strikeout in the sixth gave him nine.
The Senators threatened in the top of the seventh. Cheney's sacrifice bunt put runners on second and third with two out, but Pappas ended the inning — and his night — with a strikeout. The Orioles righty gave up four hits and a run in his seven innings.
Baltimore tied it in the bottom of the inning. With one out, Marv Breeding hit a ground-rule double. Charlie Lau pinch-hit for Pappas and drove in Breeding with a single to right. Russ Snyder's two-out single sent Lau to third. Cheney got Robinson on a foul popup to end the inning, but didn't strike out anybody.
"At times, I never saw the ball," said Robinson, who struck out once, walked twice, and singled against Cheney.5 Gentile, Breeding, Snyder, and reliever Dick Hall all fanned three times each.
Powell, who had one of Baltimore's 10 hits, was the only Orioles starter who didn't strike out. Nonetheless, he was in awe of Cheney's stuff that night, especially the curve. "It was just biting," he recalled on the 50th anniversary of the game in 2012. "It was a 12 o'clock to 6 o'clock. … He had it going. I was up there being butcher boy, just trying to fight him off," Powell, a noted power hitter, said. "If I would have swung the bat like I normally did, I probably would have struck out six times."6
Hall, who came up with the Pirates as an infielder, replaced Pappas on the mound and retired eight Nats in a row before walking John Kennedy with two outs in the 10th.
After the ninth and several times later, Washington manager Mickey Vernon asked Cheney if he wanted to come out. "I started the damn game and I'm going to finish it," Cheney responded.7 He retired 15 of 16 batters from the 10th to the 14th. He threw seven no-hit innings from the ninth through the 15th. Until the public-address announcer told the few fans still there that Cheney's 18th strikeout tied the record in the 14th, Cheney was unaware he had as many.8
After hearing that, Cheney walked around the mound twice, then fell behind in the count to Hall. "I really tried for a strikeout for the first time in the game. When my first two pitches went over Hall's head, I realized the mistake I was making," Cheney told reporters in the clubhouse.9
Pitching coach Sid Hudson "hollered from the dugout for him to take his time and get back into the routine," Bob Addie wrote.10 Cheney came back to get Hall swinging for number 19. "I struck him out on a slider," Cheney said after the game.11 "The few fans at Memorial Stadium gave him a nice ovation." Hall, on his way to the mound to pitch the 15th, tossed Cheney the ball to keep.12
Just six of the 21 K's were on called third strikes.13 Veteran umpire Bill McKinley was behind the plate that night.14 Cheney walked four batters: Adair and Powell waited him out once each, in addition to the two Robinson drew.
With one out in the top of the 16th, Zipfel, the Senators' left-handed-batting first baseman, drove one of Hall's pitches into the right-field stands.15 The Nats proceeded to load the bases, but two Orioles relievers kept the score 2-1 going to the bottom of the inning.
Cheney yielded a one-out single before getting a fly out and then pinch-hitter Dick Williams (who would go on to become a Hall of Fame manager) looking at a third strike — number 21 — to end the game at 11:59 P.M. Under the curfew in place at the time, no inning could begin after midnight. Had Zipfel not homered, the game would have been suspended after Cheney retired the Orioles in the bottom of the 16th.
"It was just one of those nights when everything I was throwing went for strikes. I got my curveball over consistently for the first time all year," Cheney said in the clubhouse. "I'm more stiff than tired."16 But "about 15 minutes after the game, I just wilted," he said in 1986. "I guess I finally realized what I did."17
Cheney, described by teammates as a nervous type, obviously was fueled by adrenaline. He chain-smoked between innings. "That game, he must have gone through three packs of cigarettes," teammate Hinton recalled.18
In the clubhouse, a smiling Cheney posed for photos, one with Zipfel and another holding up a ball that had "21" on it. Done with the interviews, "I sat down in the locker room. …The tension had worn off. I didn't realize I was that tired."19
"I can't explain it and neither can anybody else," Cheney told Washington Post columnist Thomas Boswell in 1991. "How'd I do it? That's a good question. Just something nobody knows. It was one of those times when everything works."20
"Cheney pitched a hell of a ballgame," Pappas recalled in 2012. "He had great stuff and he was hitting the corners. He pitched one of those games you dream about. … He didn't seem tired. At the end he seemed fresh, but he had to be dragging, because we were."21
Teammate Don Lock said Cheney suffered multiple cramps on the team bus returning to Washington. He said he believed the 228-pitch performance contributed to Cheney's arm trouble the next season.22 Cheney's daughter, Terri Cook, in a 2011 interview for his SABR biographical essay, said her father shared that view. "He pretty much blames that game for the decline of his arm," she told author Tim Herlich. In August 2012, she and her sister attended a presentation in Cooperstown by Herlich about their father. The family had decided to donate the ball from the 21st strikeout to the Hall of Fame.23
Cheney, who died in November 2001, was proud of his record-setting game, "but I never boasted about it," he said years later. "I didn't really want any publicity. I just wanted to do my job."24
"Records are made to be broken," Cheney said in May 2001. "But the way they treat pitchers now, taking them out of games early, I think 21 strikeouts may stay around for a while longer."25
Sources
The photo of Tom Cheney and Bud Zipfel was purchased by the author.
Career and season statistics from Baseball-Reference.com and Retrosheet.org.
baseball-reference.com/boxes/BAL/BAL196209120.shtml
retrosheet.org/boxesetc/1962/B09120BAL1962.htm
Notes
1 See https://www.baseball-reference.com/leagues/MLB/2019.shtml.
2 Senators coach George Susce told Bob Addie of the Washington Post at the time that Cheney had thrown 238 pitches, but the wire service stories all said the count was 228.
3 The pre-1900 record for a game of any length was 19.
4 Thomas Boswell, "Tom Cheney: The 21K Senator, Washington Post, September 13, 1991: F1.
5 Bob Addie, "Cheney Spins Whiff Magic With Crackling Curve Ball," The Sporting News, September 22, 1962: 25.
6 Doug Williams, ESPN.com, "50 Years Ago, Tom Cheney Struck Out 21," espn.com/blog/playbook/fandom/post/_/id/11088/50-years-ago-tom-cheney-struck-out-21
7 Ibid.
8 Addie.
9 Joe Donnelly, United Press International, "Cheney's 21 Whiffs a Record of Stamina," Philadelphia Daily News, September 13, 1962: 88.
10 Addie.
11 Ibid.
12 Addie.
13 UPI.
14 First-base umpire Nestor Chylak at some point ejected Orioles manager Billy Hitchcock for arguing a call at first. No account of the game I could find mentions the ejection. Retrosheet hasn't been able to determine the inning.
15 The homer would be Zipfel's last in the majors.
16 UPI.
17 Robert C. Gallagher, "Tom Cheney: He Fanned 21 Batters in a Single Game!" Baseball Digest, April 1986: 91.
18 Ibid.
19 Ibid.
20 Cheney gave up six runs in three innings in his start following his record-setter, losing to Yankees on September 18. But he pitched 8⅔ innings to beat the Red Sox in his next start, his last of the season, giving up one run and striking out 12.
21 Williams.
22 Bill Turque, "Q: Which Washington Senators Pitcher Set the All-Time Record for Strikeouts in a Single Game?" Washington Post magazine, June 22, 2008: 19.
23 Tyler Kepner, "Strikeouts Record Unmatched 50 Years Later," New York Times, September 8, 2012: SP2.
24 Associated Press, "Tom Cheney, 67, Pitcher Struck Out 21 for Record," Los Angeles Times, November 3, 2001: B18.
25 "Tom Cheney, Pitcher, Set Record," Atlanta Journal and Constitution, November 3, 2001: H9.
Additional Stats
Washington Senators 2
Baltimore Orioles 1
16 innings
---
Memorial Stadium
Baltimore, MD
Box Score + PBP:
Corrections? Additions?
If you can help us improve this game story, contact us.
Tags
https://sabr.org/sites/default/files/TomCheney.png
600
800
admin
/wp-content/uploads/2020/02/sabr_logo.png
admin
2019-10-23 13:13:40
2020-04-17 10:22:26
September 12, 1962: Tom Cheney strikes out a record 21 batters