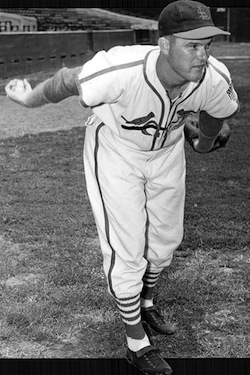 September 13, 1949: Red Munger's $50 night leads Cardinals to 1-0 win over Giants
---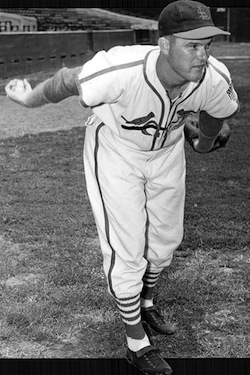 In 1949, the St. Louis Post-Dispatch distributed $50 savings bonds to Cardinals players for on-field heroics. Sluggers were rewarded for hitting home runs, and pitchers for shutouts. Preparing to face the New York Giants on the evening of Tuesday, September 13, 1949, starting pitcher George "Red" Munger noticed a Post-Dispatch reporter slipping savings bonds into the lockers of those players who had recently achieved the required feats. With the clubhouse otherwise quiet, the Cardinals starter called out to the reporter, "Get one of those ready for me. I'm going to pitch a shutout tonight."1 The 30-year-old Munger, an affable veteran considered "as friendly as a St. Bernard,"2 would take the mound with his club opening a 12-game homestand. With a 1½-game lead over Brooklyn in the season's homestretch, the Cardinals had little margin for error. That seemed not to faze Munger, who called out again as the reporter left the clubhouse, "Don't forget, get that bond ready."3
The game conditions suited Munger. With recent heavy rains and a sharp dip in temperature, the setting for the 8:30 P.M. first pitch was "topcoat weather."4 Munger commented, "I like cool weather because if you've got a good fastball this kind of night, you sting the hitters' hands, and they don't have as much fun up there."5
Sportsman's Park proved happy hunting grounds for the Cardinals, who had played .662 baseball at home in padding their league-leading 87-50 record. Pennant hopes were beyond the 67-70 Giants, who sat 20 games behind the Cardinals in a fourth-place tie with Boston. Because fourth-place finishers earned a sliver of World Series money, though, the Giants had financial incentive to remain engaged for the season's final weeks.6 To counter Munger, who already owned three wins over the Giants, New York manager Leo Durocher sent Dave Koslo to the mound. Based on his 9-11 record, it might have appeared that Koslo was having a season as mediocre as the Giants', but despite his team's lackluster year and his own lackluster won-lost mark, Koslo would complete the season as the NL's ERA leader.
Munger faced Bill Rigney to begin the game. Rigney hit the ball sharply toward left-center, but Cardinals center fielder Chuck Diering prevented an extra-base hit when his "swift sprint"7 allowed him to make the catch for the game's first out. Whitey Lockman flied out to right and Hank Thompson grounded to shortstop Marty Marion, which allowed Munger to open the game unscathed. In the home half of the inning, Diering grounded out and second baseman Red Schoendienst popped out to his opposite number, Thompson.
With two out, Schoendienst's roommate, Stan Musial, batted for the Cardinals. Trailing only Brooklyn's Jackie Robinson and teammate Enos Slaughter in the NL batting race, Musial needed 21 hits in his final 17 games to reach the 200-hit mark for the fourth time in his career.8 Musial attempted to pull away from Koslo's offering but hit a checked-swing roller past third baseman Sid Gordon that died just beyond the lip of the outfield grass. He alertly raced to second with his 33rd double of the season. When Nippy Jones lined a single into right field, Musial scored to give the Cardinals a 1-0 lead.
Munger's second inning started the same way his first inning ended, with a groundout to his shortstop. After Bobby Thomson flied out to Diering, Sid Gordon came to the plate. With the count 3-and-1, Munger "got the ball where I wanted it — a low fast ball."9 Gordon proved equal to the pitch, lining a single into center field in front of Diering. The Sporting News suggested later that Diering "might have made a desperate, diving catch of the ball, had he chosen to try."10 The commentary seems harsh, and even The Sporting News acknowledged that Diering probably made the smart play to keep the ball in front of him with two outs.11 How would Diering (or anyone) have known Gordon's hit would be New York's only one? The Giants could not convert the opportunity as Joe Lafata's pop fly to Marion ended the inning.
Marion and Del Rice began the Cardinals' second with fly outs to Thomson. Thomson "roamed far and wide in center," making seven putouts and robbing at least two Cardinals of extra-base hits.12 When Koslo struck out Munger after a single by Tommy Glaviano, the game moved to the third inning. Munger retired the Giants in order in the top half of the third. In the bottom half, Schoendienst, who entered the game hitting .299 as he chased his first .300 season,13 singled to left field with one out; however, Musial's double-play ball back to Koslo ended the inning. Perhaps lost in Munger's evening was Koslo's performance for the Giants. After surrendering a run in the first inning, Koslo "hurled airtight ball."14 He scattered nine hits while allowing no walks to St. Louis, and "was as rugged as a pitcher must be to hold a pennant-contending team to one run on nine hits."15
The game settled into a pattern: Munger would retire the Giants in order, while Koslo gave up the occasional hit. The fourth inning exemplified the game. The heart of the Giants order caused no trouble for Munger. Against Koslo, Slaughter looped a one-out double just inside the left-field foul line but would not score. Slaughter was returning to the lineup after leaving the second game of a doubleheader in Cincinnati two days earlier with cramps in both calves.16 The Cardinals captain was enjoying a fine season after a rough start. Manager Eddie Dyer benched the 33-year-old on May 11 with Slaughter hitting .254. After sitting out two games, Slaughter recovered his All-Star form and his current .339 average was well above his previous single-season high.
The Giants caught a break in the eighth inning when Munger made one of his few mistakes. Behind 3-and-1 in the count, Munger missed with his fastball and Thomson claimed first base. With Gordon batting, Giants manager Durocher called for a hit-and-run. To Thomson there must have been no doubt that the line drive off Gordon's bat would find the grass. He streaked around second base, which only made it easier for Marion to tag Thomson and complete an unassisted double play after he had snared Gordon's ball. Lafata lined out to Schoendienst for the third out. Koslo then continued his effective evening, for which he would receive no reward, by getting successive outs from Musial, Jones, and Slaughter.
Munger, on the other hand, stood three outs from his reward: a win and a savings bond. Monte Irvin pinch-hit for Ray Mueller and grounded to Schoendienst for the first out. Durocher finally lifted Koslo from the game, not for performance on the mound, but for another pinch-hitter, Bert Haas. On a night in which Munger's "assortment of hooks and slants [had] the Giants completely baffled,"17 Haas struck out. With the Giants down to the final out, Rigney came to bat. Marion slipped as he charged Rigney's slow groundball but "got away a hard and accurate throw as he plunged head-first to the infield grass."18 When the ball hit Jones's glove at first, Munger had completed his second shutout of the season and the first one-hitter of his career.
Considering the wintry conditions, the 16,418 fans in attendance likely appreciated the efficiency of the two pitchers. At one hour, 31 minutes, the game clocked in as the fastest of the season at Sportsman's Park. Cardinals players lingered in the clubhouse to catch the result of the Dodgers game in Cincinnati. After learning that the Dodgers tied the game in the ninth, the players slowly filed out and did not stick around for word of Brooklyn's extra-inning win. St. Louis maintained a slim lead over Brooklyn until the final week of season. In the end, Brooklyn claimed the NL pennant by one game over the Cardinals, but for one night in September, Red Munger was king.
This article appears in "Sportsman's Park in St. Louis: Home of the Browns and Cardinals at Grand and Dodier" (SABR, 2017), edited by Gregory H. Wolf. Click here to read more articles from this book online.
Sources
In addition to the sources cited in the Notes, the author also consulted baseball-reference.com and retrosheet.org.
Notes
1 Bob Broeg, "Munger Calls Shot on Shutout — Word as Good as Bond; Big Red's One-Hitter Keeps Cards Game and a Half Ahead," St. Louis Post-Dispatch, September 14, 1949: 2B.
2 "George Did It, Just Like That — And With Great Performance," St. Louis Post-Dispatch, September 14, 1949: 2B.
3 Ibid.
4 Broeg, "Munger Calls Shot."
5 Ibid.
6 Bob Broeg, "Cards Ready for Sportsman's Park Showdown With Heads Up," St. Louis Post-Dispatch, September 13, 1949: 2B.
7 "George Did It."
8 Broeg, "Cards Ready."
9 Ray Gillespie, "Year of One-Hitters in Majors — Three Hurled in 6-Day Period," The Sporting News, September 21, 1949: 10.
10 Ibid.
11 Ibid.
12 James P. Dawson, "Munger Hurls 1-Hit, 1-0 Victory for St. Louis, Facing 28 Batsmen," New York Times, September 14, 1949: 42.
13 Broeg, "Cards Ready."
14 Dawson.
15 "George Did It."
16 Broeg, "Cards Ready."
17 Dawson.
18 "George Did It."
Additional Stats
St. Louis Cardinals 1
New York Giants 0
---
Sportsman's Park
St. Louis, MO
Box Score + PBP:
Corrections? Additions?
If you can help us improve this game story, contact us.
Tags
https://sabr.org/sites/default/files/images/MungerRed1.jpg
600
800
admin
/wp-content/uploads/2020/02/sabr_logo.png
admin
2018-11-15 14:34:24
2020-04-17 10:23:46
September 13, 1949: Red Munger's $50 night leads Cardinals to 1-0 win over Giants