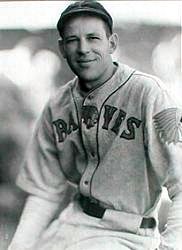 September 15, 1928: Braves play the last of record nine straight doubleheaders
---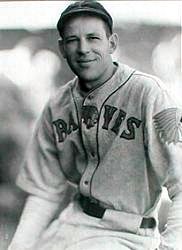 When Ben Cantwell took the mound for the Boston Braves at Braves Field on Saturday, September 15, 1928, it was the start of what would become his team's major-league record ninth consecutive doubleheader played.
The first eight had not gone so well for the seventh-place Braves, who would go 50-103 for the season and finish 44½ games out of first – a period in their existence that sportswriter Harold Kaese would later call "The Boston Punching Bag."1 The consecutive doubleheader streak began on September 4 and continued through the 15th. The Braves dropped both ends of the first doubleheader to the Brooklyn Robins, then took both games from Brooklyn the next day. Then they split a doubleheader in Philadelphia, but proceeded to drop both ends of the next five, one more in Philadelphia and four at home against New York.2
It was far from what the schedule maker had laid out for the Braves in the Official National League Schedule. The two weeks were supposed to have gone as follows:
Monday, September 3 (Labor Day), two games versus Brooklyn at home followed by single contests on the 4th and 5th.
A doubleheader on Thursday, September 6, in Philadelphia and single games on Friday the 7th and Saturday the 8th.
An offday on Sunday, September 9 [both Massachusetts and Pennsylvania still prohibited Sunday sports].3
Single games at home against New York, September 10-13.
A four-game set at home against Chicago beginning Friday, September 14, with no doubleheaders slated for the series.4
Nevertheless, the Labor Day twin bill was rained out, and those games were made up one each on the next two days; the doubleheader on the 6th was also postponed and those games also were made up one each on the next two game days; and four rainouts from April 23-25 and June 20 were pegged to be made up in four doubleheaders over four days, September 10-13, at home versus New York. And when the two games on September 12 were postponed due to rainy weather, they were pushed to another two-game day on Friday, September 14, since the single Chicago-Boston game originally scheduled for that date had already been moved to a Saturday doubleheader, doubleheader number 9, to free up the date in anticipation of the cold, wet weather forecast and to enable the Cubs to stay in Chicago one more day to make up a crucial game in the pennant race against St. Louis on Thursday before heading east by train on Friday.5
Boston had also played doubleheaders involving makeups at home against Philadelphia on the previous Friday and Saturday, and only a one-day jaunt to New York on Sunday to squeeze in a makeup game there (before coming back home for the scheduled holiday doubleheader on Monday) prevented the doubleheader streak from having been extended to 11 game days in a row. It was ironic that Sundays would one day become synonymous with doubleheaders, but for now in Boston Sunday baseball was illegal.
New York had used the eight-game surge to move from 4½ games back, past Chicago and into second place only one game behind St Louis in a pennant race the Cards eventually won by two games. Boston, on the other hand, had already been eliminated from the pennant race by the end of August. Despite having a rarely seen combination of two of the game's greatest all-time hitters, future Hall of Famers George Sisler and Rogers Hornsby, hitting third and cleanup, and right fielder Lance Richbourg, who would hit .337 with a career best 206 base hits in the leadoff spot, Boston had nonetheless scored the fewest runs in the league and was floundering toward the finish line. Sisler, whom many thought to be finished, batted .340 for the Braves, finishing fourth in the batting race; and Hornsby in his lone season with Boston led the league at .387.6 At the onset of the Cubs-Braves series, the Chicago Tribune opined, "After their four double bills with the Giants, the Braves are in such state that almost anybody is liable to pitch for them."7 Actually, the Braves had utilized eight different starting pitchers over the first 16 games in the streak, including their ace, Bobby Smith, in both ends of Friday's doubleheader. After getting knocked out in the first inning of game one, player-manager Hornsby brought him right back to start game two only to have Smith take the loss in both outings.8
Cantwell, still a rookie, brought a 2-3 record with a 5.26 ERA on four days' rest into the contest to try to put a halt to his team's sudden 10-game plummet. He escaped the first inning unscathed despite singles by Boston native Freddie Maguire and Hack Wilson. Then he received a most unexpected bonus: a four-run offensive explosion in the bottom of the first off 14-game winner Charlie Root. Jack Smith doubled down the right-field line with one out, Sisler grounded a single and Hornsby walked to load the bases. Then 37-year-old Eddie Brown tripled to right-center to clear the bases. He scored on a sacrifice fly hit by third baseman Les Bell that sent Wilson to the recently moved-in center-field fence.
Charlie Grimm and Gabby Hartnett opened the second with singles. But with one out, Johnny Moore, who had joined the team on the train east in New York and was making his major-league debut, batted for Root and hit into an inning-ending double play.
Cantwell cruised over the next three innings with Ben Tincup matching him zero for zero until the bottom of the eighth.9 Sisler opened with his third single; and Hornsby, now hitting .383, bunted him to second. Whereupon Brown singled and picked up his fourth run batted in of the game.
So Cantwell took a 5-0 lead into the ninth against a team scrapping to stay in the pennant race. Riggs Stephenson singled to start the frame. Grimm grounded to Hornsby, who forced Stephenson. But Doc Farrell dropped the ball before he could complete the relay to first. "Cantwell pitched a whale of a game," wrote the Boston Globe, "and really should have had a shutout."10 Hartnett struck out. Then Beck singled through the box. Veteran Cliff Heathcote pinch-hit and singled. Woody English also singled, scoring Grimm, and Earl Webb, batting for Maguire, walked to force home Beck and make the score 5-2. Norm McMillan ran for Webb as the potential tying run; finally Kiki Cuyler tapped one back to Cantwell, who retired him at first to end the game.
The opening-game loss by the Cubs to "the local comedians,"11 as Chicago Tribune writer Irving Vaughan derisively referred to the Boston nine, dropped the Cubs to 3½ games back of St Louis. Despite taking the next three from Boston, they never got back any closer.12
Game two pitted Chicago's Guy Bush (12-6) and the Braves' rookie left-hander Ed Brandt (9-18). This game would be a totally different story before the estimated crowd of 4,500 and a return to the Cubs' "customary machinelike effectiveness," according to the reporter Vaughan.13
English led off the game with a single. Maguire pushed a bunt single past Brandt. Cuyler also dropped down a bunt; Brandt threw late to third to get English, and the bases were loaded. Wilson spanked a single past short, good for two runs; and though he had hardly been tattooed, that was it for Brandt in favor of Foster Edwards. True to the Cubs' "machinelike effectiveness," Stephenson also laid down a sacrifice bunt to move both runners along, and Grimm hit a sacrifice fly to score the third run of the inning.
The Braves bounced right back to a degree in the bottom of the first. Richbourg opened with a double to right-center past Wilson, and Jack Smith, a five-time .300 hitter, promptly singled him home. However, Sisler grounded into a double play. Hornsby followed with a single, but the Tribe would muster only more single for the duration of the contest.
The Braves' one last threat came in the third. Smith walked, Sisler singled, and Hornsby walked to load the bases. Brown flied to center, and Smith, who had apparently scored on the play, was called out on appeal for having left third base early.
In the fourth English, who would gather four hits in the game, singled. With Joe McCarthy's bunch still playing small ball, Maguire laid down a sacrifice bunt, and Cuyler stroked an RBI single to center.
The Cubs closed out the scoring in the sixth against three Braves relievers. With Bill Clarkson on the hill, Cuyler walked, Wilson singled him to third, Stephenson's single scored Cuyler and sent Wilson to third, and Grimm's single scored Wilson. Virgil Barnes, who had started twice in the doubleheader streak, entered the game with a sore arm and bounced a ball well in front of the plate. Hornsby appealed to the umpires to be able to remove Barnes, but he was forced to finish the at-bat and walked Hartnett on four tosses.14 Finally, Kent Greenfield came on and got out of the inning with no further damage, but this ballgame belonged to Bush.
The Braves still had four more doubleheaders to play in September, making a total of 32 doubleheaders for the year, but Braves fans were glad to see this day's first-game win after the team had dropped 10 games in a row.15
This article appeared in "Braves Field: Memorable Moments at Boston's Lost Diamond" (SABR, 2015), edited by Bill Nowlin and Bob Brady. To read more articles from this book, click here.
Sources
Boston American, September 3-15, 1928.
Boston Sunday Advertiser, September 16, 1928.
Boston Globe, September 3-16, 1928.
New York Times, September 13, 1928.
Chicago Tribune, September 14-16, 1928.
Boston Herald, November 5, 1928.
Kaese, Harold. The Boston Braves (New York: Putnam Publishers, 1948).
Box scores for this game can be seen on baseball-reference.com, and retrosheet.org at:
http://www.baseball-reference.com/boxes/BSN/BSN192809151.shtml
http://www.retrosheet.org/boxesetc/1928/B09151BSN1928.htm
http://www.baseball-reference.com/boxes/BSN/BSN192809152.shtml
http://www.retrosheet.org/boxesetc/1928/B09152BSN1928.htm
Notes
Additional Stats
Boston Braves 5
Chicago Cubs 2
Chicago Cubs 6
Boston Braves 1
---
Braves Field
Boston, MA
Box Score + PBP:
Game 1:
Game 2:
Corrections? Additions?
If you can help us improve this game story, contact us.
Tags
http://sabr.org/sites/default/files/images/CantwellBen.jpg
600
800
admin
/wp-content/uploads/2020/02/sabr_logo.png
admin
2017-06-06 17:29:38
2020-04-17 10:25:49
September 15, 1928: Braves play the last of record nine straight doubleheaders