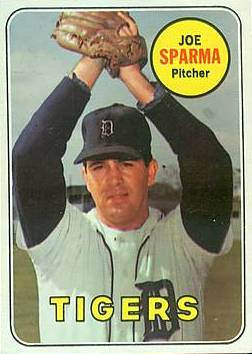 September 17, 1968: Unlikely heroes Sparma, Wert clinch AL pennant for Tigers
---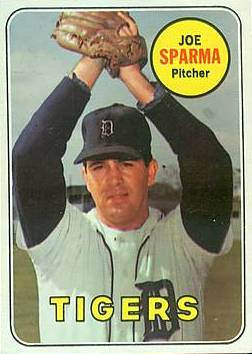 In the aftermath of the 1967 Detroit riots, Detroiters desperately needed something positive to take their minds off their torn city. Many sought solace in the Detroit Tigers, who emerged that summer as bona-fide pennant contenders.
An entire generation of Tigers fans had witnessed mostly mediocre baseball since the team last won the pennant in 1945. But in 1967, the team was entrenched in a four-team fight for first place. Detroit stayed in the race until the last day of the season, suffering a gut-wrenching loss to finish just one game out of first.
In 1968, the rejuvenated Tigers leapt from the gate with a 9-1 start. On May 10, they moved into first place for good. The team held off its biggest challengers, the Baltimore Orioles, by taking two of three from them in a late-August series.
Euphoria built steadily as the Tigers marched toward the pennant. The team specialized in comeback victories, winning 40 from the seventh inning on and 30 in their final at-bat.
By September 17, the Tigers' magic number stood at one. That night, Detroit would play the second game in a three-game series with the New York Yankees at Tiger Stadium. Fans still felt a rush of excitement three days after Denny McLain's historic 30th victory. A different Tigers pitcher emerged as a hero on the 17th. But the stellar performance came from the staff's least likely hurler.
Joe Sparma, a 26-year-old right-hander, was in his fifth season with the Tigers and without a defined role. Throughout his career, he showed flashes of brilliance but often struggled with his command. His blazing fastball and hard overhand curve were dominating — when he could find the strike zone. Tigers coaches felt Sparma lacked the focus needed to take his game to the next level.
"The Tigers loved Sparma's arm," said George Cantor, Tigers beat writer for the Detroit Free Press from 1966 to 1969. "He threw hard and was hard to hit. But he was always fighting to control his pitches. The coaches were frustrated with Joe, but I'm sure he was frustrated with himself, too."1
Sparma didn't help himself by chain-smoking, struggling to control his weight, and feuding with Tigers manager Mayo Smith. Sparma performed poorly in the season's first half, going 7-8 with a 4.01 ERA in 20 starts. Smith removed him from the regular starting rotation after he allowed three runs and five hits in an inning-plus against Oakland on July 17.
"I can't start him and he's too wild to pitch relief," Smith said. "What am I supposed to do — take him out and shoot him?"2
Sparma didn't accept his relief role willingly and became morose. The lack of communication with Smith made their relationship tense. Things boiled over on August 14 in Cleveland when Sparma received a spot start. He wasn't sharp, allowing three singles and three walks through 3⅓ innings. The Tigers led 1-0, but Smith removed Sparma in the fourth with two on and one out. Upon reaching the dugout, Sparma threw his glove in disgust and headed into the clubhouse. He felt Smith wasn't treating him fairly, and aired his complaints to Detroit Free Press columnist Joe Falls after the game.
"I may be through with this team now," Sparma said. "I don't know if I can pitch for that man anymore."3 The quotes appeared in Falls' next column.
Fans reacted very negatively to the piece, perhaps fearing a clubhouse squabble might derail the team's postseason chances. Sparma and Smith met briefly to iron out their differences, but their relationship remained frosty.
In his next two starts — the first on eight days' rest and the second 10 days afterwards — Sparma failed to make it into the sixth inning. He remained in Smith's doghouse, wandered aimlessly in the clubhouse and went 14 days without pitching. Some speculated the Tigers would make Sparma available in the 1969 expansion draft.
Then, with the club on the threshold of winning the pennant, Smith gave Sparma a last-minute surprise start.
Right-hander Earl Wilson was slated to start the September 17 game against the Yankees. But he felt shoulder soreness while warming up. Smith asked Pat Dobson to pitch, but he declined, saying he preferred to stick to his bullpen assignment. Smith then turned to Sparma.
"Just go in and throw hard as long as you can," Smith told Sparma.4
With five minutes to spare and no time to dwell on the pressure situation he was suddenly thrown into, Sparma quickly composed himself. More than 46,000 fans packed Tiger Stadium, hoping to see Wilson pitch the team to the pennant. They booed loudly when Sparma's name was announced in the starting lineup.
"No, I wasn't mad," Sparma said after the game. "Fifty thousand people booing me and I didn't care. I was just so glad to get a chance to pitch again."5
Sparma, who hadn't won a game since July 25, pitched the greatest game of his career. He allowed two singles in the first, but the Tigers erased the threat with a double play. Afterward, he was practically untouchable. Sparma pitched with conviction, remained consistently ahead in the count, and set down 19 of the next 21 batters.
As each inning passed, excitement built in the ballpark, as did fan support for Sparma. He gave the Tigers a 1-0 lead in the fifth inning with a single to center. The fans responded by giving him a standing ovation during his next at-bat in the eighth.
Anticipation rose to a fever pitch as Sparma strode to the mound holding a 1-0 lead in the ninth. But Jake Gibbs singled with two outs to drive in Dick Howser with the tying run. Sparma struck out Mickey Mantle for the third out.
Meanwhile, news reached the Tigers dugout that Baltimore had lost its game against the Red Sox. That result automatically made Detroit the American League champions. But Tigers officials didn't place the score on the scoreboard, fearing the fans would storm the field and force Detroit to forfeit. Likewise, the Tigers broadcasters withheld news of the Baltimore loss.
"We knew that Boston had beaten Baltimore and we were in," Tigers catcher Bill Freehan said. "But we still wanted to win it ourselves."6
Following their customary last-licks fashion, the Tigers did just that in the bottom of the ninth. After the Yankees retired the first two batters, pinch-hitter Al Kaline walked.7 Freehan then singled to left, moving Kaline to third. The Yankees brought in right-hander Lindy McDaniel to try to end the threat. Detroit countered with pinch-hitter Gates Brown, who walked. With the bases loaded, Don Wert, struggling with a .198 average and 37 RBIs, came to the plate. Fans crowded closer to the lower-deck box seats, anticipating a clutch hit. Sparma watched from the on-deck circle. After working a 2-and-2 count, Wert slapped a slider into right field. Kaline scored from third, giving the Tigers a 2-1 victory, Sparma his ninth win and Detroit its eighth American League pennant.
The winning hit ignited a wild celebration that would never be forgotten by those who witnessed it. Before Kaline could touch the plate, thousands of fans poured onto the field and swarmed around the new league champions. In the locker room, the Tigers whooped with joy, spraying champagne and covering one another in shaving cream. They also dunked teammates and innocent bystanders in the team whirlpool. No one was safe. Reporters, broadcasters, even Tigers general manager Jim Campbell and owner John Fetzer were dunked — suits and all.
During the chaos, Sparma spoke emotionally with reporters.
"I knew I was a competitor," he said with tears in his eyes. "And I think Mayo knew it. I just had to prove it again.8 I didn't have time to get nervous. All I could think of was all the trouble I've been in this year and how much pain it has caused my wife and my family. [The game] was beautiful, not for me, but for Connie. She's put up with an awful lot from me.9
Inside the park, the team staged a field-level fireworks display with slogans like "SOCK IT TO EM TIGERS." Detroiters, finally given something to celebrate, blasted their car horns, hugged strangers and tossed confetti from hotel windows.
And Joe Sparma, the man who had felt "humiliated" by his manager only a month beforehand,10 could rest easy for at least one night, his name etched forever in Detroit sports history.
This article appeared in "Tigers By The Tale: Great Games at Michigan and Trumbull" (SABR, 2016), edited by Scott Ferkovich. To read more articles from this book, click here.

Sources

In addition to the sources cited in the Notes, Retrosheet.org and Baseball-Reference.com were also accessed.
https://www.baseball-reference.com/boxes/DET/DET196809170.shtml
http://www.retrosheet.org/boxesetc/1968/B09170DET1968.htm
"1968 Detroit Tigers win the pennant part 1 of 3," YouTube video. Uploaded by Frank Albin. youtube.com/watch?v=p8PJpCkuU9s.
WJR-AM. Tape-recorded radio broadcast of New York Yankees at Detroit Tigers, September 17, 1968.
Notes
1 Jeff Samoray telephone interview with George Cantor, July 8, 2007.
2 George Cantor. The Tigers of '68: Baseball's Last Real Champions (Dallas: Taylor Publishing Company, 1997), 95.
3 Joe Falls. " 'Humiliated' Sparma Blasts Mayo," Detroit Free Press, August 16, 1968.
4 Larry Middlemas. "Fans, Tigers alike celebrate with vengeance," Detroit News, September 18, 1968.
5 Ibid.
6 Ibid.
7 After coming off the disabled list on July 1, manager Mayo Smith mostly used Kaline as a reserve player until after the Tigers clinched the pennant.
8 Ibid.
9 Pete Waldmeir. "In the midst of a hullabaloo, Sparma is an island of emotion," Detroit News, September 18, 1968.
10 Joe Falls. " 'Humiliated' Sparma Blasts Mayo," Detroit Free Press, August 16, 1968.
Additional Stats
Detroit Tigers 2
New York Yankees 1
---
Tiger Stadium
Detroit, MI
Box Score + PBP:
Corrections? Additions?
If you can help us improve this game story, contact us.
Tags
http://bioproj.sabr.org/bp_ftp/images3/SparmaJoe.jpg
600
800
admin
/wp-content/uploads/2020/02/sabr_logo.png
admin
2018-02-07 17:57:44
2020-04-17 10:24:56
September 17, 1968: Unlikely heroes Sparma, Wert clinch AL pennant for Tigers