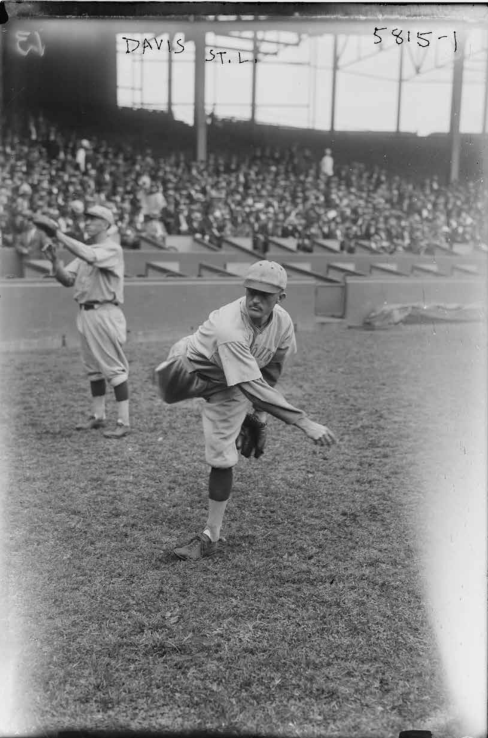 September 18, 1922: Browns, Yankees battle for AL pennant in the 'Little World Series'
---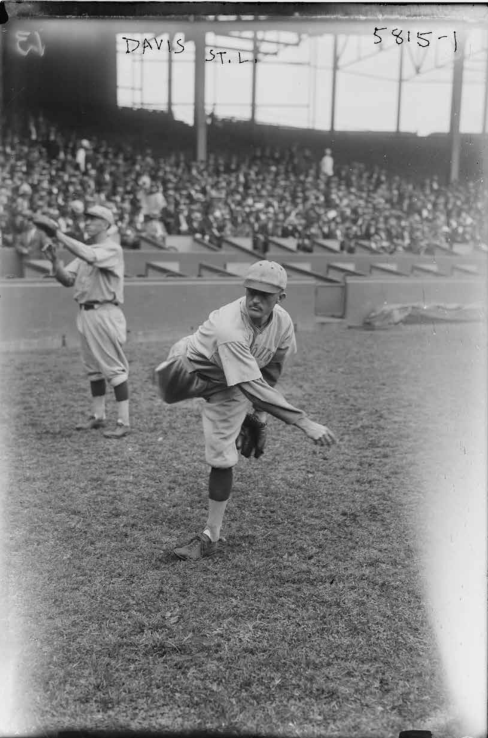 In 1922, the defending American League champion New York Yankees and the St. Louis Browns battled for first place all season long. The pennant was at stake when the Yankees came to Sportsman's Park on a mid-September weekend for a three-game "Little World Series" with only a half-game lead over the Browns. After the teams split the first two contests, the final game slipped away from the Browns in the ninth inning. "It was one of the most nerve-racking finishes ever flaunted before a St. Louis public," John Sheridan wrote in the Globe-Democrat. "That one inning will remain indelible in the memory of the fans who witnessed it – to the grave. It was a nightmare."1
Browns owner Phil Ball had additional field boxes constructed; they would serve him well when his team reached the World Series. Sportsman's Park had crowds of close to 30,000 for each of the games, including almost 10,000 behind ropes in the outfield, "making a farce of what should be the greatest series of the season to date."2 The contracted playing field figured to make the games high-scoring affairs, with many ground-rule doubles.
The Yankees won the first game of the series, 2-1, when they beat their old nemesis, Urban Shocker, on Saturday. He had already lost to them six times in 10 decisions this year, though he came into the game with an overall record of 23-15. In the bottom of the ninth, Yankee center fielder Whitey Witt was hit by a soda bottle thrown from the bleachers and knocked unconscious. For a few seconds, as fans spilled out of the stands and the Yankees came charging out of their dugout, many with bats in hand, the game seemed in danger of slipping out of control.
The Yankees won the game "amid scenes of riot and disorder never before seen on an American ball field," wrote Monitor in the New York World."3 Home-plate umpire Billy Evans recalled the time a St. Louis bottle had knocked him unconscious and fractured his skull in this ballpark, on September 15, 1907. The Browns' team doctor, Robert Hyland, said that Witt was fortunate the injury was not more severe than a laceration and slight concussion. Both Browns owner Phil Ball and American League President Ban Johnson put up rewards to apprehend the bottle-thrower. Ball announced that bottled refreshments would not be sold in the bleachers for the rest of the series.
The Browns won the second game, on Sunday, a 5-1 five-hitter tossed by screwball pitcher Hub Pruett, who "held the slugging Yanks in the hollow of his hand," in the words of the New York Times reporter.4 The rookie pitcher (who would finish the season with a 7-7 record and a 2.33 earned-run average) had handcuffed the great Babe Ruth all season long, repeatedly striking him out on that fadeaway pitch.
With the pennant hanging in the balance, the third game, on Monday, September 18, would climax with a series of moves and countermoves befitting a World Series Game Seven. The Yankees started Joe Bush, going for his 25th win. Browns manager Lee Fohl tabbed Dixie Davis, a journeyman who had won 34 games for them in 1920-1921.5 With so much at stake, Davis responded with the game of his life.
The Monday game drew 30,000, the biggest home crowd of the season. Long before the age of blogs and the internet, the center-field fans had communicated with each other and showed up wearing white shirts. Throughout the game, when the Yankees were at bat, they swayed back and forth, which gave the New Yorkers a difficult hitting backdrop.
For seven innings Davis held the Yankees to just two hits, both of them infield hits by Witt. At this point, the Yankees had scored but one run in 22 innings. Bush was almost as effective. "On an open field," New York sportswriter Frank O'Neill wrote, "Bush would have had a shutout. Joe was never better in his long and interesting life."6 However, St. Louis held a 2-0 lead, by virtue of routine fly balls that went into the crowd for what Monitor called "St. Louis two-baggers."7
The eighth inning started well for the Browns; Davis retired Witt for the first time that day. Then Joe Dugan doubled for the first legitimate hit of the game for New York. Davis then struck Ruth out on three pitches.8 Now came the first of a series of breaks – lucky breaks for the Yankees, bad breaks for the Browns. Wally Pipp singled off Davis's glove. The ball dribbled to second baseman Marty McManus, who had no chance of throwing Pipp out but compounded the matter by throwing to first, rather than holding onto the ball. He threw the ball away, and Dugan came in to score. Davis then rebounded by striking out Bob Meusel with a called strike three. The Browns were now just three outs away from taking back first place, but their lead had been cut to one run, 2-1.
After Bush retired the Browns in the bottom of the eighth, right-hander Davis returned to the mound. Incredibly, Yankees catcher Wally Schang got another infield hit off Davis's glove. Manager Miller Huggins went to his bench and sent lefty Elmer Smith to the plate to pinch-hit for Aaron Ward.9 Smith was an excellent pinch-hitter; he would finish his career 39-for-123 in that role, for a .317 batting average.10 The very first pitch to him got away from catcher Hank Severeid. On the passed ball, Schang moved to second.
Lee Fohl then made a move that would be discussed for years. He decided to pull Davis. "Davis was to be pitied," wrote the reporter of the World. "He pitched a remarkable game, one entirely unexpected for him, but Fohl apparently had no confidence in him when things began to break badly."11 Yet Fohl later explained that he had something very different on his mind. He went for the lefty-lefty matchup, a strategy not commonly used in 1922.12 "I took [Davis] out because I thought we could win with the shift."13
Fohl then brought in the previous day's pitcher, the southpaw Pruett. Roy Stockton of the St. Louis Post-Dispatch noted that this was where many of the second-guessers were focusing: not so much on whether Davis should have been pulled, but on whether Pruett was the one to have been brought in. Sid Keener, the sports editor of the St. Louis Times, understood. "Fohl's plan was to get Smith out of the game by calling for a southpaw."14 In that he succeeded. With the lefty now pitching, Huggins pulled Smith in favor of right-handed-hitting utilityman Mike McNally.
McNally laid down a bunt. Catcher Severeid threw low and wide to the foul side of third, and Schang slid in safely. It was an aggressive move, going for the lead runner. A perfect throw would have nipped Schang. There were now runners at the corners and no one out. Pruett then walked Everett Scott on four pitches; the game accounts indicate it was not intentional.15
Fohl now pulled Pruett for Urban Shocker, who had saved a number of games for the Browns in the past three seasons.16 Huggins decided to let Joe Bush, a good hitter, bat for himself.17 He grounded to McManus, who threw home. The throw was in the dirt, but Severeid got it on the first bounce to force Schang. But then Whitey Witt, with bandages still wrapped around his forehead from his injury, stroked a clean single up the middle, scoring McNally and Scott. The fans were stunned; the Yankees had taken the lead, 3-2. "Here was divine retribution, or poetic justice of the first order," wrote Harry Schumacher.18 Shocker then retired Joe Dugan on an inning-ending double play.
The heart of the Browns' lineup went quietly in the bottom of the ninth. George Sisler's record-setting hitting streak ended at 41 games.19 He would finish the season with a .420 batting average, but a recent shoulder injury had taken its toll. In this critical series, he managed but two hits in 11 at-bats.
One New York paper captured the dramatic finish this way. "Already St. Louis had raised the brimming bowl to its lips to drink deep of the nectar. … Almost before they knew it, the Browns were beaten and the sounds of reverie died. The silence was sepulchral."20 John Sheridan summed up the heartache of Browns fans. "Just like the old-time story books in which we used to read about fairies vanishing, so did a one-run lead the Brownies held going into the final inning waft into oblivion."21
The Yankees held on to win the pennant by one game.
Postscript
In a sidebar to Dixie Davis's obituary in the Sporting News of February 10, 1944, it was noted that this game of September 18, 1922, "has been the subject of more telephone inquiries than any other sports event of Mound City history," including Grover Alexander's 1926 World Series heroics.
This article appears in "Sportsman's Park in St. Louis: Home of the Browns and Cardinals at Grand and Dodier" (SABR, 2017), edited by Gregory H. Wolf. Click here to read more articles from this book online.
Notes
1 John B. Sheridan, St. Louis Globe-Democrat, September 19, 1922.
2 While it was not uncommon for teams of this era to allow fans on the field, neither the Giants nor the Yankees allowed them onto their home field, the Polo Grounds, despite the potential revenue they would have generated.
3 New York World, September 17, 1922. "Monitor" was the pseudonym of sportswriter George Daley. The Browns would later apprehend the bottle-thrower, a youngster. Supposedly, the bottle did not hit Witt directly, but rather flew up to his forehead when Whitey stepped on it.
4 New York Times, September 18, 1922.
5 Davis had made three trips to the majors without a win in the 1910s: the 1912 Reds, 1915 White Sox, and 1918 Phillies.
6 New York Sun, September 19, 1922. In the fourth inning, the crowd let Browns outfielder Baby Doll Jacobson catch Wally Pipp's fly ball. Yankee manager Miller Huggins protested that Pipp should be awarded a double. But the umpires ruled that Jacobson fell against the outfield ropes (behind which the fans stood) and did not go behind them. Twice during the game, Ruth tried to penetrate the wall of fans, unsuccessfully, as Jacobson and Williams both earned doubles and later scored.
7 New York World, September 19, 1922. The New York American said one of the doubles was almost a home run. Often there were such conflicting accounts of plays in different papers. Since this was long before the advent of video, there is no way to resolve these differences.
8 Ruth went 0-for-4 in this game and was not a factor.
9 Smith was best known as a Cleveland Indians hero in the 1920 World Series, when he hit the first grand slam in postseason play.
10 Smith was an excellent pinch-hitter; he would finish his career 41-for-132 in that role, for a .311 batting average; see retrosheet.org. As a pinch-hitter, Smith was 4-for-14 (.286 batting
average) in 1922 and would go 10-for-21 (.476) in 1923.
11 New York World, September 19, 1922.
12 Smith had played for Tris Speaker's Indians, where he was regularly platooned in the outfield with Smoky Joe Wood. Speaker had popularized the concept, which was then called a "double-batting shift" or "reversible" hitters. The word "platooning" did not even exist in baseball at the time.
13 St. Louis Times, September 19, 1922.
14 Sid Keener, St. Louis Times, September 20, 1922.
15 The Globe-Democrat, for example, said that Pruett seemed rattled after McNally's bunt, suggesting the walk was not intentional.
16 From 1920 to 1922, Shocker appeared in relief 29 times and earned 12 (retroactive) saves.
17 A career .253 hitter with 7 home runs and 59 doubles, Bush hit .325 in 1921 and .326 in 1922.
18 New York Globe and Commercial Advertiser, September 19, 1922.
19 Sisler had broken Ty Cobb's consecutive-game hitting streak of 40 the day before. None of the newspapers mentioned the nineteenth-century marks of Willie Keeler (44 in 1897) or Bill Dahlen (42 games in 1894).
20 New York Evening Telegram, September 19, 1922.
21 John B. Sheridan, St. Louis Globe-Democrat, September 19, 1922.
Additional Stats
New York Yankees 3
St. Louis Browns 2
---
Sportsman's Park
St. Louis, Missouri
Box Score + PBP:
Corrections? Additions?
If you can help us improve this game story, contact us.
Tags
https://sabr.org/sites/default/files/DavisDixie.PNG
600
800
admin
/wp-content/uploads/2020/02/sabr_logo.png
admin
2018-10-30 12:26:56
2020-04-17 10:23:49
September 18, 1922: Browns, Yankees battle for AL pennant in the 'Little World Series'