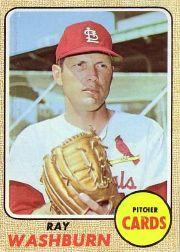 September 18, 1968: Cardinals' Ray Washburn no-hits the Giants
---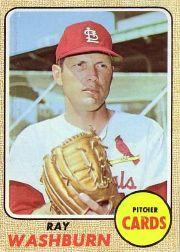 Folks by the Bay were still buzzing about the previous evening. A pitching matchup of two titans, Gaylord Perry of San Francisco and Bob Gibson of St. Louis, had gone toe-to-toe in a game that delivered what many had expected. Perry struck out nine and walked two as he hurled the only no-hitter of his career. Gibson, who had already won 21 games and had a spectacular ERA of 1.13, struck out 10 and walked two in the 1-0 defeat.
The game itself did not mean much, since the Cardinals had wrapped up the National League pennant a few days earlier in Houston. The Cardinals enjoyed an 11-game lead over second-place San Francisco with just 10 games left on their schedule.
Red Schoendienst's team had successfully defended their pennant from the year before. Now they had their sights on their second world championship in a row. Their opponent would be the Detroit Tigers in a rematch of the 1934 World Series. The American League race was also devoid of drama as Detroit enjoyed a lofty 11½-game lead over second-place Baltimore.
But first, the regular season had to be completed. The Giants fans who attended the afternoon game the following day at Candlestick Park on September 18 did not have much to cheer about as far as the standings were concerned. And the cobwebs on the turnstiles reflected their indifference: A minuscule crowd of 4,703 turned out for the game.
The pitching matchup might not have had the star power of a Perry or a Gibson, but still both starters were capable moundsmen. Toeing the rubber for St. Louis was Ray Washburn (12-7, 2.39 ERA). The 30-year-old right-hander was the fourth starter in a Cardinals rotation that also included Gibson, Nelson Briles, and a young Steve Carlton.
St. Louis trainer Bob Bauman had an inkling about this game. "When I was working on Washburn just before the game," said Bauman, "I told him, 'You're going to pitch a no-hitter today because you're going to get even with those guys. It was as simple as that. Nellie Briles was listening to us and said, 'Ray will settle for just a victory.'"1
San Francisco manager Herman Franks tapped righty Bobby Bolin to start for the Giants. Bolin, in his eighth big-league season, was used as both a starter and reliever by Franks. His record going into the game was 9-4 with a 1.95 ERA.
Both pitchers were on their game. After Orlando Cepeda walked and was thrown out stealing in the second inning, Bolin retired 10 Cardinals hitters in a row. Washburn was no slouch, either. After a one-out walk to Giants catcher Dick Dietz in the bottom of the second inning, Washburn got Ty Cline to bounce into a 6-3 double play. Washburn retired the Giants in order over the next four innings.
St. Louis ended the array of goose eggs on the scoreboard when Cepeda singled to center field with one out in the seventh inning. He moved up to second base on a groundout by Johnny Edwards. Cepeda scored on Mike Shannon's 27th double of the season, to right field.
The Cardinals may have had only one run, but the Giants had yet to get one hit off Washburn. In the bottom of the seventh inning, the Giants' Ron Hunt led off with a walk. Washburn whiffed Willie Mays, but walked Willie McCovey. On Jim Ray Hart's groundout to second, the runners moved up to second and third. With the Giants threatening, Washburn bore down and struck out Dietz to retire the side, preserving the Cardinals' 1-0 lead and his no-hitter.
St. Louis added to its advantage in the top of the eighth inning. Dick Schofield led off with a double to left field. He moved to third base on Washburn's sacrifice bunt to first base. Schofield held his position as Lou Brock grounded out to third base, but scored one batter later when Curt Flood hit an infield single to short.
Working with a 2-0 lead, Washburn surrendered a two-out walk to pinch-hitter Dave Marshall in the eighth inning. But he escaped further trouble when Bobby Bonds fouled out to first base for the third out.
The Cardinals went in order in the top of the ninth, and now the attention was Washburn. He needed only three more outs to record a no-hitter. But there was little anxiety as Hunt, Mays, and McCovey went down 1-2-3.
Ray Washburn became the fourth Cardinals hurler to pitch a no-hitter, the first since Lon Warneke no-hit Cincinnati on August 30, 1941. The stat line on Washburn read nine innings pitched, no hits, no runs, eight strikeouts, five walks. Only two batted balls left the infield. "I was just being careful," Washburn said of the five free passes he issued.2
Bolin pitched eight innings. He gave up two earned runs, struck out six, and walked two, before giving wat to Frank Linzy. Bolin's record dropped to 9-5.
"If Ray was wild with his fastball," said Cardinals catcher Johnny Edwards, "I didn't mind coming in with his breaking pitch when he was behind in the count because we knew he could get it over the plate."3
"I threw hard to Hunt in the ninth because he's the pesky type who usually gets his bat on the ball," said Washburn. "And when I got Hunt out, I felt that I could really go to work on Mays and McCovey."4
It was the first time no-hitters had been thrown in consecutive games. The feat was repeated in 1969 when the Reds' Jim Maloney blanked Houston on April 30, 1969, at Cincinnati's Crosley Field. The Astros' Don Wilson duplicated the effort the following day as held the Reds hitless.
On May 5, 1917, Ernie Koob of the St. Louis Browns no-hit the Chicago White Sox, and the next day Koob's teammate Bob Groom also hurled a no-hitter against the White Sox. But it was the second game of a doubleheader.
The Cardinals met the Detroit Tigers in the 1968 World Series, losing in seven games. Gibson won two games and Washburn won the third. But St. Louis could not solve Mickey Lolich. The left-handed hurler went 3-0 in the Series.
Sources
The author accessed Baseball-Reference.com (baseball-reference.com/boxes/SFN/SFN196809180.shtml) for box scores/play-by-play information, and other data, as well as Retrosheet (retrosheet.org/boxesetc/1968/B09180SFN1968.htm).
Notes
1 Neal Russo, "Washburn Heeds Doc's No-Hitter Order," St. Louis Post-Dispatch, September 19, 1968: C-1.
2 Neal Russo, C- 4.
3 Ibid.
4 Ibid.
Additional Stats
St. Louis Cardinals 2
San Francisco Giants 0
---
Candlestick Park
San Francisco, CA
Box Score + PBP:
Corrections? Additions?
If you can help us improve this game story, contact us.
Tags
https://sabr.org/sites/default/files/images/WashburnRay.jpg
600
800
admin
/wp-content/uploads/2020/02/sabr_logo.png
admin
2019-02-04 17:10:11
2020-04-17 10:23:40
September 18, 1968: Cardinals' Ray Washburn no-hits the Giants