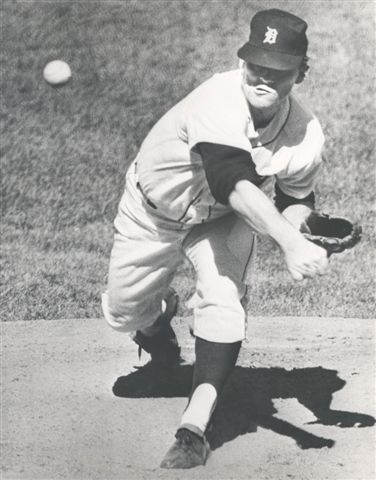 September 19, 1968: Denny McLain wins 31st game, serves up milestone homer to Mickey Mantle
---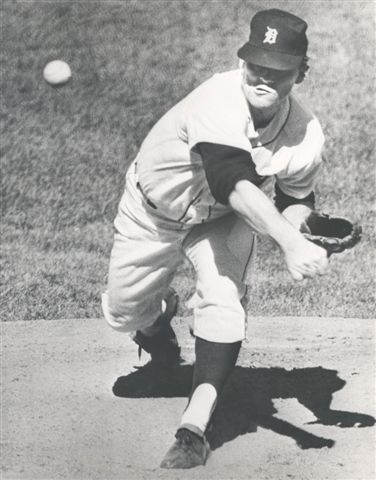 Either a Detroit Tigers win or a Baltimore Orioles loss would clinch the 1968 American League championship for Mayo Smith's squad. On September 17 the Tigers got both. The next day's game at Tiger Stadium was rained out. To the casual fan, the September 19 game with the New York Yankees, 18 games behind the front-runners, didn't appear to be a marquee matchup. The 9,063 who paid to see that contest knew differently. Two things made what would have otherwise been a meaningless September game historically important. First, Denny McLain was slated to pitch. Five days earlier, he became the first pitcher since Dizzy Dean in 1934 to win 30 games. He remained one win behind Lefty Grove's 31 wins in 1931. Second, it was Mickey Mantle's last game in Detroit. The Mick was tied with Jimmie Foxx on the all-time home-run list with 534 round-trippers.
Opposing McLain that afternoon was the Yankees ace, 20-game winner Mel Stottlemyre.1 He matched zeros with McLain through the first three innings. With two outs and nobody on base in the bottom of the fourth, Norm Cash lined his 23rd home run of the year into the lower deck in left-center field to put the Tigers up 1-0. The ball barely cleared the wall at the 365-foot sign.
The Yankees tied the game in the top of the sixth inning. After Horace Clarke grounded out, Jake Gibbs doubled to left field. McLain walked Mantle and then gave up an opposite-field single to Joe Pepitone. With the bases loaded and one out, McLain induced Bill Robinson to ground back to the mound. McLain threw home, forcing Gibbs at the plate. McLain then walked Tom Tresh, forcing Mantle home with the tying run. Andy Kosco flied out, ending the threat.
Detroit went ahead for good in its half of the sixth. Mickey Stanley began the inning with a walk. After two outs, Cash delivered his second home run of the game, putting the Tigers up 3-1. It was the second opposite-field home run for the pull-hitting Cash. Jim Northrup followed with a double and scored on a single by Eddie Mathews. Stottlemyre retired catcher Jim Price for the final out.
In the top of the seventh inning, Stottlemyre was lifted for pinch-hitter Dick Howser. Dooley Womack took over in the bottom of the inning and quickly found himself in trouble. After striking out McLain, he walked Dick McAuliffe. With one on and two out, Al Kaline doubled to left. He and McAuliffe scored on Wayne Comer's single. On a wild pitch and two walks (one intentional), the Tigers then loaded the bases, but Womack avoided further damage, retiring Don Wert on a comebacker to the mound.
With the score 6-1 in the eighth inning, Mantle came up to bat with one out for what was in all likelihood his last at-bat in Tiger Stadium. He received a standing ovation from the Detroit faithful. What happened next depends upon whom you listen to or what you read.2 According to David Nuttall, McLain met Price for a conference between the mound and home plate. Mantle eavesdropped on their conversation. "When Price returns to his place behind the plate, Mantle asks him whether he heard McLain right. Price tells Mickey that McLain has decided not to work on the Yankee slugger, but only to serve up fastballs. Still unsure that this ploy might not be a trick, Mantle takes a pitch for a strike over the heart of the plate. Nursing a big lead, McLain looks at Mantle quizzically as if to ask, 'Well?' Now taking McLain at his word, Mickey waits for the next pitch: a belt-high fastball over the center of the plate. Mantle fouls it off. Then, on the next pitch, McLain grooves up another perfect strike over the plate that Mantle launches it into the upper-deck grandstand in right field."3 The home run put Mantle third on the all-time home-run list behind Babe Ruth and Willie Mays.4
Bruce Markusen reported things differently. Quoting from Tim Wendel's Summer of '68, he wrote that McLain summoned Price to the mound. "I want Mantle to hit one," McLain told his catcher. Apparently Price didn't understand what McLain was trying to do. After Mantle fouled off the second pitch, McLain summoned Price to the mound for a second meeting, instructing his catcher to inform Mantle "to be ready."5
Or did Mantle "signal with a hand motion for McLain to give him a letter-high pitch," as stated in the Chicago Tribune?6
In a 2009 telephone interview, Price recalled, "When I got there [to the mound], Denny said, 'Hey, big guy, should I let him hit one?'" Price said he then asked Mantle, "Want us to groove one for you?" To which Mantle replied, "High and tight, mediocre cheese."7
New York Daily News reporter Joe Trimble wrote that after the second pitch, Mantle motioned to McLain, "Move it over a bit." McLain smiled in return. After the home run, "As he trotted past third base, the entire Tiger bench jumped up on the top step of the dugout and applauded. Mickey nodded to the man on the mound and said, 'Thanks.' McLain just grinned."8
An usher retrieved the ball and returned it to Mickey. Mantle signed the baseball and presented it to McLain as a gift. According to Jane Leavy's The Last Boy, the inscription read, "Denny, thanks for one of the great moments in my entire career, Mickey."9
Whether apocryphal or not, the story goes that Pepitone, hitting behind Mantle, asked McLain for the same pitch and was promptly knocked down by a fastball.
Mantle's home run ended the scoring. The Yankees got two men on in the ninth inning. With Mantle in the on-deck circle, McLain retired Gibbs on a fly ball to Kaline in right field to earn victory number 31.10
After the game, McLain feigned shock when reporters asked him if he had grooved one to his idol, Mantle.
"Keep a straight face and tell us you didn't," a newsman said.
"Denny tried, but had to cover his mouth with a towel."11
McLain wasn't through. "You don't think I'd deliberately throw him a home-run ball, do you? There would be a scandal and an immediate investigation of baseball," McLain said, tongue in cheek.12 In fact, "Before he left office, Commissioner William Eckert made inquiries on the giveaway home run."13
Through it all, there were no regrets. As catcher Price put it, "What we did was a gesture to a great player at [the] end of his career. It was offered by the pitcher — it was his suggestion and Mickey went along with it. We'd already clinched the pennant. I don't feel that I did anything wrong at all."14
Sources
In addition to the sources cited in the Notes, the author relied on Baseball-Reference.com and Retrosheet.org.
baseball-reference.com/boxes/DET/DET196809190.shtml
retrosheet.org/boxesetc/1968/B09190DET1968.htm
Notes
1 Stottlemyre would finish the year with a record of 21-12.
2 Mantle and McLain recall the incident in interviews available on Youtube: "Mickey Mantle: The Denny McLain gift home run #535" (youtube.com/watch?v=qdl6ABq6E3w) and "Denny McLain (2013) remembers 1968 Detroit Tigers" (youtube.com/watch?v=z7Jij5eqsfs).
3 David Nuttall, Mickey's Greatest Hits (New York: SPI Books, 1998), 235.
4 Mantle finished his career with 536 home runs. He hit number 536 the next night (September 20) at Yankee Stadium against Boston's Jim Lonborg.
5 Bruce Markusen, "Cooperstown Confidential: The Last Games of Mickey Mantle," September 27, 2013 (tht.fangraphs.com/cooperstown-confidential-the-last-games-of-mickey-mantle/).
6 "Mantle Calls for Right Pitch; Mclain Delivers for Homer," Chicago Tribune, September 20, 1968: 1.
7 Alan Schwarz, "The Day the Tigers Tipped Pitches for the Mick," NYTimes.com, May 8, 2009 (nytimes.com/2009/05/09/sports/baseball/09mclain.html).
8 Joe Trimble, "M'Lain Feeds Homer 535 to Mantle," New York Daily News, September 20, 1968: 88.
9 Markusen. Note — On the Mantle YouTube video (see note 1), Mantle displays a baseball with a different inscription.
10 McLain could have easily won 32 or 33 games in 1968. In his next start, he limited the Baltimore Orioles to two runs (one earned) in seven innings. The Tigers lost the game, 2-1. In his final start of the season, McLain departed after seven innings with a 1-0 lead over the visiting Washington Senators. The Tigers bullpen couldn't hold the lead. The Senators scored two runs in the ninth inning for a 2-1 win over the Tigers.
11 "Mantle Bows Out Swinging," Detroit Free Press, September 20, 1968: 48.
12 Chicago Tribune.
13 Watson Spoelstra, "McLain Crowned TSN's Man of The Year," The Sporting News, January 4, 1969: 4. Eckert resigned as commissioner on December 6, 1968.
14 Schwarz.
Additional Stats
Detroit Tigers 6
New York Yankees 2
---
Tiger Stadium
Detroit, MI
Box Score + PBP:
Corrections? Additions?
If you can help us improve this game story, contact us.
Tags
https://sabr.org/sites/default/files/McLain%20Denny%20%207740.90%20NBL.jpg
600
800
admin
/wp-content/uploads/2020/02/sabr_logo.png
admin
2020-02-18 10:23:28
2020-04-17 10:22:18
September 19, 1968: Denny McLain wins 31st game, serves up milestone homer to Mickey Mantle