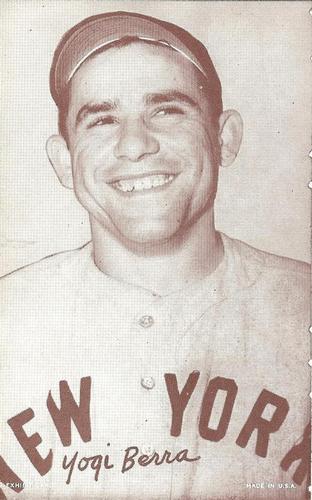 September 22, 1946: Yogi Berra and Bobby Brown shine in MLB debut with Yankees
---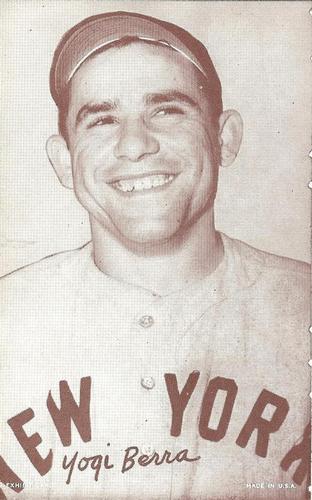 For the third straight year, the New York Yankees were not headed to the postseason. According to Jim McCulley of New York's Daily News, the 1946 Yankees (82-65) were "stoically situated in third place and going no place else."1 The Philadelphia Athletics (49-97) were finishing in last place for the second consecutive campaign (and sixth time in their last seven seasons). As the Yankees hosted the A's in a two-day, three-game series in the Bronx for their final home appearance, New York brought three players up from its Newark club to make their major-league debuts: Bobby Brown (shortstop), Larry "Yogi" Berra (catcher), and Frank Colman (outfield). Brown and Berra started the first game and saw action in both ends of a doubleheader while Colman played only in the second contest. Despite the standings, a crowd of 24,0512 turned out to see the Sunday afternoon action.
Spud Chandler toed the rubber for the home team, while Jesse Flores had the pitching duties for the visiting Athletics. Chandler brought a record of 18-8 and an earned-run average of 2.14 to the mound. Flores was seeking his 10th victory, sporting a 2.41 ERA.
Both pitchers lost their bids for a no-hitter with the first batters they faced. Don Richmond singled off of Chandler to start the game, but the New York righty set down the next three batters. Snuffy Stirnweiss also singled to start the bottom of the first. An out later, Brown lifted a ball to right, but Pete Suder couldn't make the play and Brown reached second on the error, with Stirnweiss advancing to third. Joe DiMaggio singled, driving in Stirnweiss for his 92nd run batted in of the season. Brown held up at third on that play but came home when Charlie Keller hit a fly ball, giving the Yankees a 2-0 lead.
Stirnweiss started things again in the third with another single. After Tommy Henrich was retired, Brown singled to center, but Stirnweiss was cut down trying to advance to third base. It was Brown's first hit in the big leagues.
An inning later, New York's Keller led off with a single. The Yankees had put their leadoff man aboard with a single in all four innings so far. After Flores retired both Billy Johnson and Johnny Lindell, Berra stepped into the batter's box. Flores had retired him in his inaugural at-bat in the second inning, but this time Berra rapped the ball into the lower bleachers beyond the right-field wall for his first big-league hit, a home run. His first of 358 career homers extended the Yankees' lead to 4-0.
Chandler "found himself in straits from time to time in the opener, but managed to escape."3 Philadelphia first baseman Bruce Konopka singled to start the fifth. After Chandler retired Jack Wallaesa, Flores helped his own cause with a single. Richmond drove in Konopka with the third single of the inning to end the New York shutout as Konopka scored. Oscar Grimes bounced into a 6-4-3 double play, and the A's had to settle for one run. In the top of the sixth, Tuck Stainback singled to start the frame. Two more singles, by Buddy Rosar and Suder (RBI), accounted for a second Philadelphia run.
Meanwhile the Yankees rookies were still contributing, although the New Yorkers were done scoring runs. Brown worked a two-out walk in the fifth. After Henrich led off the seventh with a walk, Brown sacrificed him to second. Bill McCahan (who entered the game for Flores in the sixth inning) yielded a single to Berra in the sixth but retired the Yankees backstop in the eighth.
The Athletics had one final chance in the top of the ninth, trailing 4-2. Konopka walked and moved to second on Wallaesa's out. Irv Hall batted for McCahan and struck out. Richmond came through, though, with a single, and Konopka scored, trimming New York's advantage to one run. With the tying run on base and the go-ahead run at the plate, Chandler bore down and induced Grimes to ground out to Brown at shortstop. The Yankees had held on, winning 4-3.
The newspaper accounts reported that Brown, "a 22-year-old former Tulane medical student, was flashy afield."4 The left-handed hitter was also good with the bat, as he was the runner-up to Jackie Robinson for the International League batting championship in his first year in professional baseball. After one game, Brown's OPS was 1.167, while Berra's was a whopping 1.750. Both rookies were batting .500 to start their careers.
The second game of the doubleheader was halted by darkness after 5½ innings. Colman, playing right field, showed his power by blasting a two-run homer in the second inning. His Yankees overcame a 4-2 Philadelphia lead by pushing across a run in the fourth and scoring four more in the fifth. When the umpires called the game, the Yankees led 7-4, and it was a complete game.
Brown got a hit in each game of the twin bill. Bill Goodrich of the Brooklyn Daily Eagle wrote that Brown "seems a definite choice for an infield post with the Bronx ball club in 1947."5 Berra's clout in game one "enabled Spud Chandler to annex his nineteenth win of the year."6 Although Chandler allowed 10 hits to the Athletics, they were all singles. He walked three and struck out four. A week later, on September 29, Chandler again pitched the opening game of a doubleheader against Philadelphia, and he ended his season by shutting out the A's, 6-0, for his 20th win of the season. He allowed five hits (four singles) in notching his 20th complete game of the campaign. For the season, Chandler was 4-1 with four complete-game victories against Philadelphia. The 39-year-old topped the pitching staff with 20 wins and led the regular starters with a 2.10 earned-run average.
Yankees manager Johnny Neun had taken over as manager of the Bronx Bombers on September 13 from Bill Dickey, who had replaced the legendary Joe McCarthy (who skippered the Yankees from 1931 to 1946) on May 25. Dickey had played for New York since 1928, almost exclusively for McCarthy. In his only stint as manager, Dickey's record was 57-48 for the '46 team, but that wasn't good enough. The Yankees' ownership released Dickey on September 20, so Neun managed the final 14 games of the season, winning eight. After the season ended, he was gone from New York as well.7
From September 22 to 29, Neun inserted both Brown and Berra into the lineup seven times each. Brown always batted third and he played either shortstop or third base. In 24 at-bats, he batted .333 with an on-base percentage of .429. Berra kept moving up in the lineup, settling in the sixth spot. In 22 at-bats, he batted .364 with two home runs, and he slugged .682. After future Hall of Fame catcher Dickey left the team, rookie catcher Berra took his number (8), which was his for the next 18 seasons with the Yankees.
Author's Note and Postscript
In February 2004, I brought my Sabermetrics class from West Point, New York, to Montclair, New Jersey, to the Yogi Berra Museum & Learning Center. In a three-hour visit, we toured the museum with Mr. Berra as our guide. He thoroughly enjoyed speaking with our cadets. Then we had a question-and-answer discussion in the auditorium, where he told us tales of spending time in the Navy during World War II, playing for the Yankees, rooming with Bobby Brown and keeping in touch with other Hall of Famers. Three years later (January 2007), Dr. Bobby Brown visited West Point. He was in New York City for an annual baseball commissioner's office event and I drove into Midtown Manhattan to pick him up. We spent much of the day together, and I escorted him to a Sabermetrics class, introduced him to the leadership at the US Military Academy, sat and talked about family and drove him back to New York City that evening. We corresponded for the next several months as I took on the task of penning his SABR biography. He was proud of his baseball career, but just like Yogi Berra, Bobby Brown was even more proud of his military service. I am honored to have met and spent time with both men.
The second game of the doubleheader was called by darkness. However, the first night game at Yankee Stadium was played on May 28, 1946, four months earlier. Thanks to SABR colleague Bruce Slutsky for this information; no evidence was found explaining why the lights were not used in this contest.
Sources
In addition to the sources mentioned in the Notes, the author consulted baseball-reference.com, sabr.org and retrosheet.org. Only Retrosheet had a play-by-play, and many of the outs were listed as "out on an unknown play."
baseball-reference.com/boxes/NYA/NYA194609221.shtml
retrosheet.org/boxesetc/1946/B09221NYA1946.htm
Notes
1 Jim McCulley, "Yanks Nip A's, 4-3, in 1st," New York Daily News, September 23, 1946: 264.
2 This attendance figure is from the New York Times. Neither baseball-reference.com nor retrosheet.org lists the official attendance in its box scores. However, on the season schedule page (baseballreference.com/teams/NYY/1946-schedule-scores.shtml), baseball-reference.com lists the attendance as 24,951.
3 Louis Effrat, "Yanks Defeat Athletics, 4-3, 7-4, Chandler Gaining 19th of Season," New York Times, September 23, 1946: 40.
4 McCulley.
5 Bill Goodrich, "Brown, Berra, Colman, New Yankees, Impress," Brooklyn Daily Eagle, September 23, 1946: 13.
6 "Rookies Give Yanks Sweep," Washington Post, September 23, 1946: 11.
7 Bucky Harris managed the Yankees in 1947 and 1948, and in 1949, Casey Stengel took the helm, guiding the team to the American League pennant in 10 of his 13 seasons as manager and winning seven World Series titles.
Additional Stats
New York Yankees 4
Philadelphia A's 3
Game 1, DH
---
Yankee Stadium
New York, NY
Box Score + PBP:
Corrections? Additions?
If you can help us improve this game story, contact us.
Tags
https://sabr.org/sites/default/files/images/BerraYogi-portrait.jpg
600
800
admin
/wp-content/uploads/2020/02/sabr_logo.png
admin
2018-12-26 15:51:19
2020-04-17 10:23:42
September 22, 1946: Yogi Berra and Bobby Brown shine in MLB debut with Yankees