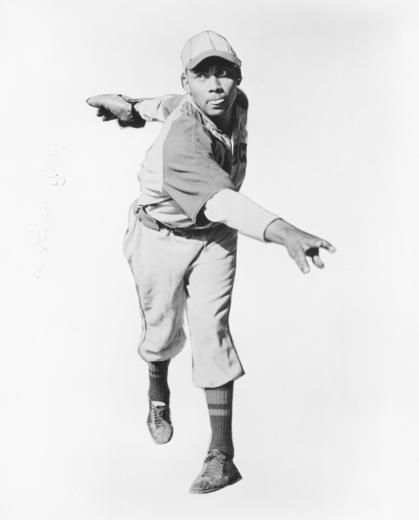 September 25, 1946: Hilton Smith goes the distance as Monarchs roll in Game 5
---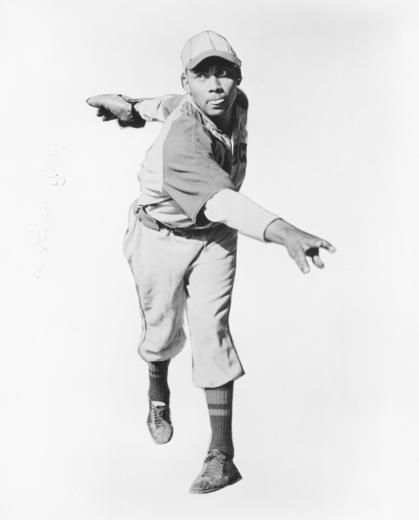 Negro League team owners could see the handwriting on the wall when Jackie Robinson signed a contract with the Brooklyn Dodgers to play in Montreal in 1946. Additional Negro League players, particularly the stars, would be sought out by major-league owners for their own teams, and the Negro Leagues' competitiveness would decline. Despite the bleak outlook for the future, the Negro Leagues were able to compete for a few more years before folding altogether.
Since 1942, one of the league's highlights had been the Negro World Series, a postseason series between the champions of the Negro National League and Negro American League. In 1946 the series matched the Negro National League's Newark Eagles against the Kansas City Monarchs of the Negro American League.
The Series schedule called for the first game to be played at the Polo Grounds in New York and the second at Newark's home field, Ruppert Stadium, followed by two games in Kansas City's Blues Stadium. If necessary, a game in Chicago's Comiskey Park and then a return to Newark would follow in a best-of seven series. It wasn't uncommon then for African-American teams, including barnstorming teams during the offseasons, to pursue opportunities to play in major-league ballparks, where they could draw bigger crowds and showcase Negro Leagues talent.
The World Series reportedly attracted dozens of major-league scouts who came to identify the top African-American talent in anticipation of further steps toward integration.1 Indeed, several of the stars of these two teams would eventually be among the first group of African-American players signed by Organized Baseball.
The Monarchs were without Jackie Robinson, who had played for them in 1945 before signing with the Dodgers organization for the 1946 season. However, Buck O'Neil, Hank Thompson, and Willard Brown rejoined the team in 1946 after returning from military service. Thirty-nine-year-old Satchel Paige, Connie Johnson, and Jim Lamarque were the star pitchers.
The Eagles' lineup featured a middle-infield combination of second baseman Larry Doby and shortstop Monte Irvin. Leon Day, Max Manning, and Rufus Lewis were the Eagles' best pitchers.
Newark had evened the series in Game Four in Kansas City on September 24 with an 8-1 victory. Irvin had four hits including a three-run home run.2
Game Five was played on September 25 at Comiskey Park, which had also been the site of one of two Negro Leagues East-West All-Star games in August.3 Kansas City newspapers reported a crowd of 4,000 attended the Wednesday night game, in which Kansas City was designated the home team.
Manning drew the starting assignment for the Eagles. He had pitched a complete game in Game Two in Newark (heavyweight boxing champion Joe Louis threw out the first pitch), and held the Monarchs to two hits. Kansas City countered with 39-year-old Hilton Smith as its starter.
The Monarchs' regular right fielder, Ted Strong, was absent from the team; he had left to begin his Puerto Rican Winter League assignment.4 Ford Smith, who was the starting pitcher in Game 2, took his place in the starting lineup.
Hilton Smith held Newark scoreless through the first four innings.
Thompson walked to lead off the bottom of fourth inning for the Monarchs. Brown fouled out to catcher Leon Ruffin and Thompson stole second base as O'Neil struck out. John Scott hit a hard drive to shortstop Irvin, who was unable to throw him out at first. Ford Smith singled to center field, scoring Thompson. Mickey Taborn lined out to right fielder Bob Harvey to end the inning.
Thompson again got things started for the Monarchs in the bottom of the sixth when he doubled to left field. Brown was retired on a grounder to second baseman Doby, with Thompson advancing to third base. O'Neil then executed a squeeze bunt to first baseman Lennie Pearson, which scored Thompson. Scott tripled down the left-field line. After an intentional walk to Ford Smith, Scott scored on Manning's wild pitch, making the score 3-0.
In the bottom of the seventh inning, the Monarchs scored two more runs. Hilton Smith opened with a single to right field. Chico Renfro drove a pitch that fell a foot within the left-field foul line for a single. Herb Souell fouled out to Irvin. Thompson struck out, but Brown doubled to right, scoring Smith and Renfro. O'Neil fanned to end any further threat.
Newark scored its only run in the top of the eighth when Irvin singled with one out and scored on Pearson's double to center. That ended the scoring; the Monarchs won, 5-1.
Winning pitcher Smith, who went the distance for the Monarchs, gave up 10 hits struck out eight and walked one. Manning took only his second loss of the season, yielding nine hits and three walks, while striking out seven in eight innings.
For the fourth time in five Series games, Newark had more hits than Kansas City but couldn't piece together enough of them to generate more runs. Jimmy Wilkes, Irvin, and Pearson accounted for six of the Eagles' hits, with two apiece. Monarchs shortstop Renfro played flawlessly in the field, handling six hard-hit chances.
The Eagles were facing elimination as the Series moved back to their home field, Newark's Ruppert Stadium, on September 27. But they evened the series again in Game Six with a 9-7 win and went on to capture the championship with a 3-2 victory in Game Seven on September 29.
Several of the players from the two teams went on to play in the majors. Doby became the first African-American player in the American League with the Cleveland Indians in 1947. Thompson and Brown made their major-league debuts that year, with the St. Louis Browns. Paige got to the big leagues in 1948 with Cleveland and Irvin in 1949 with the New York Giants, while Connie Johnson reached the majors in 1953 with the Chicago White Sox. O'Neil, Paige, Doby, Irvin, Hilton Smith, and Day have been elected to the National Baseball Hall of Fame.
Newark manager Biz Mackey and Monarchs owner J.L. Wilkinson were inducted into the Hall of Fame as early pioneers of the Negro Leagues.
Owned by businesswoman Effa Manley and her husband, Abe, Newark won its only Negro World Series title that year. Effa Manley became the first woman elected to the National Baseball Hall of Fame, for her leadership and vision in creating respect for Negro League baseball.
Sources
In addition to the sources cited in the Notes, the author consulted the following:
"Monarchs Take Lead," Kansas City Times, September 26, 1946.
Irvin, Monte, and James A. Riley. Nice Guys Finish First (New York: Carroll & Graf Publishers, 1996).
Luke, Bob. The Most Famous Woman in Baseball (Washington: Potomac Books, 2011).
O'Neil, Buck, Steve Wulf, and David Conrads. I Was Right on Time (New York: Simon & Schuster, 1996).
Overmyer, James. Effa Manley and the Newark Eagles (Metuchen, New Jersey: Scarecrow Press, 1993).
Seamheads Negro Leagues Database. seamheads.com/blog/category/negro-lgs/, accessed May 17, 2018.
Young, Frank. "Monarchs Win 5th Game of World Series Played in Chicago, 5-1," The Call (Kansas City), September 27, 1946.
Notes
1 Baseball Reference Bullpen, baseball-reference.com/bullpen/1946_Negro_World_Series, accessed May 17, 2018.
2 Ibid.
3 James Segreti, "West Defeats East All-Star Negro Nine, 4-1," Chicago Tribune, August 19, 1946: 27.
4 Baseball Reference Bullpen.
Additional Stats
Kansas City Monarchs 5
Newark Eagles 1
Game 5, Negro League World Series
---
Comiskey Park
Chicago, IL
Box Score + PBP:
Corrections? Additions?
If you can help us improve this game story, contact us.
Tags
http://sabr.org/sites/default/files/SmithHilton-HOF.jpg
600
800
admin
/wp-content/uploads/2020/02/sabr_logo.png
admin
2020-11-18 00:00:06
2021-07-14 23:34:51
September 25, 1946: Hilton Smith goes the distance as Monarchs roll in Game 5