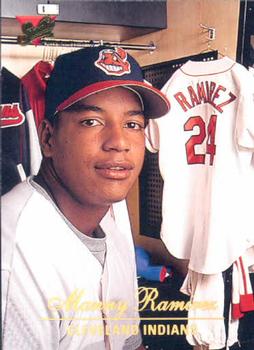 September 3, 1993: Manny Ramirez returns to New York City
---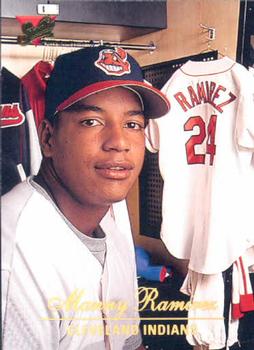 Certain baseball players were seemingly born with a baseball bat in their hands. They could roll out of bed in the morning, step into the batter's box, and spray line drives all over the ballpark. The names roll off the tongue: Ted Williams, Rogers Hornsby, Ty Cobb, Tony Gwynn, Rod Carew, Wade Boggs, Pete Rose, Roberto Clemente, and of late, Jose Altuve.
Manny Ramirez may be included in the above list. Ramirez was a September call-up for Cleveland in 1993. He was the Indians' first-round pick (13th selection overall) in the 1991 major-league draft out of George Washington High School in New York City. The school, located in Manhattan, was a who's who in its alumni: Harry Belafonte, Henry Kissinger, Alan Greenspan, Edwin Newman, and Carew.
Before he made his way to Cleveland, Ramirez batted .340 at Double-A Akron-Canton and .317 at Triple-A Charlotte in 1993. He combined for 31 home runs between the two teams. Still, the minors were the minors. The big leagues were a whole different ballgame, literally and figuratively. "We want to find out if Ramirez can handle major-league pitching," said Indians manager Mike Hargrove. "We want to find out if he's ready to make this team next year. That's why we called him up so soon. This will give us a month to look at him."1
Ramirez made his debut in the big leagues on September 2, 1993, at the Hubert H. Humphrey Metrodome in Minneapolis. He took the collar, going 0-for-4 as the designated hitter.
The Indians traveled from Minneapolis to New York City for a weekend series in the Bronx. Ramirez was born in the Dominican Republic, but was raised in the Washington Heights neighborhood of Manhattan. About 80 family and friends showed up at Yankee Stadium to support Ramirez, waving banners and chanting his name. "He's taking us all with him," said his high-school teammate and friend, Ralph Gonzalez. "He's putting Washington Heights on the map."2
On the mound for Cleveland was Bob Ojeda. It was a difficult year for Ojeda, emotionally and physically. He was the lone survivor of a boating accident that claimed the lives of Steve Olin and Tim Crews on March 22, 1993. The trio had been out on Crews' boat on Little Lake Nellie in Florida. The team had the day off from spring training and enjoyed the day at Crews' home, which was not far from the team's spring headquarters in Winter Haven.
After their cookout, Crews, Ojeda, and Olin climbed into the 18-foot bass boat, and circled around the lake. A neighbor's dock, which extended more than 50 yards, sat on the far side of the lake. As Crews accelerated, the front of the boat rose up, blocking their vision. As soon as the boat planed out, it was now under the dock. It was too late. The accident occurred in three feet of water. "We heard this loud thump and a crash," said Fernando Montes, the team's strength coach. "And it was silence, utter silence. I knew without any hesitation that Steve Olin had passed."3
Ojeda suffered lacerations on his head; he was slouching low in his seat and avoided a direct impact with the dock. But it was the emotional toll that took hold of Ojeda. After taking most of the season off, Ojeda returned to the playing field on August 7, 1993, at Baltimore in a relief appearance. The start against the Yankees was his fourth (0-1, 3.86 ERA).
The Yankees countered with Melido Perez. The right-handed hurler was not having a good season for New York (6-13, 5.07 ERA).
The Indians scored a run in the first inning when Kenny Lofton singled to center field. After Wayne Kirby struck out, Lofton stole second base and advanced to third when New York catcher Mike Stanley was charged with a passed ball. He scored on a grounder to first by Carlos Baerga.
Cleveland equaled that output in the top of the second inning. With one away, Ramirez hit a ground-rule double to left field. However, Ramirez thought it was a home run and rounded the bases. Third-base coach Jeff Newman stopped him at third, and directed him back to second base. The Ramirez contingent in left field celebrated his first major-league hit with much exuberance. Jim Thome grounded out to first base, and Ramirez moved to third base and scored one batter later when Felix Fermin singled to right field. "They (his teammates) gave him some guff about that," said Hargrove. "But Carlos Baerga straightened him out. You know, I never claimed to be a genius. But I always thought this kid could hit."4
The Tribe added two more in the top of the fifth inning when Sandy Alomar Jr. led off with a single and Lofton doubled to put runners at second and third with no outs. Kirby followed with a groundout to second base to score Alomar. Baerga collected his second hit, a single to left, to plate Lofton, and Cleveland had a 4-0 lead.
Meanwhile, Ojeda was throwing scoreless innings. The Yankees put runners on base but could not push any runs across the plate. The fourth inning was the only one in which Ojeda retired the side in order.
In top of the sixth, Cleveland's Paul Sorrento led off with a single. Ramirez followed with a blast to left field for a "no-doubter." As he circled the bases, his personal fan club went into a frenzy. Paul Gibson relieved Perez. Although two men reached base against Gibson, he got out of any potential trouble with a double play off the bat of Lofton.
New York finally broke through in the bottom of the sixth. With one out, Danny Tartabull singled to right field and scored when Stanley smacked his 24th home run. Ojeda was removed from the mound after he walked Paul O'Neil with two down. Jeremy Hernandez relieved him and retired pinch-hitter Wade Boggs to end the frame.
The score remained 6-2 in favor of Cleveland when Ramirez homered again. He deposited Gibson's 2-and-1 offering into the left-field stands. The Yankees got the run back when Hernandez walked the bases loaded. He was lifted for southpaw Derek Lilliquist. After Bernie Williams lined out to second, O'Neil drove in a run with a single to right field. Lilliquist then shut the door.
The 7-2 Indians advantage was the final score. Jerry Dipoto pitched two-thirds of an inning for his sixth save of the season. Ojeda won his first game with 5⅔ innings pitched, striking out four and walking two. Perez was handed his 14th defeat of the season.
As for Ramirez, he enjoyed the home cooking. "Those are all my friends that I went to school with and grew up with," he said. "It surprised me that I did something like this. I didn't think I'd get this much attention."5
Those were the only two home runs Ramirez hit in his month with the big-league club. Although he batted only .170, he had shown enough that he would not be returning to the minor leagues any time soon.
Sources
baseball-reference.com/boxes/NYA/NYA199309030.shtml
retrosheet.org/boxesetc/1993/B09030NYA1993.htm
Notes
1 Paul Hoynes, "Tribe Brings Up Ramirez and Milacki From Charlotte," Cleveland Plain Dealer, September 2, 1993: 3F.
2 Sara Rimer, "Neighborhood Hero Touches Every Base," New York Times, September 4, 1993: 29.
3 ESPN, Outside the Lines, Indians Boating Tragedy, March 18, 2003.
4 Paul Hoynes, "Ramirez Goes Home, Goes Deep," Cleveland Plain Dealer, September 4, 1993: 1D.
5 Ibid.
Additional Stats
Cleveland Indians 7
New York Yankees 3
---
Yankee Stadium
New York, NY
Box Score + PBP:
Corrections? Additions?
If you can help us improve this game story, contact us.
Tags
https://sabr.org/sites/default/files/RamirezManny-1994.jpg
600
800
admin
/wp-content/uploads/2020/02/sabr_logo.png
admin
2018-03-22 12:37:43
2020-04-17 10:24:52
September 3, 1993: Manny Ramirez returns to New York City