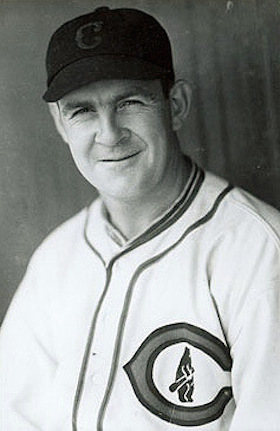 September 4, 1935: Augie Galan's slam and six RBIs flatten Phils to start 21-game winning streak
---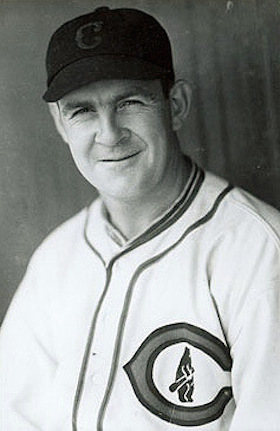 On the morning of September 4, 1935, longtime Chicago Tribune sportswriter Irving Vaughan wrote an article examining the National League pennant race, specifically, how the Cubs' prospects looked going into the final weeks of the season.1 From his perspective, the odds did not appear promising for the Wrigley Field squad.
Chicago was in third place, 2½ games behind the St. Louis Cardinals and a half-game behind the New York Giants. St. Louis had wrested the lead from New York at the end of August in the midst of winning 15 of their last 20 contests. Despite the seeming closeness in standings, Vaughan felt Chicago had a daunting challenge ahead.
While observing that Chicago would play 18 of its remaining 23 games at home, usually an advantage, he noted that the five road games were all in St. Louis. Meanwhile the Cardinals' remaining 28 games were all at home. St. Louis, which had gone 24-8 since August 1 with players like Dizzy Dean, Frankie Frisch, and Joe Medwick, hadn't shown any signs of slowing its pace in its quest for a second straight pennant. All this and nothing mentioned of the Giants. Ahead of the Cubs, world champions in 1933 and a close second to the Cardinals in 1934, their roster included the likes of future Hall of Famers Carl Hubbell, Travis Jackson, Mel Ott, and Bill Terry.
The last sentence of Vaughan's article shared that Larry French would start against the Phillies in the first of a four-game series that day. French had come to the Cubs in a winter deal with the Pittsburgh Pirates after a disappointing 12-18 performance in 1934. The 27-year-old left-hander had started slow with Chicago, losing his first three decisions, but had come on strong, winning 10 of his last 15 decisions and entering the game with a 12-10 record. By September 4, French had shown he was fitting in well with fellow Cubs starters Lon Warneke, Bill Lee, and Charlie Root.
Opposing French was Philadelphia's Orville Jorgens. Jorgens, also 27, was in his rookie year for the sixth-place Philadelphians. He started the game with a 9-11 record. The Phils were slumping, having lost seven of their previous 10 games. They had reason to be optimistic, however, as they had split the season's series with the Cubs thus far.
Before an estimated crowd of 5,000 at Wrigley Field, the Phils immediately went on the offense in the top of the first as leadoff batter Lou Chiozza singled and moved to third on an errant throw from Chicago's right fielder Chuck Klein. Ethan Allen drove Chiozza home with a sacrifice fly to left. The score remained 1-0 until the bottom of the fourth, when the Cubs struck back.
After giving up a leadoff single to Gabby Hartnett, Jorgens induced two successive force plays, the second of which left Phil Cavarretta at first. Jorgens then walked Stan Hack. Billy Jurges singled, driving Cavarretta in to tie the game. Jorgens next committed the unpardonable sin of walking French, his pitching counterpart, to load the bases, bringing leadoff batter Augie Galan to the plate.
Galan was one of the Cubs' major success stories in 1935. After he was brought up in mid-1934 as a second baseman, it soon became apparent he was not going to dislodge Billy Herman from the job. Converted to an outfielder in spring training, Galan found his niche, performing solidly on defense and offense. Going into the game against Philadelphia, Galan was second in the league in runs (107) and steals (17) while batting a solid .309. He also excelled in walks, ranking second in the league in bases on balls.
Galan's ability to garner walks was evidenced when Jorgens issued a base on balls to him, forcing Hack home and giving the Cubs a 2-1 lead. The score remained unchanged until the sixth, when Galan came to bat again. He hit his eighth home run of the year, giving the Cubs a 3-1 lead.
In the bottom of the eighth inning John "Pretzel" Pezzullo relieved Jorgens and promptly ran into trouble. Cavarretta singled, Hack was safe on a fielder's choice, and Jurges was hit by a pitch. Pezzullo was replaced by Jim Bivin. Bivin was in the first — and last — year of his major-league career. He entered the game with a 2-6 record (both wins against Chicago) and a 5.89 ERA.2 On Bivin's first pitch, French singled Cavarretta in to make the game 4-1.
On Bivin's next pitch, with the bases loaded, Galan planted it in the right-field seats for a grand slam, making the score 8-1.3
Philadelphia scored a meaningless run in the ninth. Chicago won 8-2, giving French his 13th victory for his eight-hit, four-walk, complete-game effort.
The loss started Philadelphia on a five-game losing streak, dropping the Phillies to seventh place, where they ended the season. That finish was the third of what would become 13 consecutive years in which the Phillies finished either seventh or eighth.
Only three major-league games were played this day. While Chicago won, so did New York and St. Louis. The Cardinals remained two games ahead of New York and 2½ games ahead of Chicago. Vaughan had noted, "The Cubs, who are counting on success in their long home stand to put them in first place," had merely kept place.4
Prior to the game Vaughan had calculated that if St. Louis merely played .500 ball the rest of the season, Chicago would have to post a 15-8 record to win the pennant. Counting their victory on September 4, St. Louis played much better than break-even ball, going 17-9 through the rest of September. Of their five home games against Chicago at the end of the season, St. Louis won two.
What was totally beyond Vaughan's or anyone else's vision was that including their victory on September 4 against Philadelphia, Chicago won 21 straight games, including the first three of the season-ending five-game series in St. Louis. The Cubs ended the year 100-54, the best record in major-league baseball, four games ahead of the Cardinals and 8½ ahead of New York. In modern times (since 1900) Chicago's 21-game winning streak is second only to the 1916 New York Giants' 26 consecutive wins. Unlike Chicago, however, New York did not win the pennant.5
French and Galan continued to do well through the end of the season. French's victory on September 4 was the first of five he contributed to the streak, ending the season with a 17-10 record. Galan continued to hit well, eventually batting .314, while leading the league in runs scored (133) and steals (22). He also set a major-league record by not hitting into a double play the entire season.6
This article appears in "Wrigley Field: The Friendly Confines at Clark and Addison" (SABR, 2019), edited by Gregory H. Wolf. To read more stories from this book online, click here.
Sources
In addition to the sources cited in the Notes, the author also accessed Retrosheet.org, Baseball-Reference.com, SABR.org, and The Sporting News archive via Paper of Record.
https://www.baseball-reference.com/boxes/CHN/CHN193509040.shtml
http://www.retrosheet.org/boxesetc/1935/B09040CHN1935.htm
Notes
1 Irving Vaughan, "Cubs Set Out Today on Trail of Cardinals," Chicago Tribune, September 4, 1935: 17.
2 Bivin's major-league career ended with a 2-9 record. He became a footnote in major-league baseball when earlier in the year, on May 30, while pitching against the Boston Braves; he induced Babe Ruth to ground out. It proved to be Ruth's last major-league at-bat. Mathew Clifford, "Jim Bivin," SABR BioProject, https://sabr.org/bioproj/person/1b48bc9a.
3 Irving Vaughan, "Augie's Second Smash Clears Bases in Eighth," Chicago Tribune, September 5, 1935: 23.
4 Ibid.
5 "MLB Record for Consecutive Wins by a Team, mlb.mlb.com/mlb/history/rare_feats/index.jsp?feature=winning_streaks. New York finished fourth, seven games behind the Brooklyn Robins. Retrosheet, https://retrosheet.org/boxesetc/1916/Y_1916.htm.
6 Detroit's Dick McAuliffe equaled the record in 1968; Houston's Craig Biggio in 1997. Oddly, while Galan never hit into a double play in 1935, he hit into a triple play on April 21 in a game against Cincinnati.
Additional Stats
Chicago Cubs 8
Philadelphia Phillies 2
---
Wirgley Field
Chicago, IL
Box Score + PBP:
Corrections? Additions?
If you can help us improve this game story, contact us.
Tags
https://sabr.org/sites/default/files/images/FrenchLarry.jpg
600
800
admin
/wp-content/uploads/2020/02/sabr_logo.png
admin
2019-12-02 14:08:43
2020-04-17 10:22:24
September 4, 1935: Augie Galan's slam and six RBIs flatten Phils to start 21-game winning streak