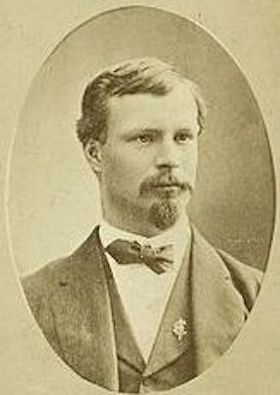 September 5, 1871: 'Bushel Basket' Gould hits first grand slam in professional baseball history
---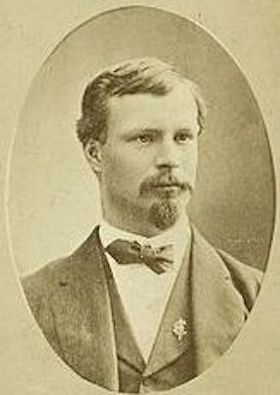 The grand slam. It is one of the most exciting, dramatic, and potentially game- and momentum-altering occurrences in baseball. Lou Gehrig hit 23 of them; Manny Ramirez 21; and the much-maligned and confessed PED-user Alex Rodriguez has hit the most (25). But the first one in professional baseball history? That honor goes to Charlie Gould of the Boston Red Stockings in 1871, in the inaugural season of the National Association.
On Tuesday, September 5, 1871, about 4,000 fans piled into Boston's South End Grounds to see what the Boston Daily Advertiser described as "by all odds the most interesting [game] witnessed here this season."1 Player-manager Harry Wright's Red Stockings were in third place (13-9) and coming off an overwhelming, 31-10 victory over the Cleveland Forest Citys three days earlier in their first home contest since June 21. Their opponent, the Chicago White Stockings, was in first place (17-5), and had been victorious in nine of its last 10 games. Boston hoped to avenge losses in their first two meetings, 16-14 on June 2 and 7-1 on July 7. The pitching matchup featured two righties: Boston's 21-year-old Al Spalding, en route to a National Association-high 19 victories, and Chicago's George "The Charmer" Zettlein (so named because his supposedly ever-present smile and jolly disposition drew comparisons to "George the Charmer" in minstrel shows). Both Spalding and Zettlein had started every game for their clubs so far this season. The pitching mound was 50 feet from home plate, and pitchers threw underhand.
The game commenced at 2:30 when umpire Nick Young, pitcher-manager of the Washington Olympics, yelled, "Play Ball." The Chicagos struck first. Player-manager Jimmy Wood, the club's best hitter (.378 batting average), "earned first" and then scored on what the Daily Advertiser called "two loose plays" (errors).2 Chicago threatened again in the next frame. After Tom Foley singled to right field and Ed Pinkham drew his league-high 16th walk, Charlie Hodes smashed a double into left field. With some "fast running," Foley scored, but Pinkham was thrown out at the plate by left fielder Frank Barrows.3 The White Stockings increased their lead to 3-0 in the third inning when Fred Treacey doubled and scampered home on Joe Simmons' "daisy cutter" between second baseman Ross Barnes and shortstop George Wright.4
Notwithstanding Zettlein's fine hurling, the Boston nine was probably not concerned about a three-run deficit after three innings. The club averaged 12.9 runs a game, second only to the champion Philadelphia Athletics' 13.4 per game. As if on cue, Dave Birdsall and Cal McVey led off the Red Stockings' fourth with hits. Harry Schafer reached first on a two-out error to load the bases. But the first grand slam in professional baseball history had to wait as Zettlein induced Barrows to pop up to second baseman Wood.
"Every Red Stockings inning except for the fifth may be disposed of with the remark that closed fielding and brilliant catching prevented them from tallying," wrote the Chicago Tribune.5 Harry Wright, Boston's number nine hitter, led off the fateful frame with a single. His brother George lofted a high fly to outfielder Tom Foley who dropped it. After Barnes lined out to left fielder Treacey, Birdsall hit a screeching liner to Wood. The Chicago Tribune reported that Wood handled it "prettily," pivoted, and threw wildly to shortstop Ed Duffy in an attempt to cut down George Wright at second.6 By the time Duffy recovered the ball, Harry Wright had scored and runners were on second and third. McVey followed with one of his league-leading 66 hits (good for a runner-up .431 batting average) to drive in George Wright, and then Spalding loaded the bases with a hit to third baseman Ed Pinkham. Up stepped Charlie Gould.
At an even 6 feet and about 170 pounds, 24-year-old first baseman Gould was one of the tallest players on the Red Stockings, trailing only 6-foot-1 Al Spalding. He was affectionately called "Bushel Basket" for his long arms and reach, which made it easier for fielders to throw the ball to him. A native of Cincinnati, he got his start in Organized Baseball in 1863, and played with the legendary Cincinnati Red Stockings clubs from 1867 to 1870 piloted by Harry Wright. When Wright left the Queen City to organize a team in Boston for the inaugural season of the National Association of Professional Baseball Clubs in 1871, he took along Gould, Cal McVey, and his brother George; he also brought with him the nickname, the Red Stockings.
With the bases loaded and Boston trailing 3-2, Gould had a chance for heroics, yet few players or fans probably thought about a home run. Boston hit only three all season; two of those were by Gould, his only homers in his six-year professional career. The entire league counted just 47 round-trippers in 1871. Gould waited "until he got a nice low ball," wrote the Chicago Tribune. "[He] hit a terrific drive, and before it stopped on the outside of the left field fence, the bases were emptied."7 The Boston Daily Advertiser praised Gould's "powerful arms" and "tremendous sweep" to give the Red Stockings a dramatic 6-3 lead.8 Zettlein retired Schafer and Barrows, but the damage was done.
"The Chicago boys, at least those who had been playing to win, seemed to lose all heart" after Gould's bases-clearing hit, opined the Chicago Tribune.9 Neither team scored or even mounted a serious threat for the rest of the game, which was described by the Boston Daily Advertiser as "very sharp."10 The game was completed in two hours.
In light of the low-scoring game, newspaper reports focused on fielding. At this time, fielders did not wear gloves; they became the norm about a decade later. While each team averaged about eight errors per game in 1871, Boston committed only four while Chicago tallied eight.11 The Chicago Tribune lamented that the game was lost "through loose fielding and weak hitting on the part of the Whites" and pointed to the "muffing line" of Duffy, Foley, and Wood as major reasons for the loss despite a strong outing by Zettlein.12 "Tom [Foley]," continued the paper, "seems to have lost all control over his nerves," and suggested that he should be replaced. Hodes, on the other hand, "showed himself to be a superb catcher" by throwing out two runners attempting to steal and permitting only one passed ball. The Boston Daily Advertiser praised George Wright and Gould for playing the "Cincinnati style" of baseball with smooth fielding and swift, sharp throws to first base; third baseman Harry Schafer, gushed the paper, "distinguished himself by holding two extremely hot flies, low down, for which he was heartily applauded."13
The gentleman/professional ball players apparently felt no ill will toward one another after the hard-fought game. According to the Boston Daily Evening Transcript, the Red Stockings took their guests to the Globe Theatre later that evening for the opening of a play, The Victims – The Forty Winks.14
This article was originally published in "Boston's First Nine: The 1871-75 Boston Red Stockings" (SABR, 2016), edited by Bob LeMoine and Bill Nowlin. To read more articles from this book at the SABR Games Project, click here.
Notes
1 "Base Ball – The Red Above The White," Boston Daily Advertiser, September 6, 1871.
2 Ibid.
3 Ibid.
4 "Games and Pastimes Defeat of the White Stockings by the Bostons, 6 to 3," Chicago Tribune, September 6, 1871: 4.
5 Ibid.
6 Ibid.
7 Ibid.
8 "Base Ball – The Red Above The White."
9 "Games and Pastimes Defeat of the White Stockings by the Bostons, 6 to 3."
10 "Base Ball – The Red Above The White."
11 Some contemporary newspapers claimed five errors and nine errors.
12 "Games and Pastimes Defeat of the White Stockings by the Bostons, 6 to 3."
13 "Base Ball – The Red Above The White."
14 "Local Intelligence," Boston Daily Evening Transcript, September 6, 1871: 4. In the September 5, 1871, edition of the Boston Journal, the Boston-Chicago baseball game and the performance of The Victims – The Forty Winks at the Globe Theatre are listed as the top two items for amusement in Boston on September 6.
Additional Stats
Boston Red Stockings 6
Chicago White Stockings 3
---
South End Grounds
Boston, MA
Corrections? Additions?
If you can help us improve this game story, contact us.
Tags
https://sabr.org/sites/default/files/images/GouldCharlie.jpg
600
800
admin
/wp-content/uploads/2020/02/sabr_logo.png
admin
2018-08-28 13:19:17
2020-04-17 10:24:43
September 5, 1871: 'Bushel Basket' Gould hits first grand slam in professional baseball history