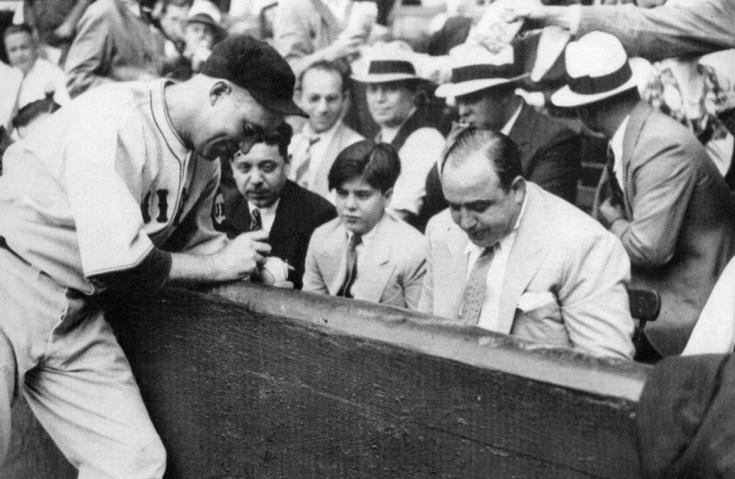 September 9, 1931: Al Capone turns out for Cubs-White Sox charity exhibition in Chicago
---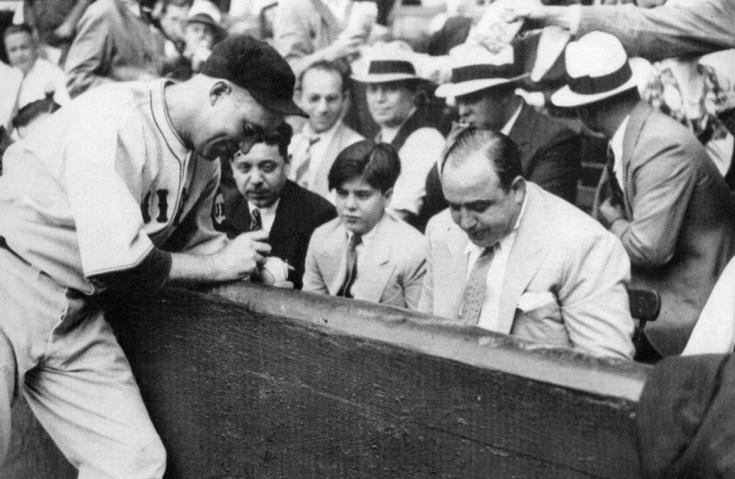 By 1931, Al Capone was the kingpin of the criminal enterprise system that ruled Chicago from top-level politicians down to neighborhood shopkeepers. There were other gangs, but his South Side "Chicago Outfit" stood supreme. This was not to say, though, that he was secure. He was in constant danger from rivals—to the point that he was often absent for significant periods of time from his 7244 South Prairie Avenue home,1 barricaded either in one of the successive hotel strongholds he established in Chicago or a secluded fortress in northernmost Sawyer County, Wisconsin.
The apple of Capone's eye was his son Albert Francis Capone, born two months prematurely on December 4, 1918, just prior to Al's marriage to Mary Josephine (born Coughlin, known as "Mae") Capone, the child's mother.2 The boy was called "Sonny" from birth and grew up in a sheltered, especially protective, environment dictated by frail health and concerns for his safety. By early adolescence, however, Sonny had bested a series of serious ear infections and bouts with the usual childhood illnesses and looked forward to the limited time his father spent with him.
Away from home much of the time yet apparently determined to bond with his only child in a time-honored American tradition, Al Capone treated 12-year-old Sonny to a ballgame in the late summer of 1931. The occasion was an inter-league, cross-city exhibition game between the Cubs and White Sox at Comiskey Park on September 9. The game was to benefit an unemployment relief fund established by Illinois governor Louis L. Emmerson as the Depression strengthened its grip on the country. The Sox' commitment to the cause was evident. They had started a road trip in Cleveland two days earlier and played back-to-back doubleheaders there; two days later, the road trip, scheduled through the rest of the season, would take them to New York and beyond. The Cubs had just returned from a road trip and would remain at home the rest of the season.
Flanked by a coterie of conspicuous bodyguards in the row behind them sporting summer fedoras, Sonny and his father, both hatless but dressed in suits and ties, sat in front-row box seats "on the Sox side."3 Sonny sat between Al and Roland V. Libonati, a lawyer and then an Illinois state legislator, later elected to the US Congress from Illinois. According to Capone historian Mario Gomes, "Mr. Libonati never shied from his friendship with big Al and once said about Capone, 'I liked him because he respected me.'" 4
They and the accompanying muscle5 were part of a crowd of 34,864, well above the AL seventh-place White Sox' usual draw.6 The crowd generated revenue of $44,489 for the unemployment fund.7
Capone and Sonny saw "a game worthy of its cause."8 It featured a pitching matchup between the Cubs' Charlie Root and the Sox' Urban Clarence "Red" Faber, both right-handers. In his seventh season with the Cubs, Root was 32; Faber was 43. Faber, who would retire after the 1933 season and reach the Hall of Fame in 1964 through the Veteran's Committee, had been pitching for the Sox for 18 years. He was 9-12 on the season and had won his last start, a complete-game, eight-hitter against Cleveland. Root was 15-13 for a better team,9 but had lost his last start, against Pittsburgh.
The game was scoreless through five innings, but not without threats. Root stranded two runners in the Sox' second, with one of them, Johnny Watwood, on third. In the bottom of the third inning, "with anybody other than old Red Faber on base, the Sox would have had the first run of the game." After Root walked Faber, Billy Sullivan "hit what should have been a run producing triple, but the farthest Faber could hobble was third base."10
The Cubs broke through against Faber in the sixth. Rogers Hornsby, in his first Cubs season as player-manager, hit a fly ball that Watwood dropped in center field; Hornsby then advanced to second base on a passed ball by Sox catcher Frank Grube. After Vince Barton fouled out to Grube, Danny Taylor grounded to Sullivan at third and the Sox nailed Hornsby in a rundown. Then Charlie Grimm singled and Faber walked Gabby Hartnett. It loaded the bases, but brought up Root, who had struck out in his first at-bat. Root foiled the strategy with a single through the right side of the infield. That scored Taylor, but Grimm, fearing Smead Jolley's arm in right field, stayed at third. Woody English flied out to end the inning.
The Sox mounted a comeback of sorts in their sixth. Sullivan singled to right. After Jolley flied out, Lew Fonseca singled. With runners on first and second and only one out, the Pale Hose appeared to have something going, but Sullivan ventured too far off second base and Hartnett nailed him with a pickoff. Then the Cubs got the third out on some unintended around-the-horn razzle-dazzle. Hornsby, who played only 192 of his 2,164 career games at third base, had installed himself there for this game. When Watwood bounced to him, his throw attempting to force Fonseca arriving at second was well to the right of the bag. The Cubs' coverage there was so out of synch that second baseman Billy Herman was still near his original fielding position. He caught Hornsby's wild throw and relayed to first base to nip Watwood.
The visitors added two more runs in their eighth when Root, again finding his oft-misplaced hitting clothes,11 doubled over third base off rookie Vic Frazier to score Barton and Taylor. Jolley reached on a single in the Sox' ninth, but a double play closed things out at 3-0, Cubs. Root had gone the route on a six-hitter.
Summing things up, Chicago Tribune columnist Harvey Woodruff wrote: "There wasn't the least bit of 'exhibition' about the way the game was played. Both teams were trying harder than in their usual games."12
Less than a month later, on October 6, 1931, Al Capone went to trial in federal court on income tax evasion charges after a plea bargain agreed to by prosecution and defense involving a minimal jail sentence was disallowed by the presiding judge.13 Capone was convicted on October 17 and sentenced to an 11-year prison term on October 24.14 Physically ailing, Capone was released early for good behavior on November 16, 1939,15 and spent his last years in increasingly failing health due to complications from neurosyphilis.16 He was 48 when he died on January 25, 1947, at Palm Island, Dade County, Florida.
By virtue of Capone's trial, conviction, and imprisonment within weeks of the day at the ballpark, he and Sonny had little father-son time together after September 1931. Sonny, who attended both the University of Notre Dame and the University of Miami, married his Miami high school sweetheart Diana Ruth Casey on December 30, 1941.17 They had four daughters before divorce based on Sonny's infidelity interceded in 1964; Sonny married twice afterward, adopting "Francis," his middle name as a surname, "so there will never be another Mrs. Capone."18 He died in a small community near Sacramento, California, on July 8, 2004, at age 85.19 His surviving daughters, Al Capone's granddaughters,20 are close to each other and "have many stories about how [Sonny] adored his father and how his father doted on him. 'We'd be sitting at the dinner table talking and all of a sudden he'd start to cry over his dad,'" they told biographer Deidre Bair.21
Sources
The ballpark photo (Note 3) in Deidre Bair's fascinating new Capone biography (full citation in Note 1) inspired this account. According to Bair, prior to his imprisonment Al Capone was not averse to favorable press coverage, especially staged photos. The September 10, 1931, Chicago Tribune, which I accessed through Newspapers.com, provided a box score and broad coverage of the game. The Tribune also carried the photo as part of an all-photos page separate from its sports coverage, where the paper published an eighth-inning action shot, a posed pregame photo of Red Faber and Charlie Root, and a front-row box seat picture, presumably taken "on the Cubs' side," of Sox manager Donie Bush with Cubs president William Veeck and owner William Wrigley Jr. As Note 3 indicates, the Tribune did, however, include a passing reference to Capone's presence in Edward Burns's sidebar story.
In addition to the sources cited in the Notes, I used team and player pages and game and season logs from Baseball-Reference.com and Retrosheet.org.
Notes
Additional Stats
Chicago Cubs 3
Chicago White Sox 0
---
Comiskey Park
Chicago, IL
Corrections? Additions?
If you can help us improve this game story, contact us.
Tags
http://sabr.org/sites/default/files/CaponeAl-Cubs-1931.jpg
600
800
admin
/wp-content/uploads/2020/02/sabr_logo.png
admin
2017-02-07 19:34:26
2020-04-17 10:25:56
September 9, 1931: Al Capone turns out for Cubs-White Sox charity exhibition in Chicago