Gladys Goodding, Ebbets Field Organ Queen
This article was written by Rob Edelman
This article was published in Fall 2017 Baseball Research Journal
---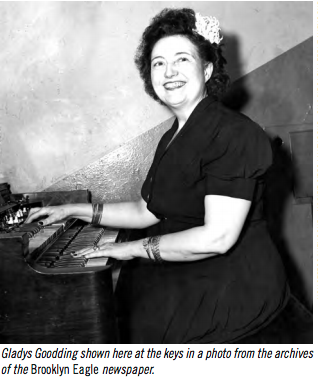 Gladys Goodding was more than just an artiste whose musical stylings entertained the Ebbets Field faithful from the early 1940s on. This cheerful, occasionally mischievous woman was a baseball pioneer. Hers was the first organ permanently situated in a big-league ballpark and she predated Eddie Layton, Jane Jarvis, Wilbur Snapp, and other ballyard organists. Her inimitable performance at every Brooklyn Dodgers home game was a foremost part of the Ebbets experience.
Gladys's roots were far removed from Brooklyn; she hailed from Macon County, Missouri, where she was born June 18, 1893. Her parents were Joseph Allen Goodding, a businessman and amateur violinist, and Meribah Creola (Riley) Goodding, a piano teacher; she was the third of their four offspring. While a youngster, she was taught the rudiments of piano by her mother. After the death of her parents—Joseph in 1901 and Meribah two years later—Gladys and younger brother Hugh were dispatched to St. Louis where they lived in the Masonic Home, an orphanage.1 During this time, she became enamored of baseball. "I learned the game in St. Louis," Gladys noted in 1942, "when I used to hang over my back fence and watch the B. & O. nine and other good semipro teams play…"2
After leaving the Home upon turning 18, Gladys lived with an older brother in Kansas City, where she learned to sing, and then settled in Independence, Missouri. By then, she had become so adept at piano that she was able to master the fundamentals of the organ in two weeks. "I had to," she recalled. "The regular organ player at a church in Independence…was going on vacation. And I wanted to be of some assistance."3
Gladys wed Robert Reinholdt (Bob) Beck and gave birth to two children: Robert (born in 1915) and Maxine (1916). But she and her husband eventually divorced. Meanwhile, she began performing light opera on the Chautauqua and Lyceum entertainment circuits. She was billed as a "soprano-pianist" and garnered positive press. "Gladys Goodding, with the orchestra, is pleasing immensely with her solos," wrote The Lyceum Magazine in 1922. "Her stage presence is admirable, and this coupled with a winning smile and a beautiful voice make her one of the most popular members of the organization." 4 She also became a protégé of Thurlow Weed Lieurance, a period composer best-known for penning "By the Waters of Minnetonka," a popular love song. "Mr. Lieurance was very much interested in Indiana," Gladys once recalled.5 Her own aspirations, however, far exceeded fame in the Midwest.
Upon her divorce, Gladys reclaimed her maiden name and, in 1923, she and her children moved to New York City. "I wanted to get into musical comedy or light opera," she explained, "but I was a woman with two children and needed the security of a steady job."6 To support herself and her family, she became a full-time organist in Loew's theaters, where she provided musical accompaniment for silent films. She also occasionally went on tour; in October 1931, for example, she was the instrumentalist for the Roxy Male Quartet, performing in concert in Ossining, New York.7 She was the musical accompanist on "Major Bowes Amateurs on Tour," a unit of prize-winners from the radio talent show that performed at various venues. She also soloed on the radio. At the 12 noon hour and lasting for 15 minutes on February 17, 1930, "Gladys Goodding, songs" aired over WOV radio in New York.8
Her break into sports came in 1937, when she was hired to accompany sporting events at Madison Square Garden; she entertained fans at Rangers hockey and Knicks basketball games and played "The Star-Spangled Banner" at boxing matches. "Ethel Mullany, head of the [Garden] booking department…helped me get my sports job," Goodding recalled. "She convinced Tommy Lockhart, one of the hockey bosses, that I would be an added attraction."9
Between 1925 and 1968, the Garden was located on Eighth Avenue between 49th and 50th Streets in Manhattan and Gladys and her organ were situated in Loge 29 of the venue. "The Garden is just like home to her," the New York Post reported in 1947. "She's 'Gladys' to all the personnel and she calls them by their first names right back."10 For a while, she also played at the finale of boxing cards. But then, on one occasion, Chick Wergeles, a promoter whose fighter had just been beaten, was complaining loudly during a radio interview—and Gladys employed her musical skill in an attempt to silence him. "I played 'Good Night, Sweetheart', and that was the last time I performed after the fights at the Garden."11
The Brooklyn Dodgers hired Gladys in 1942. The story goes that a Brooklyn hockey fan and Garden regular suggested that she bring her skills to Ebbets Field. She penned a letter to Dodgers Executive Vice-President Larry MacPhail and was immediately hired. "Mr. MacPhail plays the piano and is a lover of fine music," she noted during that first season. "I got the job."12 That May the Dodgers brought an electric Hammond organ into Ebbets Field and Gladys eventually found herself "installed in the baseball field 'organ loft,' a glass enclosure high above the crowd."13 The Brooklyn Eagle reported that it "looks as though the (organ) is to become a permanent fixture of Dodger games—Also Gladys Goodding, the virtuoso who plays it…" 14
That first season, two unrelated incidents thrust Gladys into the limelight. First, a retired music teacher who resided near Ebbets Field took her to court because he was bothered by her organ playing. But there was a catch. "The poor darling was hard of hearing," Gladys recalled. "He couldn't even hear the judge's questions. The case was dismissed. The next day the complainant asked me if I would play one of his compositions. I couldn't refuse him. He was a nice person after all."15 Then she flaunted her trademark ingenuity when three umpires—Bill Stewart, Ziggy Sears, and Tom Dunn—appeared on the Ebbets Field turf and, to the delight of the fans, she regaled them by playing "Three Blind Mice." "That was the one and only time I played it," she explained. "It was done especially for Umpire Bill Stewart. I knew him from Madison Square Garden when he was a hockey referee. After the game I apologized and Bill forgave me."16 Indeed, during the 1942 season, Tom O'Reilly, writing in PM, described her as "the lady who made so much noise in Ebbets Field, Home of Pandemonium" and the "mood builder for MacPhail's Mendicants" as well as "minstrel to our Kingly Bums" whose objective was to "sooth the savage breasts of the Flatbush Faithful."17
As the years passed, Gladys became an Ebbets Field institution. She received fan mail from as far away as Canada and Honolulu. In 1947, she was commissioned to record a "Baseball Medley" on a special V-Disc (a recording made in cooperation with the US military for the entertainment of GIs) produced by the Music Branch of the US War Department's Special Services Division. Her selections were "Sidewalks of New York," "Shine on Harvest Moon," "Alice Blue Gown," "Down By the Old Mill Stream," "Margie," and, of course, "Take Me Out to the Ball Game."18 That same year, she penned the music and lyrics for "Follow the Dodgers," which became the team's theme song. Her playing was featured on a recording of the tune, with a chorus provided by the Bank of Manhattan Choral Club. "It's a good rousing song," she observed, "and I didn't overdo it like most songs about the Dodgers by predicting victory."19
There's a baseball club in Brooklyn
A team they call 'Dem Bums
That keeps your eye right on them
And watch for hits and runs

Oh, follow the Dodgers
Follow the Dodgers around
The infield, the outfield, the catcher
And that fellow on the mound

Oh, the fans will come a-runnin'
When the Dodgers go a-gunnin'
For the pennant that they're
Fightin' for today

So, Dodgers—keep swingin'
And the fans will keep singin'
Follow the Dodgers! Hooray!20
Also in 1947, Gladys was described by New York Post writer Mary Braggiotti as "a warm-mannered, feminine little person with humorous blue eyes, fluffy brown hair and two grown-up children." And it was stressed that "baseball is her game." "I enjoy all the sports," she declared, "but baseball is the game I love. I'm definitely a Dodger fan, of course. I have the best seat in the park and I watch every game right through. There's a great camaraderie about baseball. It's the strangest, nicest feeling…" As proof of her horsehide devotion, the profile concluded, "Where do you suppose she went the other night? To a baseball game at the Polo Grounds with Hilda Chester, the famous Dodger fan."21
By then, her long-established specialty was her unique rendition of "The Star-Spangled Banner," which she simultaneously sang and played in "a spirited interpretation…[employing] a ringing lyric soprano."22 Like clockwork, her performance was timed at one minute, five seconds. By 1952, she had performed it on thousands of occasions, but she told Val Adams of The New York Times that "it sounds new to me every time I play it." Adams wrote that Gladys had long-been living "in a hotel just around the corner from Madison Square Garden. On baseball days she rides the subway to Ebbets Field, accompanied by her fox terrier pup, who sits beside her at the organ. Sometimes he stands up for `The Star Spangled Banner' and sometimes he doesn't."23,24 Also that year, Brooklyn Eagle columnist Tommy Holmes noted, "Miss Gladys Goodding celebrates her tenth anniversary as organist laureate at Ebbets Field and it is safe to say that her music has provided more consistent pleasure than the Dodgers."25
The present-day practice of blaring a specific song for a ballplayer as he comes to the plate or the mound (from Trevor Cahill's "White Rabbit" and Francisco Cervelli's "That's Amore" to Anthony Rizzo's "Can't Stop" and Mariano Rivera's "Enter Sandman") also may be linked to Gladys. "Mine was a wonderful relationship with the players and fans," she once declared. "Before the games, I would serenade the players on their birthdays, play their state songs and their favorite popular numbers."26 Before construction of the organ box, the instrument was near the home team dugout, allowing her to become "acquainted with the boys when they'd come over to me and ask for their favorite tunes. Joe Medwick was the first one to do that. He likes 'Intermezzo.'" She added that Mickey Owen's choice number was "Dark Eyes." Freddie Fitzsimmons had three: "Melancholy Baby," "Si Si," and "Let Me Call You Sweetheart."27
Visiting players could make requests, too. "They call me up or make signs," she explained. "Now take Red Barrett, the Boston pitcher. He likes the tune 'Paper Doll.' The first time he wanted me to play it he kept moving his fingers like scissors, then making believe to rock a doll in his arms—until finally I caught on. Gene Hermanski likes polkas and mazurkas. Red Corriden, the Yankee coach who used to be with the Dodgers…has to have `When Irish Eyes Are Smiling.' And of course I always play something to do with Dixie when Dixie Walker makes a home run."28
Gladys maintained this connection during her entire Brooklyn tenure. One of countless examples: On August 18, 1957, the Pittsburgh Pirates were battling the Dodgers in an Ebbets Field twin bill and she serenaded Roberto Clemente and Bob Kennedy on their 23rd and 37th birthdays. Four years earlier, the Brooklyn Eagle reported that she "played the customary rendition on her magic organ in recognition of (New York Giant) Sal Maglie's 36th birthday. A motion in the Dodger clubhouse to send a horseshoe wreath of poison ivy was voted down."29
With the advent of television, Gladys's popularity increased. "During Friday night telecasts of Garden boxing bouts the invisible Miss Goodding has become as much a fixture to the TV audience as a supersized razor," observed Adams of the Times. "On WOR-TV telecasts from Ebbets Field…her harmonizing at the Hammond is as familiar as the sight of two runners on the same base."30 And during the pre-game broadcasts of Happy Felton's Knothole Gang, Gladys feted the host by playing "I Want to Be Happy." By then, her snappy rendition of "Chiapenecas," a Mexican folksong, had become a fixture during the seventh inning stretch, with the fans' cadenced clapping accompanying the music.
On extra-special (albeit none-too-happy) baseball-related occasions, Gladys's musical choices were extra-appropriate. On their last Ebbets Field appearance in 1952, Dodger fans mournfully filed out of the ball yard—their beloved Bums had just lost Game 7 of the World Series to the hated Bronx Bombers, 4-2. The New York Times reported that Gladys captured the mood of the moment as she "played a medley of tunes that left nothing to the imagination. From a rendition of 'Blues in the Night,' Miss Goodding… drifted into 'What Can I Say, Dear, After I Say I'm Sorry.'" She followed up with "This Nearly Was Mine," "You Got Me Cryin' Again," "Deep Purple," and "What a Difference a Day Makes." When "the park was virtually empty… Gladys concluded with 'Auld Lang Syne'—better known in Brooklyn as 'Wait 'Til Next Year'"31
And on the Bums' last-ever appearance at the Flatbush ballyard—a 2-0 victory over the Pittsburgh Pirates on September 24, 1957—Gladys, according to Roscoe McGowan of the Times, "played numerous tunes with the farewell motif." After Brooklyn scored its first run in the first inning, she serenaded the fans with "Am I Blue?" and "After You've Gone." Run number two came in the third frame, after which she played "Don't Ask Me Why I'm Leaving." Also on her playlist were "Thanks for the Memory," "How Can You Say We're Through?" "When I Grow Too Old to Dream," and "When the Blue of the Night Meets the Gold of the Day." McGowan noted, "Miss Goodding at the end of the game, started playing `May the Good Lord Bless and Keep You,' but somebody turned on the record always played after Brooklyn games, 'Follow the Dodgers.' This was eventually silenced and the organist was able to close out her program by playing 'Auld Lang Syne.'"32
Jack Lang, covering the farewell for the Long Island Star-Journal, augmented this playlist. Before the game began, she "sounded the keynote with her rendition of 'California Here I Come.'" Among the other "sentimental favorites" were "What Can I Say Dear, After I Say I'm Sorry," "If I Had My Way," "Vaya Con Dios," "Que Sera, Sera," and "Say It Isn't So." "When the game was over," Lang added, "Gladys was practically crying at the organ. As the fans filed out of the park, she played 'So Long, It's Been Good to Know You,' 'May the Good Lord Bless and Keep You,' and, finally, 'Auld Lang Syne.'"33
Upon the Dodgers abandoning the Borough of Churches, Gladys remained in New York and maintained her Madison Square Garden connection. Her extracurricular activities continued to involve everything from entertaining patrons in department stores and patients at Veterans Administration hospitals to directing amateur shows and binding Braille books for The Lighthouse, an organization which offers assistance to the blind and visually impaired. During World War II, she performed at the Stage Door Canteen, which presented live shows and musical entertainment to Americans in uniform. And she was indeed a New York celebrity. In July 1951, she joined Jersey Joe Walcott, the heavyweight boxing champ, as well as singer Kay Arman and "vocalist" Tony Bennett to perform at a program to raise money for the Brooklyn Amateur Baseball Foundation, which supported 23 sandlot baseball leagues in Brooklyn, Queens, and Long Island.34
Upon becoming arthritic, she retired and settled in Arizona; as Dick Young reported in 1959, "Gladys Goodding…is a pretty sick gal in St. Mary's Hospital, Tucson, Ariz."35 But she returned to New York and resumed her Garden organ-playing, occasionally landing on the entertainment industry's version of the disabled list; the following year, a hip fracture kept her away from the Garden for several weeks. But she was well-aware of her good fortune. "I call myself the luckiest woman in the world every time I'm at a sports show."36
Gladys Goodding passed away on November 18, 1963, at St. Clare's Hospital in Manhattan; she had suffered a heart attack, and her remains were cremated.37 Her final Madison Square Garden appearance was at a basketball game on the Saturday before her death. A little less than two weeks later, the New York Times reported that, for the "first time since 1937 the national anthem was played at a Madison Square Garden fight without Mrs. Gladys Goodding at the organ….[She] was as much a part of [the] Garden as its basketball players, hockey players and fighters." 38 But she was as equally beloved in Brooklyn. After the Dodgers copped their first (and only) World Series victory, Brooklyn Borough President John Cashmore gifted Gladys with a silver coffee service.
Her celebrity was resurrected decades later by the Trivial Pursuit board game. Players were asked to name the individual "who played for the Knicks, Rangers, and the Dodgers." The answer: Gladys Goodding.39
ROB EDELMAN teaches film history courses at the University at Albany. He is the author of "Great Baseball Films and Baseball on the Web," and is co-author (with his wife, Audrey Kupferberg) of "Meet the Mertzes," a double biography of I Love Lucy's Vivian Vance and famed baseball fan William Frawley, and "Matthau: A Life." He is a frequent contributor to "Base Ball: A Journal of the Early Game" and has written for "Baseball and American Culture: Across the Diamond," "Total Baseball," "Baseball in the Classroom," "Memories and Dreams," and "NINE."
Notes
1 "Missouri Masonic Museum: Reflected Values—Brotherly Love, Relief and Truth," last accessed July 6, 2017, https://www.mohome.org/missouri-masonic-museum
2 Tom O'Reilly, "Ebbets Field Organist Soothes Flatbush Faithful," PM, July 24, 1942: 31.
3 Moe Berger, "Top Player at Garden Never Gets Into Contests," New York Times, November 15, 1955: 43.
4 "Playmate of Marilynn Miller," The Lyceum Magazine, July 1922: 44.
5 Tom O'Reilly.
6 Gladys Goodding, Organist, Is Dead," New York Times, November 20, 1963. 43.
7 "Roxy Quartet To Appear At High School On Oct. 8," (Ossining) Citizen-Sentinel, September 24, 1931: D10.
8 "Radio Programs Scheduled for Current Week," New York Times, February 16, 1930, 156.
9 Moe Berger.
10 Mary Braggiotti, "The Glad Gal of Ebbets Field," New York Post, September 19, 1947.
11 Moe Berger.
12 Tom O'Reilly.
13 "Gladys Goodding, Organist, Is Dead."
14 Tommy Holmes, "Flack May Run Into Real Poser," Brooklyn Eagle, May 11, 1942: 9.
15 Moe Berger.
16 Ibid.
17 Tom O'Reilly.
18 "V-Disc 741 Gladys Goodding," last accessed July 6, 2017,https://www.youtube.com/watch?v=CUcBbi0OSMw
19 Margaret Mara, "Adds Lyrics to Her 'Follow Dodgers' Tune," Brooklyn Eagle, April 26, 1951: 23.
20 "Follow the dodgers (Brooklyn Dodger Tribute)," video last accessed July 6, 2017. https://www.youtube.com/watch?v=DNjzf8TvCVA
21 Mary Braggiotti.
22 Ibid.
23 Her longtime residence was the Hotel Belvedere, located at 319 West 48th Street.
24 Val Adams, "The Girl Who's Heard But Never Seen: Gladys Goodding Provides The Music at Most TV Sporting Events," New York Times, April 27, 1952: X11.
25 Tommy Holmes, "Robbie Rated Support From Dodger Brass," Brooklyn Eagle, May 12, 1952: 14.
26 "Gladys Goodding, Organist, Is Dead."
27 Joan Crosby, "Stars, Umps, Too, Like Gladys's Tunes," Brooklyn Eagle, May 4, 1945: 15.
28 Mary Braggiotti.
29 T.H. (Tommy Holmes), "4th Assist For Furillo," Brooklyn Eagle, April 27, 1953: 15.
30 Val Adams.
31 Louis Effrat, "Dodgers Organist Plays the Blues," New York Times, October 8, 1952: 38.
32 Roscoe McGowan, "Dodgers Defeat Pirates in Ebbets Field Finale; Phillies Turn Back Giants," New York Times, September 25, 1957: 33.
33 Jack Lang, "Auld Lang Syne at Ebbets Field," Long Island Star-Journal, September 25, 1957: 5. An altogether different memory of the occasion was recalled a half-century later by Dodgers broadcaster Vin Scully. In an article written by Jerry Crowe, headlined "The last pitch at Ebbets means more to him now," and published on page D2 of the Los Angeles Times on September 25, 2007, Scully recalled, "Gladys was a very nice lady, known to take a drink or three. And Gladys showed up with a paper bag—and there wasn't any doubt what was in it. It was too late for lunch…." And he continued, "If I remember correctly, the very first song she played was 'My Buddy,' a pretty down song, and it went down from there. All of us in listening to the music were aware of her mental state. And I'm sure she was dipping into the brown bag, and the music kept getting more depressing every third out."
34 Sam Goldaper, "Joe Walcott Heads Card of Celebrities For All-Star Classic," Brooklyn Eagle, July 27, 1951: 14.
35 Dick Young, "Young Ideas: Jackie's Memory Should Be Longer," Buffalo Courier-Express, July 5, 1959, 7-C.
36 Moe Berger, "Top Player at Garden Never Gets Into Contests," New York Times, November 15, 1955: 43.
37 According to the "Gladys Goodding" page on ancestry.com (https://www.ancestry.com/genealogy/records/gladys-goodding_35794961), ex-husband Robert passed away on April 25, 1942, in Vallejo, Solano, California. Their offspring did not remain with Gladys in New York. Son Robert married Rose Carolyn Hummel and passed away in December, 1980, in Davenport, Iowa. Daughter Maxine wed Frederick Miles Magnuson and was residing in Florida when she passed away in June, 1988.
38 Deane McGowan, "Persol Upsets Thomas at Garden on Relentless 2-Handed Attack, New York Times, November 30, 1963: 42.
39 "Find A Grave: Gladys Goodding," last accessed July 6, 2017, https://www.findagrave.com/cgi-bin/fg.cgi?page=gr&GRid=111888816
https://sabr.org/wp-content/uploads/2020/03/research-collection4_350x300.jpg
300
350
admin
/wp-content/uploads/2020/02/sabr_logo.png
admin
2017-10-30 15:35:45
2020-09-24 15:49:53
Gladys Goodding, Ebbets Field Organ Queen