A Look Back at SABR 10: Los Angeles, 1980
July 1, 2011 — Times sure have changed since the Society for American Baseball Research held its last national convention in the Los Angeles area.
The 1980 convention was the 10th annual gathering of SABR members across the country, and the first one held on the West Coast. (SABR's founding on August 10, 1971, in Cooperstown, New York, is considered the first such meeting.)
SABR 10 was held July 11-13, 1980, at the Travelodge Hotel, a few blocks away from Los Angeles International Airport. The three-day event featured a panel of former players — and one former umpire — on Friday night, the annual business meeting, keynote banquet and a ballgame at Anaheim Stadium on Saturday, and nearly a dozen research presentations on Sunday morning. The attendance totaled 85; sixty-two of those were active SABR members.
Next week, SABR will return to Southern California for its 41st annual convention from July 6-10, 2011, at the Long Beach Hilton. Nearly 400 members and guests are expected to attend, and they will be able to see five panel discussions (on baseball medicine, on the future of baseball in media, on the evolution of baseball in the SABR Era, on the changing role of general managers, and a players panel); ballgames at Dodger Stadium, Angel Stadium and Single-A Lake Elsinore; 30 research presentations; a weeklong Film Festival; the highly competitive Trivia Contest; a bus tour of historical SoCal ballparks, and much more. A complete schedule of events for SABR 41 can be found here.
As we prepare for SABR 41 next week, let's step back in time and look at the 1980 national convention in Los Angeles — a time when the phrase "sabermetrics" had just been founded, the Angels were celebrating their second decade (not fifth) of American League play, and "Billyball" was taking Oakland by storm.
THE CONVENTION
In the February 1980 SABR Bulletin, the Society's founder, Bob Davids, wrote:
"The decision was made to hold the 1980 National Convention at the Travelodge International Hotel at the Los Angeles Airport. The dates are July 11-13. The discount rates are $36 for a single and $40 for a double, and the hotel will extend these rates for a few extra days if individual members so desire."
The convention committee was headed by then-Secretary Bob Hoie, the longtime chairman of SABR's Minor Leagues Committee.
The April 1980 Bulletin informed members that "most major airlines had recently offered a special Supersaver fare of $298 roundtrip from New York to Los Angeles." … "This is worth checking into quickly," Davids noted, "as air fares continue to go up."
That same month, a Mid-Atlantic regional meeting was held on April 26-27 in Reading, Pennsylvania, a two-day event that served as an alternate to Easterners who were unable to attend the national convention in Los Angeles. Forty-six members and fourteen former professional players attended.
Back in California, the flashy and entertaining umpire Emmett Ashford, who lived in nearby Venice, was considered as the featured speaker, but he died suddenly of a heart attack in March 1980.
THE SPEAKERS
The convention committee invited Roy Smalley Jr., a National League shortstop from 1948-58 and at that time a successful businessman in the Los Angeles area, to be the keynote speaker at the banquet on Saturday afternoon. Smalley fielded questions about his son, All-Star infielder Roy Smalley III, and his brother-in-law, longtime manager Gene Mauch.
On Friday night, the panelists included Wally Berger, who set a record with 38 home runs as a rookie in 1930 with the Boston Braves; Quincy Trouppe, a star Negro Leagues catcher who made the majors at age 39 with the Cleveland Indians in 1952; Bert Shepard, who lost a leg in World War II but returned briefly to pitch with the Washington Senators; and Joseph Rue, an American League umpire from 1938-47 who had recently been included in Larry Gerlach's classic book, The Men in Blue, which was being sold at the convention.
As Bob Davids reported in the August 1980 Bulletin:
"The panel members were amazed at the in-depth knowledge of the audience. Berger, for example, was startled to find out that of his 242 homers in the majors, 121 were hit at home and 121 on the road. Bill Schroeder moderated the panel and also contributed insights from his own rich baseball background as a historian and minor league executive. Bill Gustafson [one of SABR's 16 founders] closed out the Friday night activities with a slide and audio show of baseball highlights since 1900."
Cappy Gagnon, who later founded SABR's Lou Criger Chapter in South Bend, Indiana, shared his memories of the convention recently:
"I had just moved to L.A. a few months before. I remember little about the convention, but a lot about Roy Smalley, Wally Berger, Bert Shepard, and Quincy Trouppe, four of the speakers. After the convention, I sent Roy a copy of a photo taken of the two of us. He sent it back with an autograph and a nice personalized note expressing his support for SABR. … I founded the SABR L.A. Chapter not long after I got to Los Angeles, and Wally Berger attended one or two of our meetings. I picked him up a couple times. I have some nice letters from Wally. He loved what SABR did to study "the old game". Wally had a nice home in Manhattan Beach. He told me that he liked Southern California and told his wife to find a house there while he was busy playing some place. … Quincy was a fine gentleman. I bought his book. … When Bert Shepherd heard that I was the Chief of Staff for the Sheriff of Los Angeles County, he made a point of telling me that he would be happy to be a resource to any officers who had lost limbs in the line of duty. He was a very impressive guy. After meeting him, I always wondered why there was a "Monty Stratton Story" and not a "Bert Shepard Story" … wasn't his feat more amazing?"
Everett Cope said two of his most memorable moments from SABR 10 came as a result of his being from Montana:
At a break, Wally Berger came over to me and said he had played for the Anaconda Mines team in 1927. He told me the company paid him $250 per month to play on the team. Because of his hitting, he received a letter from Pocatello, of the Utah-Idaho League, offering him $275 per month to play for them and manager Ivy Olson. In 92 games, he hit 24 homers and tied John Schinski of Logan for the batting title at .385. He finished the 1927 season with Los Angeles of the PCL and then had two stellar seasons in 1928 and 1929 before joining the Boston Braves for the 1930 season. All Wally did that year was hit 38 of the team's 66 homers to set a National League rookie record that he shares today with Frank Robinson of the 1956 Reds. No other 1930 Braves batter had more than 5 home runs! Berger finished third in home runs behind Wilson(56) and Klein(40) that season. Several years ago I came across a team picture of the 1927 Anaconda Mines team and bought it because I recognized Berger in it. None of the players were identified. Someday I would like to dig through some old newspapers and see if I can find those names and those for a 1927 Montana Powers team picture I have.

Bert Shepard also talked to me and told of the train rides across Montana playing ball and how much he enjoyed the people and beauty of our state.

Another highlight of that convention was an invitation by Bill Schroeder to visit the First Interstate Bank Athletic Foundation (formerly Helms Athletic Foundation). Bill was Managing Director at the time and provided a tour for several wide-eyed fellow SABR members.
THE GAME
A's 5, Angels 4
July 12, 1980, Anaheim Stadium
See the box score on Baseball-Reference.com
The Los Angeles Dodgers, who had played host to the All-Star Game just a few days earlier on July 8, were out of town. So SABR convention attendees were treated to a game at the "Big A" in Anaheim.
The visiting Oakland A's were in their first season of the "Billyball" era, under new manager Billy Martin. Outfielder Rickey Henderson, 21, was just beginning to establish his credentials as the greatest leadoff hitter in baseball history, stealing 100 bases for the first time and hitting .303 in a stellar sophomore season that earned him MVP consideration. Meanwhile, starters Rick Langford, Mike Norris and Matt Keough were workhorses under Martin, each completing more than 20 of his starts that year.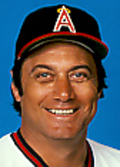 The California Angels were coming off their first division championship in franchise history, but earlier in the season had suffered the loss of star catcher Brian Downing, whose broken ankle eventually forced him to move to the outfield. Veterans Rod Carew, Bobby Grich and Joe Rudi were still solid performers, and outfielder Jason Thompson slugged a team-high 17 home runs in 102 games after a trade from Detroit in late May.
On July 12, the A's were in fifth place in the AL West at 38-46 after a dreadful June in which they won just seven of twenty-eight games. The Angels opened a long 12-game homestand with a 30-50 record, but had performed even worse in June, winning just six of twenty-eight. The A's would rally down the stretch, finishing 83-79 and capturing the attention of baseball fans with their exciting style of play. Meanwhile, the Angels staggered to a 65-95 finish.
Dozens of SABR members were among the 32,186 in attendance that night at Anaheim Stadium. A's starter Mike Norris — in the midst of a career-best 22-9 season with a whopping 24 complete games, earning Norris a runner-up finish in AL Cy Young voting — was knocked out by the Angels in the eighth inning. But Oakland prevailed, 5-4, behind Rickey Henderson's three stolen bases and Tony Armas' two-run homer off starter Dave Lemanczyk. Jason Thompson went 4-4 with a homer and a double for the Angels.
Bob Davids reported on the night's festivities in the August 1980 issue of the SABR Bulletin:
"The Anaheim Stadium activities on Saturday night were a real delight. An added feature was the Angels' oldtimers game, marking their 20th year of play in the AL (can it be that long?) Many of their old players, coaches and managers were back, including Bill Rigney, Bob Lemon, Bo Belinsky, Eddie Yost and, standing side-by-side, Ted Kluszewski and Albie Pearson. [Editor's note: Big Klu was 6-foot-2 and weighed 225 pounds during his playing career. Pearson was listed at 5-5 and 140 pounds.] We saw more of Manager Jim Fregosi in the Old Timers Game than in the regular contest won by the A's. Fregosi was sent to the showers in the first inning when he kicked Don Baylor's helmet into center field. No, Baylor was not wearing it at the time; it had come off when he slid into second on a close play. Anaheim Stadium is nicely constructed with seating close to the action. We had excellent seats, courtesy of the Angels' management, for which we express our appreciation."
Tom Zocco, who joined SABR in September 1971 as one of its first 100 members, recently shared his memories of that game:
"We all went to the "Big A" to watch a ballgame. Tickets were free, courtesy of Buzzie Bavasi. It was Old Timers Day. The loudest ovation went to Bo Belinsky. I sat close to Bert Shepard; he was very interesting to talk to. He showed me a pamphlet of an artificial leg he was marketing. … Two people from Japan attended. One of our members, Massey Ikei, brought along a photographer from a Japanese baseball magazine. The photographer took many pictures. I sat next to Massey at Veterans Stadium during the 1974 SABR convention. He only knew the first few lines of "Take Me Out to the Ballgame" and asked me if I could write the rest of the song for him. As I wrote each line he would sing out the words. When he sang out, "Well, it's root, root, root for the home team," everyone turned around and looked at us. Sitting on the other side of me in 1974 was a young man who had graduated high school that afternoon and then took a train to the convention. The young man was Damien Begley. When the seventh inning came at Anaheim, they played "Take Me Out to the Ballgame." Massey was sitting right in front of me and sang every line perfectly as he rocked back and forth. Ted DiTullio, sitting next to me, and I really got a charge out of that."
Bob Davids reported in the SABR Bulletin that Masaru Ikei and photographer Ted Kurihara were touring various U.S. cities that summer to interview American players who had played in Japan. Before the game, Ikei and Kurihara were down on the field to interview A's coach Clete Boyer on camera.
THE ATTENDEES
In the August 1980 Bulletin, Davids analyzed the convention attendance:
"Of the 62 members who attended the Annual Convention in Los Angeles July 11-13, 27 were from the host state of California and the others were from 21 other States and Japan. [Ikei and Kurihara, from Japan] denied Bostonians Paul Doherty and Pete Palmer the prize for the longest commute.

"Most of the Californians were among the 33 members attending their first Annual Convention, which makes geographical sense. Nevertheless, Bill Gustafson, who was attending his fourth meeting, and Bob Hoie and Dan Keller, who racked up No. 3, had that deja vu feeling. The states of Arizona, Montana and Tennessee were represented at National Conventions for the first time."
Davids noted that he and Cliff Kachline were both attending their 10th convention, having been present at the founding in Cooperstown in 1971. Bob McConnell, another founder, was at his ninth, while Ron Liebman was at his eighth convention. Bob Muhlback and Tom Zocco were at their seventh apiece.
Five SABR members who attended the 1980 convention have also pre-registered to attend the 2011 convention in Long Beach: Dick Beverage, Bill Carle, George Land, Liebman and Zocco.
THE PRESENTATIONS
Eleven diverse research presentations were delivered at the convention on Sunday morning:
"Composing Baseball Music," by Pat "Hotso" Casey
"Computer Analysis Based on Play-by-Play Data," by Dick Trueman
"American Ballplayers in Japan," by Masaru Ikei
"Background and Highlights of the All-Star Games," by Dick Juline
"Statistical Concerns," by Ted DiTullio
"Sins of Hall of Fame Selection," by Vic Meyer
"Pre-1900 Minor League Career Records," by Vern Luse
"Historical and Statistical Support for Broadcasting," by Allan Roth
"Biographical Research Techniques," by Joe Simenic and Bill Gustafson
"Use of the Newspaper Microfilm Directory," by John Pardon
"Tracking Minor Leaguers From One Club to Another," by Bob Hoie
Roth, the first full-time statistican employed by a major league team when Branch Rickey hired him with the Brooklyn Dodgers in 1947, is now the namesake of SABR's Los Angeles chapter, host of this year's convention in Southern California. To see a list of all research presentations scheduled for SABR 41, click here.
ELSEWHERE IN THE SABR WORLD
What else was going on in the SABR world in the summer of 1980?
In his fourth annual Baseball Abstract that year, Bill James coined the phrase "sabermetrics" — in honor of the Society's acronym, SABR — to describe the study of mathematical and statistical analysis of baseball records. The "200-page compilation of unusual narrative and statistical interpretation" was made available to SABR members for $9.
SABR's rolls had reached an all-time high of 1,145 members when the 10th annual convention began on July 11, 1980. Bob McConnell — SABR's first Secretary who was still undertaking a Herculean effort to compile the membership directory at home with his typewriter — proposed to have a computerized printout of the directory made available. But those plans fell through at the last minute, so no directory was able to be distributed at the convention as it had been done in years past.
Longtime sports writer Fred Lieb, whose presence as an early member of SABR "gave the Society a good measure of respectability," according to Bob Davids, died a month before SABR 10, on June 3, 1980, at the age of 92 in St. Petersburg, Florida. Davids reported in the June 1980 Bulletin that Lieb was initially reluctant to join SABR because his writing career was behind him, but he did join and wrote an article for the first Baseball Research Journal a year later. In 1974, Lieb was the featured speaker at the fourth annual gathering in Philadelphia. Two years later, Lieb received the very first SABR Salute, "designed to recognize the contributions of some of the older members of the Society."
Just five research committees existed at the time, according to the October 1980 Bulletin: Baseball Records, Biographical Research, Minor Leagues, Negro Leagues, and Statistical Analysis. In the ensuing years, 21 committees have been created, running the gamut from the Deadball Era to Business of Baseball to Women in Baseball. See all of our research committees by clicking here.
The Negro Leagues Committee, led by John Holway (one of the five Henry Chadwick Award recipients in 2011), finished compiling statistics for three seasons of the Eastern Colored League in the 1920s and four for the Negro National League, groundbreaking research that would eventually culminate in the publication of SABR's The Negro Leagues Book in 1994.
The Minor Leagues Committee, led by Bob Hoie, had begun compiling career records for inclusion in a second volume of Minor League Stars, a book that helped set the stage for the records maintained by the SABR Minor Leagues Database, which can now be found on Baseball-Reference.com.
Some notable books published by SABR members in 1980 were: Bob Broeg's The Pilot Light and the Gas House Gang, a biography of Frank Frisch; Lee Lowenfish and Tony Lupien's The Imperfect Diamond, on labor relations in baseball since 1876; Richard Marazzi's The Rules and Lores of Baseball; and Harvey Frommer's New York City Baseball: The Last Golden Age, 1947-57.
SOURCES
The information for this article came from the following sources:
SABR Bulletins for the year 1980, generously provided by Tom Hufford and Joe Simenic
Society for American Baseball Research (Turner Publishing Co., 2000)
Special thanks also to Everett Cope, Cappy Gagnon, Bill Hickman, Andrew Mealiff and Tom Zocco for their assistance
---
Originally published: June 29, 2011. Last Updated: June 29, 2011.
https://sabr.org/wp-content/uploads/2011/06/Carew-Rod-1980-Angels.jpg
757
500
jpomrenke
/wp-content/uploads/2020/02/sabr_logo.png
jpomrenke
2011-06-29 17:45:57
2011-06-29 17:45:57
A Look Back at SABR 10: Los Angeles, 1980